The third-quarter 2023 Global Economic Conditions Survey (GECS), from IMA® (Institute of Management Accountants) and ACCA (the Association of Chartered Certified Accountants), shows declining economic confidence for the second consecutive quarter.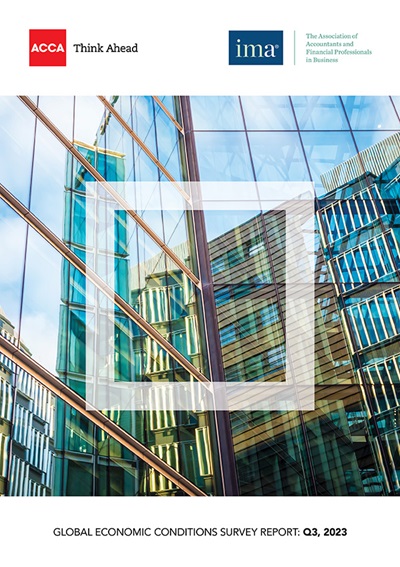 The survey, which gathered 819 responses, was conducted September 1-17, 2023—prior to the outbreak of war in Israel and Gaza on October 7, 2023—showed that while confidence did decline modestly, it remains higher than a year earlier and only slightly below its long-term average. "New Orders," "Employment," and "Capital Expenditure" indices all saw modest declines, but only the last is below its average.
The decline in confidence in the United States wasn't as marked as North America's overall fall of almost 20 points. Elsewhere, confidence in Africa rose materially for the second successive quarter. Asia-Pacific saw a modest improvement, with policy easing positively impacting the Chinese economy. Sentiment fell again in Western Europe and is down sharply in the last two quarters, likely reflecting weak euro and U.K. economies. The fall in confidence in the Middle East was somewhat surprising given the sharp rise in oil prices in recent months. Confidence in South Asia edged higher but is down sharply over the past year.
Both "fear" indices, measured by concerns that customers and suppliers may go out of business, ticked up slightly on the customer side, but fears about suppliers declined to the lowest since 2019. Neither series looks alarming by historical standards.
One focus for accountants will be inflation. Concern about "increased costs" edged back slightly again in the latest quarter. And although cost pressures seem to have peaked, they remain well above the average recorded over the survey's history. This suggests that central banks could still have more tightening to do than markets currently expect. The sharp rise in oil prices over recent months will make their job even trickier.
"The fall in confidence in North America of almost 20 points stands out. While the fall in the U.S. of nine points was not quite as marked, the Federal Reserve's aggressive policy tightening clearly appears to be having an impact," said Susie Duong, senior director of research and thought leadership at IMA.
The GECS is the largest regular economic survey of accountants around the world, in both the number of respondents and the range of economic variables it monitors. It has been conducted for more than 10 years. Its main indices are good lead indicators of economic activity and provide valuable insight into the views of finance professionals on key variables, such as investment, employment, and costs.