THE HOME INVASION
So, is it going to be, "Hey Alexa" (Amazon), "Hey Google" (Google), "Hey Cortana" (Microsoft), or "Hey Bixby" (Samsung)? One of the biggest stars of last year's CES was Amazon's Alexa assistant. This year, there's an all-out battle of the smart assistants on the floor at CES. Among the four competitors, Google and Amazon are the biggest.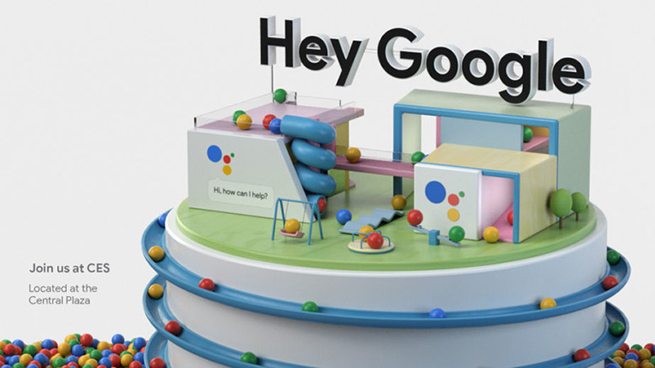 This is the first time that Google will have a major display on the floor of CES, and a couple days before the opening of the show, the search giant announced that it has sold "tens of millions of Google devices for the home." Those sales include "more than one Google Home device every second since Google Home Mini started shipping in October." That specific date was Oct. 19, 2017, and the editors at Engadget estimate that Google sold at least 6.4 million speakers between the launch of the Mini and the end of the year—the approximate number of seconds between the dates.
Most of the sales were probably Minis because the company dropped the $49 retail to $29 for several months before Christmas. Total reach of the "Hey Google" devices answering queries now tops 400 million, including the Google Homes, Android phones, TVs, and even iOS devices. The resolutely entrenched Amazon speaker has a year head-start, but Google has released its own juggernaut, and now the battle will involve developers and manufacturers and the effort to get them to incorporate the assistants or write new applications for them.
At CES you can expect a fair number of rollouts for things connected to these home assistants. Major appliance manufacturer Samsung, whose own home device handle is "Hey Bixby," announced last October that its Galaxy smartphones will soon be using Bixby to power nearly all of its televisions, appliances, and other devices. In a blog post, Samsung Vice President Eli-Suk Chung described a complete home ecosystem based on the voice interface. "We see a world where digital assistants play a bigger role, an intelligent role, where one day everything from our phones, to our fridge, to our sprinkler system will have some sort of intelligence to help us seamlessly interact with all the technology that we use every day."
THE ROBOTS ARE COMING
The smart home speakers are just the beginning of this home invasion. The robots are also coming to our neighborhoods. On Monday, LG Vice President David VanderWaal demoed his company's CLOi (pronounced Chloe) robot in a press conference at CES.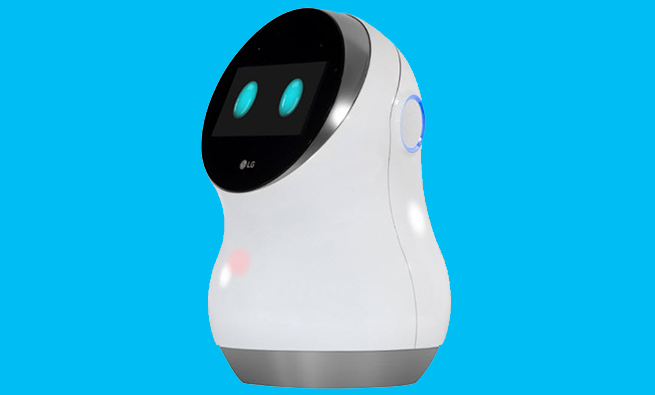 The counter-size device is less than a foot tall and has a round black face with glowing blue eyes. It's an artificial intelligence (AI) hub for your home, acting as a smart go-between that redirects requests to all your smart LG appliances and televisions. CLOi is part of LG's ThinQ platform for AI for its family of smart appliances including air purifiers, refrigerators, and washing machines.
A more versatile robotic companion at the show was one of the winners of the CES 2018 Best of Innovation Awards. From the French company Blue Frog Robotics, this home companion is appropriately nicknamed "Buddy."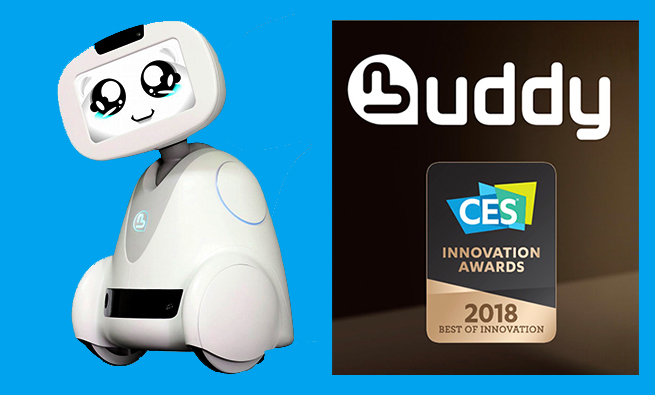 The little robot is 22" high and 14" wide at his wheelbase, and he weighs just slightly over 11 pounds. Like Alexa, Google Home, and Cortana, he can answer questions and perform tasks like "Set a timer for the eggs." But he is also mobile and emotive, and provides remote visual monitoring. Here's a list of what the Paris-based little android can do:
Smart home: Buddy connects your smart devices like thermostats, lights, and locks with voice commands.
Home security: He watches and monitors your home, sending alerts for unusual situations (fires or floods), or maybe just keeps track of temperature changes in the house.
Social interaction: Provides a mobile telepresence and shares photos and videos, and can connect to social networks as well.
Personal assistant: He manages calendars, to-do lists, alarm clocks, weather, traffic, etc.
Multimedia: He provides mobile audio such as music and storytelling and is a mobile video station, photographer, and videographer.
Playmate and Edutainment: For the kids, he can play hide-and-seek or red light-green light, tell stories, do interactive spelling or counting games, and even offer an introduction to programming.
Elder care: He reports fall detection or unusual inactivity, provides medication reminders, and is available for easy social interaction with simplified access to technology.
At night, like Roomba, Buddy finds his docking station and rests while he restores for tomorrow.
And if that isn't enough, Buddy is built on an open-source architecture, which invites development of new applications by both professional shops and individuals.
One step up from Buddy are the robots that will also soon be appearing in commercial sites in the neighborhood. Three new LG "concept robots" showcased at CES are aimed at the services industry, in areas like hotels, airports, and supermarkets. According to a November report from the McKinsey International Labour Organization, nearly 50% of the global workforce is engaged in the service industries, so the three larger ThinQ robots bear watching.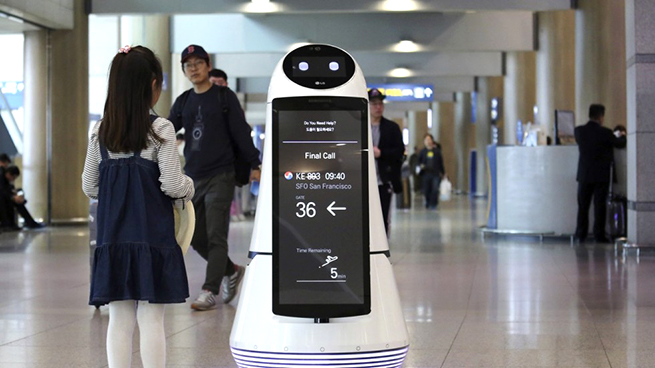 The three models include a Serving Robot, a Porter Robot, and a Shopping Cart Robot. The Serving model will deliver food or drinks to a customer at a hotel or airport lounge. The CES demonstration had the bot push out a tray to the LG presenter with that day's New York Times newspaper. A Porter Robot will carry luggage and assist you in checking in. The Shopping Cart has a large basket area for loading your groceries and a built-in barcode reader to help you check out.
Honda is also back at CES again this year bringing four bots from its 3E Robotics Concept division.
Each bot has an E in its name representing three qualities: Empathy, Empower, and Experience. In the photo above, far left is 3E-A18, a balancing robot with a face that can display different emotions. Honda calls it a "companion robotics concept" that can offer compassion to its owner. Second from the left, 3E-B18 is more practical, serving as an electric-powered chair for indoor and outdoor use. 3E-C18 is the autonomous robot cooler-trunk that can deliver hot or cold drinks or food. And far right, 3E-D18, is the "autonomous off-road vehicle concept" that's a lot smarter than your current quad-bike.
From shelf speakers that converse with us and provide music to robots that will assist with elder care or the kids' homework and tell us from which gate our flight will be boarding, they're on the way, and they're getting smarter each year.
The wide arc of AI progress displayed at CES 2018 stretches from the home speakers and robotic assistants to the autonomous vehicles, some already on the highways, and the possibility of smarter cities shaped by those vehicles.
THE HIGHWAYS AND BYWAYS
In his Tuesday keynote, Ford President and CEO Jim Hackett spoke of the future of smarter cities required by the new smarter vehicles roaming its streets and highways. He said he plans to equip all of Ford's cars with C-V2X (cellular vehicle to everything connectivity), which will include other cars and traffic devices like stoplights to avoid traffic congestion. Ford will partner with Qualcomm to provide the cloud-based technology. Hackett explained, "The time has come to fundamentally update our approach and shift our central mission to harnessing that technology (the Transportation Mobility Cloud) as a tool to improving human lives."
The Detroit auto show follows quickly on the closing of this year's CES, and it will no doubt also feature significant AI progress tailored for the automotive industry. One very interesting technology that Hyundai promises to bring to this year's show is its zero-emissions hydrogen car. Toyota also has the Mirai fuel cell vehicle (hydrogen fueled), but there isn't word yet about the presence of this technology or recent developments that might be premiered at the show. We'll soon see; it's only a few weeks off.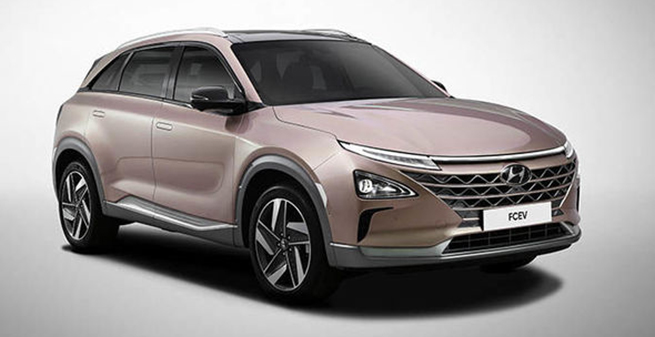 Hyundai Hydrogen Fuel Cell Electric Vehicle
CIRCULAR EVOLUTION
Curious CES footnote: Lost somewhere in the loud, cavernous carnival that is CES, a small British company called Planet Computing showed a personal computer with a lineage that reaches directly back to a particular palm-size personal digital assistant (PDA) from 20 years ago.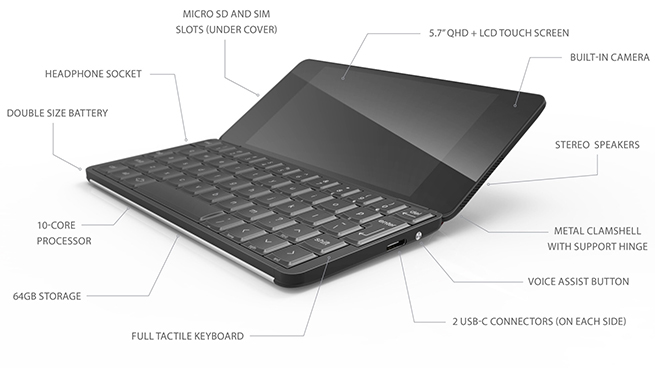 The Gemini pocket computer is a recreation of the Psion Series 5, and its creators have no trouble admitting their intention to recreate a format that pre-existed the current phablet phones by decades. The Gemini incorporates a variety of vastly superior hardware and software improvements over that distant age of the Palm PDAs, but the format is definitely a throwback. A very successful Indiegogo project last year, the Gemini raised 284% of its funding for the project with more than one million dollars promised by those willing to invest in it. It will be very interesting to see how this experiment works out for Planet Computing.
---
HAPPY ANNIVERSARY, SF TECHNOTES!
This first issue of SF TECHNOTES 2018 marks the 20th anniversary for this blog. Actually, that makes us older than a number of our favorites including TechCrunch, Engadget, Wikipedia, Gizmodo, and Business Insider. That's all due to you, and we thank you for your loyalty.