This crisis contributes to the various challenges that prevent the profession from achieving longer-term sustainability, greater innovation, and its full potential to serve and protect the public interest.
IMA® (Institute of Management Accountants) and CalCPA (California Society of CPAs), working collaboratively with research partners, contributors, and advisors, recently conducted a study to look into diversity, equity, and inclusion (DE&I) in the accounting profession (see "Diversifying U.S. Accounting Talent").
---
DIVERSIFYING U.S. ACCOUNTING TALENT
This article is based on the forthcoming IMA and CalCPA study, Diversifying U.S. Accounting Talent: A Critical Imperative to Achieve Transformational Outcomes. The full report presents key survey findings, oral histories of the study's participants, and a discrete look at race and ethnicity, gender, and LGBTQIA. The report also examines the role of ethics in the profession's DE&I progress and solutions to drive change as presented by the study's participants. The report will be available at myima.org/DEI when published.
---
The first in a multipart global series, this study explores race and ethnicity, gender, and LGBTQIA (lesbian, gay, bisexual, transgender, queer, intersex, and asexual) orientation in the U.S. accounting profession through an analysis of:
Demographic population and workforce statistics,
Almost 3,200 survey responses from current and former accounting professionals, and
In-depth interviews of nearly 60 practitioners and academics.
To provide context for ways to close the diversity gap, it's first important to understand the current state of DE&I across the accounting profession in the U.S. and the role of ethics as a foundation of DE&I good practices.
THE DIVERSITY GAP
Once closed to persons of diverse demographic backgrounds, the U.S. accounting profession is now majority female and more than one-fifth nonwhite. Females and Asian Americans comprise a greater proportion of the profession than is seen in the U.S. population. African American, Hispanic, and Latino persons, however, are underrepresented in the profession, and the diversity progress made more broadly across the profession doesn't manifest at senior levels (see Table 1).
Men comprise 86% of the CFOs of Fortune 500 and S&P 500 companies as well as 77% of partners in accounting or finance functions at U.S. CPA firms. And more than 90% of the profession's executive leadership are white, non-Hispanic.
Persons who identify as LGBTQIA can elect to disclose their status or keep it private, which affects the ability to make accurate assessments around this segment's representation within the overall population as well as the accounting profession. A 2017 Gallup poll estimates that approximately 4.5% of American adults identify as lesbian, gay, bisexual, or transgender, and McKinsey's 2020 publication, How the LGBTQ+ community fares in the workplace, reports that LGBTQ+ persons are underrepresented in corporate America and its senior leadership roles.
While there's a lack of current research that provides a reliable estimate of the representation of LGBTQIA persons in the accounting profession, and the U.S. Census doesn't collect LGBTQIA status, our study didn't identify evidence to suggest that the U.S. accounting profession differs materially in this composition from the broader business workforce.
With greater demographic diversity broadly across the profession, the dramatically low presence of diverse talent among executive leadership ranks reveals a diversity gap at senior levels.
EQUITY AND INCLUSION: POWERFUL ENABLERS
Societal influences, attitudes, and norms have affected the U.S. accounting profession just as all other business disciplines. A long history of systemic racism, misogyny, and LGBTQIA discrimination fostered a culture of exclusion, segregation, oppression, and even violence against marginalized groups in the U.S.
Consistent with broader workforce trends over recent decades, the U.S. accounting profession has responded to societal pressure, legal reform, and significant increases in diversity in America's population. Members of the profession today typically benefit from well-intentioned corporate policies that seek to close the diversity gap through various means, for example, policies that allow for safe reporting of inappropriate workplace behavior without concern for retaliation, forums and special interest groups for respectful internal discussion and community building, the removal of artificial barriers that inhibit advancement, and new standards to ensure fair recruitment practices.
Despite these improvements, our study found that inequities and exclusive behaviors inhibiting the closing of the diversity gap still persist in many workplaces. We thus recognized that this study couldn't simply look at the role of diversity; it must also examine the powerful impact of equity and inclusion on closing the gap. (Figure 1 contains the definitions of diversity, equity, and inclusion used for the purposes of this article.)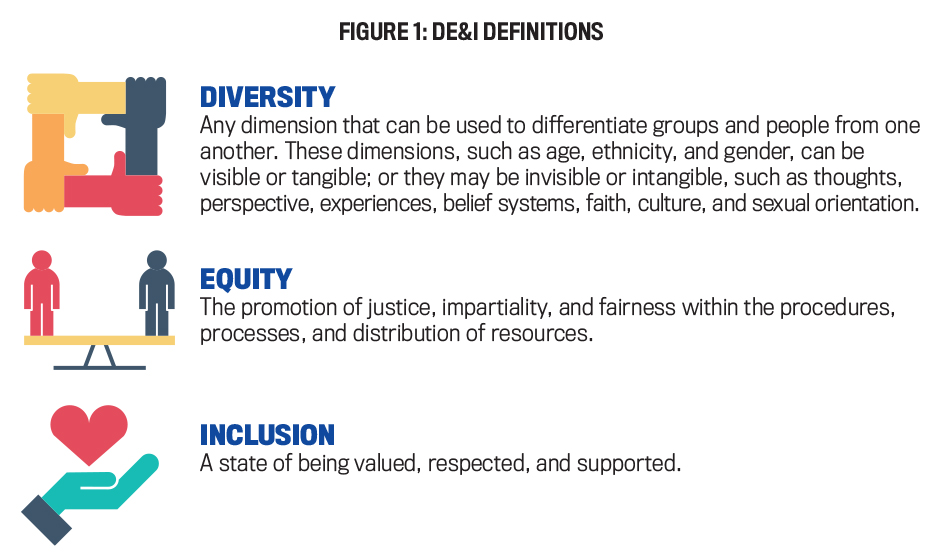 Based on our results, it appears that although there has been some progress made in diversifying the accounting workforce broadly, the profession has much ground to cover in relation to equity and inclusion. Only half of respondents of all backgrounds view the profession as equitable or inclusive, and an even smaller proportion of demographically diverse respondents share this view (see Table 2).
On average, less than one-third of nonwhite, Hispanic, Latino, female, and LGBTQIA respondents report that, within the accounting profession, their particular demographic:
Receives equitable treatment,
Has access to the same opportunities, information, support, and resources as non-Hispanic white, male, and non-LGBTQIA counterparts, and
Believes senior leaders provide an inclusive environment in their organizations.
When asked to identify the factors that contribute to underrepresentation of their respective demographic groups in senior leadership roles, participants point to firsthand observations or experience of inequitable practices and exclusive behaviors. Respondents and interviewees cite contemporary instances of bias affecting recruitment, assignments, peer-to-peer interactions, promotions, compensation, mentoring and sponsorship, and retention efforts. Some respondents noted that, in their view, concerns about a lack of equity and inclusion harmed their careers and advancement in significant and meaningful ways.
We also found that there is a measurable talent drain from the accounting profession due to a lack of effective diversity, equity, and/or inclusion practices, policies, and programs. As many as 55% of accountants from underrepresented groups leave their employers, and as many as 18% of them leave the accounting profession altogether. The opportunity cost to the profession—and society—is significant.
These findings suggest that the lack of effective DE&I programs and the persistence of inequitable and exclusive workplace practices have a direct effect on the retention and promotion of diverse talent. By decreasing human capital contributions to business, the lack of DE&I affects turnover within an organization's accounting and finance functions as well as the strength, stability, and long-term sustainability of the U.S. accounting profession's talent pipeline.
THE IMPETUS FOR CHANGE
Heightened global interconnectivity, technological advances, and renewed attention to accountants' pivotal societal role create a mandate for a broad-based conception of talent through enhanced DE&I, particularly among senior leadership. The current transformation that's redefining the profession requires not only reconsidering individual behavior but also collective action by the profession as a whole.
Research has shown that teams with greater diversity, equity, and inclusion—particularly among their leadership—realize more innovation and stronger financial results. Greater demographic diversity and, consequently, varied experiences, perspectives, and thoughts yield greater success for teams and organizations.
Additionally, according to the U.S. Census Bureau's 2020 report Demographic Turning Points for the United States: Population Projections for 2020 to 2060, by 2045, persons who identify as non-Hispanic white are projected to become the minority of the U.S. population. The composition of the accounting workforce and its leadership doesn't reflect the current demographic makeup of the population. The aging segments of the profession are at or close to retirement age, and younger talent in the U.S. is growing more diverse. The accounting profession needs to innovate to determine how to best attract, motivate, and retain diverse talent for the next generation of leadership.
The diversity gap among executive leaders and insights garnered from practitioners and academics in our research study reveal unmet challenges around retention and promotion. Yet the study also revealed that the accounting profession already has the tools and ideas for attracting, retaining, and promoting diverse talent to innovate and meet evolving business demands.
First, accountancy has always depended on ethical principles that value unbiased, information-based thinking, and accountants are already guided by responsibilities related to trust and accountability to the public. Second, as our one-on-one interviews revealed, some members of the profession already have ideas for driving change to develop talented and capable people to the top of the profession, regardless of demographic background, and are working to create change.
Let's take a closer look at both.
ETHICAL PRINCIPLES
A hallmark of the accounting profession is adherence to ethical standards. Businesses, governments, and other organizations rely on and place confidence in accountants' work because of their commitment to act ethically, objectively, and in the public interest (see Figure 2).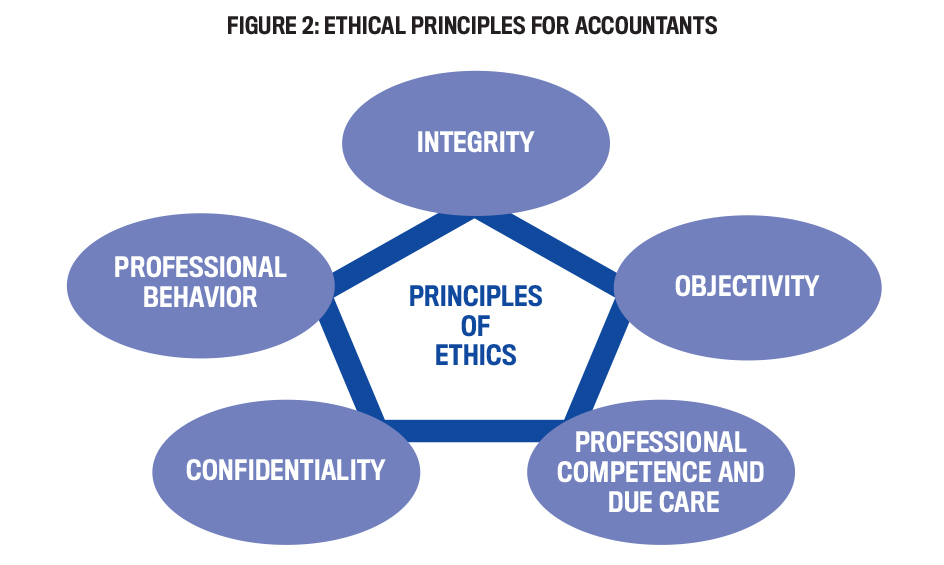 The International Code of Ethics for Professional Accountants (including International Independence Standards) from the International Ethics Standards Board for Accountants (IESBA) requires accountants to comply with five fundamental principles of ethics: integrity, objectivity, professional competence and due care, confidentiality, and professional behavior. (IFAC's publication series, Exploring the IESBA Code, explains the important concepts in the Code, including the fundamental principles, the conceptual framework, and the role and mind-set expected of accountants.) Among other attributes, ethical accountants:
Act with integrity by being straightforward, honest, and fair in all professional and business relationships.
Are objective and exercise professional or business judgment without being compromised by bias.
Behave in a manner consistent with the profession's responsibility to act in the public interest in all professional activities and business relationships.
Avoid any conduct that might discredit the accounting profession as a whole.
In the context of this study, the Code promotes the behavior expected of professional accountants. Professional accountants must comply with a robust set of ethics requirements, including the principles of ethics that help in fulfilling their public interest responsibility. Although the Code doesn't expressly address DE&I, organizational cultures that are aligned to the Code can help support the effectiveness of DE&I programs.
Further, recent changes to the Code enjoin all accountants to use an open and inquiring mind that involves remaining alert to circumstances that demand further investigation. These changes also explain that bias affects the exercise of professional judgment when identifying, evaluating, and addressing threats to compliance with principles of ethics. (These recent changes to the Code were released in October 2020 and will go into effect in December 2021.)
Our study found that, when paired with equitable treatment, an organization with an inclusive work culture helps to ensure that individuals remain fully engaged and motivated toward strong performance and value delivery. It's important that leaders recognize that each employee has unique skills, talents, and experiences.
Therefore, rather than a "check the box" approach to human resources, it's beneficial to tailor processes that support, develop, and coach each employee in a way that allows for nurturing talent toward its best use. To this end, ethical leaders in the accounting profession—moved by a responsibility to act with integrity, objectivity, competence and due care—are well positioned to serve as credible and trustworthy enablers and champions of DE&I.
A BROADER EFFORT IS NEEDED
Influential leaders in the U.S. accounting profession and, more broadly, in the corporate sector, are working to create more diverse, equitable, and inclusive workplaces. For example, CEO Action for Diversity & Inclusion is the largest CEO-driven business commitment to advance diversity and inclusion in the workplace. It currently has more than 1,600 CEO signatories (representing more than 85 industries and 13 million U.S. employees) to its pledge.
Our one-on-one conversations revealed observable positive movement in DE&I initiatives, particularly at larger organizations, in larger metropolitan centers, and in smaller organizations with leaders who are passionate about DE&I progress. Champions within the profession are proactively implementing DE&I-related corporate social responsibility initiatives and making significant contributions to increasing diversity in business school classrooms, educating youth from underserved communities, and building diverse candidate pools.
New scrutiny is being brought to the effectiveness of training and awareness-raising programs to recognize, promote, and include more diverse talent. Interviewees pointed out that about 10 years ago, the U.S. accounting profession made a conscious effort to recruit more women, and the demographics improved: More women joined the profession.
Taking this further, some organizations reward senior leaders who champion gender parity in their corporate ranks. Study participants believe that commitment to targeted actions that recruit, empower, coach, mentor, and sponsor more racial and ethnic minorities, LGBTQIA professionals, and females into leadership positions will result in positive progress and forward momentum.
Yet despite the changes brought about from these various efforts, interviewees and survey respondents state that previous initiatives haven't brought about adequate results and that the status quo is unlikely to close the diversity gap at senior levels of the U.S. accounting profession. Without expansive targeted efforts across the entire accounting ecosystem, the profession risks being unable to attract and develop the human capital needed to meet transformational demands.
Study participants indicated that it will "take a village" to generate the change needed for widespread, positive impact. We found that, in addition to CPA firm partners, accounting and finance function leaders, professional accountancy organizations, standard setters, and regulators, members of "the village" should include students, parents, high school teachers, guidance counselors, university admissions officers, professors, administrators, hiring personnel, practitioners, and accounting professionals at all levels within the organization.
Study participants believe that, together, these groups and persons form the accounting ecosystem and can engage in collaborative efforts to close the diversity gap in several ways (see Figure 3):
Raise awareness of how to identify and mitigate unconscious bias so talent of all backgrounds is recognized and valued,
Attract diverse talent to the profession,
Drive career advancement to develop more diverse leaders, and
Increase accountability for DE&I progress across the profession and at the highest level of leadership.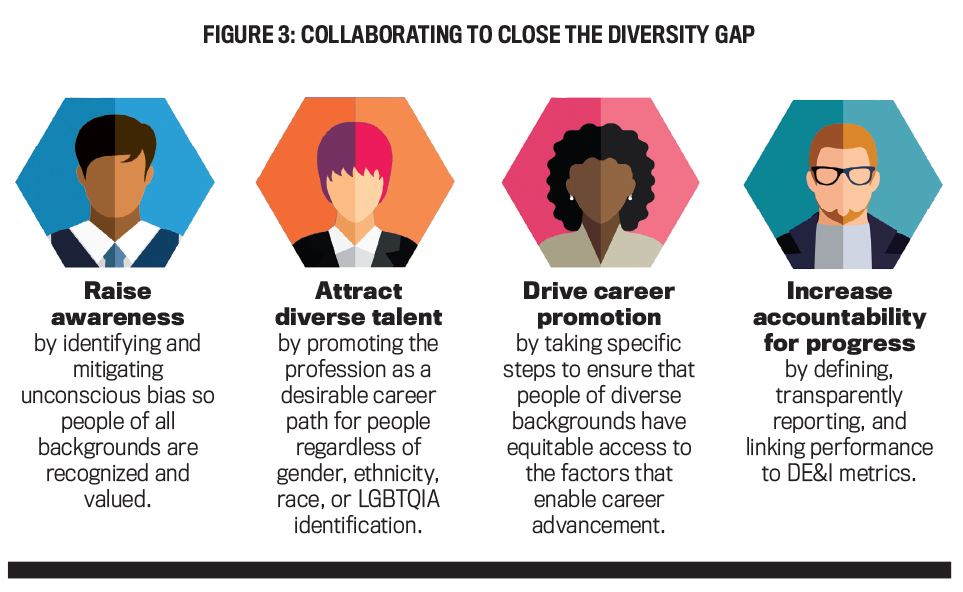 CHANGE THE STATUS QUO
The diversity gap must be closed or narrowed to strengthen the profession's value contribution into the 21st Century. The sponsoring, partnering, and contributing organizations involved in this study are committed to championing the continuous improvement of diversity, equity, and inclusion in the global accounting profession. These organizations are collaborating with other members of the accounting ecosystem to define the priorities, principles, and metrics needed to reshape the profession's talent pipeline and propel its transformation forward.
The researchers of this study recognize there will be more questions to ask and issues to uncover related to DE&I in the accounting profession, in particular defining metrics for equity and inclusion, examining other aspects of diversity, and exploring jurisdictions outside the U.S. We must continue to ask more questions to uncover systemic DE&I issues, find answers that explain their existence, and design and implement effective, sustainable solutions that will eliminate these barriers to a vibrant, future-proof accounting profession. Be part of this change: Ask questions, find answers, and create solutions.