This has disrupted many companies' operations and decimated entire industries such as travel, hospitality, and events. In challenging times like these, management accountants and finance professionals need to demonstrate leadership and cool-under-pressure decision making. Their positive influence can be felt across the organization, from strategic, contingency, and business continuity planning to disaster response and crisis management.
Almost everyone is discombobulated and seeking guidance during this period of quarantine and social distancing, and finance is in a unique position to help the organization by keeping morale high, overcoming fear and anxiety, and getting the information that each individual needs, according to Jennifer Elder, a strategic consultant and coauthor of the book Faster Disaster Recovery.
When you're in crisis mode, the C-suite has to exhibit grace under pressure and the CFO in particular needs to understand the worst-case scenario of the pandemic and its impact, gauge the company's liabilities, and start planning an appropriate response.
"Be like a duck: calm on the surface but paddling like hell underneath," Elder said. "The attitude of the CFO needs to be positivity. Finance can really help with providing more data to the various departments—they could really add value if they reach out to the departments and ask, 'What do you need right now?' We assume we're sending the information that people need, but that's not always the case—they might be needing different types of info right now, so show your value by asking, 'How can I help you to make decisions?'"
While the ultimate impacts on business operations and the balance sheet are still to be determined, CFOs are meeting these challenges head-on. Some CFOs suggest that companies may want to create a virtual command center with a core response team, that is, a cross-departmental steering committee that includes management accountants reporting to the CEO and CFO to coordinate the organization's assessment, strategy, response, and execution.
"Selecting the members of the crisis management team is a key part of the process," said Gary Mahoney, CFO of Miniter Group. "You need people with the technical skills to handle many different functions, but you also need people with the right demeanor. You want to set a tone of quiet confidence for your team, so trading off technical skills for EI [emotional intelligence] can be very beneficial for your crisis management team."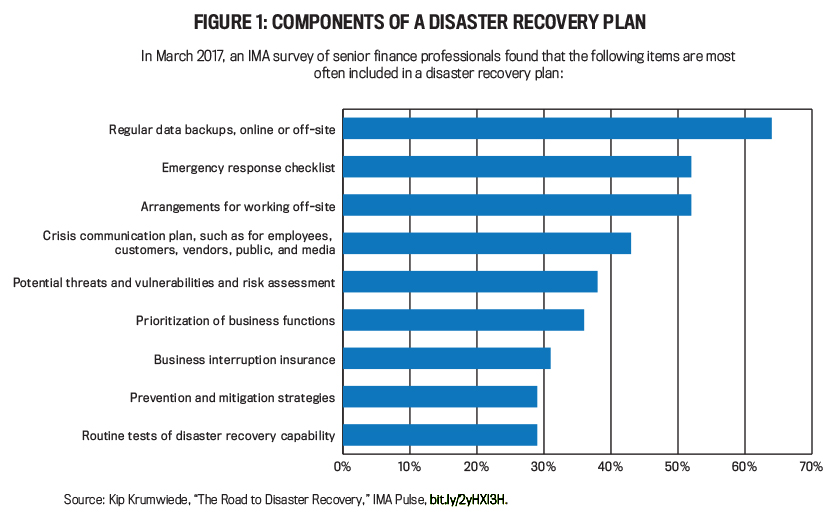 Click to enlarge.
IMPLICATIONS OF WORKING REMOTELY
The most immediate impact of COVID-19 has been the closing of most schools and offices, forcing many to work from home, including working parents who are now responsible for homeschooling their children during the same hours.
From a human resources perspective, with everybody working remotely, how do you maintain professional relationships? How do you maintain finance personnel's engagement and productivity?
"In the workplace, if you're worried about something, you can chat with somebody and other colleagues can pick up on that conversation—how do people working from home get to have that type of conversation?" Elder said. "Some companies [are] gearing up virtual meetings or chat rooms, where employees can just vent—communication is going to be very important during this crisis."
CFOs must also coordinate with their organization's chief technology officer or head of IT. While many companies have updated IT infrastructure that's cloud-based and digitized, others still have legacy systems and manual processes that make it more challenging to do everything remotely.
Mahoney said the biggest challenge for his company has been handling the physical invoices and checks it still receives. Miniter Group has made a lot of progress in moving toward being a paperless organization, but there are still some vendors who issue paper invoices and checks. Every other finance function can be performed remotely, which in terms of the pandemic eliminates the biggest immediate threat to employees—physical contact with others.
"The fact that someone still needs to collect mail is a sticking point," Mahoney said. "All other finance functions can be performed remotely with no decrease in productivity or functionality. I'm choosing to see future impacts in a glass-half-full view. I think we can see the effectiveness of WFH [work-from-home] and gain confidence that it's a policy that can be utilized more in the future."
The universal work-from-home policy, which should last at least until the growth curve of the pandemic flattens, is a good test for every company's policies and procedures. Some may need to be updated to improve workflow, and the CFO can play a role in that improvement.
"For a long time, I've preached the need to have workflow procedures documented so that a person off the street could come in and, while not matching current efficiency, perform all finance functions in a pinch if the subject-­matter expert is not available," Mahoney said. "This will be a good test of our documentation and will show us where we need to shore up in the future.
"Throughout my career, one of the first things I try to do in an organization is evaluate the documentation of procedures," he said. "It's a piece of the process that is ignored more often than not because there's no immediate gratification to it; however, documenting procedures is really no different than being properly insured. You may not appreciate it until you need it, but when you need it, you'll really feel the impact of whether or not you were properly covered."
EMPLOYEE HEALTH AND WELLNESS
The health and wellness of employees must be a company's number-one priority. The World Health Organization has estimated that the death rate of people who contract COVID-19 is 4%, although many who have been exposed to it haven't been tested and many more people may have it but have only experienced mild symptoms. Even healthy employees may be suffering from fear, anxiety, and concern for their own health as well as that of relatives and friends.
The situations for those still employed range across a wide spectrum: At one extreme, parents suddenly responsible for their children's schooling are desperate for a few uninterrupted moments to work. At the other extreme, the isolation of those who live alone, empty nesters, and widows and widowers may lead to loneliness, lack of motivation, and low morale. Communication, understanding, compassion, and flexibility are parts of the recipe for successful management during these stressful times.
"Depending on their situation, employees who aren't already in the routine of working remotely may feel isolation and loneliness and may have a tough time structuring their day to be efficient," said David Blanke, CFO of Stella Connect. "It's important to get in front of the company via Slack and other formal or informal Zoom meetings to assure the company there is a plan and we will be resilient as a company and emerge in a strong position when it's over."
Vincent Tophoff, general manager and CFO of a midsized production company, said to think first about ensuring the health and well-being of staff who operate the machines and work in the supply chain, as well as all others. "As prevention is typically more effective—and cost-effective—than fixing bad outcomes, the finance function should adopt a proactive approach in this area," he said.
DATA MONITORING, ASSIMILATION, AND ANALYTICS
Regardless of whether your company has a dedicated data analytics and research department, step forward to offer your expertise in integrating various sources of data, leadership's assumptions and strategies, and other variables to create a holistic planning model. The ideal model provides worst-case, baseline, and best-case scenarios, analyzing the potential impacts on cash flow and expenses as well as how each department's performance will be measured and reported during the pandemic.
"All business functions should monitor the developments and data in their area of expertise that are relevant to the organization and assess the consequences," Tophoff said. "The finance function typically brings this together and tries to assess the overall financial impact of those developments. As 'spiders in the financial information web,' the finance function is uniquely positioned to connect the various functions with each other and oversee the whole business process."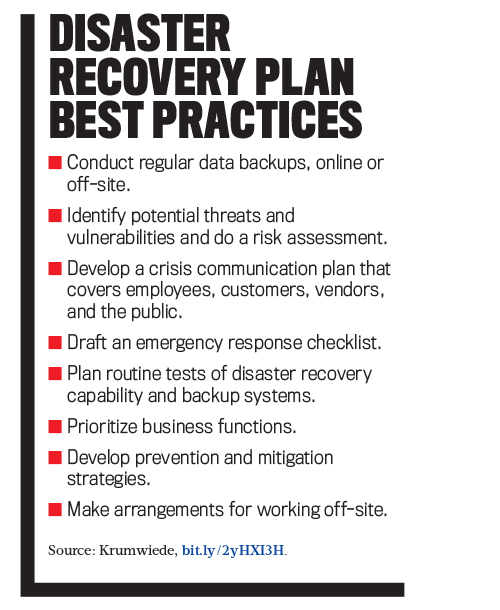 SUPPLY CHAIN MANAGEMENT
The finance department can help the purchasing department and make sure it's reaching out to all the company's vendors to gauge how they're being impacted. Lots of companies are dealing with supply chain disruption, and it's going to get worse.
"For example, people who sell wine from France and Italy are in a really tough spot right now, and virtually every manufacturer and retailer gets materials from China," Elder says. "It takes anywhere from eight weeks to six months for your shipments to arrive from China, so that delay when China was shut down will cause their manufacturing clients to shut down—Apple already warned about its earnings because of supply chain issues."
Supply chains balance demand and supply to generate financially acceptable outcomes. Minimizing disruptions on the supply of components due to increased supply lead times or supplier disruptions often requires building up inventory and thus demands greater working capital. Dealing with employee absences due to virus-related quarantines requires additional shifts or delayed deliveries, with possible additional costs due to delivery penalties or overtime or extra shifts, according to Ananth Iyer, department head, senior associate dean, Susan Bulkeley Butler Chair in Operations Management, and director of the Dauch Center for the Management of Manufacturing Enterprises and Global Supply Chain Management Initiative at Purdue University's Krannert School of Management.
"To deal with demand changes, particularly demand drops and thus revenue disruptions, quick response in terms of capacity adjustments, leveraging outsourcing, and providing incentives to customers to 'prepone' purchases may all be appropriate," Iyer said. "One strategic question is how to balance resilience and efficiency, as proactive action in both dealing with the current situation and planning for a recovery may help firms recover effectively."
A focus on continuity, crisis management, and disaster response is crucial, as it enables effective management of the supply-demand mismatch, a core aspect of supply chain management. How quickly a company responds to a crisis reflects existing management processes to relay information quickly to and from senior executives.
"Decisions include strategic choices to leverage partnerships with suppliers and customers," Iyer said. "For example, there may be a need to spend more on shipment by air instead of efficient shipments by sea, a focus on priority items instead of all items, negotiations with customers to synchronize shipments with their imminent needs, etc.
"But there is often a need for higher working capital, which may require working with banks or with the finance department to manage risk," he said. "Not being able to respond quickly and coordinate resources may have a serious, long-term impact on firm competitiveness."
The CFO has a key role in managing financial resources and the company's risk exposure. Prompt actions to manage the risk, either because of supply shortfalls or revenue impacts, may enable containment of the problem. More importantly, enabling a strategic perspective while choices are being made by supply chain managers can help overall organizational success.
"Prompt access to resources to solve the problem may open up new opportunities to help resolve disruptions," Iyer said. "Coordination with banks or lenders, assessment of future impacts and expected recovery duration, and guidance to the external stakeholders are all decisions for which a CFO's input and guidance can be crucial."
FINANCIAL ASSESSMENT AND CONTINGENCY PLANS
Even the best-laid plans must be thrown out or significantly altered to fit new and changing circumstances during a crisis such as a pandemic. Management accountants can lead the charge in updating the company's financial assessments and reformulating various contingency plans.
It isn't the strongest or the largest organizations that survive, but rather those that are best able to adapt to the new circumstances, Tophoff said.
"Given its central position—both with respect to finance and information—the finance function is well positioned to detect weaknesses before they become a real issue," he said. "By subsequently directing resources where they are needed most, finance can keep the organization afloat and weather the storm."
It's important to be realistic about the impact of the situation at hand. When there's a very large disruption such as the COVID-19 pandemic, some people tend to minimize its impact and convey the false hope that a return to normalcy is imminent.
"[Don't] think of it in terms of how it will affect the next one or two weeks," Mahoney said. "You need to think long-term—how long will this disruption really impact our business, what added costs will be unavoidable, how will this impact our employees on both a personal and professional level, and what can I do to ensure our employees can make it through as safely as possible?"
Blanke and his finance team at Stella Connect created two cash forecasts: 1) delayed recovery and 2) prolonged contraction.
"The management team understands these plans and knows that we are in a highly fluid environment, so that we're regularly updating the plans and they're subject to change," he said. "Recognizing that there's a lot that we don't yet know is very important. Our board is also aware of these plans and updated regularly."
MARKET IMPACT ASSESSMENT
To minimize disruptions and additional costs stemming from the pandemic, finance must anticipate consumer behaviors and changes to the competitive landscape and make the case for the company to invest sufficiently to provide uninterrupted service to its core market segment.
It's also imperative to evaluate the short-term costs, inventory, revenue, and profit impacts on the recovery and long-term sustainability of the business. Investment and innovation are required because customer behaviors are unlikely to return to pre-coronavirus norms anytime soon, and no one knows how long the current economic downturn will last. Finance is in the best position to adjust the modeling of the company's budget based on the market impact assessment and other factors.
"They know what they planned for the year, but maybe they need to take it down by 10% or 20%," Elder said. "Right now we're in the middle of the emergency response to COVID-19, and we're still waiting to see the full economic impact, so to avoid emotional decision making in the moment, plan for the worst-case scenario to see where you would be—would you need to make cuts?"
COMMUNICATION AND CUSTOMER RELATIONS
Internal communication with employees is vital, but external communication with all stakeholders, including customers, will also determine how well a company overcomes the challenges brought on by the global COVID-19 outbreak. Collecting, assimilating, modeling, and providing data and information to sales, marketing, and customer-service teams can help them manage external messaging and communicate regularly with the company's customer base.
"Providing your customers with a clear action plan will go a long way to maintaining their confidence in you as a trusted partner," Mahoney said. "I prefer to overcommunicate in these situations. As convenient as it is to work remotely, it can be too easy for everyone to end up on their own island," he said. "Clear checklists of tasks and progress on tasks, as well as employee well-being checks, help everyone to feel connected."
Tophoff said that the best decisions result from rigorous communication and consultation between all relevant business functions, including outside stakeholders.
"With its expertise in data processing and analysis, the finance function is well positioned to facilitate the process, bring the various information elements together, and analyze them, as well as to contribute the specific financial perspective," he said.
Blanke stressed the need for flexibility with the company's policies. Finance is accustomed to adhering to standard policies and procedures, but during this time, it's important to adapt and be flexible, particularly with customers.
"When applicable and necessary, we're developing revised contract terms for customers that are hardest hit by the crisis," Blanke said. "A true partnership means you support your customers through the good times and the bad, so first and foremost, we listen and try to do what we can to ease the financial burden they are experiencing. We're feeling the burden ourselves, so there's only so much we can do, but being empathetic is the most important thing. We have a very empathetic approach to customers during this time, so there's a very close partnership between finance and customer success around meeting our clients where they are during this time of difficulty."
Everyone in finance has an opportunity to ask themselves, "How can I be a part of the solution? What can I do to make things better for all of our stakeholders?" In every disaster, there's also opportunity.
"Right now we're worried about employees at risk of getting COVID-19, but what about customers? What are they struggling with right now, and how can we help them?" Elder said. "Internal audit likes to follow the rules, and if the contract says a customer owes X amount, end of story, but think about your reputation—people who are willing to bend the rules a little bit have a chance to solidify relationships with customers.
"By the time we come out of [the coronavirus crisis], everyone is going to be hungry for relationships with people, and the ones you keep lines of communication open with and work with will be the first to reach out after this," she said. "If customers say, 'I can't take my order' or 'I need to delay my order,' you can fight them or you can realize that we're all in this mess together and say, 'When do you think you would want it?' Maybe take a deposit, and they'll love you for it—there can be a win-win solution, you just have to be creative about it."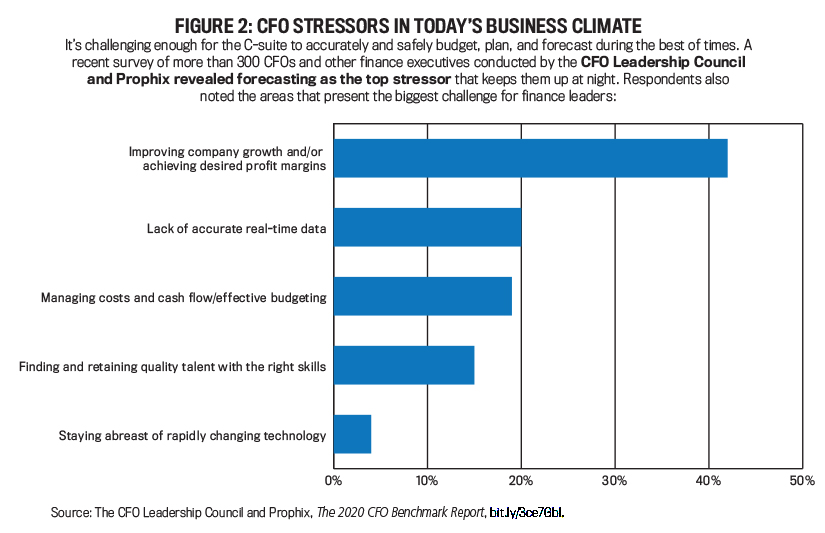 Click to enlarge.
KEEP CALM AND CARRY ON
Typically, leaders talk about setting the tone at the top in the context of ethics, but the phrase also applies to crisis management. CFOs who exude a calm confidence while acknowledging the challenges and risks that individuals and the company face are more likely to boost morale and minimize employees' anxiety.
Rather than obsessing over lost productivity and agonizing over dwindling profitability, sometimes all that's needed is to take a deep breath and say, "This too shall pass." Panic can snowball out of control, while clear-headed competency breeds normalcy, to the extent that the latter is possible. Find good uses of your time, even if your routine is different than what you're used to.
"If you're a manufacturer and your orders slow down, take the opportunity to do maintenance, cleaning, and cross-training," Elder said. "Take advantage of the downtime to update manuals. I don't think there is anybody in any organization that doesn't have a list of things to get to—well, now's the time to get to them."
Although this pandemic may represent an existential crisis for many companies, Blanke said it's critical for CFOs to find their own way to achieve an inner calm and sense of balance, whether that's through meditation, family time, exercise, cooking, and so forth.
"The company will be looking at you for direction and will respond to your vibes, both positive and negative," he said. "Now is the time for the CFO rock star to emerge."
---
36 DISASTER RESPONSE QUESTIONS FOR THE CORONAVIRUS CRISIS
Questions about your employees:
How can you protect your employees?
Will you train your employees on how to identify coronavirus symptoms?
If an employee doesn't have available sick time, how do you make sure they don't come to work if they're sick?
How will you respond if an employee is diagnosed with coronavirus?
Who can work from home?
How will your employees get access to the necessary information and documents they need to work from home?
Will you allow employees to travel?
If employees must travel, what steps will you take to ensure their medical safety?
How will you respond if an employee needs to care for an infected family member?
If an employee contracts coronavirus, will they only be allowed to use their accrued sick time?
Questions about your operations:
What parts of your business are crucial to keep operating?
When should you exclude visitors from your offices?
How will you decide if you need to close an office?
Will you close your business for the recommended time period of quarantine or longer?
How will you disinfect your office?
How will you keep employees, customers, and vendors informed?
Should you postpone meetings, events, or travel?
How will you communicate with employees, customers, and vendors if you have to close your offices?
Is your IT system robust enough to handle the demand if more employees are working from home?
Questions about your finances:
If your offices are closed, how will you collect payments?
How long can your business survive without any new sales?
How will you pay your bills and payroll if your office is closed?
Do you have available lines of credit?
Will you pay your employees and for how long if you close your office?
If an employee contracts coronavirus, will you grant the individual additional paid time off?
Questions about your customers:
Will you notify customers if an employee is diagnosed?
How will you stay connected to customers if employees are out sick or the office is closed?
How will you deliver on contracts if the office is closed or if there is a disruption in your supply chain?
Do you have a force majeure clause in your contracts?
How will you respond if a customer is affected by coronavirus and doesn't pay your invoice on time?
Are there ways you can assist your customers in addressing the coronavirus pandemic?
Questions about your supply chain:
Who are your mission-critical vendors?
Which vendors should you call to discuss their coronavirus plans?
Do you currently source any supplies or products from a virus hot spot?
How would a delay in delivery of materials and products affect your production?
Do you have alternate suppliers?
—Jennifer Elder, coauthor of Faster Disaster Recovery
---