This year's SLC marked the 20th anniversary of the event. Dell Ann Janney, associate dean of experiential education and external relations at Culver-Stockton College and former chair of the IMA Committee on Students, which organized the early Conferences, remarked, "The growth in the SLC over the past 20 years has been impressive—from our first year in Colorado Springs, Colo., with 100 students to this year's event with more than 600. What started as a grassroots movement by volunteer members has now become a premier conference for accounting students around the world."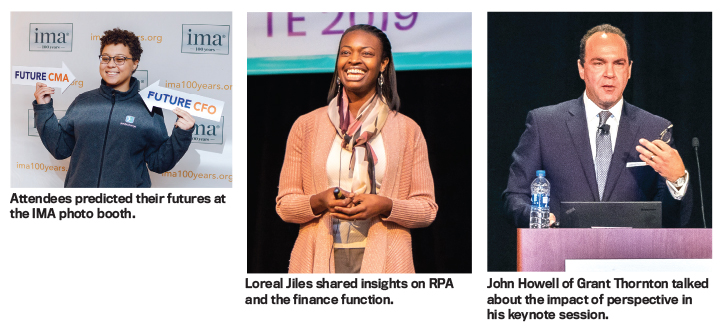 Among the highlights of this year's Conference were the keynote sessions. In "Being All in All of the Time," John Howell, managing director of Advisory Services at Grant Thornton, talked about the way we go about our lives and how to make improvements. He noted that how we choose to see things creates its own set of changes in how we spend our time, what we focus on, and, ultimately, how we accomplish the things that matter to us most.
Loreal Jiles, RPA Product Owner, Upstream Finance, at BP America, gave a primer on robotic process automation (RPA) and how it can be used to automate finance and accounting processes in her keynote session titled "Transforming the Finance Function with Robotic Process Automation." She emphasized to attendees that every accounting and finance professional should be following the developments and advances of RPA.
Jiles said, "The future of our profession lies in the hands, minds, and capabilities of the students who attend SLC each year. I am energized and humbled each time I present at SLC because it is a unique opportunity to engage directly with individuals who will undoubtedly shape our way of life—and our profession—for decades to come."
Finally, Weston Smith, fraud prevention and ethics advocate at ChalkLine Solutions, Inc., closed the Conference with a behind-the-scenes glimpse at ethics fraud in "The HealthSouth Fraud: A Case of Ethical Malpractice." Smith talked about the company culture that contributed to financial statement fraud. He identified red flags and explained how attendees could apply the lessons learned to help prevent other frauds. The biggest takeaway was the importance for accounting and finance professionals to understand the significance of ethical conduct and the dangers of stepping over the line even once.
Concurrent sessions focused on a variety of subjects, including Industry 4.0, financial planning and analysis, servant leadership, ethics, diversity and inclusion, and forensic accounting. Students also were inspired by sessions about making the journey from student to C-suite professional and understanding global business trends.
First-time SLC attendee and University of Louisiana at Lafayette student Madison Muffoletto said, "What impressed me the most about the Conference was the level of passion and commitment by the speakers. You could really tell that they cared about sharing their message with the students."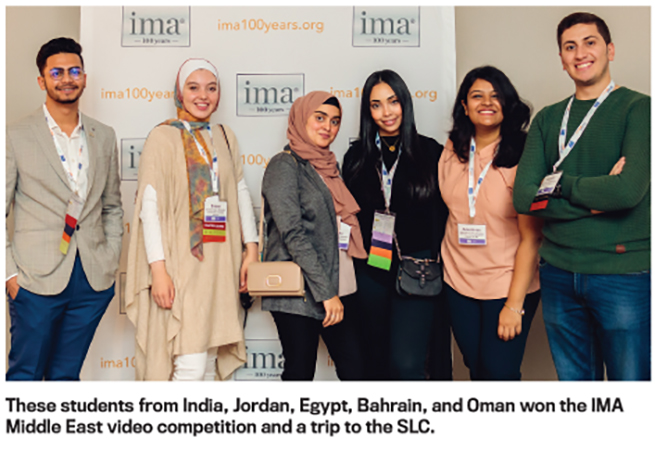 Attendees had the opportunity to experience accounting and finance in action by choosing one of three optional industry tours: Bank of America; the Charlotte Knights (the Triple A affiliate of the Chicago White Sox); and Duke Energy. Jodi Ryan, IMA director of member engagement, explained, "During these industry tours, students get a great opportunity to meet with finance and accounting professionals in their work environment. They ask questions, gain insights into what the job entails, and see firsthand the exciting careers available to them as management accountants."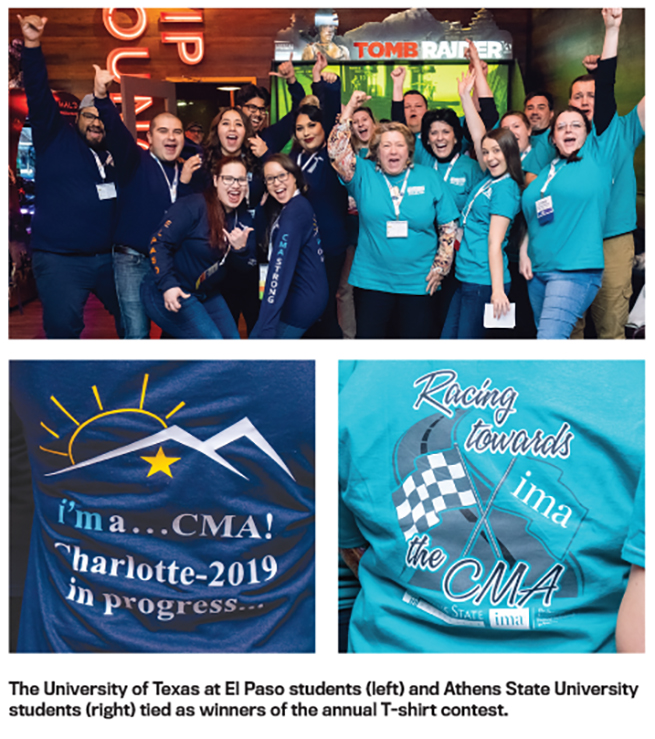 This year's networking event was held at Bowlero, where students had the chance to unwind, bowl, and socialize. Bowlero also hosted the finals of the annual T-shirt design contest, now in its eighth year and which this year attracted a record number of entries. Top honors went to Athens State University and the University of Texas at El Paso.
"We thank everyone who helped make this year's SLC another engaging, informative experience for students and faculty alike," said Ryan. "We are especially grateful to our wonderful group of presenters and for the generous support of our sponsors and exhibitors, as well as the Stuart Cameron McLeod Society and IMA members, who financially supported the event."