Major J. Lee Nicholson (1863-1924)
Major J. Lee Nicholson was the founder and first President of the National Association of Cost Accountants (NACA), the forerunner of IMA. Known as the "father of cost accounting," Nicholson issued a call for cost accountants to attend an organizational meeting in the Buffalo, N.Y., area in October 1919.
Nicholson wrote a number of books that were the standard references of the time. The first, Factory Organization and Costs, was published in 1909. It was followed by Cost Accounting—Theory and Practice (1913), Cost Accounting (1919), and Profitable Management (1923). He also wrote articles for various business journals.
Nicholson's books were used widely as references because they included many forms and synthesized most aspects of cost accounting. He was also the first to advocate accounting for costs on a departmental basis. In addition, Nicholson popularized the use of perpetual inventories through his development of ledger cards with spaces for both values and amounts, purchases and requisitions, and ending inventories. These concepts seem routine today, but they were unknown before Nicholson.
In 1972, the National Association of Accountants (IMA's name from 1957 to 1991), established the J. Lee Nicholson Award, which is presented to the chapter with the second-highest final standing in the chapter competition for the Warner Division.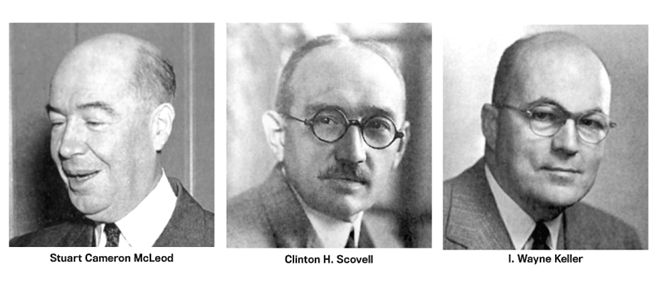 Stuart Cameron Mcleod (1885-1944)
Stuart Cameron McLeod was NACA's first full-time employee and managed the organization from its founding until his death in 1944. Officially, his title was secretary.
McLeod recognized the growth potential in cost accounting and used his personality to convince others of the career possibilities in the field and of the necessity for joining NACA. His periodic attendance at NACA chapter meetings throughout the country were considered major events by the membership. He seemingly attended a half dozen or more chapter meetings each month and, in the early years of NACA, visited every local chapter at least annually.
In the early days, McLeod was the writer, editor, and publisher of almost everything that appeared in the monthly journal, the NACA Bulletin, which is now Strategic Finance. Even when more articles from outside authors became available and an editor was hired, McLeod continued to write his Secretary's Corner column.
One of McLeod's greatest accomplishments was the competitive system for NACA chapters, which continues today with the IMA chapter competition. Since 1972, the Stuart Cameron McLeod Society, which is composed of current and former IMA national officers and directors, has given the Stuart Cameron McLeod Society Trophy to the IMA chapter that finishes third in the chapter competition for the Stevenson Division.
Clinton H. Scovell (1876-1926)
Clinton H. Scovell was a charter NACA member and the 1925-1926 President. Scovell attended the NACA organizational meeting and served as a national director or officer from the time of the organization's founding until his death in 1926.
A prominent CPA and author of two books and many articles on cost ac­counting, Scovell was concerned with uniformity and the widespread use of cost accounting systems. Essentially, he took the best practices of the time and codified them for all to implement.
He was a theoretician who carefully thought out justifications for proposed changes in management accounting practices and then used those justifications to spread the gospel of effective costing systems.
Scovell was a pioneer in the popularization of cost accounting in the United States. Through his writing, he made U.S. industry appreciate how a good costing system can be a competitive tool. He saw cost accounting as a way of securing the country's industrial leadership.
He wrote two books, Cost Accounting and Burden Application (1916) and Interest as a Cost (1924), and regularly gave speeches on the subject of costing. He was concerned that foreign competition would take over American markets if U.S. manufacturers didn't implement better cost systems. He also encouraged the use of scientific management, a technique that was only then becoming popular.
Wayne Keller (1908-1987)
Isaac Wayne Keller was the 1953-1954 President of NACA. He wrote many articles for a variety of professional journals, including at least two dozen published in Management Accounting (now Strategic Finance) and its predecessors, the NACA Bulletin and NAA Bulletin. He won his first Lybrand Silver Medal in 1951 for an outstanding article published in the NACA Bulletin. He later won two more silver medals, a gold medal, and five Certificates of Merit. The innovations described in his articles became standard industry practice.
Keller was the author of a textbook titled Management Accounting for Profit Control, which included many of the ideas contained in his early articles. The book presented a coordinated cost accounting and budgetary planning and control system that the management accountant could use to guide management in its decision making.
Keller served as chairman of NACA's Committee on Research for several years. Some of the organization's most important research publications, dealing primarily with standard costing, were published during Keller's chairmanship.
NAA established the I. Wayne Keller Trophy in 1970. It's awarded to the chapter making the most improvement in the Warner Division standings.
Lee Nicholson, Stuart Cameron McLeod, Clinton Scovell, and I. Wayne Keller were four of the most prolific management accounting authors of the 20th Century. All worked as management accountants at one time or another during their careers, and all were extremely active in the organization. Through their work with the organization, these men helped make IMA what it is today, and, through their writings, they helped make management accounting what it is today.
---
This article is a condensation of one written for IMA's 75th Anniversary in 1994.