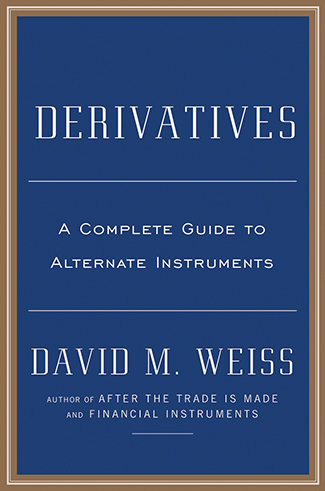 David M. Weiss has been active in the brokerage industry for more than 35 years. Currently an independent consultant and lecturer and formerly the director of business, industry, and product training for a major international investment bank; vice president of new products for a primary marketplace; and chief operations officer of a broker dealer, he's written a concise guide, Derivatives: A Complete Guide to Alternative Investments.
Weiss defines derivatives as a product "that derives its value from another product or other products." For example, Weiss says, "The value of a future contract…on wheat is based on the current price of wheat." He suggests that everyone is connected to the debt market in some way. Individuals and governments come to the market to borrow funds. Therefore, the debt market forms the base for many derivative products. Derivatives mainly benefit companies since they're used for hedging prices, interest rates, and exchange rates flotation.
Weiss describes the types of derivative products like options, swaps, forwards, futures, the formation of mutual funds, exchange traded funds, and, in the later chapters, how they're traded, their structures, and the ins and outs of regulations and the Dodd-Frank Act.
In a world full of uncertainty, Derivatives is a foundational book for anyone interested in learning about derivatives products. The outline of the different types of derivatives and how to use them is accessible and useful, and the more in-depth discussions of uses focused on investors' and issuers' points of view are valuable additions. It's an excellent guide for all financial professionals working in business.