That organization, initially known as National Association of Cost Accountants (NACA), was created on October 13, 1919. During the next century, NACA would become National Association of Accountants (NAA) and then IMA® (Institute of Management Accountants) and grow to attract more than 125,000 members, including students, educators, and practitioners, in 150 countries.
The other organization, Beta Alpha Psi (BAP), was also founded in 1919 but on February 12. Its goal was to serve as an honors organization, with specific eligibility requirements, to help stimulate students' interest in accounting and promote the CPA (Certified Public Accountant) credential on college campuses. Currently, BAP operates on more than 320 college campuses, primarily in the U.S., and has initiated more than 320,000 students since its inception.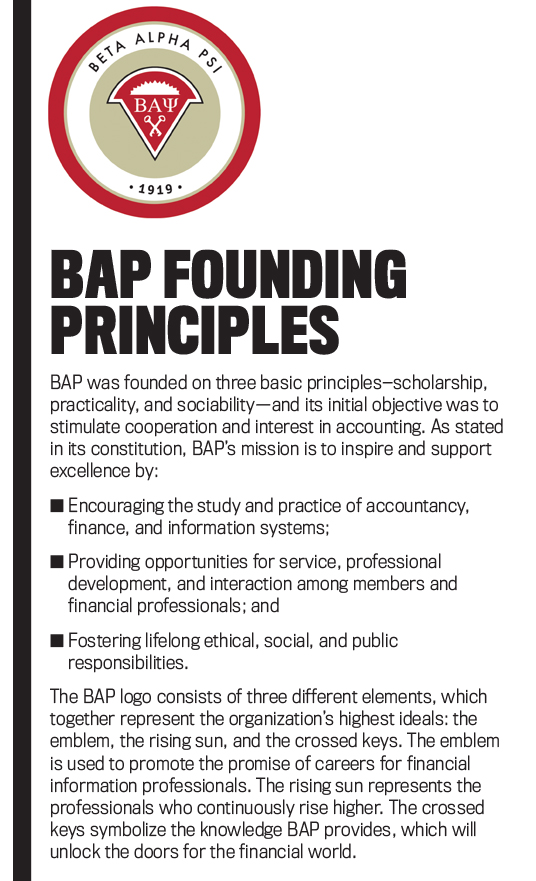 As two organizations helping students, IMA and BAP have collaborated on numerous initiatives, with a particularly mutually beneficial relationship over the past three decades. During that time, changes have occurred: IMA has extended its primary focus on accounting practitioners to include a dedicated, successful effort to also engage the student and academic community. BAP started as a selective student organization on campus focused on public accounting and has gradually expanded to work with practitioners in all fields of accounting, finance, and information systems.
Despite these changes, the goals of joint efforts between IMA and BAP have remained the same. According to Margaret Fiorentino, BAP executive director, "Beta Alpha Psi and IMA have collaborated together over many years with these goals in mind: to help students achieve academic excellence, develop their professional skill set, and be transformed into competent leaders."
CAMPUS BEGINNINGS
BAP was cofounded by Hiram Thompson Scovill, a member of the class of 1908 at the University of Illinois. After several years as a practitioner, Scovill returned to the university in 1913 to teach as an accounting professor. In 1917, he and his junior colleague, A.C. Littleton, decided to form an accounting club on campus. Two years after the founding, Scovill and Littleton took their idea one step further, forming BAP with 11 students, all from Scovill's CPA course, initiated as the first active members. Scovill became an honorary member.
Throughout its 100-year history, BAP has organized campus, regional, and national activities for the benefit of students, such as the first regional meeting, held in 1969 in South Bend, Ind. Explains Lauren Peck, BAP marketing manager, "BAP brings the best students together at the chapter level, as well as at our regional and annual meetings. We encourage community service, professional development, academic excellence, and networking to prepare students for the profession."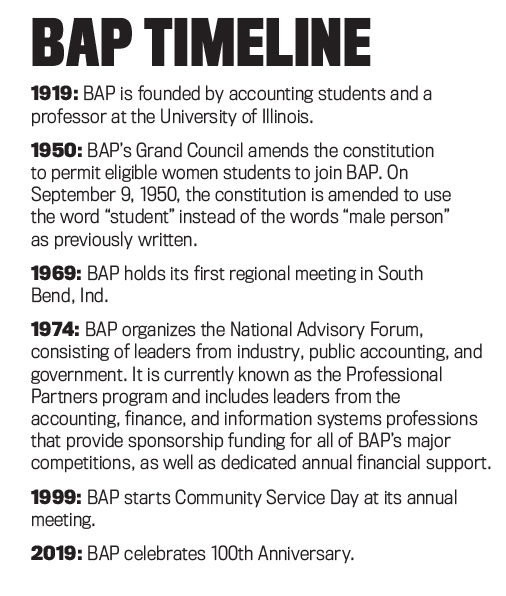 AFFILIATION WITH IMA
BAP has a long-established history of working with students on college campuses. Over the years, it has also attracted many prominent IMA members to serve in leadership positions, most recently former IMA Chairs Sandra Richtermeyer, who served as BAP president, the highest volunteer position, in 2017-2018, and Brian McGuire, who is BAP's current president-elect for the 2018-2019 term.
Richtermeyer currently serves as dean of the Manning School of Business at the University of Massachusetts Lowell. She has been actively involved in BAP for more than 20 years, and, in her roles as a BAP board member, an accounting professor and chair at Xavier University, IMA's professor-in-residence, and an accounting professor at the University of Wyoming, she has worked with many students who have been both BAP and IMA members.
"For many students, BAP is often the first professional organization that they become a part of, and through this membership students learn how networking, leadership development, and continuing education can be incredibly impactful on their career," Richtermeyer says. "I always tell students that if you take advantage of all the opportunities that BAP offers to connect with the professional community, it can dramatically enhance your lifelong professional network. It's the same message I tell my students about membership in IMA as well."
Service activities are among the opportunities that BAP students, and educators like Richtermeyer, value most about membership. She observes, "Every BAP annual meeting since 1999 kicks off with an amazing day of community service, where hundreds of students and professionals come together and work on an important cause, such as childhood literacy. Many chapters also have their own activities that provide a range of services to their campus or local community—things like tutoring or volunteer income-tax preparation."
Raymond Shaffer, a professor at Youngstown State University, has been the BAP faculty advisor there since his school started a chapter on campus in 2000. He also has accompanied students to several IMA Student Leadership Conferences over the years. He appreciates the way that IMA and BAP have worked to support each other, with representatives attending each other's conferences, and he encourages students to participate in both organizations where possible.
"Both IMA and BAP provide such great opportunities for our students," he notes. "They learn so much about accounting, as well as general professional and life skills, by attending local and regional conferences and meetings. Both groups provide a path for students to become successful professionals, and many of our students take advantage of these opportunities and do great things."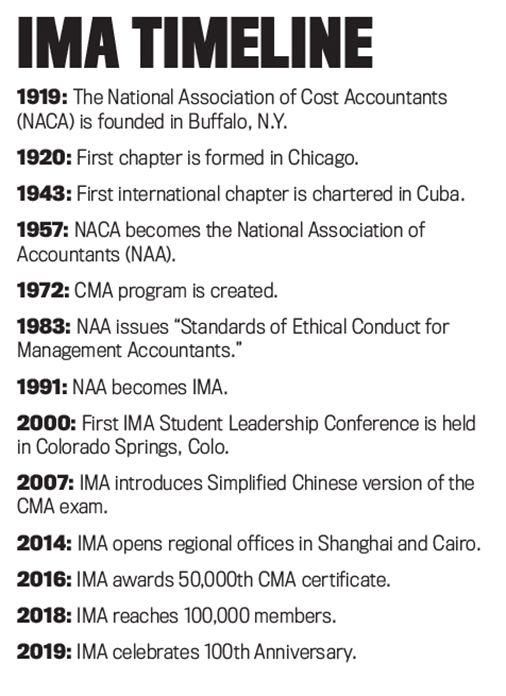 OPPORTUNITIES TO COLLABORATE
One of the ways the two have worked together is through BAP's Professional Partners program, which is a key part of its organizational structure. The creation of such a program represented the first step in BAP's expanding beyond its mission solely on campuses and to working alongside other organizations, such as associations and professional groups, for resources and support.
Professional Partners was originally known as the National Advisory Forum, formed in 1974. It now consists of leaders from approximately 40 organizations representing global accounting firms, Fortune 500 companies, professional organizations, review course providers, and more. These organizations interact with students on various levels, such as judging competitions, working on service activities, promoting leadership activities at regional and annual meetings, attending networking events, serving as speakers, and providing mentorship and general career advice.
IMA became part of the BAP Professional Partners in 2000, which, according to Alexandra Miller, BAP's current president and an IMA member, was about the same time that BAP's mission statement was changed to add finance and information systems students to the organization. It was also a few years before the tenure of Hadassah Baum, who served as BAP's executive director from 2003 to 2013. She previously worked at IMA as director of academic relations.
Baum was instrumental in helping shape BAP's evolution from an organization that solely emphasized the CPA to one with a much broader focus: "For a long time, we just focused on students who were going into public accounting—after all, we were originally founded to promote the CPA on campus—but over the years, we recognized that not all students are interested in that career. We found that we needed to diversify and encourage multiple career paths," she recalls.
Baum traces this change to the start of the dot-com boom in the mid-1990s when "start-ups wooed away many of our best business students." The appeal of lucrative, exciting start-up opportunities led to a decline in the number of students interested in pursuing accounting careers. So BAP made a deliberate decision to appeal to a broader range of students, including those interested in management accounting.
"Not all students are interested in audit and tax work, and we wanted to make sure that students know about the other opportunities available to them," Miller explains. "That meant collaborating more with organizations like IMA because management accounting is a career that students may not know enough about, given the emphasis on public accounting at many colleges."
MORE CLOSE TIES
The change has prompted closer ties with IMA over the past 25 years. Beginning in the 1990s, for example, IMA and BAP jointly supported and sponsored the IMA Student Case Competition, with the winning video and team announced at the BAP Annual Meeting, where CMA® (Certified Management Accountant) and CFM® (Certified Financial Manager) exam scholarships were also awarded.
Since 2005, IMA has made the Student Case Competition its own, attracting teams of students from colleges and universities in the U.S. to analyze and present their solution to a case published in this magazine (see "Carmine's Sacramento Wine Tastings" for this year's case). Recently, the IMA Student Case Competition was expanded outside the U.S. It's now offered in China, where students from hundreds of schools participate, and in the Middle East and in India.
McGuire notes that, "Competitions like these provide students with opportunities to develop their networking and leadership skills, two essential qualities for success in their future careers." McGuire knows personally about the benefits of BAP membership for students. He's been involved with the chapter at the University of Southern Indiana, where he is the interim dean and professor of accounting at the Romain College of Business. "Being part of IMA and BAP has provided not only a great experience for me as an academic but also as a parent," he explains. "My youngest son, Andrew, joined IMA and BAP as a student, and we've attended various meetings together. I have seen how both organizations help Andrew to excel in his academic career and to advance as a professional."
Former IMA Chair Carl Smith echoes similar sentiments. He is now the BAP faculty advisor at the University of Hartford, where he is an associate professor of accounting. Smith served on BAP's Professional Partners Advisory Board when he was IMA's professor-in-residence in 2003, and, after completing his service, he began working on establishing a BAP chapter at his school. "We had been talking about it for several years, but after serving on the advisory board, I was able to see firsthand how much BAP offers students. It's an excellent organization for our students and gives them a first contact with potential employers. Plus, those who choose to be leaders get a great way to work on their presentation and speaking skills," Smith says.
BUSINESS INFORMATION PROFESSIONAL OF THE YEAR
Among the chief collaborative efforts between IMA and BAP is IMA's sponsorship of BAP's Business Information Professional of the Year (BIPOY) Award, which helps connect students with professionals.
The program traces its roots to 1974 when BAP began to honor one or more individuals as Accountants of the Year. Local chapters were invited to nominate alumni from the industry or government, public accounting, and education fields. In 2000, the award was renamed the BIPOY and expanded to include finance and information systems professionals, and it's currently bestowed on one professional in each of three segments: education, industry and government, and professional services. BAP chapters provide the nominations for this award to honor their own outstanding members or honorary members, and award winners are recognized at the BAP Annual Meeting. Since 2011, IMA has sponsored the monetary award of $2,000 for each chapter whose nominee is selected.
"This program is a great way for chapters to recognize their alumni and to build bridges between students and the professional community," observes Scott Hobson, professor at Brigham Young University's School of Accountancy and BAP's current director of administration. It's also a great way to spread the message about management accounting, which is often done by alumni who participate in these awards and who give their time at meetings—both important opportunities for IMA members.
Paula Weller, senior lecturer at Elon University and an IMA Campus Advocate, agrees, noting that "It's important for the future of our students to have faculty, business leaders, and alumni who belong to IMA share the story about the benefits of pursuing a career in management accounting and becoming a CMA. Clearly, BAP is an avenue to reach our future accountants. Even if it's only one meeting a year, we need to nurture the IMA and BAP relationship to last another 100 years."
A BRIDGE TO THE FUTURE
Nurturing that relationship is among McGuire's priorities when he steps into the BAP president role in September. McGuire has selected "Honor the Past and Embrace the Future" as his theme, and he acknowledges that "to be successful in the future, BAP and its members need to help shape it." That's a message that IMA shares.
The fact that both IMA and BAP are celebrating their 100-year anniversaries isn't lost on him. "Very few organizations have been around for 100 years, and to have two important and impactful organizations make it to their 100th Anniversary in the same year is truly special," McGuire says. "As we look to the future, I believe both organizations will continue to evolve and thrive. This ability to thrive in the future is not only important for BAP and IMA—it's also important for the business profession."