The question "Why are these events exclusively for women?" is often raised by those who have heard about the Women's Accounting Leadership Series but not attended. When the series attendees are specifically asked this question, the general response is often clear: Until we see more advancement of women into top-level positions and more closure of the wage gap, having a women-only space to discuss the advancement of women in accounting and finance is very much needed. This response clearly shouldn't be taken as an assumption that it wouldn't be helpful to have more discussions beyond the series that include both men and women. Many women surveyed have stated they would welcome those discussions, but in the evolution of the series to 2018, the focus has been on creating a forum for conversation among women.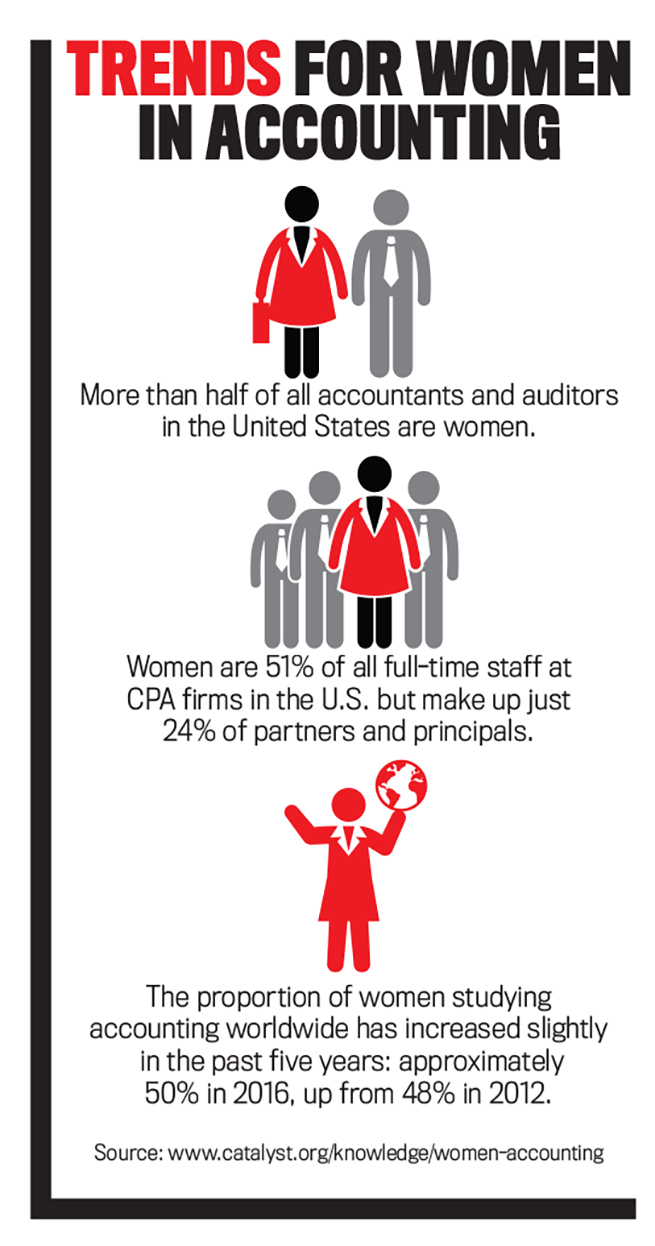 The two most recent Women's Leadership events were held at New York City's Pace University—site of the first Women's Leadership meeting—and, for the first time, in Amsterdam. The Pace event was held on October 27, 2017, and attracted more than 120 women with a wide range of professional backgrounds, industry experience, and roles in accounting and finance.
It opened with a presentation by Sandra Richtermeyer, dean of the Manning School of Business, University of Massachusetts Lowell, who presented recent research about women in accounting and led a group discussion on issues that affect women's career outcomes (see "Women in Leadership: Time for More" by Sandra Richtermeyer [LINK])
Other sessions included a talk on controllership trends, led by two leaders from Deloitte's Center for Controllership™, and an interactive discussion with Joann Lublin, Pulitzer Prize-winning journalist, management news editor for The Wall Street Journal, and best-selling author of Earning It. A centerpiece of the event was a panel discussion, titled "Sharing Pearls of Wisdom," featuring three financial leaders: Audre Lukosevicius, senior manager, Mazars USA, LLP; Kathleen McDonald, director of accounting, WW Systems/Cross Brand and Pan-Asia Geographies, IBM; and Gloria Lio, managing director, BNY Mellon.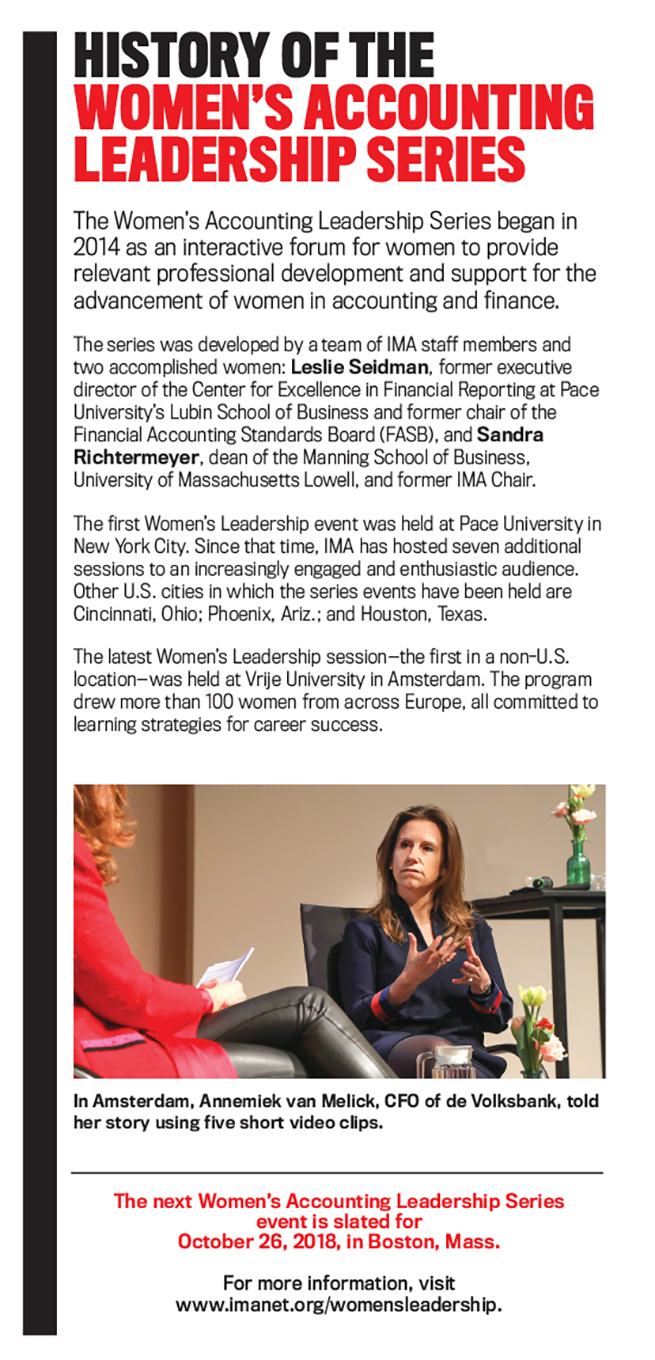 In Amsterdam on March 8, 2018, International Women's Day, approximately 100 women from across Europe gathered for a half-day event cohosted by IMA and NBA (Koninklijke Nederlandse Beroepsorganisatie van Accountants, The Royal Netherlands Institute of Chartered Accountants).
Leading off the event was Margriet Sitskoorn, professor of cognitive neuropsychology at Tilburg University, who spoke about how to "Train Your Brain and Become Your Best Self." In a subsequent session, "A CFO's Career Journey," Annemiek van Melick, CFO of de Volksbank, told her story using five short video clips. Finally, in a panel session titled "Strategies for Professional Success," Deborah Cheng, finance director at Trimb Healthcare NL; Gwen van Berne, CFO at RIPE NCC; and Ginger White, IMA Chair-Elect and corporate purchasing finance director at Cummins Inc., offered their insights based on their individual experiences. Their underlying message: "We can make an impact only if we work together."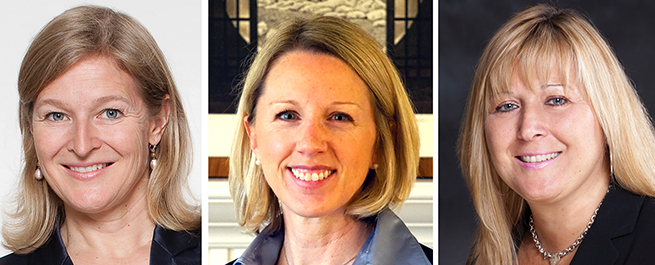 Three panelists who spoke at the most recent New York and Amsterdam events—Lukosevicius and McDonald from New York and van Berne from Amsterdam—offered to share their experiences and advice on the workplace challenges that women face. Here are their responses.
ON THE VALUE OF EXPLORING NEW OPPORTUNITIES
McDonald: I consider my two international assignments, in Tokyo and Amsterdam, among the most meaningful of my career. I'd always wanted to live in and experience the culture of another country. In fact, one of my biggest regrets during college was passing up the chance to spend a semester abroad. I was determined never to make the same mistake if the opportunity ever arose again.
Ironically, when the opportunity to go to Tokyo was presented to me, I initially declined, as I was several weeks pregnant with my third child and didn't think the timing was right. After thinking it through, and with the support of my family, I finally accepted. I took a big risk, but, looking back, it turned out to be one of the best personal and career decisions I could have made.
After three successful years in Tokyo, I was promoted to my first executive position at IBM and was given an opportunity to move to Europe to take on another challenging role in Amsterdam. That time, the decision to go was a no-brainer! Those two experiences helped to boost my career and to develop my confidence as a professional. Plus, visiting more than 20 countries while I was abroad helped open my eyes to many different and amazing cultures.
Van Berne: My career highlights include those experiences that enabled me to learn new perspectives and make connections in more meaningful ways. For me, some of those experiences would be combining law with accounting, serving in my first role as a manager, dealing with the 2008-2009 financial crisis, and, most recently, moving from banking to technology (not to mention becoming a mother).
Your career path should bring you places where you can expand your knowledge and provide something new: ideas, experience, or contacts that an organization needs for its development. Every role requires an investment, and you need to deliver to prove your qualifications. Ideally, the credibility you earn will be recognized by leaders who can position you for even more senior roles.
I'd also say that the low points from your professional career are equally important. They build up character and confidence. I'm very appreciative of the people who supported me in the past. You get your breaks from individuals who put their trust in you and who aren't afraid to take risks and create opportunities.
Lukosevicius: While I can think of a number of career highlights, some of my most meaningful experiences have come from outside of my official job. I've always been very involved in charities or other volunteer organizations. I started volunteering while still in high school, and I continue to do so. Many of the organizations that I've been involved with are ethnic, but I've also been involved with others as well.
I find it important to give back to the community, and my employer, Mazars, allows me to do that through their annual volunteer day and various volunteer initiatives. I was asked to run for the board of the Lithuanian American Community, and I served two terms on it. Currently, I'm serving a term on the Lithuanian National Foundation, and I'm a member of the Pace University Women in Business Alumnae Council. In addition, I'm involved in a number of initiatives at Mazars, including standardization for the ESG (Entrepreneurial Services Group) throughout the firm and the Education Advisory Board for the ESG as well.
My advice is to get involved in something that you like and that interests you. You will stand out, meet people you may not have otherwise met, and develop relationships with others at various levels within the firm and outside of your organization.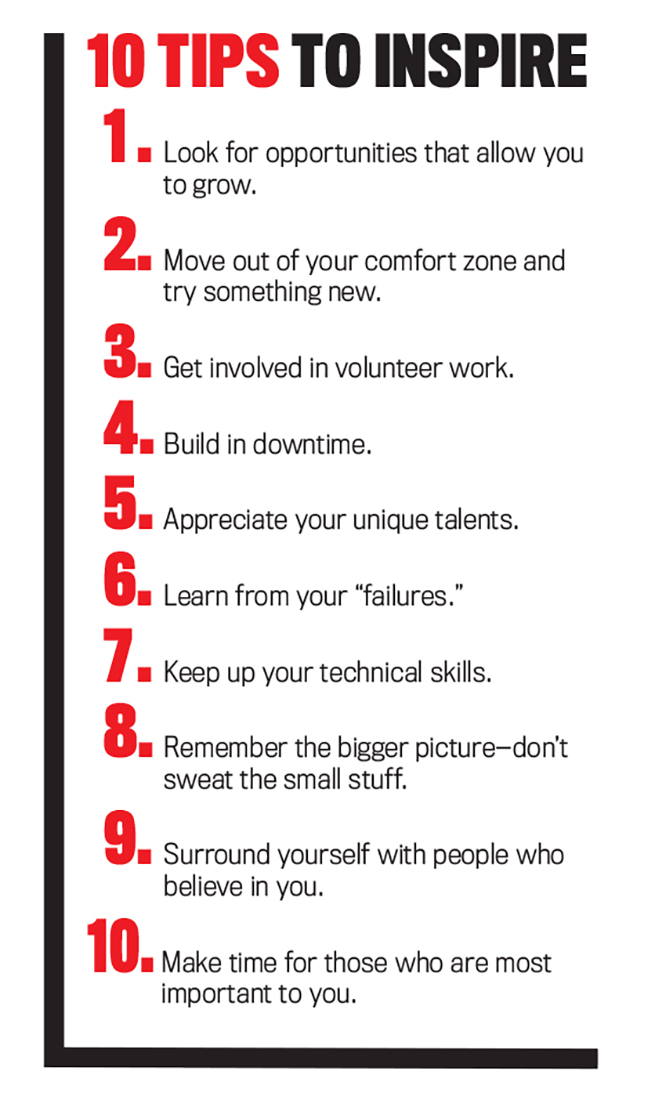 ON THE IMPORTANCE OF ­CHALLENGING YOURSELF
Van Berne: We live in a deeply connected and global world, and we all know that diversified organizations are more successful. Unfortunately, women still are underrepresented in the workplace in both accounting and technology. The inequality starts at the beginning of a woman's career and then compounds over time. Having said that, the key attributes for success probably aren't that different for women than for men. Accountants have to be able to really grasp the implications of their numbers—to understand the "why" behind the financials and not just the "what."
On a personal level, being true to yourself is always important; follow your own value system and appreciate your unique talents. Combining management and motherhood can be challenging, so make sure that you share the responsibilities and that you manage your household with the right partner. Don't focus too much on career levels, but look for opportunities where you can grow. You'll always move forward when you learn new skills.
Lukosevicius: Get out of your comfort zone; be a good listener; ask questions. I've also always believed in having an open-door policy with staff: It's important for them to know I'm always available to them, whether it's to help with a client or even a personal matter. It's also important to keep a positive attitude because you'll accomplish more. I've worked with staff members who are negative, and their negativity spreads throughout the firm, and once it spreads, it's very difficult to stop. Some people waste more time complaining than actually getting the task completed. Being positive makes for a much better work environment and less stress.
Finally, keep up your technical skills. Don't just take classes to meet your CPE requirements. Take classes that will help you with your engagements, get you to the next level, or connect you to an area that you're interested in.
McDonald: While strong technical experience is extremely important, I also think you need to lead well and take risks. We need to establish our credibility as leaders by taking ownership, holding ourselves and our teams accountable, being decisive, and being approachable and collaborative.
Taking risks requires us to get out of our comfort zone, look for stretch opportunities, and not always follow the safe route. The best developmental opportunities are the ones we have the least experience in. I love this quote from our CEO at IBM, Ginni Rometty: "Growth and comfort do not coexist." I think that's so true.
ON HOW TO ACHIEVE BALANCE
Lukosevicius: There is no one-size-fits-all when it comes to work-life balance. Every day poses challenges even from simple things. I can come into work with a list of tasks to complete, and one email or phone call can change everything. And while technology is great, it also comes with a price, because we're now expected to be available 24/7 to our clients and our employers.
You need to be surrounded by people who support and believe in you, and you need to communicate with them. I've had to be very direct and honest with my firm when I had to deal with family emergencies and health challenges. I've had to ask for time off and scheduling adjustments when things came up that I needed to attend to.
Sometimes you must make sacrifices and figure out what you want, even if it means giving up a great opportunity. In my case, it was a job offer that would have required me to relocate but would have made it more inconvenient for me to take care of my ailing parents. Life is never easy, but looking back now, I know I made the right decision.
McDonald: Balance is something I think we all struggle with. There's no single or best formula for achieving it, as I think it's a very personal decision. One piece of advice that has stayed with me is that I try (generally) to control where I spend my time and energy.
I'm also careful not to measure balance on a daily basis, but instead I take a longer-term view by setting goals and objectives for myself for months, even years. It's all about setting priorities and being disciplined. Awareness is also critical. That's why when you start to feel that you're no longer in control, it´s time to reset.
Van Berne: Managing my energy levels is very important, and that's why after intense periods I always build in some recovery time. I'm not opposed to pressure, but I also need periods of rest. Never underestimate the power of slowing down: Your ideas and execution will be stronger and more effective.
In general, I'm satisfied with how I've organized my life, but of course there are days where the balance is completely off and sometimes there just aren't enough hours in a day. As a final recommendation, I would say: Don't fuss about the trivial stuff, delegate what you can, and always prioritize the bigger plan. Doing the things you love is always a great fuel for action and purpose. Spending enough time with the people who are most important to you should always be one of your priorities.
---
PANELISTS WHO SHARED THEIR INSIGHTS
Audre Lukosevicius
Audre is a senior manager of Mazars USA LLP, a public accounting firm. For more than 25 years, she has provided entrepreneurial, tax, and payroll services to closely held businesses and start-up companies in a variety of industries, including real estate, music publishing, and sports and entertainment. She also provides tax services, both domestically and abroad, to high-net-worth individuals.
Among her volunteer responsibilities, Audre is currently serving on the board of directors of the Lithuanian National Foundation. Previously, she served two terms on the board of directors of the Lithuanian American Community, Inc., and was the principal of the New York Maironis Lithuanian Cultural Education School for 14 years. She earned a BBA from Pace University, where she double majored in public accounting and accounting information systems, and an MBA in taxation from St. John's University.
Kathleen McDonald
Kathleen is currently an IBM accounting director covering Pan-Asia, as well as the IBM WW Systems brand. She has been with IBM for 16 years in both technical accounting and reporting roles. She spent three years in Tokyo as the chief accountant of IBM Japan with end-to-end country accounting responsibilities. During her time in Japan, she was an officer of Financial Executives International (FEI)-Japan Chapter. Kathleen also spent three years as director of accounting/managing director of IBM International Group and subsidiaries in the Netherlands.
Before joining IBM in 2002, Kathleen spent more than six years with Arthur Andersen LLP in its audit and assurance group in Boston, New York City, and Stamford, Conn. She graduated from Providence College with a BA in accountancy and became a licensed CPA in Massachusetts.
Gwen van Berne, CMA
Gwen is the CFO of Amsterdam-based RIPE Network Coordination Centre (RIPE NCC), responsible for developing and maintaining the organization's financial and administrative activities. As part of the senior management team, she also develops strategies to ensure that RIPE NCC continues to meet its membership's needs.
Before taking on her current position in 2017, she built her career in finance at ABN AMRO, occupying a number of key managerial roles during her time there. In those roles, she took responsibility for global risk management, legislation implementation, innovation in IT, and much more. Aside from her work at RIPE NCC, Gwen also devotes time to lecturing and not-for-profit advice to numerous organizations.
---