The Women's Accounting Leadership Series, cosponsored by IMA® (Institute of Management Accountants), is held twice a year, once in the spring and once in the fall. The seminars are scheduled for a half day but are packed with sessions that include statistics related to women in the accounting field, today's trending accounting topics, table discussions with peers, and professional development from women's perspectives.
Among my major inspirations from the series were the panel discussions with accomplished women describing their backgrounds and experiences in the accounting profession. Three to four women talked about their jobs and what role they play in their company. Furthermore, they explored in detail the obstacles they faced as women working in a demanding industry. While each speaker had her own stories and pieces of advice, I gathered a few words of wisdom that helped me along my career track.
THE THREE C'S OF SUCCESS
When I attended my first event in May 2017, I immediately realized the advice I was receiving was special. It wasn't something you'd hear in a college classroom setting but insight that came directly from women who had walked the path themselves.
I remember Denise Castillo-Rhodes sharing her story—from starting as a young professional in her early days in public accounting to becoming a controller at Nabisco's manufacturing facility in Houston, Texas. Years later, Denise became the CFO of Texas Medical Center, one of the largest medical facilities not only in the United States but in the world. When she was asked what women should have to help them in their careers, Denise responded, "Confidence, curiosity, and courage." She went on to say that those traits helped her climb from one position to the next.
ROOTED BELIEFS
By high school, we're all taught that credentials and degrees are what you need to land a good job, but classroom lessons don't always emphasize the importance of the traits Denise referenced. Having confidence begins with you. No one can fill in that gap for you. In the same way you work hard to earn your degrees or pass your placement tests, making your confidence a top priority takes hard work.
I reflect back on my journey juggling full-time work while earning my bachelor's degree. I was a newlywed as well, so I had to balance between spending time with my husband, studying, and working throughout the day. I had to learn to forgive myself when I made mistakes, but as a result of developing my confidence, I have set a course toward earning my CMA® (Certified Management Accountant) certification and other credentials, growing my skill set, and following where my curiosity leads me.
TAKING RISKS
Those who have worked in private/industry accounting can relate to some of the monotonous tasks accountants have to perform. Sometimes we're faced with tasks that don't let us shine, explore opportunities or new ideas, or reach our full potential. This is the moment where we have to step out of our comfort zone and take risks. Everyone's situation is different, so it's vital for an individual to determine what she wants to achieve. Are you looking for a promotion? Pay increase? Or new prospects? This first step is to let others know that you're approachable and dependable. If you have confidence, other people will know they can rely on you; you will set yourself apart from the pack.
Second, don't be afraid to ask questions. Speaking up will show people that you're stepping away from the status quo and can provide ideas where necessary. Third, when you feel you have tried these tactics but you aren't seeing any results, consider finding another position that will allow your qualities to come through or earn that next role you're working toward. Taking risks isn't easy, especially in a field where comfort, repetition, and shared tasks are common. I learned from the women at the series that taking risks is a part of achieving your desired next level or goal.
Over the past few months, for example, I decided to begin a new job. I enjoyed my time at the previous company, but I was frustrated with the lack of growth, pay, and opportunities. I remembered hearing the advice that I would have to take risks to take my career to the next level. This was such an enormous risk for me. I had to step out of my comfort zone and reach out to the job market and make myself hirable. But I'm glad I was inspired to take this risk. I drafted my résumé, realized what job skills I possessed, and found a new company that provides learning opportunities as well as growth and promotional opportunities.
STAYING FOCUSED AND DETERMINED
Life can throw curve balls at us, and, especially for women, those curveballs can come from all directions—and we're still required to juggle them all, whether we're facing the demands of motherhood, time spent with spouses, children's schedules, elderly parents, board meeting deadlines, extracurricular activities, or the responsibilities of a household. Despite what life hands us, we have to stay focused when we want to achieve our goals. The certification exams and graduate-level courses that accountants study for require an immense amount of time, energy, and persistence.
Although our to-do lists may not shorten, staying focused allows us to persevere and manage our time and energy to complete our studies and credentials. Just as it's significant to stay focused, we have to stay determined. I remember Audre Lukosevicius talked about the rigorous courses she tackled to earn her MBA. She even earned her CPA and worked countless hours in various industries. Her way of achieving all of her goals? Determination.
LIFETIME OF LEARNING
No one ever said that earning a degree or credentials would be easy. But it's such a rewarding accomplishment, and hearing the testimonies of the women at the series inspired me to strive to reach a whole new level. I remember earning my bachelor's degree and putting the brakes on furthering my education. I thought that having a bachelor's degree would be good enough for me to get a job.
Now I have goals to earn my CMA and even my MBA in the future. (See my Career Support tips for the ongoing practices I maintain for healthy professional development.) I've pushed myself to hire a business coach and see how I can balance my work schedule along with studying and school time. I think to myself, "Here are a handful of women opening the doors to make my journey possible."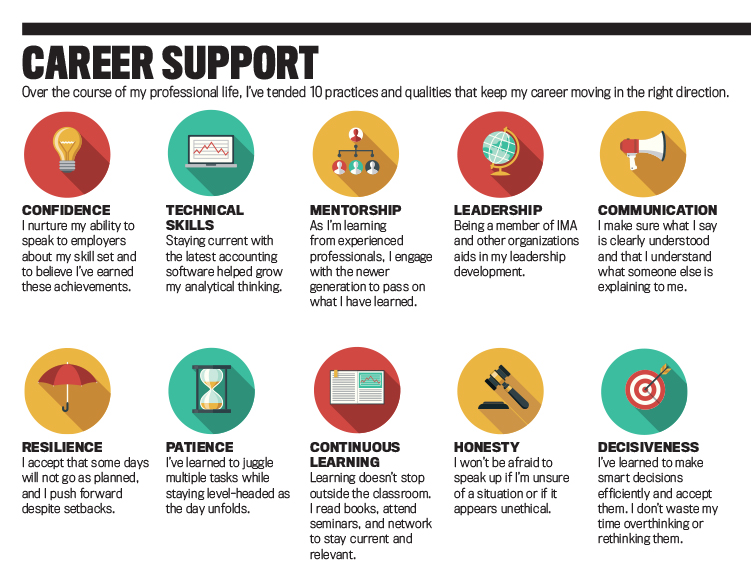 As the road becomes paved for me, I want to become more than an employee or an average accountant. As I see myself over the next few years, I want to ensure that my legacy is being passed on the same way that others are passing on their stories. There are no limits to what I want to achieve, and no longer do I think, "At this age, I'll stop." Learning, development, and accomplishments can last a lifetime.
---
SAVE THE DATE
The next Women's Accounting Leadership Series will be held in Boston, Mass., Friday, October 26, 2018. The series is a great opportunity for someone new to the accounting profession to meet experienced accounting professionals who will provide helpful steps in her career. If you're a mother or wife in the industry, you'll have a chance to hear stories of other women balancing their duties as parents and professionals. Not only will you walk away with a bucket of knowledge, but you'll also have the chance to make wonderful friends and receive a small goodie as a token of appreciation!
---
Further Reading:
IMA Life Networking with IMA