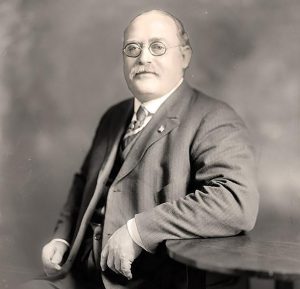 Major J. Lee Nicholson
At last month's Annual Conference & Expo in Indian­apolis, Ind., IMA kicked off a yearlong celebration commemorating the historic anniversary of the association's founding. Leading the efforts to honor IMA is a special group of individuals: the 100-Year Anniversary Committee, which takes seriously its charge to recognize this great achievement in the association's history—and make sure members are in on the fun, too.
A DEDICATED COMMITTEE
The seven-member committee spearheading the 100-Year Anniversary efforts includes Kim Wallin, committee chair; Sue Bos; Bob Krogh; Bud Kulesza; Marc Palker; Priscilla Payne; and John Pollara. All have dedicated many years of service to IMA. Six members are IMA senior volunteer leaders, four have previously served terms as IMA Chair, and one, Payne, is a former longtime IMA staff member who helped oversee the CMA® (Certified Management Accountant) program.
For all committee members, the decision to participate was an easy "yes." Says Kulesza, "It was a natural choice to contribute to a team that would tell the IMA story and plan a celebration that would be certain to cover the many different aspects of our evolution over time. Our celebration is the accumulation of the efforts of so many who have served for so long."
That sentiment was echoed by all the committee members, who appreciated the opportunity to participate in this historic occasion. "I was honored that I was asked to join the committee, and I readily accepted," Krogh notes. "One hundred years is a significant milestone, and I'm pleased to be part of celebrating this great event."
CELEBRATION PLANS
The committee's main purpose is to help create a multiyear, multiplatform plan to commemorate (what else?) IMA's centennial. The committee began its work in January 2016 with deliberations about possible programs and other events that would help the organization recognize this important occasion. The festivities and special programs extend all the way through October 2019, the actual 100th anniversary of the forming of the NACA in Buffalo.
Since its inception more than two years ago, the committee has been working on an ambitious plan to help both members and leadership recognize the anniversary. The timing is perfect: The committee is doing its work at the time of another important IMA milestone, the crossing of the ­100,000-member mark, which IMA reached last February.
An early order of business for the committee was finding a tagline that would capture the intent and spirit of the 100-Year festivities. For that task, the committee held a contest last year for all members, asking them to submit suggestions. After reviewing nearly 50 ideas ("All of them were excellent, so it was very hard to decide," Wallin says), the committee selected the tagline "100 Years and Counting," penned by Chris Mishler and Frank Homburger.
To help IMA and its members celebrate under the "100 Years and Counting" banner, the committee has already planned the following for IMA's centennial year:
100 Years and Counting: A History of the Institute of Management Accountants e-book. Written by Kulesza and Pollara, the book will chronicle the members and milestones of IMA's 100-year history from modest beginnings in upstate New York to an increasingly global and influential organization.


Century Student Scholarship Fund. In a special effort to support the future leaders of the profession, members are being asked to contribute $100 to help fund the ever-increasing costs of education for motivated accounting students.


Proprietary research. IMA will embark on a global research project on the future of the profession (topic and research partner are still to be determined).


2019 Annual Conference & Expo. IMA will celebrate the 100-Year Anniversary at a special Annual Conference & Expo June 15-19, 2019, in San Diego, Calif.
The committee has ambitious plans for ACE2019. "It's going to be pretty spectacular," Wallin emphasizes. "It's a great location, and we've got a special lineup of speakers and fun events in store. It will be a memorable chance to reflect on all that IMA has achieved and our bold vision for the future. Also: fireworks!"
Wallin adds that for members who haven't been to an Annual Conference in a while, 2019 is the year they should consider attending. She also encourages members who typically attend the Annual Conference but who haven't recently seen certain friends or colleagues there should consider inviting them to participate. "Reach out to people you know and tell them that if they haven't been to a Conference in years, they should definitely make plans to join us in San Diego," she says.
LOOKING BACK, LOOKING AHEAD
The 100-year mark also is providing an opportunity for those on the committee to look back on their years of service to the organization and to see how the profession has changed over the years.
Pollara recalls, "When I first became a member in the early 1970s, accountants were mostly doing cost accounting, internal and external financial statement preparation, and budgeting. Over the years, the profession has developed into a robust skill set where management accountants are an integral part of the management team and key business advisors."
Payne echoes those sentiments, especially with regard to those in the younger generation. "I've noticed a marked difference over the past 10 years in IMA's embracing of new technologies, globalization, and support of young professionals through career development and leadership training. All of these initiatives provide a pathway for a bright future."
MANAGEMENT ACCOUNTING COMPETENCY FRAMEWORK
The 100-Year Anniversary also is serving as a platform for the release of IMA's newly revised and enhanced Management Accounting Competency Framework, which IMA unveiled at ACE2018 last month in Indianapolis. The Framework is open for public comment now through ­September 17, 2018. When it's complete, it will define the knowledge, skills, and abilities that management accountants need to succeed and to remain relevant now and in the future.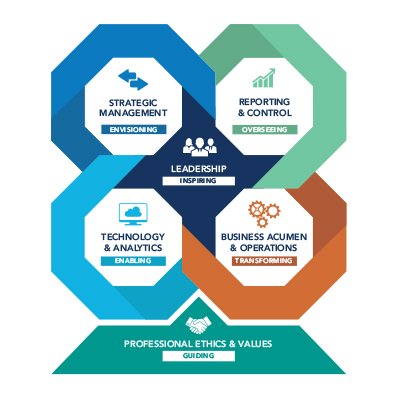 The Framework proposes 33 competencies grouped in six domains:
How we envision: Strategic Management


How we oversee: Reporting & Control


How we enable: Technology & Analytics


How we transform: Business Acumen & Operations


How we inspire: Leadership


How we guide: Professional Ethics & Values
When complete, the Framework will help employers manage talent, make hiring and salary decisions, and build a skilled workforce. It also will help management accountants advance their careers. Members are invited to view the Framework at www.imanet.org/framework and submit comments to framework@imanet.org before the September 17 deadline.
The importance of IMA achieving its milestone of 100 years isn't lost on committee members, who acknowledge the deeper meaning of the association's longevity.
As Palker muses, "IMA turning 100 means sustainability for the profession and the ability to recognize, adapt, and prepare for more change. For members, it means we're an organization that can serve them from university to retirement with leading-edge research and tools to succeed."
Krogh adds, "As a leader in the profession, IMA's 100th Anniversary sends a clear message that accounting and the overall profession continue to grow in importance. Also, not only do members continue to get more value-add from the organization as an IMA member, but members also are seeing benefits to their professional careers, such as higher salaries and greater career advancement."
A SECOND FAMILY
This historic moment also is sparking appreciation for the way that IMA has influenced committee members' lives positively. Both Wallin and Bos recall that their leadership experience in IMA helped them to develop skills—public speaking and conflict resolution, to name just two—that eventually contributed to their significant professional ­success. Wallin went on to become an elected official in Nevada; Bos works in government in Michigan.
Bos's affection for the association shines through: "IMA is like a second family to me. It's my second full-time job, and I'm very proud of that fact," she says. "For me, being part of the organization at this time is a testament to the hard work of so many people. I'm glad that I'm able to witness this moment and to be part of the shared experiences that we've had—and will have—together."
Many other members have expressed the same feelings throughout the years, and IMA hopes its culture, leading-edge certifications, and professionalism will guide members forward for the next 100 years.
---
THE COMMITTEE
Meet the members of the 100-Year Anniversary Committee:
Kim R. Wallin, CMA, CFM, CPA (Committee Chair)
Kim Wallin is currently in private practice at her CPA firm, D.K. Wallin Ltd., which she founded in 1984. She took eight years off to be the controller for the state of Nevada. She was the first CPA to be elected to the office of Nevada State Controller in 50 years and the first CMA to ever hold this office.
Wallin is a former IMA Chair and a member of the IMA Emeritus Committee. She served as Chair in fiscal 2003-2004, when she was nominated from the floor and elected by popular vote as IMA Chair-Elect, the only time in the then 83-year history of IMA that a Chair-Elect was chosen in this manner.
Along with serving as chair of IMA's 100-Year Anniversary Committee, Wallin is a member of IMA's Technology Solutions and Practices Committee and the Volunteer Leadership Committee. She also has served in other volunteer leadership roles, including Chair of the ICMA® Board of Regents.
Sue Bos, CMA, CPA, CFE
Sue Bos is deputy treasurer for Washtenaw County Government in Ann Arbor, Mich. She previously worked as an international financial reporting accountant at Schlumberger and as a controller of an automotive supplier.
Bos is a current member of the IMA Global Board of Directors as well as a member and past chair of the IMA Committee on Ethics. An IMA member since 1986, she is a past president of the Ann Arbor Chapter and of the Michigan Council, and she has served prior terms as a Global Board member. In 2015, she received the IMA Exemplary Leadership Award. Bos is president of the Stuart Cameron McLeod Society (SCMS) for the fiscal year 2018-2019.
Robert C. Krogh, CPA
An IMA member for more than 45 years, Bob Krogh has held a number of volunteer leadership roles, including past president of the Waterloo-Cedar Falls Chapter, past president of the North Central Regional Council, and member of a number of committees at the global level.
He is a past national vice president and has served several terms on the IMA Global Board of Directors. He's also a past president of the Stuart Cameron McLeod Society (SCMS) and is a current member of the IMA Committee on Ethics.
Krogh spent the majority of his career at John Deere with assignments in a variety of financial positions, including corporate financial consolidations and reporting and Deere factory controller. The last half of Krogh's career with Deere included global management assignments in supply chain management for the Worldwide Agricultural Equipment division. He retired in 2009 and is now an independent management consultant.
Bud Kulesza, CMA, CFM
Bud Kulesza spent most of his career at ITT, where he held a variety of international senior financial positions, including chair of ITT Industries Canada and CFO of ITT Automotive. He is currently an international consultant, educator, author, course developer, and frequent conference and webinar speaker.
Kulesza has been an IMA member for more than 48 years and has served IMA in a variety of positions at the local and global levels, including IMA Chair in fiscal 1999-2000 and interim executive director in 2000. A champion for change in accounting education, he is one of the founding members of the IMA Leadership Academy, a member of the IMA Global Board of Directors, and a member of the IMA Emeritus Committee. Kulesza received the 2018 IMA Lifetime Achievement Award.
Marc P. Palker, CMA, CSCA, RTRP
Marc Palker is IMA's Immediate Former Chair-Emeritus for the 2018-2019 fiscal year. He currently serves as a member of the Volunteer Leadership Committee and is a member of the IMA Emeritus Committee. Palker has more than 30 years of experience in senior financial management positions with small and midsize public and private companies.
He is a principal at MPP Associates, Inc., where he serves public, private, and not-for-profit corporations on Long Island, N.Y., as a part-time or interim CFO. An active IMA member for more than 40 years, Palker previously served as a member of IMA's Global Board of Directors, on IMA's Small Business Financial and Regulatory Affairs Committee, and as president of the IMA Long Island Chapter Board of Directors. He also served on IMA's 75th Anniversary Committee.
Priscilla Payne, CMA
Priscilla Payne spent the first 15 years of her career working as a management accountant at a manufacturing firm. For the next 22 years, beginning in 1985, she was director of examinations, then managing director in 1996, and then vice president of ICMA® (Institute of Certified Management Accountants), where she was instrumental in overseeing and managing the CMA program.
During her tenure on the ICMA staff, the CMA exam evolved from a written to an online format, a change that helped contribute to the program's global growth. Payne retired in 2007 and again in 2010 and since then has served as a senior consultant to ICMA.
The Priscilla S. Payne Student Performance Award is named in her honor. It is given to the college/university student who scores the highest on both parts of the CMA exam, which must be taken in the same exam window, and who has never taken the exams before. It was first awarded in the ­January/February 2010 testing window.
John Pollara, CMA
John Pollara is a former IMA Chair, serving in fiscal 2007-2008, and a member of the IMA Emeritus Committee. He joined the association in 1971 and has been an active member ever since.
Pollara spent his management accounting career at Zieman Manufacturing Company in Whittier, Calif., a leading manufacturer of recreational and equipment-hauling trailers. Over the years, Pollara advanced in the company and acquired a significant ownership interest. He was named president in 1991 and board chairman in 1996. In 2004, he sold the company to Drew Industries. He is currently a consultant to the company.
---
VISIT THE NEW 100 YEARS AND COUNTING WEBSITE
To help members find everything they need to know about the 100-Year Anniversary plans, IMA has created a special website, www.ima100years.org. It contains:
A social media wall that features rotating content including stories, photos, and videos submitted by ­members.


Reflections from IMA President and CEO Jeff Thomson on IMA's leadership in advancing the profession globally over the last 100 years.


A timeline of IMA's history.


An interactive map showing how IMA is thriving around the world.


Links to special 100-Year Anniversary merchandise and to the 100 Years and Counting e-book.


The revised Management Accounting Competency Framework, with a place to submit comments.


Information about the 2019 Annual Conference & Expo in San Diego, Calif.
---
HOW YOU CAN GET INVOLVED
Here are some ways that IMA members can participate in the 100th Anniversary celebration:
Attend the 2019 Annual Conference & Expo in San Diego, Calif.


Using #IMA100Years on social media, share your stories, photos (selfies, too!), and even videos about what being part of the organization means to you. Selected entries will be featured on the 100-Year website. You can also send your comments via email to christine.purelis@imanet.org.


Strategic Finance is also looking for members to share their stories. If you'd like to contribute your thoughts and recollections to the magazine, email Kathy Williams, editor-in-chief, at kwilliams@imanet.org.


Make suggestions for the IMA time capsule: IMA is planning to create a time capsule that will be buried at the association's global headquarters in Montvale, N.J. Share your thoughts about what should be included.


Throughout the year, IMA will post specific questions on social media sites (Twitter, Facebook, LinkedIn, Instagram) and ask for responses to the following:

In one word, what does IMA mean to you?
Name one reason why you love IMA.
What's your favorite IMA member benefit?
Who's your favorite IMA mentor?
Fill in the blank: "Getting my CMA felt like _______."
Three words every management accountant should know.
Fill in the blank: "_______ is my inspiration."