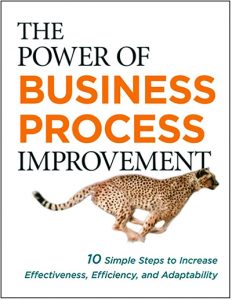 Page's book is designed to be a resource, providing an easy-to-understand roadmap to business-process improvement (BPI). It posits that everything is a process and that a company's processes either contribute to its competitiveness or create bureaucratic bloat and inefficiency.
The roadmap is laid out in 10 steps:
Develop the process inventory.
Establish the foundation.
Draw the process map.
Estimate time and cost.
Verify the process map.
Apply improvement techniques.
Create internal controls, tools, and metrics.
Test and rework.
Implement the change.
Drive continuous improvement.
Given my background at a technology services company that has to stay innovative, I know first-hand the challenges with business process—striking a balance between facilitating sustainable and repeatable activities, which frees people to focus on serving customers and clients and driving value, and making those processes agile. In an effort to remove ambiguity, more steps and layers are added on, which, in turn, creates friction.
The objectives of BPI revolve around effectiveness, efficiency, and adaptability: Does the process bring about the intended result and meet stakeholder needs? Does the process optimize resources and remove bureaucracy? Can the process change as needs change? Page presents a series of questions focused on six techniques to improve business process: eliminate bureaucracy, complete a value-added analysis, correct duplication, simplify the process, reduce cycle time, and automate the process. Whether you are a seasoned professional or new to BPI, the detailed business cases, tools, templates, and time estimates provided for each step allow you to work your way down the yellow brick road of BPI.