Nominated by their professors, the students who participated in the February 2017 events in San Diego, Calif., are (from left to right in photo above):
Charynn Multhaup, Missouri Southern State University
Victoria Dusseau, University of Findlay
Andrew Hagen, Humboldt State University
Qundray Gray, Niagara University
Bradlee Rogers, Radford University
Doe Yoon (Rick) Kim, University of Texas at Dallas
Brady Chambers, Brigham Young University
Latasha Davis, Athens State University
The experience kicked off Thursday evening with an event at the University of San Diego hosted by the school's IMA student chapter. Clark Jones, VP, revenue management and analytics at The Walt Disney Company, was the featured speaker. He shared his inspirational story about his career and educational journey using a series of video clips fromDisney movies and commercials.

The next day the students attended a private breakfast with IMA senior leaders and sat in on select Board committee meetings. These included the Committee on Ethics, which discussed the cases submitted in the Carl Menconi Ethics Case Writing Competition, and the Member Relations Committee. Students helped select the winner of the Ethics Case Writing Competition by reviewing and ranking 10 case studies and discussing their thoughts on them. The students were also asked to make suggestions regarding how to better promote management accounting and increase the presence of IMA and the CMA® (Certified Management Accountant) certification on campus. Committee members welcomed the students' perspectives and remarked that having their input during the meetings was extremely beneficial.
On the final day, participants attended the IMA Global Board Meeting and a special student recognition luncheon where each student gave a brief statement about his or her experience. Victoria Dusseau commented, "I met several influential IMA professionals at the event and discussed different perspectives and approaches for optimizing my education and career opportunities. The personal interaction and feedback with these accomplished professionals was very helpful and greatly appreciated." She added, "It also was encouraging to meet like-minded students in the accounting industry. Learning about each other's education and career paths broadened my respect for accounting students everywhere."
Rick Kim said, "The experience was beyond what can be summarized in words, and I am honored to have been part of the bigger picture. As president of the student chapter at UT Dallas, whose student body is predominantly international, I was very encouraged to learn of IMA's growth in different parts of the world, especially in Asia wherein membership and CMA certification have seen robust growth in recent years. Furthermore, meeting the global directors from these countries who have witnessed great transformations truly made IMA's global impact come alive."
---
AN INVALUABLE OPPORTUNITY
LATASHA DAVIS
I was honored to be one of the eight students picked to attend the IMA Student Leadership Experience in San Diego, Calif. It was an adventure for a small-town girl from Alabama. It was the first time I had ever flown and the first time to visit California. It was a great opportunity to learn from financial business professionals and participate in judging the Carl Menconi Case Writing Competition on ethics.
Being able to network with business professionals has inspired me to continue my path to become an accounting professional and to spread the word about IMA and someday become a member of the Global Board of Directors. Everyone made us feel welcome and made sure that we all got the most out of our experience. I am so thankful to have been chosen for this experience and for making new friends with the other students. I would encourage other students to apply for such a wonderful opportunity.
BRADY CHAMBERS
The IMA Student Leadership Experience was a once-in-a-lifetime opportunity to spend three days as a part of the Global Board of Directors of IMA. As students, we think we know all about leadership through our intramural ultimate Frisbee teams or high school choirs (or whatever other tidbits we put in the Leadership section on our résumés). Yet we can't comprehend the burden of leadership until we've carried it through severe consequences. The Board is responsible for strategically guiding the organization toward future success, which sounds fun, right?
Tens of thousands of people have invested significant amounts of time and money into a product that is based entirely on its reputation—a reputation that can be obliterated in a matter of weeks, or even days, with poor strategic direction. The decisions made concerning ethics, education, brand image, and international relations demanded strong internal values and deliberate and diverse thinking. Opportunities to lead on such a large scale at our age are scarce, yet IMA has the vision to provide growth opportunities at every stage of its members' careers.
BRADLEE ROGERS
Some of my most memorable and educational experiences included sitting in on and participating in committee meetings and the overall Global Board meeting. Additionally, I was able to talk to IMA members about their work and experiences and obtain advice from them regarding potential post-graduation employment paths and furthering my education and experience.
It was extremely helpful to be able to talk to these IMA members as I hadn't yet decided on a career path in the accounting field that I wanted to pursue after graduation. I also really enjoyed meeting and socializing with the other students in the program and sharing experiences. Overall, I learned a lot during the IMA Student Leadership Experience concerning the activities of IMA and how the decision process works, and I gained valuable insight into the world of IMA professionals. I'm extremely grateful to IMA for providing this opportunity to participate, and I have spread the word regarding my very positive learning experience.
ANDREW HAGEN
The IMA Student Leadership Experience was a valuable opportunity to watch the planning and strategy involved in a large organization. It was great to observe IMA's leadership and how they really aim to provide value to their members. In class, we often hear about the "tone at the top" within an organization; this was a great experience to see it in action and observe how it translates into concrete results.
I appreciated being at the IMA Global Board Meeting, surrounded by CFOs, controllers, and finance directors of major corporations. It was a fantastic opportunity to meet these corporate leaders, to ask about their career paths and how they got to their positions, and to talk about what they look for in their hires. The networking was invaluable.
---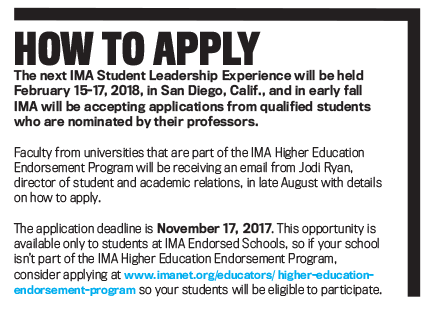 ---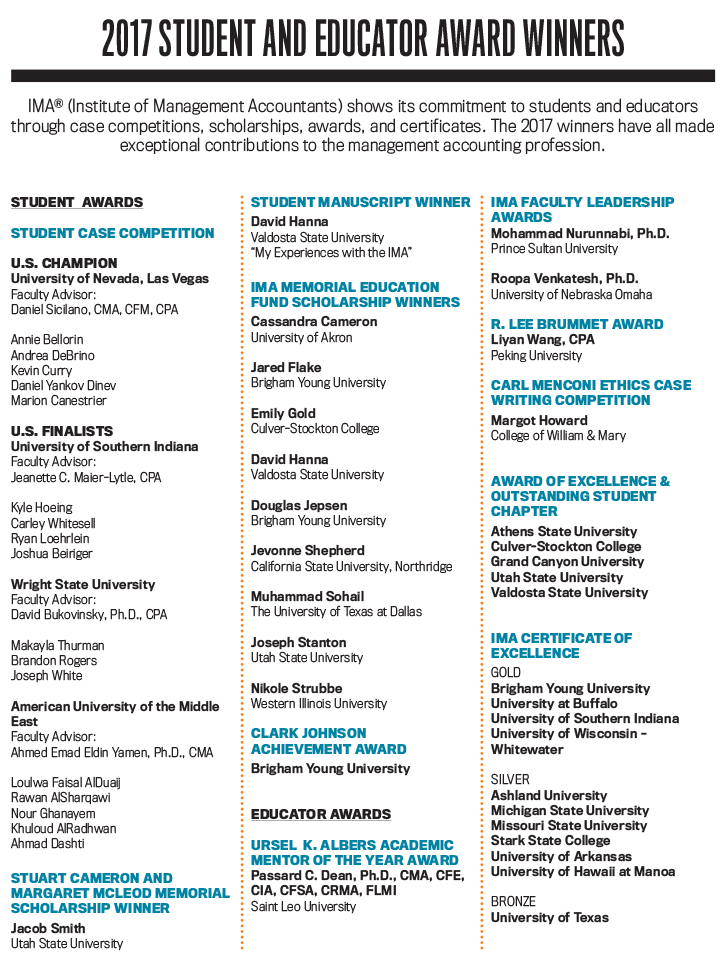 Click to enlarge.