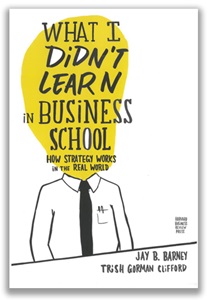 The fictional HGS, Inc. has patented a new technology but hasn't moved on it for three years because management can't decide whether, or how, to maximize its potential. When a private equity firm expresses interest in taking a stake in HGS, the consultants are asked to recommend a strategy quickly.
At first, Justin assumes the team has been brought in as experts because HGS is unable to accurately parse the numbers for this opportunity. But when he reports one divisional VP's very pessimistic view, he's criticized for not considering how the VP's analysis may have been influenced by the effect of another investment on his division or his career prospects. In addition to illustrating the embarrassment of making a rookie mistake, which we all can relate to, the story construct prompts the reader to consider how individual biases may impact business decisions. In the words of the senior consultant, "Assume their point of view reflects some combination of how things actually are and how they want things to be."
Justin and his coworkers then interview various HGS staff, analyzing the benefits and risks of different paths. The story concludes with the consultants' recommendation to HGS and management's decision. A key point for me was when they explained how they decided which pieces of information were most valuable. When you work on strategy—either in your personal life (deciding on a career move) or in business (mergers and acquisition management)—you have to differentiate between the pivotal items that mean success and the items that are likely to have less direct impact. Although some factors may be obvious, it's important to carefully evaluate the relative importance.
Current business school students as well as managers responsible for strategy would find What I Didn't Learn in Business School useful. As the title indicates, we don't always absorb what we learn from business school until we have to apply it in the real world. Anyone who has tried to decide whether to approve an investment or to prioritize projects will recognize the challenges portrayed in this book.