Data analytics professionals are among the most in-demand candidates among employers across industry verticals. The most important aspect of data analytics is exploring and analyzing raw data to find hidden trends and correlations to derive valuable insights that can be used to make critical business decisions. The following are key facets of the science.
Data collection: the process of integrating information from different sources.
Data transformation: converting, cleansing, and structuring data into a usable format that can be analyzed to support decision-making processes, propel an organization's growth, and achieve other objectives.
Data analysis and visualization: Data analysis is digging into raw data and finding meaningful information. Analysts use various tools and techniques to explore data, look for patterns, and draw conclusions. Data visualization is the representation of information through graphics such as charts, plots, infographics, maps, and animation.
Predictive analytics and machine learning: Professionals can use such technologies to understand future trends based on current insights gleaned from data models.
Actions: Take action based on business insight gained from data analysis of customers, products, processes, or competitors that can help to inform strategic business decisions (see Figure 1).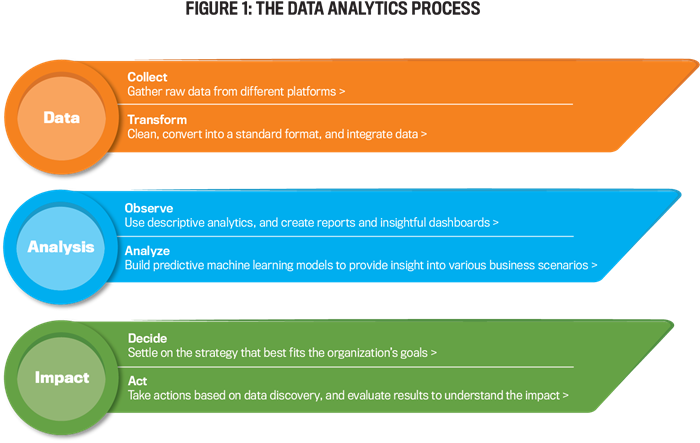 Overcoming Professional Challenges
When I joined PwC after graduating with my master's degree in information management, I faced numerous challenges. The first was mastering English, which isn't my first language. I struggled greatly trying to convey the messages that I wanted to communicate fluently. I had to understand the work that I was assigned and quickly improve my communication skills so I could provide my insight persuasively. I read news websites and different magazine and newspaper articles out loud to enhance my ability to communicate in English for at least two hours daily. I also joined networking and public speaking programs such as Toastmasters International.
My manager served as my mentor and helped me to escape that frustrating situation. He made me present a critical project in front of 25-plus people. He kept motivating me and challenging me to work on my weaknesses and make them my strengths.
I've found that the key prerequisite for career success is to be persistent in professional development. Honing your communication skills is paramount. Early in my career, I wanted to give my nuanced recommendations to company leaders but couldn't convey my message effectively. Persistence in the face of such challenges helped me to grow. I worked hard for advancement opportunities. I always go above and beyond and proactively work to find solutions to issues and problems.
When I was working on an anti-money laundering project at PwC, I analyzed the client's fraud-prevention processes and was the first to figure out the primary issue with its anti-money laundering efforts. I took the initiative to diagnose what was going wrong, wrote the documentation to help the various stakeholders to understand the problem, and provided recommendations to the client. PwC leaders were really happy with the solution I suggested. They presented it to the client's leaders, who implemented the solution. I got great feedback.
After that, there was no looking back. My manager kept challenging me to improve upon my weaknesses, and I took his constructive criticism to heart and made those weaknesses my strengths. Two years later, I was promoted.
Dealing with Increasing Responsibilities
PwC helped me to build my confidence and reach my potential in the workplace. What I learned there helped me with overall personal and professional growth: When working on client projects, focus on timelines, relationship development, and professional ethics. Over the course of four years at PwC, I gained confidence in understanding client requirements and using data analytics to provide them with business solutions and technical insights. I also learned how to manage the timelines of various projects. Along with developing my technical skill set, I also gained soft skills, which are still helping me today.
Working at information services company Wolters Kluwer was utterly different from working at PwC, as I worked on implementing data analytics to improve products and services that will ultimately make clients happy. I learned and developed a lot of technical skills at Wolters Kluwer. I worked with people with excellent technical backgrounds and learned how technology complements the client-facing side of the business. I also learned project management techniques such as Agile methodology. In addition, this was the first time that I worked in management; I managed a team of four. I learned how to motivate the team, prioritize and delegate tasks, and build a collaborative work environment.
Subsequently, I applied my experience from previous roles and responsibilities to learn Tableau and Power BI. I worked cross-functionally to implement Tableau as a primary reporting and analytics tool. I also brought in Alteryx as the primary data analytics tool. This really helped me and my team to generate insightful real-time reports and analysis. We automated many processes. This implementation has changed employees' overall mindset and approach from traditional reporting to proactive analytical thinking.
Data Analytics Continues to Grow in Importance
Working as a data analytics expert allows me to be innovative. Data is the most valuable asset for any company, and I enjoy exploring data and finding and sharing insights. As the volume of data has increased, it's become increasingly challenging to find patterns and trends in large data sets, making the role more exciting.
I like to see relationships across different data points. This not only helps me to find hidden insights but also understand the customers or members who we serve based on their preferences. I want to understand and implement market trends to understand people better and help them to build a better future.
Data analytics is now at the core of many businesses' strategic planning, budgeting, and operations, especially given recent advancements in this field. Organizations are encouraging data-driven decision making at all levels of their workforce. This shift toward a data-oriented culture will strongly influence business strategies and decisions.
Experimenting with AI and machine learning is already the norm, but reaping benefits from such technologies will become table stakes for successful businesses. AI and machine learning technologies will allow businesses to analyze unstructured data smarter and faster. Large language models and generative AI applications such as ChatGPT and Bard are already impacting the analytics space. As new software such as ChatGPT Enterprise and Claude.ai gain in popularity, it will be interesting to see how enterprises will use those tools to full effect. In 2024, generative AI and machine learning will have a transformative effect on data analytics and, more broadly, professionals' job descriptions and career paths.
See also: IMA Data Analytics & Visualization Fundamentals Certificate® online course