Thanks to Bluetooth and wireless charging pads for our phones, watches, and earbuds, the tangled mess is clearing up. But what happened to those wireless charging pads for electric vehicles that were being tested five years ago? Weren't they supposed to get rid of the heavy, inconvenient, and often dirty charging cables for our EVs?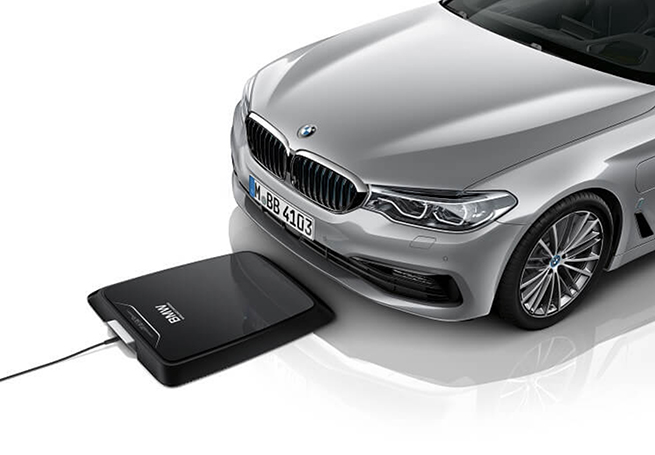 The idea was sound, but what was missing was agreement among the manufacturers and countries on standards for the chargers, and also the components were very expensive. Since those early experiments by BMW and others in late 2017, there have been agreements concerning standards, but the reluctance of auto manufactures to offer them has shifted the attention of developers to commercial vehicles like electric buses and cabs. Until auto manufacturers provide the technology in their new models as a reasonably priced option, the wirelessly charging family sedan remains just a plan. Nevertheless, the incentives are in place with states and countries setting deadlines for the last gasoline-powered models to be sold, and pressures continue to grow against fossil-fuel environmental damage. For now, though, more immediate profits are being realized with wireless commercial vehicles like buses and trucks.
In 2019, a spin-off from MIT called WiTricity was experimenting with wireless charging, encouraged by an investment from Toyota. The chip maker Qualcomm was also working on a system, called Halo, which it was testing on Formula E racing cars. WiTricity acquired Halo in 2019, and the two integrated their separate systems, wrote up the results, and presented the description of the system to the SAE (Society of Automotive Engineers). A little more than a year later, the standards were ratified, and automakers had a plan to produce induction charging systems for their new models. In the spring of 2020, greencarcongress.com announced that China had published its national standards (GuoBiao—GB standard) that incorporated the WiTricity technology. The executives at WiTricity commented on the approval: "It's a significant milestone for WiTricity to have our patented wireless charging technology embraced in the Chinese GB national standard. China is the world's largest EV market, the global EV trend setter, and a key market for WiTricity." With the agreement in place, Zhejian VIE Science and Technology Co., Ltd. licensed WiTricity's technology. The company had already completed construction of its initial production plant to assemble wireless charging systems for its OEM customers. VIE promised systems with the same capacity and efficiency as the conventional plug-in chargers with all the added convenience of wireless charging.
CABS AND BUSES FIRST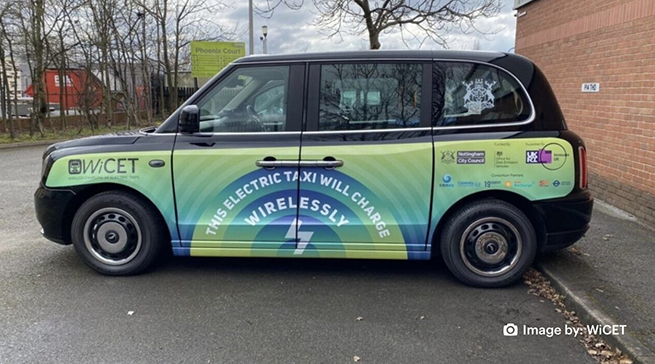 Elsewhere, the WiCET (Wireless Charging of Electric Taxis) Project commenced in Nottingham, England, in Aug. 2021. The city council explained: "WiCET is a £4.47 million project funded by Office for Zero Emission Vehicles through Innovate UK to assess the commercial and technical viability of deploying wirelessly charging for electric Hackney Carriages [cabs]." The trial involved nine electric taxis and five wireless charging pads. The taxis would wirelessly charge their batteries by parking over the induction pads set up on the taxi rank street. The cabs would be available to the public, and as the cabs delivered their passengers, they continuously collected data including mileage and battery levels. The inductive charging process involves transferring electricity from one magnetic coil in the charging pad on the ground to another pad in the underside of the taxi, and the cabs top off as they sat in line waiting for fares. The fleet of cabs in Nottingham already included 54 electric taxis, the largest number outside of London, 300 publicly available sockets, and the goal to become carbon neutral by 2028.
In March 2022 in Gothenberg, Sweden, Volvo initiated its own wireless EV charging trial by loaning a small fleet of electric SC40s and charging pads to Cabonline, the largest cab company in the Nordic region. The three-year trial will test how well the technology works in a commercial setting. Volvo claims its EV charging system is almost four times faster than the 11kW wired chargers, allowing the cabs to go from 20% to 80% capacity in a little over an hour.
One of the more unusual test trials of wireless charging took place in Versailles, France, in 2017. A test road with a 100m track with embedded wireless charging technology from Qualcomm was able to supply a charge of up to 20kW for vehicles traveling with speeds up to and exceeding 100km/h (62mph). The Renault Kangoo ZE test vehicles were driven over the track in both directions. The project was conducted as part of the $13 million FABRIC (feasibility analysis and development of on-road charging solutions for future electric vehicles), with partial funding from the EU.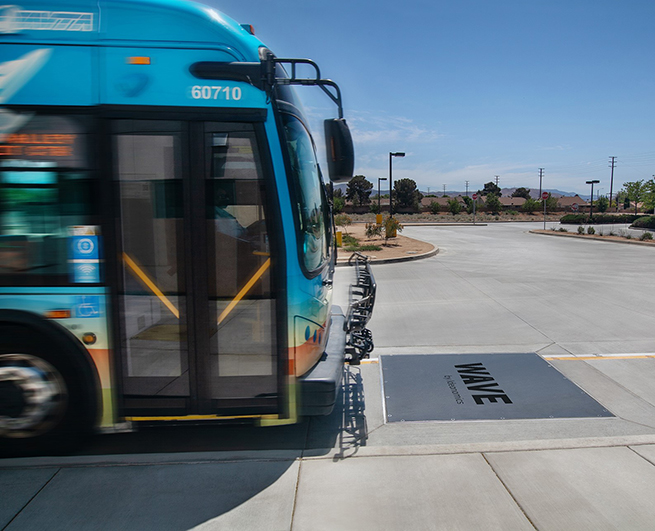 In January 2021, Ideanomics acquired WAVE (Wireless Advanced Vehicle Electrification, Inc.) a leading producer of inductive charging solutions for medium and heavy-duty electric vehicles with headquarters in Salt Lake City, Utah. New York-based Ideanomics is a global group that describes itself "with a simple mission: to accelerate the commercial adoption of electric vehicles." The press release announcing the WAVE acquisition described the value of its new division: "Embedded in roadways and charging vehicles during scheduled stops, the fully automated, hands-free WAVE system eliminates battery range limitations and enables fleets to achieve driving ranges that match that of internal combustion engines. With commercially available wireless charging systems up to 250kW and higher power systems in development, WAVE provides custom fleet solutions for mass transit, logistics, airport and campus shuttles, drayage fleets, and off-road vehicles at ports and industrial sites."
Not a newcomer, WAVE customers include fleet operators in St. Petersburg, Florida; McAllen, Texas; San Pedro, Lancaster, and Concord, California; and Centralia, Washington. The customers with battery-electric buses have reported the following in-route charging advantages: up to 160 miles of additional range in a single eight-hour shift, routes as long as 350 miles serviced with a single electric bus, and projected savings of $1 million per year vs. legacy, plug-in charging.
AT YOUR HOUSE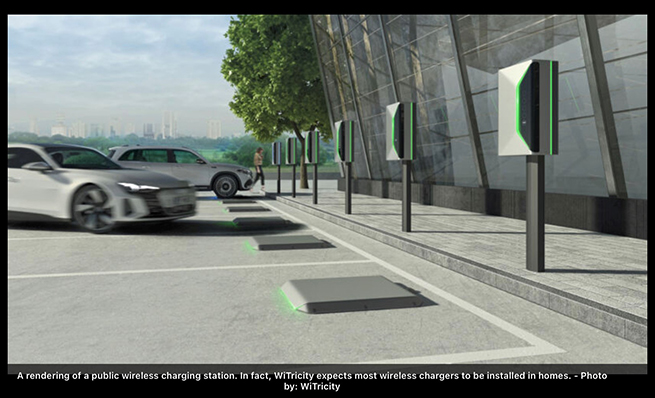 This all leads us back to the question about home use. There's no lack of interest in wireless charging among EV owners. When WiTricity questioned 1,000 owners and prospective owners in the United States, the results weren't surprising.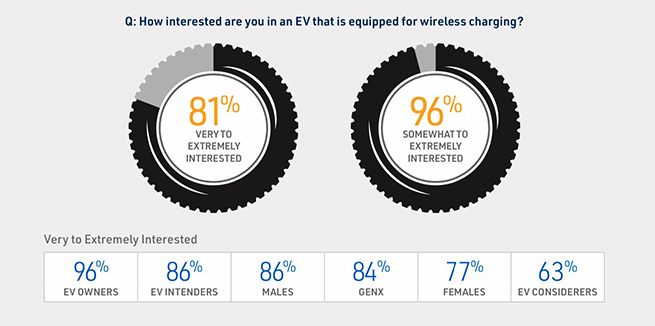 So, what's the hold-up? The technology exists and is successfully employed in commercial vehicles, and there are international standards in place. In a white paper titled What Will Accelerate EV Adoption? WiTricity found the answer will require three key elements all touching on the improvement of charging solutions: Help the public overcome their fear of range anxiety (the fear of running out of power out on the road); improve charging options available to owners; and encourage satisfied EV owners to share their experiences. In the more detailed itemization of the report that means:
"Education To accelerate EV adoption, we need to amplify the learnings from current EV owners to help others assuage their concerns.
Better charging options that simplify life Everyone agrees that wireless charging makes charging easier and more convenient. It's also safer, more reliable, and more accessible.
Experience EV owners today have a Net Promoter Score (NPS) of 81—off the charts. As this community grows and shares their experiences, they will bring others along with them."
That's very reasonable regarding how it will happen, but it leaves unanswered when. Perhaps the answer is partially addressed in a recent prediction from Automotive Industry Solutions, IHS Markit. Their June 2021guess is "32% of all U.S. cars sold in 2030 are expected to be fully electric, with another 4.2% expected to be plug-in hybrids. Given that 81% of American car owners today are very or extremely interested in wireless charging, that could be 65 million less vehicles using plug-in chargers…and all the problems that come with them."
WiTricity lists three problems that accompany plug-in charging. Most important is the worry that you'll forget to charge overnight, or you worry the charger might break or be stolen, and finally there's the concern that it's just another hassle to deal with every day. Wireless charging is safe, reliable, and takes no more effort than just parking over the pad in the garage when you get home. The units turn on when you turn off your car.
The growth of EV adoption and wireless charging now seem inextricably tied together, and the future of both will fuel each other.