But publishing can be a fickle business with ups and downs, especially since it's been transformed by the omnipresence of digital media. It's been a great ride for me as I've been able to use, sharpen, and expand my personal toolbox of skills.
BE CURIOUS AND CREATIVE
I came to IMA® (Institute of Management Accountants) in 1999 when the monthly magazine, originally called Management Accounting, had been reimagined as Strategic Finance. The new visual direction of Strategic Finance was a perfect fit—my favorite task in art direction is hiring illustrators and working with them to translate information into compelling images.
My first challenge was to understand this new-to-me content and lingo of accounting and finance. I needed to read about and interpret concepts such as the balanced scorecard, Generally Accepted Accounting Principles (GAAP), cost-benefit analysis, and Six Sigma, as well as terminology covered in the CMA® (Certified Management Accountant) exams, etc. Then I could explain them to illustrators, come up with visual concepts, and design pages with tables and graphs that were visually appealing as well as instructive.
Throughout my career, I was exposed to new information based on the magazine I was designing. Fortunately, I've always been curious and ready to learn. At Scholastic, I designed magazines for schools about social studies, literature, and fine arts. At Science Digest, I needed to understand scientific content aimed at the layperson so that I could assign illustrations about astronomy, psychology, medicine, and physics. At PC Magazine, the illustrations and photography needed to introduce the average person to the new world of personal computers and illuminate how software could improve their business and home tasks—although I never used a computer while working there!

Photos were created using studio and camera tricks before Photoshop existed.
EMBRACE TECHNOLOGY
For the first 18 years of my career, making magazine pages was a cut-and-paste operation. Armed with a T square, triangle, X-ACTO knife, and rubber cement, I would paste paper strips of text onto mechanical boards, aligning everything vertically and horizontally. Early on, headlines were designed using rub-on Letraset letters, later replaced by strips of composite-photography type. Photostat images were also glued onto the board, then replaced by color-separated images at the printer.
In 1990, the small decorating magazine I designed was sold and the entire staff was dismissed. By that point, the production process had changed to typesetting on an early Apple computer, but still pasting all the elements on boards. It was time for me to greet the computer age.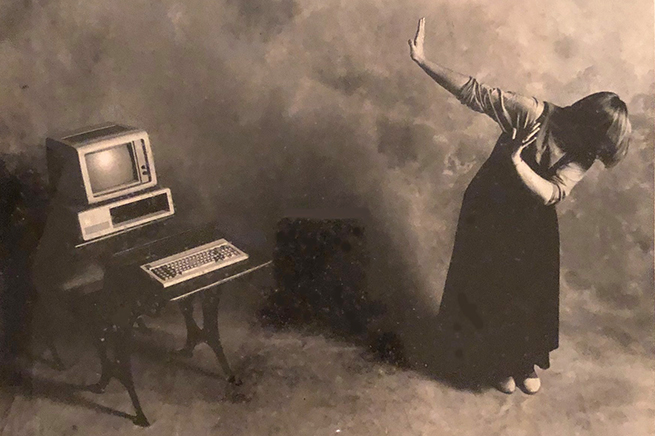 Me confronting the new technology of the personal computer.
I decided to work freelance and start my own graphic-design business by buying my first computer set up: a Macintosh IIci, a 13-inch black-and-white monitor, and a dot-matrix printer for $2,000 each (the equivalent of $12,800 today for you accountants). A part of me was annoyed that the paste-up skills I had perfected over the years were becoming obsolete.
With that setup, I designed a baby-care magazine that was a Parents special interest publication and a family-lifestyle magazine for Target. It seems amazing now that my Mac only had four megabytes of memory.
SEIZE THE DAY
Throughout my career within the publishing business, networking helped me to move to the next job that fit my skill set and interests. Creative people tend to move around a lot as they look for new artistic and professional challenges. I became very active in the Society of Publication Designers, which brings art directors, designers, photographers, and illustrators together for social and instructive events, including an annual awards show and gala.
I made good friends who shared my passion for magazines, heard about job openings through connections, judged competitions, and won some awards. I see the same kind of advantages to management accountants joining IMA—the importance of networking and building friendships with industry peers through a common organizational bond can't be stressed too much.
I've always followed my gut to take action now rather than someday. Once, I had gotten a magazine-design job that ended up not being what I expected. After eighteen frustrating months, I quit that job to study painting at the Parsons School of Design in Paris for the summer. It was a memorable experience that allowed me to work on my passion for art without thinking about being unemployed. Fortunately, when I returned to New York City, one of my contacts whom I'd met through networking led me to my position as the art director for a new science magazine.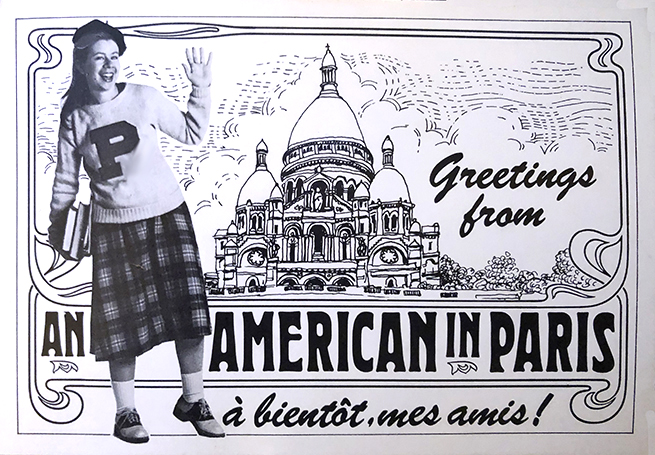 A promotional mailer I sent from Paris hoping to find work in NYC.
Many years later, after the owner of Art & Antiques magazine fired me along with the entire staff (do you see a pattern in publishing?), I seized the day to use my newly found free time to write and illustrate a children's picture book about single-parent adoption, drawing from my own experience adopting my daughter from Russia, and I was able to get it published. Despite that success, I still needed to find a job to support my family and spotted the perfect one in a newspaper want ad (does anyone remember newspapers?).
A PART OF THE IMA FAMILY
When I was first hired by IMA as art director of Strategic Finance, it was just a part-time position. IMA was a much smaller operation in 1999, with only around 50 people in the Montvale, N.J., office, and it was going through a period of uncertainty.
But in subsequent years, the organization stabilized with new influences and leadership establishing and communicating strategic plans and clear objectives, and its size and global reach grew. A new emphasis was placed on marketing, and a business development team was created. I took that opportunity to offer to help the marketing team along with my magazine duties so that my position could become full-time. This relieved the financial stress of being a single mother. IMA has been so supportive and flexible with its staff's family responsibilities and personal needs.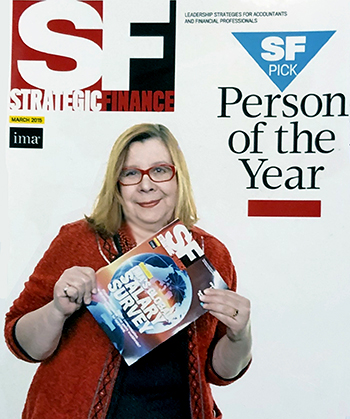 Celebrating the new SF in 2015.
In 2015, Strategic Finance was in need of refreshing the print magazine's visual aesthetic and launching its own website. I acted as project manager, working with an external design team to deliver both print and digital content—all with a new look and feel—to better serve the global IMA community. Retiring this month, I won't be around for the next iteration of the sfmagazine.com website. But I will be watching for the big reveal from home—where I plan to set up an art studio and return to my love of painting.