In its most basic form, a digital twin has three parts: the physical object, the digital or virtual copy, and the connections sharing information between the two. A common example would be marrying real engineering, like your car, and a virtual representation of your car at the dealer's service shop, allowing the shop to create and send you reports about the real-time performance of your car, including tire pressure, fluids, brakes, and service schedules.
Depending on the amount of data passing back and forth, the relationship can exist in three models: a digital model (DM), a digital shadow (DS), or a full-fledged digital twin. And these twins are everywhere, in manufacturing, throughout the Internet of Things (IoT), in healthcare, and even in space near (satellites) and far (the Webb telescope). The global market for digital twins was estimated at $5.1 billion in 2020 and is estimated to grow about 37% to $35.5 billion in 2026.
HEARTS AND MINDS
Implanted and wearable monitors that report regularly to primary care providers have been in use for decades. Now, a number of projects worldwide are setting out to model individual patient organs that include the specific pathologies of the patient. For obvious reasons, the human heart is a primary subject of much of this research.
A February 2022 article in Wired, "The Quest to Make a Digital Replica of Your Brain," lists some of the recent projects. One of those in the Big Beat Challenge of the British Heart Foundation is ECHOES (Enhancing Cardiac care tHrOugh Extensive Sensing). The company's vision is to improve the cardiovascular health of every person by providing a digital guardian angel. Its mission is "to create, test, validate and implement a cardiovascular digital twin, unique for every individual but based on the information about millions of people."
The French software company Dassault Systèmes has a goal of simulating the whole human body, and it has begun building the foundation of that model with a twin of the heart on which it can conduct research using computer modeling. The company calls its subject the "Living Heart" simulation.
In Vienna, Austria, Golem Integrated Microelectronics Solutions GmbH and its IoT innovation platform Pharos Navigator create and implement tailor-made digital twins with "high level tools that do not need programming. The Digital Twins run as transformation engines of big data streams in cloud or various local edge micro datacenters and act as AI-driven Virtual Assistants to managers and operators as well as individuals interested in effective management of [their] own health and well-being." You can read a description of these twins on Golem's Personal Health Digital Twins page. One unique feature of these assistants is that the connection between the twin and the individual is carried on in conversational natural language.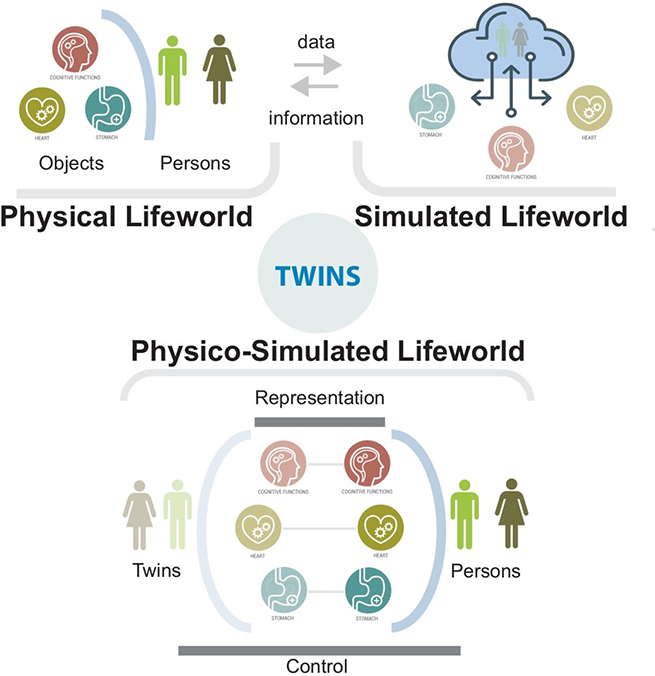 A New Interactive World (Matthias Braun Journal of Medical Ethics) Click to enlarge.
And if the heart is the first path to connect us to digital twins, the ultimate and widest highway to sharing will be the brain. An EU-funded project, Neurotwin, is a consortium of universities, companies, and institutes with a primary goal of sufficiently modeling subject's brains and making digital twins for 60 Alzheimer's patients and a number of others with treatment-resistant focal epilepsy. A clinical trial for a brain stimulation treatment that's optimized for individual Alzheimer's patients will begin next year, and in 2023, a second clinical trial is planned for the epilepsy group.
In the Wired article, Grace Browne explains, "For about a third of epilepsy patients, drugs don't help. Noninvasive stimulation, in which electrical currents are painlessly delivered to the brain, has been shown to help alleviate the frequency and intensity of seizures. But the technology is still pretty new and needs some refining. This is where the virtual brain could prove useful." The Neurotwin team takes "about a half an hour's worth of MRI data and about 10 minutes of EEG (electroencephalography) readings to create a computer model that captures the electrical activity of the brain." The twin produced for the patient is comprised of a network of embedded neural mass models wired up in patterns copied from the patient's connectome (a map of the structural connectivity of the brain). Tests to determine the correct electrical stimulation for the treatment can then be conducted on the twin rather than the patient.
With the efforts at mind-mapping the connectome of a person, there follow serious ethical questions that need to be addressed. Browne quotes Matthias Braun, an ethicist at the University of Erlangen-Nürnberg, Germany, who has written about the moral issues surrounding twins. "On the other hand," Braun cautions, "[digital twins] provides us with challenges. For one thing, who should own a digital twin? The company building it?" What rights of ownership or privacy does the human subject have? Braun continues, "In order to not be an infringement on autonomy or privacy, it is important that this specific person has control of the use [of their digital twin]."
Browne adds, "Losing that control would result in what Braun dubs 'digital slavery.'"
FUTURE HEALTHCARE
In 2016, Bill Ruh was the CEO of GE Digital, and he predicted, "I believe we will have a digital twin at birth, and it will take data off of the sensors everybody is running, and that digital twin will predict things for us about disease and cancer and other things. I believe we will end up with health care being the ultimate digital twin. Without it, I believe we will have data but with no outcome, or value."
Sounds unrealistically far-reaching, but a press release on May 20, 2021, from the University of Texas at Austin suggests that an original stumbling block of twinning might soon be removed for researchers. In the release, Karen Willcox, director of the Oden Institute for Computational Engineering and Sciences, explains, "Digital twins have already been developed for use in specific contexts—like that of a particular engine component or a particular spacecraft mission, but missing has been the foundational mathematical framework that would enable digital twins at scale." The press release claims, "A new universally applicable digital twin mathematical model has been co-developed by researchers at the University of Texas at Austin that could be used for systems as diverse as a spacecraft, a person, or an entire city."