As forms, they're three mechanical arms and a mobile lift system that's shaped like a Roomba and can deliver merchandise and materials around the warehouse floor.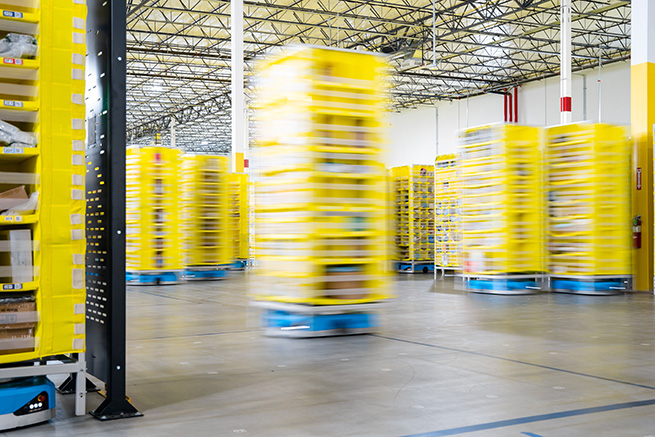 AMAZON ROBOTICS
In March 2012, Amazon decided to add robots to its workforce, and the company purchased a Massachusetts robotics company called Kiva Systems for $775 million. Kiva had a unique system for moving goods around a factory without the usual conveyor belts or forklifts. Wikipedia explains how it worked: "Items are stored in portable storage units. When an order is entered into the Kiva database, the software locates the closest automated guided vehicle (Roomba-like bot) to the item and directs it to retrieve it. The mobile robots navigate around the warehouse following a series of computerized barcode stickers on the floor. Each drive unit has a sensor that prevents it from colliding with others. When the drive unit reaches the target location, it slides underneath the pod and lifts it off the ground through a corkscrew action. The robot then carries the pod to the specified human operator to pick up the items."
The original Kiva robots came in two sizes; the smaller one was 2' x 2.5' x 18" tall and it could lift 1,000 pounds. A larger one could lift pallets bearing up to 3,000 pounds, and both models rolled around the floor at a maximum speed of 2.9 mph.
The original Kiva robot has been substantially re-engineered by Amazon, and deployment has exploded. By June 2019, Amazon had more than 200,000 robots working in their fulfillment centers, and today, the company claims to have more than 520,000 robotic drive units operating in its warehouses. Amazon has two robotics factories in Massachusetts, and they've even established an Amazon Mechatronic and Robotics Apprenticeship that involves 12 weeks in-classroom work, 2,000 hours on-the-job training, and with the completion of the certification there's a pay increase of approximately 40% for successful candidates.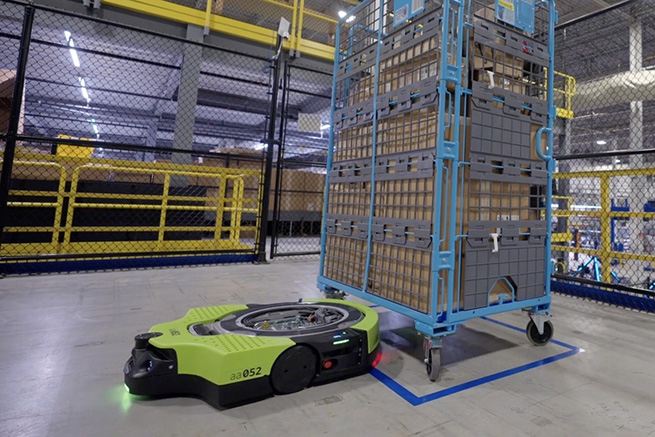 PROTEUS
On June 21, 2022, Amazon announced the latest version of Kiva's floor robot. It's called Proteus, and Amazon says that it's "our first fully autonomous mobile robot." Admitting the difficulty that's present when you try to safely incorporate robotics in the same physical space as people, they explain in the announcement, "Proteus autonomously moves through our facilities using advanced safety, perception, and navigation technology developed by Amazon. The robot was built to be automatically directed to perform its work and move around employees—meaning it has no need to be confined to restricted areas."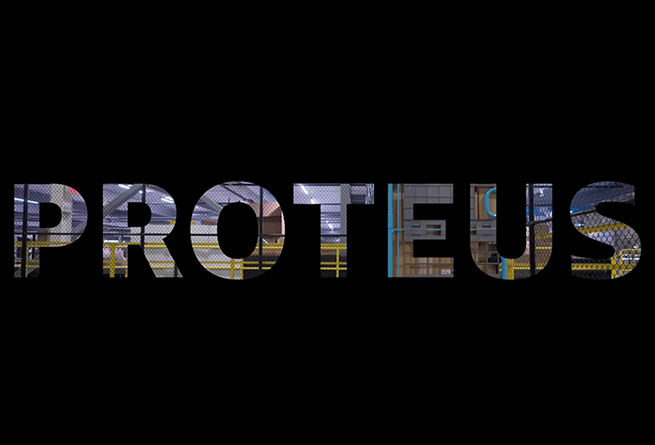 ROBOTIC REACH
Amazon says it has "more than a dozen other types of robotic systems in our facilities around the world, including sort centers and air hubs. From the early days of the Kiva acquisition, our vision was never tied to a binary decision of people or technology. Instead, it was about people and technology working safely and harmoniously together to deliver for our customers." Many of the other Amazon robotics are grabbing, handling, and/or lifting mechanisms, and those expose the greater difficulty of teaching robotics "selecting and handling" rather than just moving.
The most recent of the systems is the Sparrow, announced in a November 10, 2022, press release. The release explains how it will significantly advance item handling in our operations. "Sparrow is the first robotic system in our warehouses that can detect, select, and handle individual products in our inventory. Leveraging computer vision and artificial intelligence, Sparrow can recognize and handle millions of items."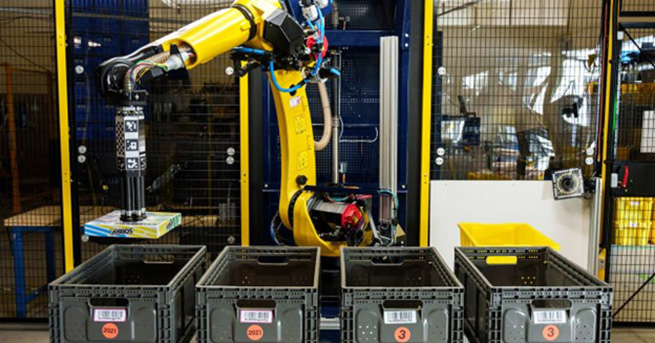 This new arm can pick items from bins and shelves even when the items are jumbled. It uses suction-cupped extensions to "grab" and sort items into bins to be delivered to workers. "Last year, with the support of Amazon technologies," the release continues, "our employees around the world picked, stowed, or packed approximately 5 billion packages—or over 13 million packages per day."
Sparrow now joins Cardinal and Robin already at work at package sorting. The Cardinal robot eliminates the repetitive, twisting stress of lifting items and placing them in Go Carts to be driven away by Proteus helpers. The image below links to a YouTube video that shows how it operates next to a conveyor.
Cardinal also has advanced AI and computer vision that enables it to select a package out of a pile, lift it, read the label, and correctly place it in the right Go Cart.
Robin is another sorting robot, which Amazon says has, "an advanced perception, which detects and learns from its own mistakes." This enables Robin robots to select and sort objects from piles of jumbled packages—at production scale."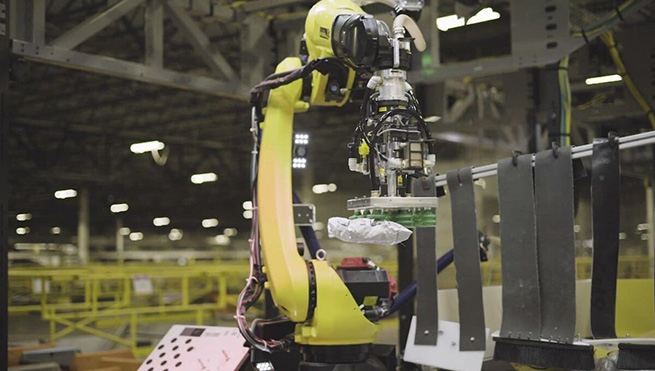 In 2021, Amazon had only a couple dozen Robins at its fulfillment centers, but now "Robin and its advanced perception system are moving rapidly into production." The Amazon Science section of the Amazon website has a detailed article explaining how Robin was trained and how it continues to learn.
The robots in the Amazon fulfillment centers are only one piece of the research into the automated means for processing and delivering the smiling boxes for the world's biggest store. Other areas like the flying drones and small autonomous delivery wagons tend to get more public notice, but the robotics in the warehouses continue to develop where it all began for Amazon and its robots—on the floor of the fulfillment centers.