The Taskman (above) is manufactured by partner Gayam Motor Works of Hyderabad, India. The company offers a variety of small EVs in 15 countries and was shortlisted by Intel as one of the Top 10 Startups in India in 2017.
According to BILITI Electric, "The Taskman vehicle has been ground-tested by online commerce companies in the U.S., UK, EU, Japan, Middle East, India, and Africa with Amazon, Walmart (Flipkart), IKEA, SokoWatch, Big Basket (Tata), Lomato, and several others." The vehicle, they write, "is a smart, efficient, and economical way to deliver goods and packages in urban environment[s]." The work mileage, according to BILITI, is 20 million miles and 12 million packages delivered.
The specifications for the Taskman are fairly basic. It can achieve up to 30 mph and carry 1,500 pounds of cargo. Its extended range is 110 miles on a 3.5-hour charge of the Lithium-ion batteries. It also features GMW's SmartSwapp battery system, which can swap in a fully charged battery in just minutes. "The vehicles are cloud-connected via mobile and show real-time availability of the nearest SmartSwapp stations based on location."
The record for these three-wheeled delivery EVs is remarkable, but the impact on the American market is yet to be measured. BILITI and Gayam Motor Works continue to attract customers and venture capital worldwide.
PASSENGER VEHICLES
The idea of having swappable batteries in electric vehicles instead of hours-long charging cycles makes eminent sense, that is, if it's feasible, and if it's economically reasonable. For a case study in practical issues, there was another set of headlines from Norway in the second week of November, announcing that the Chinese automaker NIO is opening the first battery-swapping station in Europe for its ES8 Sports Utility Vehicle.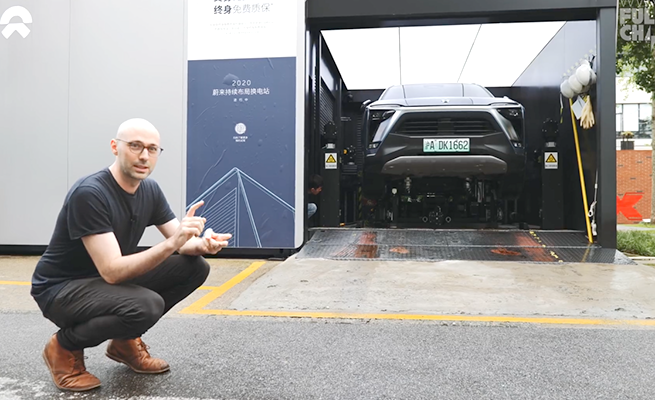 A NIO ES8 in the 3-minute battery swap station. Click on the image for a YouTube description of the ES8 SUV and its system for swapping batteries on the go.
NIO is known as the Tesla of China where it has a solid share of the world's largest EV market. On the day before the LA debut of the Taskman, the China Daily reported a 141% increase in the sales of NEVs (new energy vehicles) in China for the month of October. NEVs have grabbed 20% of the total vehicle sales in the same month.
On November 14, 2021, the publication Inside EVs headlined the latest NIO initiative. The Scandinavian station was set up to support the launch of the NIO ES8 in September. Inside EVs reporter, Mark Kane, explained that the company plans to create 20 Power Swap stations in the country, "covering Norway's five largest cities and their main roads."
In China, NIO currently has more than 500 stations and has done more than four million battery swaps as of September 2021. Kane reports, "The Chinese company would like to expand the network to 4,000 stations by the end of 2025, including 1,000 stations outside China. Most of those 1,000 stations could be in Europe."
The NIO stations are a second-generation Power Swap 2.0, which was introduced in April 2021. Kane says, "[They] can handle up to 312 battery swaps per day (24 hours)—on average, 4.6 minutes or close to 277 seconds per swap (including parking)." The new version of the station "has 14 battery slots—13 battery packs and an empty slot to pick up a discharged (or old/previous generation battery when upgrading.)
Kane says the Scandinavian presence will be followed next in Germany along with the announcement of the NIO sedan the ET7, with a basic range of more than 310 miles or up to 435 with a 100 kWh battery. A solid-state battery that's promised for next year will increase the range to more than 620 miles.
The Inside EVs article ends with a cautionary reminder concerning the westward expansion of NIO's swapping stations. "Only time will tell," Kane warns, "whether the battery swap station is a viable business model for EVs. It's a capital-intensive approach, with its pros and cons as with any technical solution."
IS THIS A GOOD IDEA?
It looks like an obvious and even elegant technological solution for fueling EVs of the future, but there are inherent problems with battery swapping. These include practical, economic, competitive, and perhaps most important, environmental drawbacks. In May 2021, Lawrence Ulrich posted How Is This A Good Idea?: EV Battery Swapping in the IEEE engineering journal. Ulrich is the chief auto critic for @TheDrive and former chief auto critic at The New York Times. In the May posting he wrote, "Battery swapping has become a lot like hydrogen fuel cells for passenger cars: They're automotive ideas that are never quite born, but just won't die." Overall, he says it's an especially bad idea, "a technical and market dead-end."
Ulrich reminds us of the Israel-based Better Place, the battery-swapping project founded in 2007. "Despite raising nearly $900 million from investors, and the media anointing Agassi (the chief entrepreneur) as an electric savior, Better Place imploded like the Theranos of its day." Fast Company magazine called it "the most spectacularly failed technology start-up in the 21st century."
In 2013, Tesla developed a battery-swapping technology for its Model S, but two years later Elon Musk told his investors that few owners had used the swapping station at Harris Ranch, California. Tesla had invited 200 Model S owners, "but only four or five people were interested."
In 2021, the latest passenger vehicle experimenters are China's EV producer NIO and a San Francisco-based startup called Ample. About these, Jeremy Michalek, mechanical engineering professor and director of Carnegie Mellon's vehicle electrification group said battery swapping is a relic of a bygone EV age.
The DC fast charging times at direct charging stations have improved to 35 minutes or less at Tesla Superchargers, and the producers of Air say their cars will add up to 300 miles in range with a 20-minute charge at their stations. "Governments around the world," Ulrich writes, "are choosing DC charging as the tech winner, including President Biden's plan to invest $15 billion to install at least 500,000 public chargers."
And there are environmental considerations. "Since batteries are so expensive, bulky and resource-intensive, Michalek says, creating vast networks of swappable packs—which must be stored, kept charged and maintained—would be a waste of money and resources, while expanding carbon footprints." In a phrase, Ulrich says, "It's bike rentals writ large, only for 1,500-pound battery packs that cost $10,000 and more." He warns that time is running short to accomplish a necessary "transition to electric transportation if climate change is to be stopped in its tracks."
As a final note, Ulrich points to a competitive stumbling block. "If those obstacles seem daunting, we haven't touched on the worst: Automakers don't standardize vehicles or batteries and aren't looking to start. These are companies that can't even agree on a charging standard, let alone batteries that could plug-and-play with every car, SUV, and pickup. Barring standardization, Michalek says, each automaker would have to develop its own proprietary, balkanized station network, from San Francisco to Shanghai."
Perhaps battery swapping is a good idea for small delivery vehicles within a closed environment, but the slope to succeed for general passenger vehicles looks rather steep. It will be interesting to see what happens with NIO's move into Norway and next year in Germany.