In the beginning of the pandemic, crowded call centers were identified as extremely dangerous environments for workers, and staffing these centers soon became critical. Automated chat bots are now starting to fill in, and the demand for AI-enhanced replacements has placed greater pressure on developers to improve these agents, and to do it rapidly.
On a larger scale, the worldwide search for treatments and a vaccine have created enormous public databases shared on an open-source model for all those working on the problem. The power of AI computing depends on massive databases for machine and recursive learning, and the current shared efforts for this research might shift the way AI evolves in the future.
The list of the many existing tech solutions that haven't escaped the reach of the pandemic is interesting and growing. We'll look at four of these in robotics (Spot the Boston Dynamics dog), shopping (squadding in China and the West), digital cash, and the role of an AI Futurist.
COVID AS CATALYST
Spot the robotic dog (above) was developed by Boston Dynamics and is available today for sale or lease. Spot can be driven remotely or can perform autonomous missions, and it has been used in a number of industries, and even for tasks as unusual as bomb removal.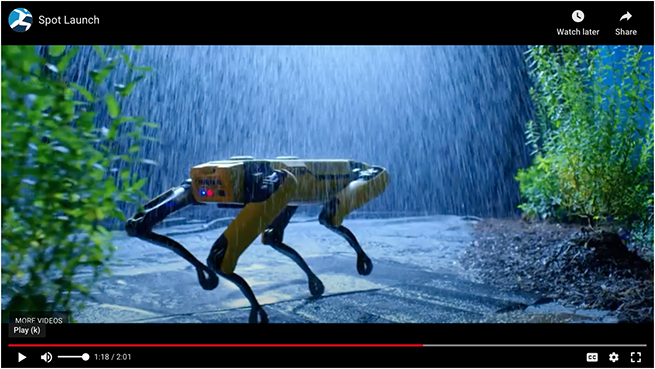 Click on photo for video/courtesy Boston Dynamics
On May 8, 2020, Edgar Su of Reuters reported, "The remote-controlled, four-legged machine was deployed in a central park in Singapore as part of a two-week trial that could see it join other robots policing Singapore's green spaces during a nationwide lockdown." Speaking in English as it roamed around, Spot encouraged those in the park, "Let's keep Singapore healthy. For your own safety and for those around you, please stand at least one meter apart. Thank you, it added in a softly spoken female voice."
Meanwhile, two weeks before, halfway around the world, several Boston, Mass., area hospitals rigged a number of the robotic canines with an iPad and two-way radios on their backs to support those doing telemedicine interviews in ad-hoc environments like triage tents and parking lots. The patients could see and speak to the person asking questions. Su explained, "For every intake shift completed by a tele-operated robot shift, at least one healthcare provider is able to reduce their interaction with the disease."
Although Spot has filled in admirably, Su quotes Boston Dynamics on the future: "Boston Dynamics imagines wheeled or tracked robots would work even better than Spot. So the company has been working closely with Canada's Clearpath Robotics to build out more robotic triage workers."
SQUADDING
"Squad shopping" or "squadding"has been a popular mode of social e-commerce in China for about five years, and now there are attempts to fill a similar need for young shoppers in the West who, because of the COVID isolation measures, miss shopping with their friends. In China, social e-commerce exploded from a $90 billion market in 2017 to an anticipated $413 billion of goods that will be sold by 2022, according to the Frost & Sullivan consulting firm.
Writing in the May 18, 2020, Vogue Business newsletter, Kati Chitrakorn describes a new western social shopping platform called Squadded Shopping Party "that encourages users to shop online with people in their network." Designed by a former L'Oréal brand manager, Elysa Kahn, the platform "allows its users to go shopping together on fashion e-commerce sites. The target audience are Gen Z customers between 15 and 25.
Chitrakorn cites Kahn's confidence in the enterprise because "The pandemic has prompted cultural change in how people shop and spend time together; the popularity of live streaming, which has similar benefits like providing trust and transparency that e-commerce has traditionally lacked, has made its way from Asia to other countries globally. Group shopping could be the next step shopping habit to make the leap."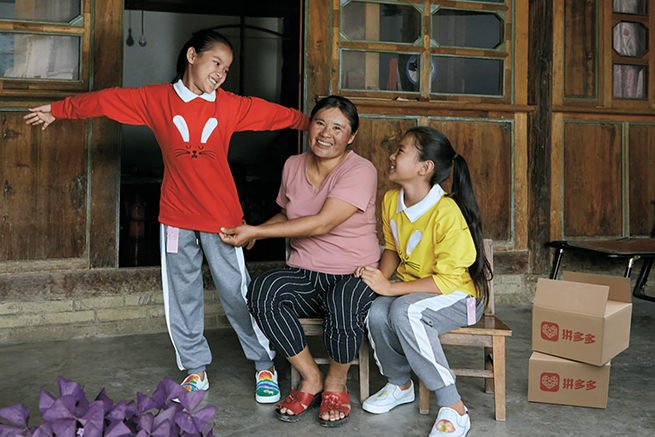 Photo courtesy Pinduoduo
The "leap" in China was more like a step, a natural progression prompted by elements of the culture and behavior. Domenica di Lieto, chief executive of Chinese marketing consultancy Emerging Communications, explains, "There are a lot of groups on WeChat and other social platforms in China, where people with the same interests will congregate and become a community." The Shanghai-based Pinduoduo is the biggest e-commerce platform in China and the world and the second largest online marketplace in the country. Its name translates as "together, more savings, more fun." The bigger the squad, the bigger the discounts.
Y Combinator is an $80 billion company that provides seed funding for startups, and Anu Hariharan and Nic Dardenne, writing in the Y Combinator blog, point to another key reason for the success of interactive and social shopping experiences like Pinduoduo. "Social shopping may seem like a new concept, but the reality is that in the physical world, shopping is meant to be 'interactive and fun.' Consider how much harder it feels to purchase a new clothing item without immediate feedback from friends.
Pinduoduo has tried to mimic the offline shopping experience online by building community via their team purchase model, driving engagement via fun and interactive games and rewards, and offering personalized experiences and value via recommendations." Makes the search/click models of Alibaba or Amazon look pretty empty.
The future of Kahn's Squadded Shopping Party is an open question. It has a relatively limited high-end target base, but the view of Y Combinator is that the recovery from the pandemic in China leaves Pinduoduo "better poised to fully capture the offline-to-online transition in commerce. And so to understand the success of Pinduoduo is to understand the future of global e-commerce."
CASHLESS SOCIETY?
A cashless society:Is it likely, or even possible? On February 13, 2020, the Institute and Faculty of Actuaries (IFA) in the U.K. pointed to several recent indicators. "Cash use has continued to decline in developed countries. Governments that proactively managed the transition to a less-cash society have navigated the associated risks and issues effectively." Both China and Facebook plan to release their own versions of digital currency, and there are the other cryptocurrencies like Bitcoin.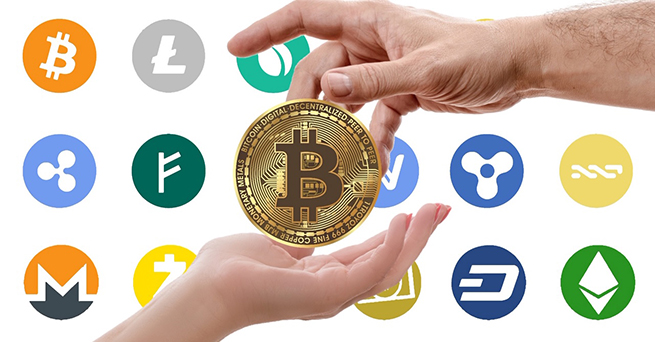 Photo/Wikopedia
And there are also the Mobile Money services like M-Pesa, EcoCash, GCash, Tigo Pesa, and others. "Universal access to digital services is an accepted necessity," according to the IFA. Apple and Samsung let you carry your money around in payment systems built into their phones. And now, the COVID pandemic has added one more terrible layer of inconvenience for conventional cash—the risk of contagion.
A May 20, 2020, Associated Press article in the Los Angeles Times said, "From the supermarkets of the U.S. and Japan to the shantytowns of Africa to the gas stations of Tehran, a growing number of businesses and individuals worldwide have stopped using cash for fear that physical currency, handled by tens of thousands of people over their useful life, could be a vector for the spreading coronavirus." The rejection happened despite public officials and health experts describing the risk as minimal.
As a lasting effect of the current pandemic, this fear isn't likely to survive as the final straw that breaks the back of paper and coin currencies. Before that happens, you would probably need to have everyone connected to the internet or other networks that can handle their digital currency. Also objecting to the idea of the death of cash was the Beirut money changer called Ihsan interviewed in the article. He said, "There are certain things you just can't do without cash. Like how else can you bribe a government employee to get your business done? With a credit card?"
AI FUTURISTS
Brian Solis, digital analyst, anthropologist, and Salesforce's Global Innovation Evangelist, makes a strong case for a new hire in this time of pandemic. In a May 20 ZDNet article titled "Now hiring AI futurists: It's time for artificial intelligence to take a seat in the C-Suite," he sums up the present and future value of a corporate AI futurist. "In a time of COVID-19 disruption, futurists can accelerate organizational recovery and capacity. When partnered with purpose-built AI, augmented intelligence can also spur radical innovation." Because the novel economy that's about to develop over the next 36 months will likely have no playbook, expertise, or best practices in place, now is the time for AI to expand its influence.
Solis explains that AI, machine learning, and automation are already fast-tracking transformations "across manufacturing, logistics, pricing/inventory management, and supply chains. Whether its robotic process automation (RPA), conversational AI, real-time and predictive analytics, or deep learning black or glass box modeling, AI is helping organizations ensure business continuity, stabilize against disruption, optimize processes flow, and performance. AI can mitigate risk and promote business resilience beyond continuity to survive and thrive against today's unknowns."
The concept of an AI futurist as an officer at the executive level, a strategic partner to navigate the emerging novel economy is, Solis insists, an idea whose time has arrived. We are still at the beginning of an historic upheaval, and the changes that will follow will likely be well beyond our current imagining. Ripples today may be waves and currents tomorrow.