Our social media manager at the time focused on sharing Strategic Finance articles, engaging CMA® (Certified Management Accountant) exam practice quizzes, and links to continuing education material from ICMA® (Institute of Certified Management Accountants).
Part of my job now as creative director is to oversee the creation of online graphics and messaging consistent with IMA's digital and print strategies. IMA's social media has come a long way since 2013: We now have more than 220,000 likes on Facebook, more than 8,000 followers on Twitter, nearly 39,000 followers on LinkedIn, and nearly 5,000 followers on Instagram.
My time at IMA has shown me that having a strong brand means much more than name recognition; it means that your members and other people around the world understand who you are, your values, and what you stand for. And this doesn't come easy; it is a combination of many things, including messaging, tone, brand elements, and user experience. Implementing marketing initiatives involves a great deal of communication and planning across internal departments, as well as with staff members who are sometimes around the world.
From the creative side, making sure that all visuals, design systems, and brand elements feel consistent across all collateral and member touchpoints, especially social media, is a key aspect of my job. Here is how your organization can build brand recognition on social media as well.
PICK YOUR BRAND COLORS
One way you can build brand recognition on social media is by sticking to specific brand colors. Oftentimes organizations will already have a brand color palette, so this step may be as easy as asking for the color codes. These colors establish the look and feel of your brand and can relate your social channels to your organization's website. For instance, IMA's color palette consists of a set of primary, secondary, and neutral colors. Those include a dark navy blue, dark green, light blue, light green, and shades of gray. Not only do we use these colors on imanet.org, but every graphic we create for our social posts includes one or more of these colors.
Color palette consistency is easily noticeable and can create a familiar and comfortable experience for your audience. One great example my team and I worked on was a series of infographics we developed for our CMA salary survey results. A post from the series was published once a week for two months. The use of color, as well as the brand elements and consistent design, made it very easy for our social followers to identify that series of posts on their feeds.
CREATE SHAREABLE CONTENT
One reason people use social media is to share content—educational or otherwise—with their friends and connections. An example of shareable content would be a visually engaging pull-quote graphic that includes a headshot and strong messaging to reinforce your organization's strategy, like this one we shared on Twitter and Facebook.
The quote graphic here is a design template that our team developed in collaboration with Stern Strategy Group in order to make it easy to share strong quotes and testimonials from our leadership, exemplary members, and CMAs. Similar to the infographics described previously, our goal was to create a consistent look for the quote series by making sure the color palette and layout/design stayed consistent on every post, while still making it flexible to edit in new content (such as changing the quote, headshot, titles).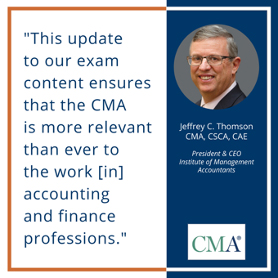 An organization looking to start creating this type of social post or series should first identify a clear goal for the posts: What do you want to share with your audience, and how does this tie back to your brand? You want to make sure the posts aren't completely self-serving, as these posts need to help your audience in some way. Next, find a good set of quotes/testimonials that help you achieve that goal. Last, work on the social graphic template that uses all your brand elements (like logo, color palette, icons) and that reflects the tone of the post (such as fun or professional).
MAINTAIN YOUR VOICE
Consistency is key when building a brand on social media. It is important to keep your messaging clear, content in line with your organization's social media strategy and mission, and tone of your posts professional. If you curate content from other sources, such as a partner organization, ensure you are sharing appropriate content that aligns with your organization's strategy and doesn't feature off-beat messaging.
If your organization hosts an expert "takeover," where someone other than a member of your organization's staff is posting content to your social media channels, ensure he or she has a general guideline for writing posts and replies. This is how we marketed IMA's Instagram Takeover last year:
The messaging and tone for this takeover were considered in advance. Our social media manager at the time made sure to write out a set of guidelines well before the takeover was scheduled, which she sent to the expert. The social media manager made sure to monitor the feed to ensure the expert was posting the appropriate messaging at the proper times. This takeover was very well received by the attendees of IMA's Student Leadership Conference.
SOCIAL MEDIA IS GLOBAL
One of the most memorable moments for me working on this team was when we launched IMA's 2019-2020 CMA campaign globally. It was such a large-scale project and an amazing coordination among all departments and offices within IMA. Social media played a key role in launching this initiative and probably raised the most brand awareness out of all our efforts.
---
How does your organization currently use social media? Which platforms are you currently using? Why did your organization choose those over others? How has the use of social media impacted your organization?