Wisk Aero LLC has its headquarters at 2700 Broderick Way in Mountain View, Calif. A flying car venture, it evolved from the collaborative efforts of Boeing Company and a startup funded by Google cofounder Larry Page called Kitty Hawk Corp. In a press announcement about the air taxi trial, the two companies claim Wisk "brings together the innovation of Kitty Hawk with Boeing's scale and aerospace expertise."
URBAN AIR MOBILITY
The official February 4, 2020, Wisk press release reads, "The New Zealand Government and Wisk, an Urban Air Mobility (UAM) company, have announced a Memorandum of Understanding to establish a passenger transport trial in Canterbury, New Zealand. Wisk's self-flying, all-electric air taxi, called Cora, is the aircraft selected for the trials."
The air taxi prototype was created by the Kitty Hawk Corporation, and the version slated for testing in New Zealand is designed for two passengers. The all-electric thrust engines include 12 independent lift fans for vertical takeoff and landing and a single three-blade pusher propeller. The fixed wings have a 36-ft. span. Cora is capable of speeds up to 110 miles per hour and of covering an initial range of about 62 miles, and it soars between 500 to 3,000 ft. above the ground.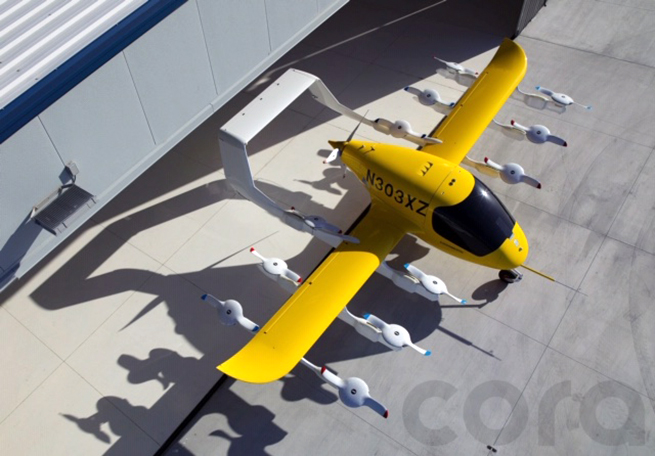 All images: Wisk Aero
See video here of Cora in flight.
Wisk has been testing in the Canterbury region since 2017, and the signing of this latest agreement brings them one step closer to government certification by the New Zealand Civil Aviation Authority (CAA), necessary to upgrade Cora's experimental craft classification to commercial passenger transport. Wisk CEO, Gary Gysin, expressed optimism about Wisk's ultimate goal of in-service operations: "We are delighted to have a signed agreement with the New Zealand Government, which will propel Cora's entry into the air taxi market. We see this agreement as a sign of confidence in our product and abilities to develop and deliver a safe and reliable air taxi service, starting in New Zealand."
The government's own press announcement was written by Megan Woods, the research, science, and innovation minister. She outlined several benefits for New Zealand including economic and environmental advantages. She wrote, "The emerging UA (unmanned aircraft) sector is fast growing and R&D intensive, and the integration of UA into the aviation system has the potential to generate significant economic benefits.
A recent benefit study commissioned by MBIE (Ministry of Business, Innovation & Employment) and the Ministry of Transport estimated that the commercial application of UA could generate up to $7.9 billion in additional value to the New Zealand economy over the next 25 years." The all-electric design of Cora would offer "a greener emission-free way for Kiwis and visitors to New Zealand to get around. Enabling the emergence of an entirely electric air taxi service. . .a natural fit with New Zealand's zero carbon goal by 2050."
THE LAST 70 FEET
Covering the Cora saga for New Atlas, tech writer Loz Blain spends some time on the two most significant permissions not yet granted to Cora—commercial flight certification and passenger confidence in unmanned flight.
The entire project rests on Wisk getting certification from New Zealand's CAA. The choices of partner and test location seem critical. Boeing has international influence and deep pockets. Also, Blain cites comments from Forbes pointing out that in New Zealand, the CAA's Part 115 Adventure Aviation certification program might be a way to get the experimental craft commercial certification "without sinking hundreds of millions of dollars into full certification."
As to who will be willing to glide quietly a half-mile above New Zealand's South Island landscape on the way to a meeting, there are measures that already encourage confidence. The test flight logs for Cora show more than 1,200 successful flights. On board, there is a redundancy engineered in with 12 rotors and three flight computers operating independently. And in the case of a total systems blackout, there's a parachute to slow the descent and ease the landing impact.
This is all very helpful, especially for those scheduled to join the new round of testing as passengers on the Cora taxis. But there is one weakness in the system not yet solved. Blain asks, "What happens if the lights go out in the small window during takeoff and landing when you're only 70 feet (20 m) above the ground and a parachute can't slow you in time?"
He calls this window, to the horror, no doubt, of the Wisk developers, the "death zone." He adds that the solution is both necessary and also an opportunity. "As we've said before, there's an opportunity there for whoever works out how to solve this 'death zone' problem reliably and cheaply, because presumably every eVTOL manufacturer will need to assure both regulators and passengers that its sorted before air taxis become a mainstream part of city life."
The memorandum has been approved and signed, and the parties are now planning when and where the tests flights will take to the air over Canterbury.