Senior vice president for autonomous driving, Alexander Hitzinger, marked the Volkswagen calendar: "We expect self-driving systems to be used in the commercial sector at a large scale from around the middle of the next decade." The plan involves four locations in three countries, billions in new investment, and "closer cooperation in the field of autonomous driving with Ford, which, subject to official approvals, includes a stake in ARGO AI, a company specialized in the software development for autonomous driving."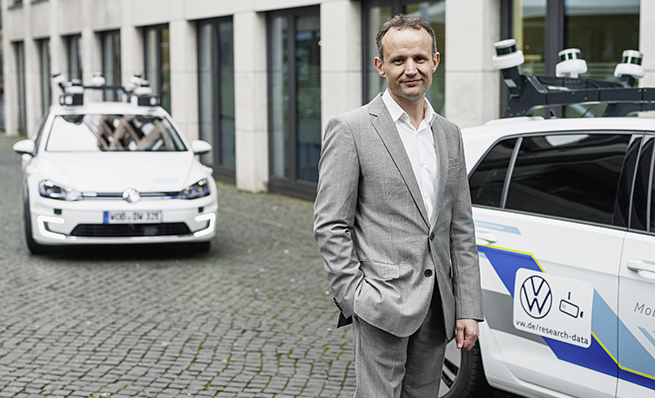 Alexander Hitzinger, with a test model e-Golf driven by 15 laptops (click image for article). Image: Volkswagen
The announcement links the efforts of the Fortune Global 500 #9 (Volkswagen) with #30 (Ford) and Argo AI. Argo is an independent company formed in 2017 with the help of a $1 billion investment from Ford Motor Company. Volkswagen will join the group bringing an additional $2.6 billion to Argo, pending regulatory approvals. Argo won't build the cars or set up and run car services—rather, it will develop the self-driving system for those cars, vans, and trucks.
THE TIMETABLE
The company has already formed a new subsidiary, Volkswagen Autonomy (VWAT) GmbH, as a center of excellence for the development of self-driving systems from Level 4 under the direction of Hitzinger. Level 4 is a standard for high automation wherein the vehicles are capable of performing all driving functions under certain conditions. It's one step away from Level 5 (full automation), which is also known as the "steering-wheel-optional" level.
The new VWAT sites will be in Munich and Wolfsburg, Germany, in 2019; in Silicon Valley, Calif., in the United States in 2020 and in 2021 (one each year); and in China in 2021. The press release reveals that Munich has been chosen as the future site for the European headquarters of Argo AI.
The first application case for Volkswagen's Self-Driving System (SDS) will be "mobility solutions for people and goods in urban areas." Special-purpose vehicles (SPVs) such as robo taxis and robo vans will be the first users of the SDS.
With a nod to the unique problems of this kind of R&D, Hitzinger explained, "Autonomous driving presents the entire industry with major challenges: high development costs, extremely high demands on sensor technology, plus a lack of regulatory systems and heterogeneous regional standards. Our goal is to build an agile, high-performance development team with the know-how to realize a self-driving system ready to market."
Regarding the critical issue of safety, Hitzinger reminds us of where we are today. "Driving a car today is already very safe thanks to numerous assistance and safety systems in modern vehicles: a human driver causes a fatal accident every 600 million kilometers on average. Self-driving systems will further drastically reduce accident numbers. The system must be extremely robust for this. Not only is this difficult to achieve; the verification is also a huge challenge."
And then there's the public who need to be persuaded that companies such as Volkswagen are able to develop an AI-powered driver that's better than the humans on the road. On that point, statistics might not be enough. For many, only observation and experience will be able to get them into the back seat of a driverless cab.
WHERE IS AV TECHNOLOGY TODAY?
The progress toward fully autonomous vehicles (AVs) has been slow, but there's something inevitable about its universal arrival, even though the timetable will be staggered.
Today, there are driverless tractors operating at slow speeds on our farms, and autonomous buses are being tested in Sweden and China. At the Stagecoach Manchester's Sharston bus depot in the U.K., software from Fusion Processing is autonomously driving buses to the washing station, refueling, and then returning and parking back at the depot. The first passenger trials for the bus line are scheduled for 2021. Autonomous big rigs are already carrying freight on some public roads in the U.S. and Sweden.
In London, The Guardian newspaper reported "the first commuter train in automatic operation was Monday's 9:46 a.m. Thameslink service from Peterborough to Horsham. Shortly after 11.08am, the driver, Howard Weir, pressed the yellow button in the cab that allowed the train's computer to do the driving between St Pancras and Blackfriars." That was March 26, 2018, and was preceded by 18 months of testing.
There are commercial and government drones overhead that can operate autonomously, and in 2017 and 2018, three motorcycle manufacturers—Yamaha, Honda, and BMW—showed off their own versions of self-balancing autonomous motorcycles.
Widespread adoption of AVs of all kinds does seem unstoppable. To turn the final corner for automotive AVs, we will have to go from level 4 to level 5 on the Society of Automotive Engineers' (SAE) technical timeline (see below).
Image: Volkswagen. Click to enlarge.
The nicknames for each level offer markers for where we are today. Level 0 is just wheels, hands, and feet. Level 1 ("hands on") adds some automated features such as the safety packages in most new cars, automating some stops and sounding lane-drift alerts. Level 2 ("hands off") can manage some automation, but the driver must remain alert. At Level 3 ("eyes off"), driver attention can drift but needs to be available. At Level 4 ("mind off"), you can catch up on your texting. The GM Cruise is, as the nickname for Level 5 denotes, "steering-wheel-free."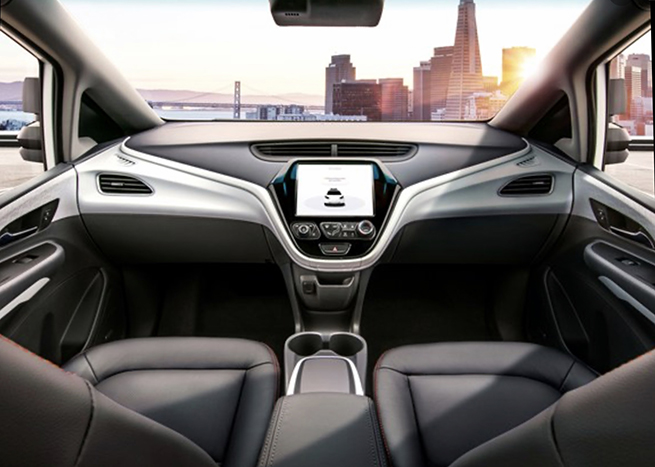 Front seat of the steering-wheel-optional GM Cruise. Image: GM
Even the looks of the latest AVs are dramatically different. Alphabet's original Waymo vehicle was dubbed the bubble car. Here's today's Waymo from the Google spinoff.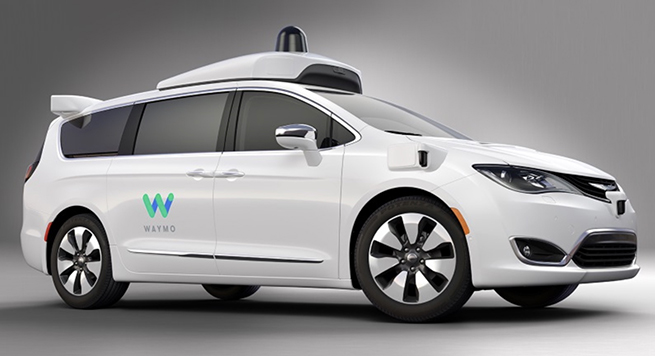 Alphabet's Waymo Image: Alphabet
The Argo Ford AV is also taking design seriously.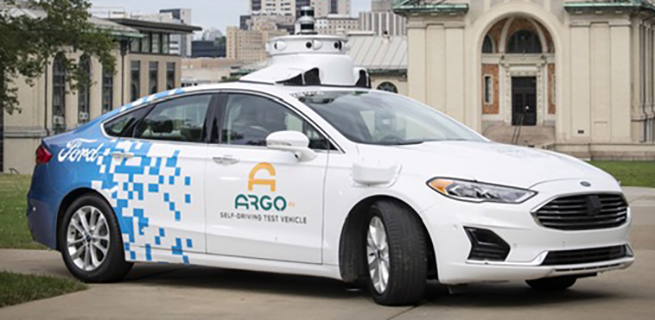 Argo AI partnered with Carnegie Mellon. Image: Argo AI
THE LONG-RANGE IMPACTS
The kind of change that driverless AVs will bring requires some serious planning. Personal ownership of vehicles might well be replaced by membership in subscription services. Need a car? Call or text your service, and a vehicle will drive itself over to your current location. The changes that will reverberate in the insurance industry begin with the adjustment to the questions about driver culpability. Rates might be influenced by safety track records of different AVs, and there's the likelihood that accident levels caused by distracted or alcohol-impaired drivers might almost disappear.
The formal training for city planners and designers of highways will surely include a number of new electives added to the coursework. In all, if AI and machine learning have ushered in a new Industrial Revolution, then AVs will create a new passenger/operator class that still hasn't come clearly into focus.