It appears that silence isn't always golden, especially for the visually impaired, reckless texters walking in crossroads, and children with reduced sight-lines due to their stature. And it isn't just fully electric vehicles that are a problem; hybrids also tend to run silent at lower speeds as electric motors take over.
AVAS
The science-tech website New Atlas reported on the new regulations last week offering details on the new rules. The amendment requires EVs to be fitted with an AVAS (Acoustic Vehicle Alert System) that's able to make a continuous noise of at least 56 decibels and no more than 75 decibels when the car is going 20 km/h (12 mph) or slower. There are no descriptions of what kind of sound the vehicle must emit, but it must be able to raise and lower in pitch to indicate acceleration and deceleration.
The New Atlas reporter Loz Blain compares the not-particularly-loud minimal warning sound of 56 decibels to what you hear from an air conditioning unit. And the upper limit of 75 is about what you would hear from a normal gas-powered car engine. Blain also notes that the rules will allow car manufacturers to give drivers a choice of engine sounds, but the sound must fluctuate to reflect the speed of the vehicle.
The silent threat that EVs present to pedestrians hasn't been a neglected subject of research. What's interesting about the R&D directed at the problem in the past has been the incorporation of the engineering effort alongside an equally serious marketing effort. One team examines practical solutions from the perspective of safety, and the other works on how to make the car sound attractive as a sales feature.
The Nissan Leaf EV has a simulated engine noise that was developed from this safety-plus-sales perspective. A Fast Company YouTube video (below) explains the concept of sonic branding.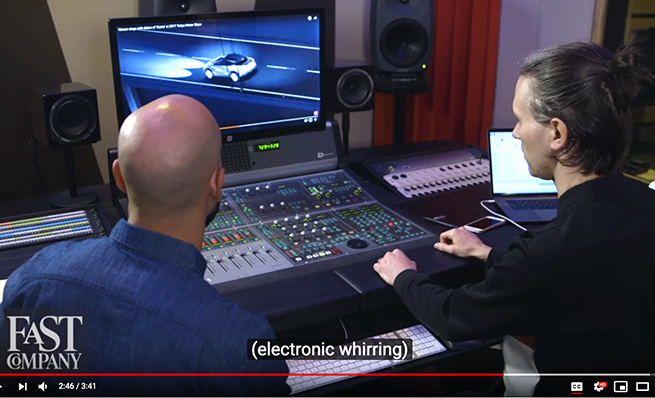 How Silent Electric Vehicles Get Their Sound
OTHER SIDE OF THE MIRROR
This new sound-protection legislation from the EU represents a 90-degree adjustment of perspective for automotive engineers. For the last 20 years, many of them have been working on on-board systems that try to make the car more aware of what's happening around it to more safely share roads and highways. Four sight-and-sound systems have emerged as the primary senses of our electric, hybrid, and semi-autonomous vehicles. They include cameras, radar, Lidar, and ultrasonic sensors. Two of the senses are visual, one involves listening, and the fourth bounces radio waves off upcoming objects.
Digital cameras provide an extension of our conventional vista through windows and mirrors. Backup cameras that light up when you shift into reverse can be supplemented with a digital image in your rearview mirror of what's back there, and 360-degree camera systems will help you out of and into tight parking spaces as they show your movement in the space around you.
But even these systems are limited because they depend on daylight, and headlight and backup lights. Hence the addition of the radar and Lidar systems that use radio waves and laser pulses to map what's out there from data bouncing back at your car's computer system. And finally, cars are listening as ultrasound sensors bounce sound waves at objects that are close to bumpers and fenders. The sounds reflected back can sound alerts and then automatically stop the car before colliding with the objects.
As cars have become more attuned to what can be heard and seen around them, now the EU has determined that pedestrians also need to keep aware of what's around us as we step off the curb into the path of 3,000+ pounds of virtually silent movement looking to share the same space with us. We lack radar, Lidar, and ultrasonic microphones and sensors, so the new amendment to the Quiet Road legislation should help.