The Intergovernmental Panel on Climate Change (IPCC) has confirmed that climate change is now widespread, rapid, and intensifying. Many changes in the climate system become larger in direct relation to increasing global warming. And there's a near-linear relationship between cumulative carbon dioxide (CO2) emissions and the increase in global surface temperature, according to the IPCC. Accounting and finance professionals have an important role to play in tracking and reporting their organization's carbon footprint.
Benchmark is a technology consultancy focusing on providing the packaging industry with commercial estimating software for producers and "should cost" modeling of packaging materials. Led by Paul Waters and the father-son tandem of Tim and Liam Barbary, who are all company directors, Benchmark asserts that accuracy, granularity, and transparency of data delivered by an independent source are key to delivering carbon footprint modeling to ultimately drive strategic decision making to reduce carbon emissions.
"Reducing your carbon footprint is a journey that is going to take many years, and there'll be incremental benefits year on year," Tim Barbary says. "Peter Drucker famously said years ago, 'If you can't measure it, how do you know if you've improved it?' So you need data, and in the world of packaging, it's Big Data—there are a number of software solutions that are beginning to emerge in the marketplace using scientific data, but the problem with scientific data is their broad averages not taking into account the idiosyncrasies of each and every country."
The consultancy developed a carbon footprint calculator for the packaging industry, software that calculates carbon emissions (CO2e) upstream from source to factory gate across the value chain at the stock keeping unit (SKU) level. The approach considers all the materials used in the production of packaging, the machines, processes, the direct and indirect energy used, along with secondary consumables, packing, storage, and delivery from source to factory gate of the packer/filler.
Benchmark also offers carbon labeling for consumers, allowing brands and retailers to showcase their green credentials and their customers to make more sustainable packaging decisions. It conducted market research, which found that consumers are the real driving force behind the demand for more sustainable packaging and that they're actually willing to pay more for a more sustainable packaging design (see Figure 1).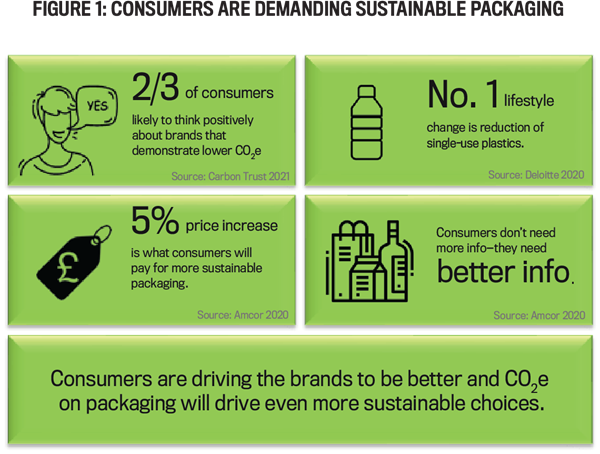 "On the carbon footprint modeling side, people [at many organizations] know they need to start measuring their carbon footprint but are in the investigative stage—you need to be able to track this [emissions data] in a repeatable way year on year," Barbary says. "You can't have a consultant come in and do a one-off project that tells you what your carbon footprint is today because now you've going to have to do the same thing next year, and it's a laborious, difficult, expensive project.
"When you go down the route of carbon footprint modeling, you have to be looking at spending your time and money to develop a tool to benchmark your performance that's repeatable on a month-by-month, year-by-year basis," he says. "It comes down to granularity of data, accuracy of calculation, being reported transparently, and being measured authentically."
Leveraging Data to Reduce Carbon Emissions
Benchmark stresses that it's possible to reduce organizations' carbon footprint and save money, suggesting that accounting and finance professionals should focus on the key principles of granularity, accuracy, transparency, and authenticity to deliver standards based on reliable data that consumers and other stakeholders can trust. Packaging producers can make significant reductions in CO2e and price even where the packaging producers operate with no margin loss. To do so, however, requires regularly capturing the granular detail and accurately calculating the effects of what might appear to be minute changes, according to Benchmark.
Benchmark claims that the use of simple averages calculated from a one-off piece of analysis can't be relied upon. As for most complex printers and converters, it won't be truly representative of an annual portfolio of business and could, in fact, prove detrimental, according to Benchmark. Barbary says that data needs to be compiled by professional life-cycle experts to ensure that the assumptions, scenarios, scope, and calculations don't vary from one study to the other, which might otherwise lead to different results.
It's crucial for accounting and finance professionals to communicate the CO2e and cost savings in a transparent manner, enabling the organization's leaders to make informed decisions related to achieving sustainability and environmental, social, and governance (ESG) objectives. Benchmark analysis shows that the granularity of the data required and calculating it accurately are crucial in order to truly represent the commercial and carbon values in a market where margins are tight, Barbary says.
With quality data calculated to a high standard, accounting and finance professionals can explain the complex analysis and translate the results into easy-to-use information, enabling colleagues, consumers, and other stakeholders to make informed decisions and, in turn, showcasing brands' sustainability/ESG credentials. Benchmark asserts that this only needs to be audited annually, saving time and money.
Market research from Mintel indicates that retailers, brands, and packaging manufacturers need to gauge consumer sentiment toward sustainability initiatives, ESG metrics, and manufacturers' activities. The Carbon Trust survey results indicate that two-thirds of consumers would likely think positively about organizations that demonstrate lower CO2e, and Amcor estimated that consumers are willing to pay approximately 5% more for products with sustainable packaging.
Big brands have hundreds, if not thousands, of SKUs. Benchmark provides manufacturers' SKUs with a carbon footprint score that they can include on product packaging for transparency likely to increase consumer loyalty. They can use such labeling to communicate with consumers that they're environmentally friendly and sustainability-oriented.
"You can do that with a green tick or a traffic-light system, and you could also put a QR code on product packaging, and all the data behind it that our system generates could be available on your company website to show how green you are," Barbary says. "It helps reaffirm your corporation's [sustainability/ESG] position when you're talking to investors, shareholders, consumers, and other stakeholders and building relationships.
"It also avoids the potential for the competition and markets authority to hammer you with a fine, because you've got the granular detail, and as a result of that, you've got data from an independent third party that you can fall back on," he says.