Helping people achieve their goals and improve their lives through education has defined the career of Mike DePrisco, who took the helm of IMA® (Institute of Management Accountants) as president and CEO in April 2023. From his college days as an aspiring teacher through more than 30 years of experience building relationships in higher education administration and association management, Mike believes in the power of learning to transform the trajectory of someone's professional journey.
For Mike, members "are at the center of the IMA story," and he aims to strengthen that commitment by providing them with what they need to be successful, all while growing IMA's global influence and reputation as a thought leader in the finance and accounting profession.
CITY KID
A self-described city kid, Mike grew up in a middle-class neighborhood in Philadelphia, Pa. The younger of two children, he was fortunate to live close to his extended Italian-American family—aunts, uncles, cousins, and grandparents. That urban experience taught Mike some early lessons.
"My first job, when I was 10, was as a neighborhood paperboy," he recalls. "I used a pushcart to transport the papers, which I delivered every day after school. I learned to be pretty entrepreneurial, because when it came time to collect payment, people had very creative ways to avoid answering the door." The experiences instilled in him the values of responsibility and accountability. "It was hard work—and it definitely wasn't easy money."
This strong work ethic was also reinforced during Mike's early childhood and teenage years, during which he spent 12 years attending Catholic school, including four years at an all-boys high school. In high school, he worked several part-time jobs, took college-track courses, and excelled in a range of academic subjects, including English, history, and math. He also enjoyed music, playing as a drummer in the school's jazz band and orchestra.
That education prepared him well to attend college, the first person in his family to move away from home to do so. He enrolled in West Chester University (WCU). While it was less than an hour from where he grew up, Mike says it "might as well have been halfway across the country." It was the first time Mike had spent any significant time out of the city—aside from summer family vacations at the beach in New Jersey—and living on campus was a life-changing experience.
"College was eye-opening," he says. "WCU was coed, which alone was different than any other school I'd attended, and it exposed me to diversity too. I met and made friends with people from all over the area, with backgrounds that were very different from mine." Mike took advantage of many opportunities at college: He joined a fraternity and got involved in a variety of extracurricular activities and student clubs.
In college, Mike discovered he wanted a career that would allow him to help others and make a difference in people's lives. He pursued a degree in education, with the goal of becoming a high school teacher (he also considered becoming a musician). While completing his bachelor's courses and student teaching assignment, Mike found that being a classroom teacher wasn't for him. He shifted his focus to higher education and enrolled in graduate school at WCU to earn his master's in counseling and higher education administration.
Even as a graduate student, Mike continued to be engaged and active in student life: He served as a graduate assistant for the new student orientation program and a peer mentor, and in other service organizations. He also worked and lived full-time in a college dormitory, providing oversight and support to about 500 residential students.
SUCCESS AS A COLLEGE ADMINISTRATOR
After earning his master's degree and working in his first professional role as residence hall director at WCU, Mike took on new leadership positions within higher education, first as the director of student housing and then as dean of student affairs at The Art Institute of Philadelphia, an applied arts, design, and culinary college serving about 2,500 students.
In 2001, Mike was promoted to the role of vice president of student affairs at Education Management Corporation (EDMC), the parent company of The Art Institutes and one of the largest providers of for-profit post-secondary education in North America. Mike spent five years in that role, which led him to serving as college president for three different campuses within the Art Institutes system of schools over a period of seven years.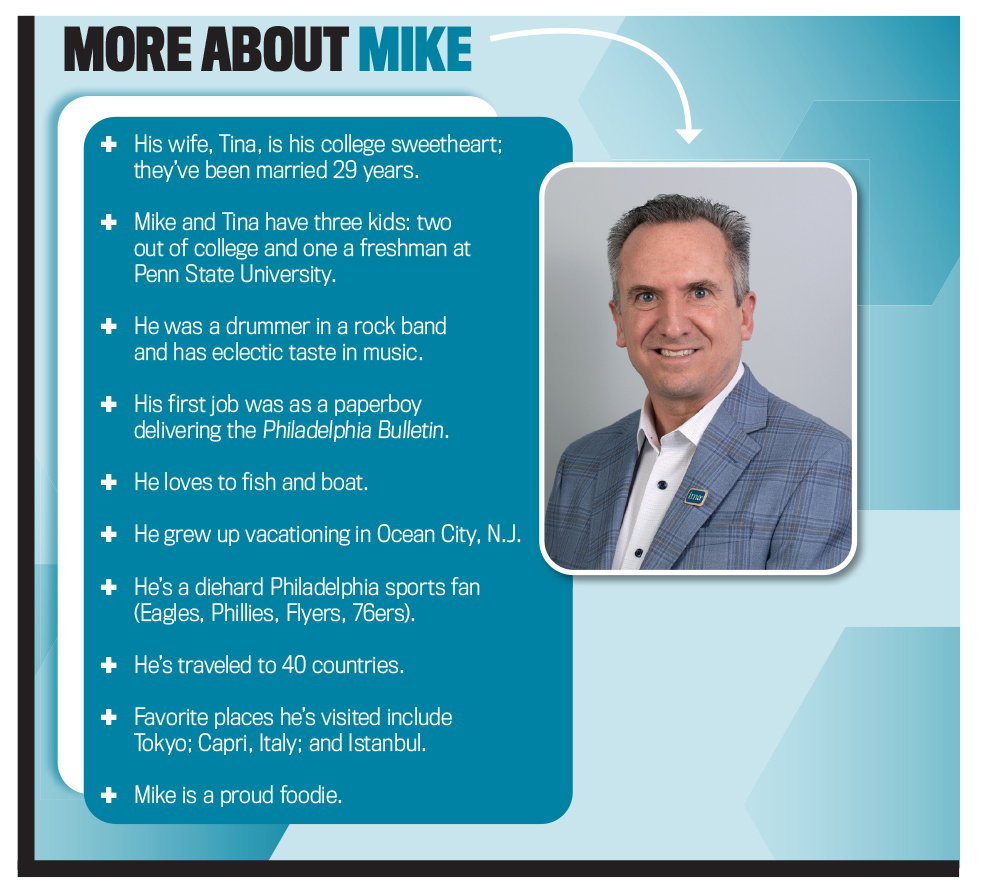 Mike's work in higher education enabled him to make excellent use of his administrative, people, and management skills. He worked with his teams to develop and execute strategic plans aligned with the mission and purpose of the institutions he served. And he provided enterprise leadership to the executive teams responsible for the enrollment, financials, retention, institutional accreditation, career services, and student affairs of each college.
Mike reflects fondly on this time: "I discovered what I truly enjoy: inspiring people, building a culture, and helping to identify and achieve successful outcomes. I definitely learned how to be a leader—and how to stay cool under pressure."
Yet in 2013, after spending almost 20 years in higher education, Mike began searching for his next adventure and an opportunity to continue to pursue his passion for making an impact in a purpose-driven organization.
OPTIMIZING MEMBER BENEFITS
One opportunity presented itself through a colleague who worked at the Project Management Institute (PMI), a U.S.-based professional organization with about 700,000 members in 217 countries and territories around the world, as well as more than 300 volunteer-run chapters. Most notably, it offers what has become the standard certification for project management, the PMP (Project Management Professional), along with a variety of other certifications, standards, and educational offerings.
Mike spent a decade at PMI, from 2013 to 2023, helping to grow the organization to 1.4 million active PMP holders worldwide and gaining experience that dovetails perfectly with many of the roles and responsibilities he assumes as IMA's new staff leader.
His first role at PMI was vice president of academic and educational programs, where Mike provided executive oversight and overall leadership, planning, and supervision of PMI's academic markets. He partnered with global academic institutions through research and programming to elevate the importance of the project management profession and helped to create a pipeline of new professionals to enter the field.
He spent nearly three years in this role before moving up to vice president of global membership and chapters, where he provided executive leadership to the global membership and chapter organization, interfacing with thousands of volunteers and members around the globe, as well as more than 50 staff members in five regional offices. His responsibilities included member acquisition and retention, product development and management, event planning and execution, and talent identification and development.
Mike was next promoted to PMI's vice president of global experience and solutions, where he was head of all product development and management, digital delivery, customer experience, content, member services, and events. He explains, "Our membership was changing. We had a younger audience, and we needed to find new ways of engagement. And so, we undertook a multiyear transformation, where we set about trying to better understand what was happening in the market and to develop products that better aligned with those needs."
PMI was two years into this transformation when COVID-19 hit, which spurred some of the growth that had already been happening. "We were ready for it," Mike says. "We were able to pivot and begin quickly offering virtual events, digital products and services, and even online, proctored testing."
After more than two years of success in this role, Mike was promoted to chief operating officer (COO) and shortly thereafter was asked by PMI's board of directors to serve as interim president and CEO after the prior CEO's departure (he returned to the role of COO once a new president and CEO was named).
In this interim role, where he served for 16 months, Mike's chief goal was to create an environment of creativity, curiosity, and agility to help PMI achieve its growth strategy. He did this by championing PMI's values and culture with employees and key stakeholders while also leading operations planning and strategy. Among his top responsibilities were to provide strategic leadership, influence, and advocacy with the goal of increasing PMI's impact on the world. Mike valued the experience, noting that, "It was my privilege to serve as PMI's primary spokesperson, engaging with members, partners, and the global volunteer community at large to further PMI's objectives." Throughout his time at PMI, Mike had the opportunity to travel to and work with many of the markets where IMA also operates, including China, India, Southeast Asia, Europe, and the Middle East.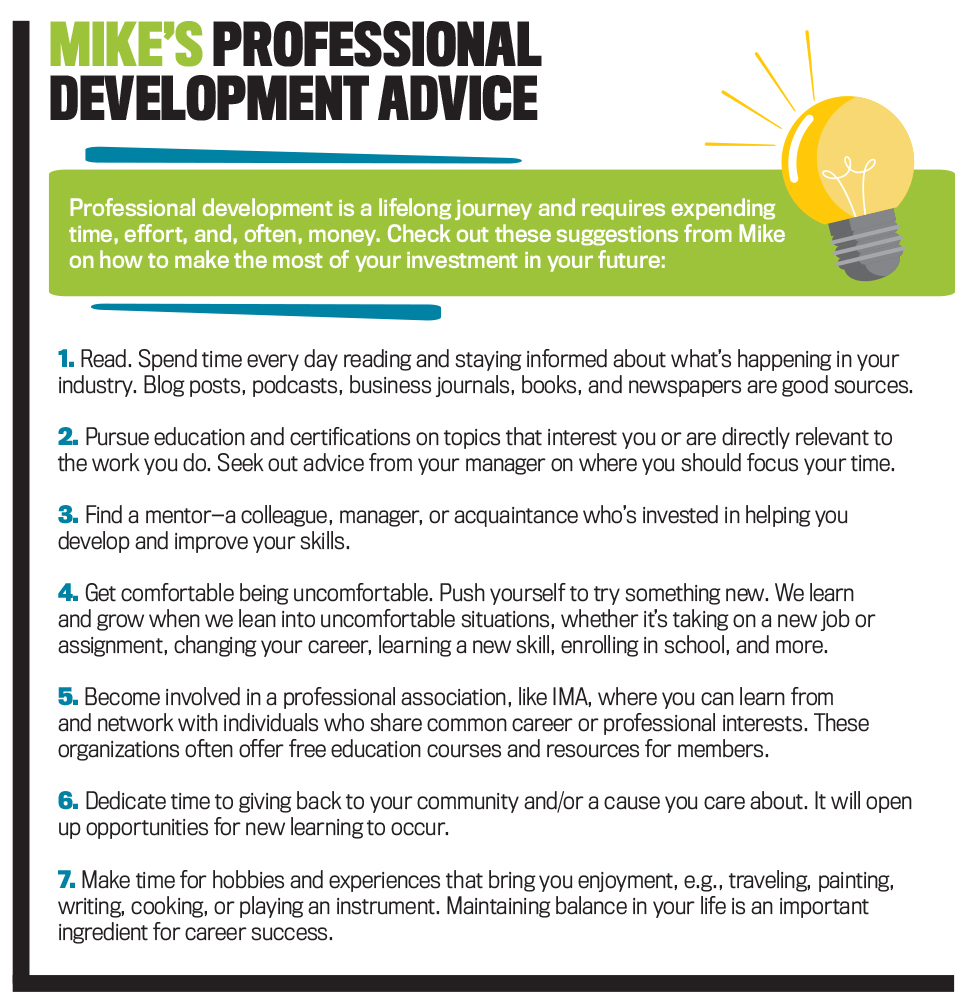 Further reflecting on his experience at PMI, Mike says, "I truly see my strengths as trying to give members what they need and to find new ways of doing that by meeting members where they are and providing what they require in their professional lives. I also like to be an agent of change and to help reimagine ways to do things better than before."
A MEMBER-FIRST MINDSET
That spirit of being an agent of change is one of the things that Mike is most excited about for his role at IMA. Though Mike knew about IMA only in broad strokes before he applied for the position of president and CEO, he grew more impressed after doing more in-depth research.
"Management accountants are uniquely positioned to enable success by identifying and unlocking business value across the enterprise," he says. "That's why the goals, values, and mission of IMA are so important."
Looking at IMA from a newcomer's perspective, Mike observes many strengths—and opportunities. "One of IMA's greatest strengths is our 100-year history," he observes. "It shows our level of commitment to the profession and the continued engagement of our members. We also have the benefit of working on a global stage and of offering a highly respected certification that is esteemed around the world. Finally, we have our thought leadership—our research, publications, courses, and advocacy role within the profession—which gives us a strong foundation to build on."
On the opportunity side of the equation, Mike notes several areas he's eager to dig into. First, he wants to double-down on IMA's member-first mentality—to focus, at all times, on creating member value. "We need to look at everything from the lens of 'How does this create value for the member?' And if it doesn't add value or is something that members want or need, then we should be asking ourselves if we should be doing it."
Mike is also committed to exploring ways to enhance IMA offerings for students and younger professionals. He's interested in creating new "on-ramps" that prepare students to earn their CMA® (Certified Management Accountant), for example. He views this as part of IMA's commitment to the career life cycle of members.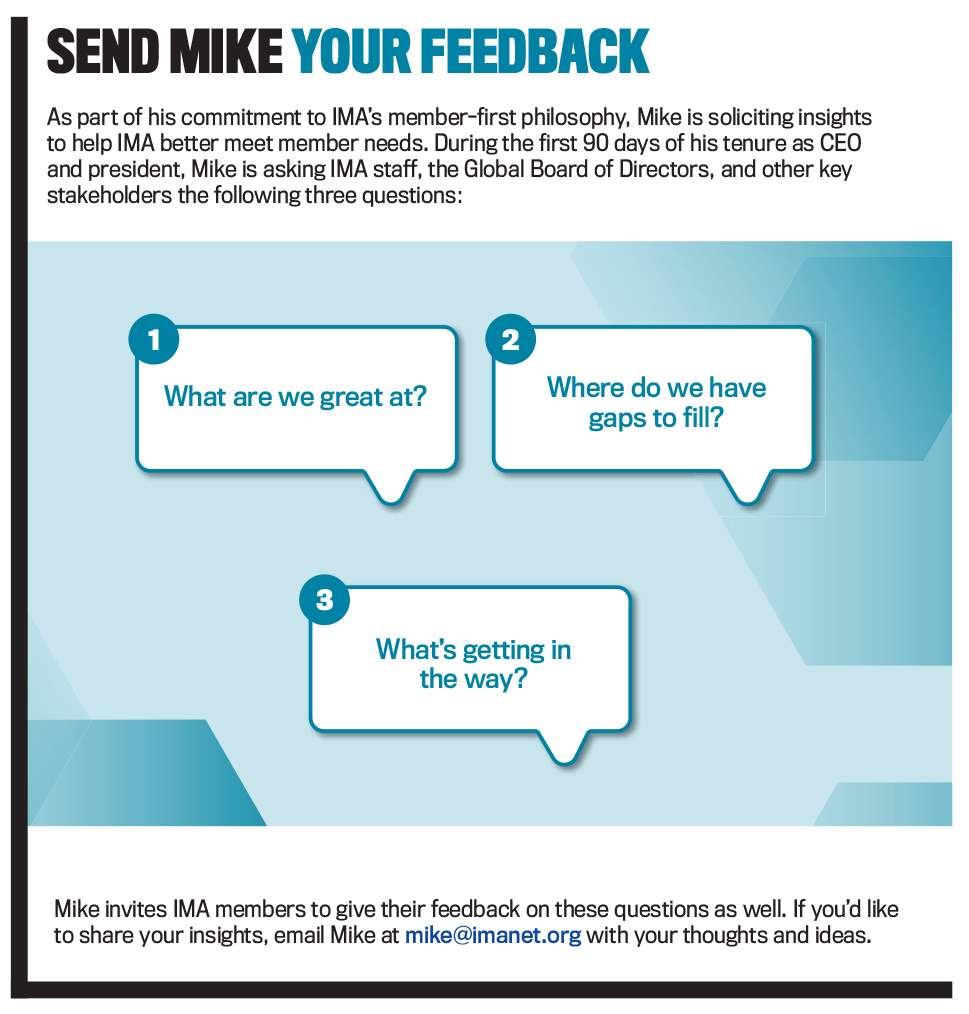 To maintain and grow the reputation of the CMA, Mike wants to ensure that IMA keeps the certification relevant now and for the future. "I want to talk to CFOs and organizations to find out what they need from their people, both now and also five and 10 years from now." He's eager to see what the latest job analysis survey conducted earlier this year by ICMA® (Institute of Certified Management Accountants, which oversees the CMA exam) will reveal about the ways the CMA is serving the needs of organizations and individuals.
Examples of IMA's commitment to meeting member needs are the recently launched, well-received certificate programs on business sustainability and diversity, equity, and inclusion. Related to that, Mike aims to focus on members' digital experience with IMA, to use digital capabilities to make IMA's products and services more "easy and convenient." That might include, for example, exploring additional certificate programs that could focus on specialized and complementary knowledge to help members expand their professional skill set. He's also interested in finding new ways to grow IMA's CSCA® (Certified in Strategy and Competitive Analysis) program, the eligibility for which was recently expanded from exclusively CMAs to holders of any of more than 50 other certifications.
To implement some of these programs, Mike notes that IMA doesn't need to go it alone. He's interested in exploring partnerships with other organizations and peers in the profession so that IMA can provide a spectrum of offerings to its members. "We can collaborate to help unlock more value and relevance," he notes.
Finally, he wants IMA to continue to be a "a global organization with a region-first mindset." That requires being attentive to what members all over the world need and knowing what's happening locally. "We need to know our members' specific pain points and what tools these members need to be successful. It shouldn't be a one-size-fits-all approach."
INSPIRING OTHERS
Mike embodies the attributes of a servant leader, someone who inspires other individuals to become successful. When he looks back on his career thus far, Mike is most proud of the impact he's made on people: through mentorship, through leadership, and through implementing projects, programs, and products that helped people excel in their careers or gain more satisfaction from their job.
He's also grateful for his own professional journey. "I wasn't expected to go to college when I was a kid, and I will always appreciate the opportunity I had to do so. I'm glad and proud that I've been able to give that same opportunity to my three kids as well." He's also continued to challenge himself by engaging in lifelong learning, most notably earning his Certificate in Company Direction from the Institute of Directors, which covers key areas of governance, finance, strategy, and leadership. He's also pursued executive education at Columbia Business School, in the field of digital business strategy, and the Wharton School.
"I couldn't be more thrilled for the opportunities that are in store for IMA. And I'm looking forward to working with our global members and the Global Board of Directors as we seek to scale up our influence within the profession and make a difference for our members," he says.