Richard T. Brady, IMA® (Institute of Management Accountants) Global Board Chair for fiscal 2023-2024, has spent his entire career focused on serving something greater than himself. He's currently the CEO of the American Society of Military Comptrollers (ASMC), which he joined in 2021 following his retirement as a colonel in the U.S. Marine Corps after a 32-year career. Rich's broad range of experience in the military—leading teams, serving in combat, and making decisions that impacted the lives of thousands of men and women—gives him a disciplined, resourceful approach to solving problems and achieving goals. "It's important to take responsibility for your actions and be decisive about what you want to achieve," he says.
Rich will bring this can-do attitude to his role as IMA's volunteer leader, both in helping to ensure a smooth transition for IMA's new president and CEO, Mike DePrisco, and redefining what it means to be a global leader in the accounting and finance profession.
ILLUSTRIOUS MILITARY CAREER
Rich was born in Atchison, Kan., a small town on the Missouri River in the state's northeast corner. It's about 20 miles north of Leavenworth—site of a U.S. Army installation at Fort Leavenworth—and renowned as the childhood home of Amelia Earhart. These two influences exemplify Rich's sense of service and adventure.
Growing up, Rich wanted to see the world, "to move beyond the banks of the Missouri," he says. Rich had always considered joining the military, largely due to the influence of his parents. His father had served in the Army during the Vietnam War era, and his mom worked at Fort Leavenworth for the U.S. Air Force. He was also attracted to the discipline and leadership training of the military.
In the summer between his junior and senior years of high school, he walked into a U.S. Marine Corps recruiter's office. "They told me that once I graduated, I could go off to basic training." And that's what he did: Seven days after earning his high school diploma, Rich shipped off for basic training at the Marine Corps Recruit Depot in San Diego, Calif.
---
LEADERSHIP LESSONS FROM THE MILITARY
During his more than 30 years of service in the U.S. Marine Corps, Rich gained valuable insights about management, fiscal responsibility, acting ethically, and more. The following lessons can be applied to a variety of organizations and situations:
1. Be technically proficient. Whether you're an executive or an early careerist, you must know the basics of your job to be successful.
2. Know yourself. If you want to lead others, you first have to know how to lead yourself.
3. Develop a sense of teamwork in your organization. Culture eats strategy for breakfast, and your plans won't survive if you lack a strong sense of teamwork behind them.
4. Show up early, work hard, and solve problems. The best advice that can be given to people who want to progress in their jobs or profession: No one ever rose to the top by being late, being lazy, and creating problems.
5. Make decisions. There's an element of uncertainty and risk in every decision, but this is what leaders are paid to do. Not making a decision can be as bad as making the wrong decision.
---
Those 12 weeks—May 30 through August 17, 1989—are etched in Rich's memory. He recalls, "The goal of basic training is to break you down and then build you back up." The drill instructors shaped Rich's military career, teaching him valuable lessons such as how far he could push his body, mind, and spirit—in ways that he hadn't thought were possible. They also instilled in him a way of thinking that's laser-focused on the mission and what's needed to accomplish it. "And while the objectives may get more complex and consequential as you advance in your career, the process remains the same: focus on achieving the mission," Rich says.
Following basic training, Rich was part of the Marine Corps Reserve and enrolled in college at Saint Louis University (SLU), where he also attended Officer Candidate School in the summers. He selected SLU for two reasons: It was less than a five-hour drive from his home in Kansas, and it offered international business, a popular major as the Berlin Wall was falling and businesses were opening up to globalization. Rich also had his first opportunity to travel outside of the United States, spending a summer abroad at the London School of Economics.
Rich graduated with a bachelor of science and as a commissioned second lieutenant in the Marine Corps. He spent the next nine months at what's known as The Basic School, in Quantico, Va., where all Marine Corps officers get their initial military training. This experience helped Rich define his professional future: "You don't have a job when you finish. Instead, you're asked to complete a questionnaire that includes about 15 job possibilities, which you must rank. My top three were tanks, intelligence, and financial management, in that order. I ended up with financial management. I sometimes wonder how my career might have been different if I'd gotten my first choice—I may not be working in finance and accounting today!" The experience also taught Rich a valuable lesson: You don't aways get your first choice and must "bloom where you're planted."
That first commissioned assignment brought Rich to Camp Pendleton in San Diego, where he served as a fiscal officer for four and a half years. Rich ran the command's financial operations and served as a platoon and company commander. At the end of that assignment, Rich decided to continue his education. After considering top-tier but costly MBA programs, Rich discussed his plans with his commander, who mentioned the Naval Postgraduate School in Monterey, Calif., which is open to all branches of the U.S. military.
"I'd just gotten married, and the idea of staying in California appealed to me," Rich recalls. "I applied to the school and figured that if I got in, I would go. Not only was it in beautiful Monterey, but you also stay on active duty, which means you still collect a salary, and they also pay for your degree program."
After earning his master of science in finance in December 1999, Rich reached another crossroads where fate, luck, and circumstance helped decide his future. There were four Marines graduating at the time, and there were five jobs available: one as an instructor, two at the Pentagon, one at Quantico, and one in Albany, Ga. Rich didn't get his first choice, as there were two other Marines who had more seniority. "I wanted to be an instructor, but they got to pick before I did. So, I ended up at the Pentagon, something I definitely have no regrets about."
Rich's Pentagon assignment set the trajectory for his entire career. His first role there was as an investment programs development officer at Marine Corps headquarters. After two years, he was promoted to major and selected as the aide-de-camp to the assistant commandant of the Marine Corps. Next came an assignment to serve outside of the U.S. as assistant chief of staff/controller of the 3rd Marine Division in Okinawa, Japan. In this role, he also did a tour of duty in Iraq, deployed in support of tsunami relief operations in Indonesia and mudslide relief operations in the Philippines, and participated in military exercises throughout Southeast Asia.
---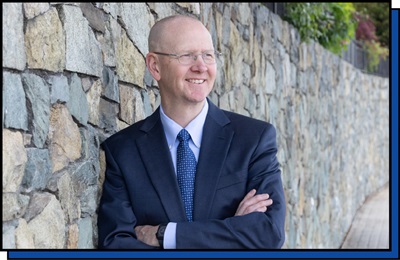 GET TO KNOW RICH
He's run five marathons.
He started collecting coins when he was eight years old and remains an avid collector. His personal favorite is his collection of 1976 U.S. Bicentennial coins.
In addition to being a CMA, he's also a Certified Government Financial Manager (CGFM) and a Certified Defense Financial Manager (CDFM).
For three years, he served as the Department of Defense representative to the Federal Accounting Standards Advisory Board (FASAB) Entity Task Force, which considered new standards for federal financial reports.
His daughter, Katherine, will be a freshman at Georgetown University in the fall.
His wife, Jeanne, who passed away in 2022, held a doctorate in occupational therapy and wrote her doctoral dissertation on traumatic brain injuries in wounded warriors.
He still maintains close connections with friends from his time in Tbilisi.
---
After serving in Japan from 2004 to 2007, Rich returned to the Pentagon as a defense resource analyst for the Joint Staff J8, Program and Budget Analysis Division. Named the Joint Staff J8 Action Officer of the Year for 2009, Rich advised on strategy to support the chairman of the Joint Chiefs of Staff and the Secretary of Defense on resource matters, among other high-level responsibilities.
The next years of Rich's career took him outside of the Pentagon and to new opportunities: first, as commanding officer and director for the Marine Corps Financial Management School at Camp Johnson, N.C. In this role, he led an organization of 45 military and civilian staff and instructors in the development, implementation, scheduling, and delivery of financial management training and education courses for the Marine Corps' financial management workforce of 1,500 personnel. "I finally got my wish to be an instructor," says Rich. He also took the opportunity to earn another master's degree, this one in strategic resource management from the National Defense University at Fort McNair in Washington, D.C.
That was followed by a year of language training and two life-changing years in Tbilisi, Georgia, where he served as the naval/marine defense attaché and an accredited diplomat assigned to the U.S. Embassy in Georgia. In this high-profile role, Rich advised on political, military, and economic affairs in the Russia/Eurasia region. He also planned, coordinated, and managed all military intelligence and maritime training of more than 1,100 Georgia soldiers, special operations forces, border police, and coast guardsmen.
After Georgia, Rich returned to the Pentagon to serve nearly two years as assistant chief of staff and CFO of the Marines Corps Installations Command, where he managed the accounting, budgeting, auditing, capital planning, and expenditures of a $3.5 billion annual budget supporting 24 military installations worldwide. He completed the last leg in his military career in North Chicago, Ill., at the U.S. Military Entrance Processing Command, first as a regional commander of the western U.S. sector and, two years later, as commander. Here, he led nearly 4,000 employees in the Department of Defense organization responsible for screening and processing the approximately 250,000 applicants enlisting into the U.S. armed forces each year.
FINDING THE BEST FIT
Rich's ability to execute the daily duties of these demanding roles was aided by his decision, in 1999, to earn the CMA® (Certified Management Accountant). He first learned about the certification while pursuing his first master's degree.
"During my last semester, a professor said to me, 'Hey, you may want to consider this. It's very good preparation for the kind of work you're going to be doing.'" After looking into what the exam covered (at that time, it was a four-part test), Rich joined IMA and enrolled in the CMA program. He started studying while on his first assignment at the Pentagon in the early 2000s.
He passed two exam parts, but external events prevented him from finishing. "9/11 happened, and everything changed," Rich recalls. "The priorities at the Pentagon shifted from austere, peacetime footing to full-alert, wartime engagement." Responsible for procurement of Marine Corps ammunition at the time, Rich's budget had typically been about $75 million per year. Within a week after 9/11, it had skyrocketed to $375 million.
Given the drastic shift in his job responsibilities, Rich had to put off his CMA studies for about six years. When he was finally able to resume his preparation, he studied on his own, using flash cards, and passed and earned his CMA in 2008.
Rich's volunteer involvement in IMA began in 2013 when he was asked to join IMA's Editorial Advisory Board (EAB), where he still serves as a member. The EAB reviews articles submitted for publication in Strategic Finance and Management Accounting Quarterly. Rich found it a great way to connect with members and stay in touch with the profession.
His connection to IMA grew in 2017 when Rich responded to a call for Global Board nominations. He had experience on other nonprofit boards, including spending five years on the board of the Fairfax (Va.) County Library Foundation, and thought he'd have expertise to offer. "I thought I may as well apply—even if I don't get it this time, at least I've given it a shot."
It's a good thing he did apply, as he was appointed to the Board. Soon afterward, Christian Cuzick, IMA Global Board Chair-Elect at that time, asked him to join the Nominating Committee.
"The committee does such a great deal of work in a very short time: You're reviewing nominations starting in October, and all the decisions are made by January." Rich found the experience incredibly rewarding because it gave him the opportunity to talk to members and hear their stories. "I think every Board member should serve on the Nominating Committee at some point. It's a great chance to shape the future Board and the leadership pipeline."
During his other work on the Board, including the Strategic Planning Committee and its Governance Task Force, Rich was deeply involved in the discussion about changing the structure of the Board. The committee reduced the Board size from 53 to 36 members in 2021 and established a Global Markets Committee and Regional Advisory Committees in China, India, and the Middle East; it also changed the term limits for Board members.
"Some of the changes were drastic, but they were all aimed at helping the Board better serve members. We need to make sure we continue to evolve and ensure that the Board's structure is fit for the work it must do." Rich firmly believes that the Board should be reflective of IMA's increasingly non-U.S. membership, as a large and diverse board gives IMA "lots of eyes and ears to appropriately assess risks."
Given his experience serving on several influential Board committees—he was also chair of the Performance Oversight and Audit Committee and the CEO/Executive Compensation Committee—Rich was a natural fit for Board Chair. He welcomed the opportunity: "I have a strong desire to lead a world-class organization, and I'm happy to serve in any capacity that's a good fit and where I can make a meaningful impact."
A SHARED FOCUS
Rich hopes to bring that mission-focused mindset to the priorities he has set forth for the coming year. Chief among these priorities is to help with the transition of Mike DePrisco as IMA's new president and CEO. This will establish the foundation for not only Mike's success, but also IMA's long-term success.
"We're at a critical moment with this leadership change," Rich says. "We want to ensure a seamless transition, and that's going to take the effort of a lot of people. Typically, transitions like this can take two to three years, so I see it as part of my role to help IMA focus on our top priorities and to support Mike's vision for the organization's future."
Part of that vision includes a shared focus on global growth and putting members first. Regarding global growth, Rich acknowledges that it shouldn't be at the expense of IMA's long-standing focus on the U.S. market. "It has to be a balance. We must remember that part of the appeal of the organization, and especially the CMA, is because we are U.S.-based and have a long history in the U.S." That's why explaining the IMA value proposition is also important.
Coupled with this belief is the recognition that member value isn't static. "We have to acknowledge changes in demographics and regional differences," Rich says. "What's valuable to a member in Kansas may not be valuable to someone in Shanghai. We must think globally but act locally, customizing some of our offerings—our continuing education products, translated exams, and more—to meet the needs of the regional markets."
He points to the example of the CMA Scholarship program. One of the requirements when applying is that students meet a certain minimum grade point average (GPA). But many colleges and universities outside the U.S. don't use GPA as a measure of academic performance. "We have to adapt our offerings to address these important regional nuances," Rich explains.
---
FROM THE PAGES OF RICH'S LIBRARY
Rich owns an extensive library (upwards of some 3,000 books). Here are some of his favorite books from those volumes and those that have helped shape his career and thinking:
The Art of War, by Sun Tzu: This is the classic in developing and executing tactical, operational, and grand strategy in a competitive environment
War and Peace, by Leo Tolstoy: Certainly not "light" reading at 1,000+ pages, War and Peace is set during the Napoleonic Wars and captures sociological themes that are as common today as they were in the early 1800s
History of the Peloponnesian War, by Thucydides: Known as the "father of history," Thucydides records the conflict between Athens and Sparta—the two dynasties of the age—and in doing so sheds light on the enduring nature of human motivation and the influence of power, persuasion, and truth on world events.
Good to Great, by James C. Collins: A must-read for anyone wanting to elevate their business to greater levels of performance, Collins's simple approach (which has been criticized as "too simple") lays out the framework and systematic approach that great companies must go through that's both easy to understand yet deceptively hard to implement.
The Innovator's Dilemma, by Clayton M. Christensen: Change is hard and uncertain, and it causes fear and anxiety. Yet organizations must change, not only to survive but to thrive. Christensen points out that companies will get pushed aside unless managers know how and when to abandon traditional business models and pivot to a new strategy based on emerging technology.
---
Of course, Rich acknowledges that there are common global themes where IMA will always stand firm: on the subject of ethics, for example. And there are very real risks that IMA—like many other organizations around the world—is contending with. "There are macroeconomic risks, like living in a VUCA [volatile, uncertain, complex, ambiguous] world, and there are global risks that are impacting all markets."
Among Rich's priorities is to continue to place emphasis on engaging with educational institutions and early-career professionals. As someone who learned about IMA and the CMA through a professor, Rich acknowledges the valuable role that academics play in spreading awareness about IMA, the CMA, and much more. He also wants to continue to build IMA's thought leadership role in areas like sustainable business practices and diversity, equity, and inclusion. And he's pragmatic about the forces that are creating seismic shifts in the profession, especially AI tools like ChatGPT and others. "In the Digital Age, with its rate of change, we must constantly be learning and reskilling," he notes.
On the list of things that Rich most looks forward to in his role as Chair is meeting with members and getting to talk to them about IMA. Serving outside of the U.S. and thus working alongside both internal and coalition partners have been among the most impactful experiences of his life.
"I'm ready to get started in doing my part to help IMA deliver on its mission as the association for accounting and finance professions in business around the world."