Many corporate executives, including management accounting and finance professionals, can relate to doubts and questions such as: Did we choose the right go-to-market strategy? Did we launch the right solution at the right price? Are our revenue and margin forecasts sufficiently validated? Often, we have to admit that we've missed something or, even worse, bet on the wrong horse altogether. It can be difficult to forecast how setting objectives and strategic and tactical planning to achieve them will be executed and impact operations and the organization's bottom line.
In Fad-Free Strategy: Rigorous Methods to Help Executives Make Strategic Choices Confidently, coauthors Daniel Deneffe and Herman Vantrappen guide readers through a simple yet game-changing thought process that they call "operational strategy" that aims to validate, adapt, or possibly reject leadership's "grand strategy" decisions (e.g., which markets to create, enter, defend, or exit). Operational strategy is based on the authors' premise that customers and their choices, rather than internal ambitions or the application of any other faddish strategic framework, determine the success of a chosen strategy.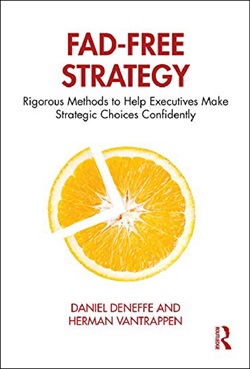 Ultimately, a company's strategy can only be successful in maximizing profit when revenues are sufficiently large relative to costs. Hence, to understand these revenues and influence their growth, CFOs and finance managers need to be able to forecast customer choices for whatever product, service, platform, or solution the company could launch or reposition at different prices. Too often, top-line forecasts are generated with little customer input. As a result, the foundations of a strategic business plan are shaky and difficult for the CFO and other leaders to evaluate.
Fad-Free Strategy describes tools to extract and contextualize data on customer preferences and spending behavior, predict customer choices, and therefore generate more reliable forecasts. Deneffe and Vantrappen explain how to apply these tools, which are designed to result in tailored solutions to most strategic problems, no matter what industry vertical your company is in.
The tools they discuss have been developed using the latest academic insights in decision analysis and utility theory from Deneffe's academic network—he teaches at Harvard University and Hult International Business School—while being applied and validated by both authors in various consulting projects with real-world clients.
In their book, Deneffe and Vantrappen combine microeconomic behavioral assumptions with hands-on practical examples and explain complex mechanisms in a direct, easy-to-read way. Their book is refreshing and inspiring and provides an end-to-end how-to guide to building more customer-centric revenue predictions that are more likely to hit closer to the mark and avoid costly miscalculations.
If applied properly, the authors' operational strategy could unleash short-term benefits at the intersection of finance, strategy, and marketing by helping CFOs and other leaders to challenge fundamental commercial assumptions used in business plan proposals and learn from plans that didn't materialize as expected. Whether you're a C-level executive, controller, finance or operations manager, professor, or student interested in pragmatic strategy best practices, Fad-Free Strategy is a must-read.