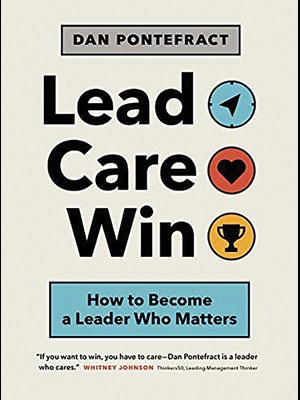 The global pandemic turned out to be a critical leadership stress test, as leaders had to shoulder increased responsibilities while forging the new normal of working from home or a hybrid workplace. Many management accounting and finance professionals are finding that the pandemic has brought new and different demands on them as leaders. In his book Lead. Care. Win.: How to Become a Leader Who Matters, Dan Pontefract shares nine practical leadership lessons that can help finance leaders inspire employees and drive desired action, even during a time of severe disruption.
Pontefract stresses that leaders are in the relationship business—they're tasked with developing sustainable professional relationships among stakeholders. The focus of the book is making workplace exchanges more meaningful and mutually productive.
The first lesson centers on being empathetic in cultivating relationships. Zoom founder/CEO Eric Yuan is a multibillionaire who built his reputation by demonstrating that strong leaders are relatable, caring, and humble. Zoom came under public scrutiny for several privacy and security issues as organizations switched to online meetings and virtual learning during the pandemic. Yuan quickly admitted the company's mistakes, apologized, and committed to fixing the issues. In a nutshell, he demonstrated the three steps of the book's title: lead, care, and then you'll likely win.
It's a significant takeaway for me as a university professor. I was dependent on Zoom for my virtual classes early in the pandemic and made the mistake of trying to convey a persona of perfection, with a perfectly placed backdrop and a quiet, orderly room with no interruptions. I didn't connect with my students because their lives were anything but perfect. I dropped the image, swapping the fake background with an uninteresting view of my closet doors, repeating myself when I forgot to turn on the recording, pausing when my landscapers were mowing right outside my window, and so on. We connected more as a class when I shared my own struggles.
Each of the book's lessons is a bite-size bit of wisdom illustrated with real-world stories and examples and ends with a summary of the main takeaways. Other lessons include lead with a sense of purpose, stay present and attentive to the needs of others, lead off with learning, share knowledge to build a wise organization, embrace change, think and act with clarity, commit to balance and inclusivity, and champion others. I recommend the book for anyone seeking practical advice on how to lead more effectively so that people will want to follow you.