The IMA® (Institute of Management Accountants) 2023 Accounting & Finance Conference (IMA23), held June 11-14, 2023, at the Hyatt Regency in Minneapolis, Minn., provided IMA members with their first in-person introduction to IMA's new president and CEO, Mike DePrisco, as he opened the conference welcoming attendees and sharing his thoughts on his first few months in his role.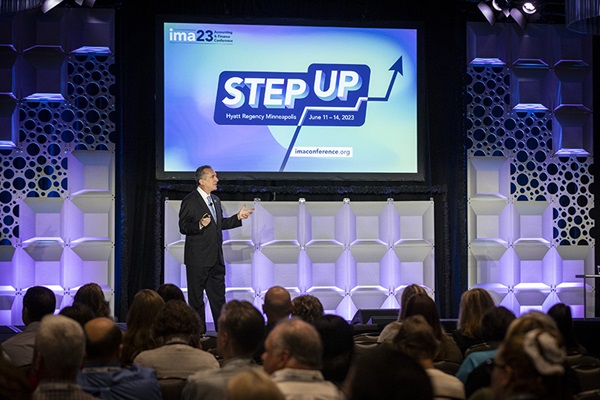 IMA President and CEO Mike DePrisco greeted attendees at IMA23 in Minneapolis.

Nurturing the next generation of accounting and finance thought leaders is an important priority for DePrisco, so it was appropriate for the conference to begin with the 2023 Student Case Competition. Teams presented their innovative solutions to the student case "Kunapipi Gardens: Transfer Pricing in the Service Industry," which appeared in Strategic Finance in August 2022.

The innovation on display in the Student Case Competition is a necessary component for the future of management accounting. This was made clear the next day by IMA23's first general session speaker, Nancy Giordano, a strategic futurist, who discussed how technology is rapidly changing the profession and making advanced technology accessible to everyone.
"If you haven't tried ChatGPT yet, just find a teenager," Giordano joked. She talked about the forces shaping the future. From the rise of stakeholder capitalism to climate instability, Giordano asked everyone in the general session audience to consider how to retire outmoded ways of thinking and instead respond to large-scale shifts with a reliance on long-term thinking and fresh problem-solving approaches.
Giordano's remarks underscored the need for accounting and finance professionals to manage change and to help lead their teams through disruption, the perfect launching point for the afternoon's general session, "Financial Reporting at a Crossroads: Update and Perspectives on New Rules and Trends." This panel session featured speakers from PwC, the Financial Accounting Standards Board, UPS, Cleveland-Cliffs Inc., and the Connor Group, who discussed recently issued rules and proposals as well as the future of financial reporting. Many practical insights on implementing rules and capturing a balanced perspective were shared.

In the afternoon session "International Women's Panel: Navigating the Global Business World," accomplished female business leaders from around the globe shared their perspective on driving business performance. Stella Lu, group finance controller at EDGE, said, "In China, we always say that ladies support half the sky." Lu emphasized women's contributions to business and society. Gwen van Berne, Chair-Emeritus of the IMA Global Board of Directors, moderated the session and spoke of the need for women to assume leadership roles in order for organizations to perform at their full potential. "Management accountants facilitate decision making in the organization," van Berne said. "You can't do that without multiple voices and perspectives."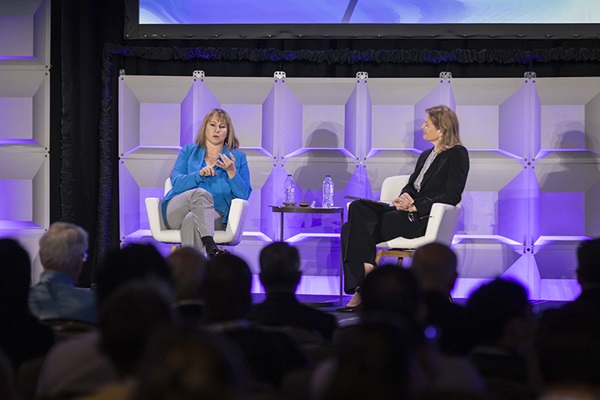 Jennifer Kirk, SVP, global controller, and chief accounting officer and CFO, Medical Surgical, at Medtronic, chats with Gwen van Berne, Chair-Emeritus of the IMA Global Board of Directors.

Throughout the first day of the conference, members networked in the Tech-Knowledgy Center, where they interacted with conference sponsors and met new colleagues in accounting and finance. In the afternoon, some attended specialty track sessions on topics as diverse as how ChatGPT will affect accountancy to ways to attract more young people to the profession. Some members chose to attend the Twin Cities tour offered in the morning.
On Tuesday, Jennifer Kirk, SVP, global controller, and chief accounting officer and CFO, Medical Surgical, at Medtronic, spoke about the how-to of finance transformation including how to build a realistic road map based on strategy. This road map should include plans for eliminating low-value services and replacing them with high-value ones. Transformation, as Kirk described it, entails maintaining alignment with current and future business needs, mastering data management, and improving staff skills.
Kirk's focus on finance transformation challenges management accountants to reimagine the way they work and the way they add value. While this new mindset can be applied to traditional finance and accounting activities (e.g., financial close), it's relevant for another emerging area of responsibility for the accounting and finance team, namely environmental, social, and governance (ESG) reporting and sustainability. The afternoon general session featured a panel of experts in this area who provided insight on "ESG and Sustainability: Global Trends and Opportunity for Management Accountants." The panel was moderated by Jeff Thomson, senior strategic advisor, Competent Boards, and former Committee of Sponsoring Organizations of the Treadway Commission board member, who noted the ways management accountants are uniquely suited for adding value to sustainability initiatives.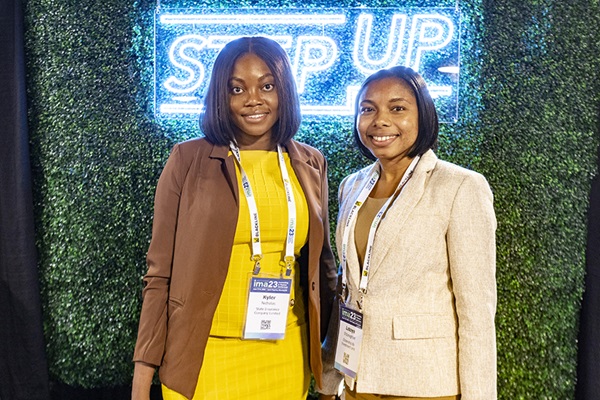 IMA23 attendees Kyler Nicholas, junior accountant, State Insurance Company Limited, left, and Latoya O'donoghue, senior accounting officer, Citizenship By Investment Unit, enjoyed the conference.

"As management accountants, we want to build internal capacity whether it is a regulation or the broader focus of sustainable business management," Thomson said. "We already have the competencies in reporting and analysis of nonfinancial KPIs."

The day's insightful series of educational sessions concluded with a trip to Target Field, home of the Minnesota Twins, for a Major League Baseball game between the Twins and the Milwaukee Brewers. For some international conference attendees, this event was their first time attending a baseball game.

IMA23 provided many new experiences, new connections, and new learnings, making it a memorable and successful conference.
---
SAVE THE DATE
Join us in San Antonio, Texas, for IMA24, June 9-12, 2024.

CALL FOR SESSIONS
IMA is seeking breakout presentation proposals for IMA24. We're specifically looking for highly engaging sessions featuring experiential learning, peer collaboration, and innovative topics. For complete details, visit imaconference.org. All proposals must be submitted online by September 15.

COMING SOON
IMA's Student Leadership Conference will be held November 9-11, 2023, in Detroit, Mich. Registration opens
September 5.
---
Presenting Sponsors
Sponsors
Exhibitors