Fool Me Once: Scams, Stories, and Secrets from the Trillion-Dollar Fraud Industry by Kelly Richmond Pope is an exploration of fraud in action. Whether you're a student, finance professional, or business owner, Fool Me Once will increase your knowledge of this topic.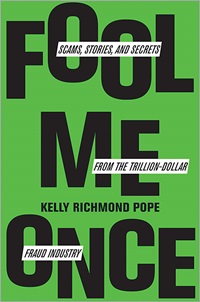 When we hear about a financial crime, the focus is typically on what the perpetrators have done, but this book also focuses on the impact on the other individuals involved in fraud—victims and whistleblowers. Fool Me Once is a cautionary tale for students and finance professionals to prepare them for ethical dilemmas they might face and shows them how others behaved when dealing with unethical pressure or an ethical dilemma and the outcomes—all of which may help readers make wiser decisions. This book also portrays whistleblowers as unheralded heroes who are seeking justice and often harshly treated and harassed.
As an accountant, I appreciate that the author highlights my ethical responsibility toward my profession. This book covers all types of breaches of ethical principles in many industries such as retail, financial services, healthcare, consumer packaged goods, government, and even religious and charitable organizations. Examples of bad actors range from entry-level personnel to senior management. The book recounts details of the crimes but also illustrates the thought process of perpetrators and whistleblowers, as well as the impact on victims. It provides a summary at the end of every chapter, mentioning the most important ideas presented in each, which is handy for future reference.
Fool Me Once covers a serious topic, yet Pope has made it digestible, relatable, and easy to read without oversimplifying, using a warm tone and a humorous writing style. While reading it, I personally felt like I was listening to her give me factual answers to the questions in my head about fraud. It's a germane guide to help organizations build a safe environment for ethical people to speak up about misconduct and empowers management accountants to face up to—rather than give in to—unethical pressure. This book will be a valuable asset to your library.