This article is based on a study funded by the IMA® Research Foundation.
Revenue management has evolved into a complex and critical function in many businesses. For example, many businesses that use revenue management practices uniquely bundle and price products and services to create customer value in different segments. Research suggests that successful revenue management can increase profits by as much as 50% (Göran Skugge, "Growing effective revenue managers," Journal of Revenue and Pricing Management, April 2004).
Following the COVID-19 pandemic, which had a profound impact on businesses and their practices, we set out to get a better understanding of the current state of revenue management practices among small and medium-sized enterprises (SMEs). We did this specifically by investigating how SMEs in the hotel industry in Queensland, Australia, transformed their revenue management during the COVID-19 pandemic (see "How We Conducted Our Study").
We chose SMEs as the focus of our study because their size makes them particularly vulnerable to the effects of the pandemic. In addition, many SMEs operate with limited cash flows and rely on internal funds and bank loans to finance their activities. And we focused on hotels because the hotel industry has used revenue management practices for decades to innovate and segment products and services to maximize profits—in fact, it was one of the first to adopt revenue management. And much like the world in general, the hotel industry was impacted significantly by the COVID-19 pandemic. Sharp increases in cancellations and large declines in bookings created major challenges for hotels—particularly SMEs.
REVENUE MANAGEMENT IN HOTEL SMEs
Our work builds off the IMA® Statement on Management Accounting (SMA) Revenue Management Fundamentals, which provides a framework that businesses can use to evaluate the maturity of their revenue management practices (see Table 1). The framework includes four classifications of revenue management ranging from lower intensity (Level 1) to higher intensity (Level 4). We found that SMEs in the hotel industry tended to have Level 1 and 2 revenue practices. In other words, since the pandemic began, they made few changes to how they undertake revenue management.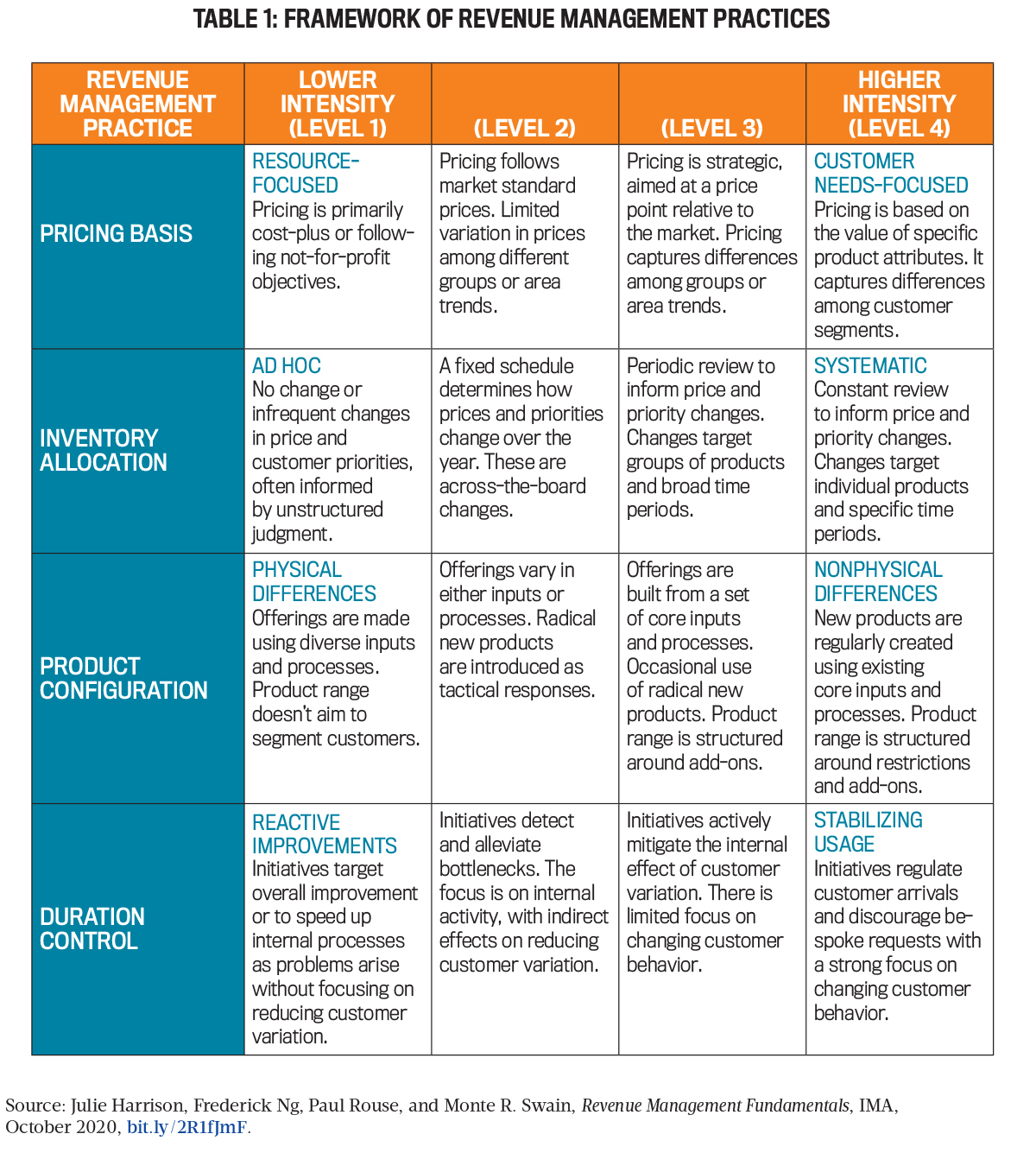 Many managers working at SMEs rely on market-standard prices. During COVID-19, with the market upended and significant uncertainty, they also relied on their intuition to predict customer behavior. Their approach is to adopt overly simplistic practices, like a one-size-fits-all product or service that's priced the same for all customers. These are consistent with Level 2 pricing-basis practices described in the SMA (see Table 2).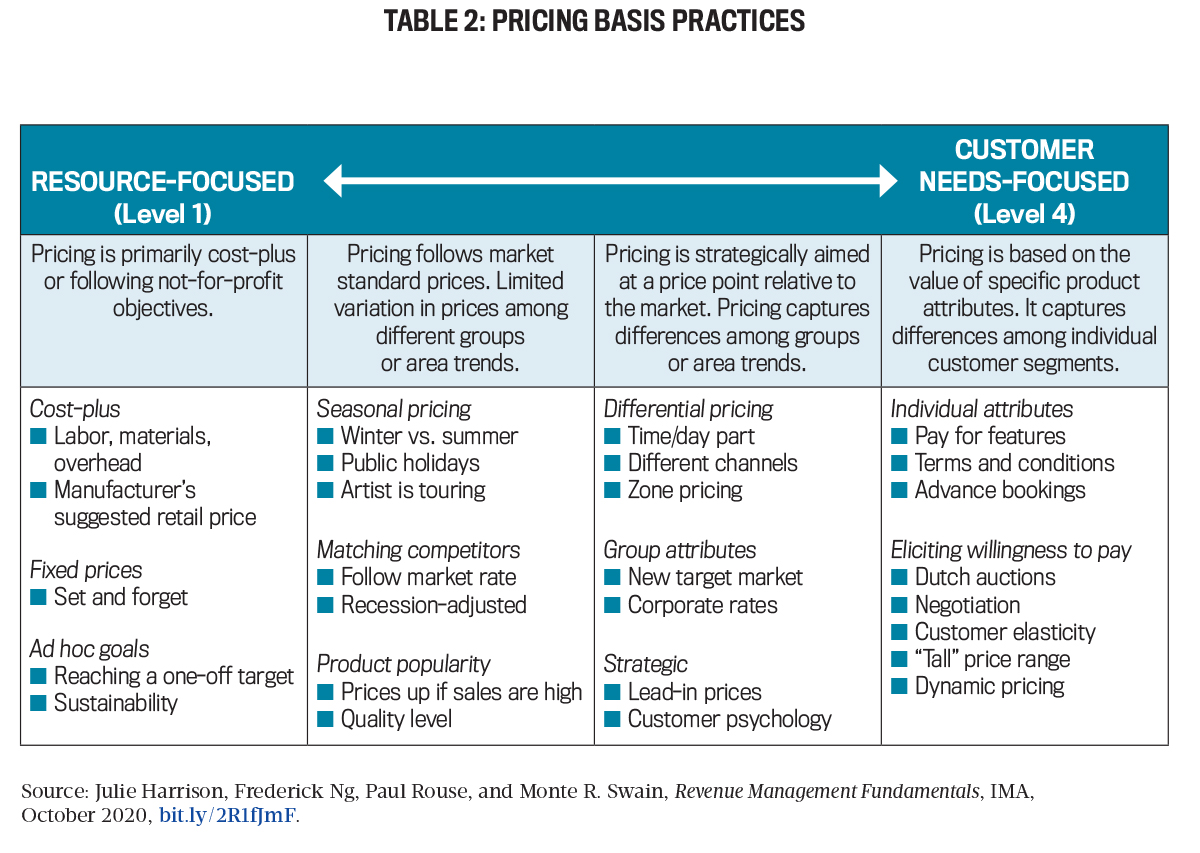 This won't optimize the business's profitability, yet many SMEs continue to use it as the basis for decision making. While the reduced cognitive load required by this approach may allow for rapid decision making, businesses that use it continue to invest in unprofitable customer relationships, resulting in excessive margin leakage.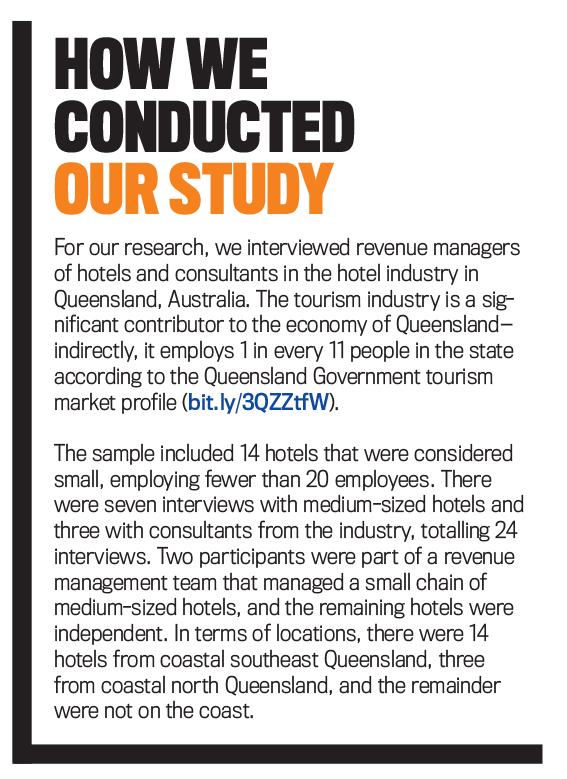 Based on our observations, we've identified 10 ways businesses can unlock their revenue management potential to be better prepared and well-positioned to optimize their profits when unexpected change occurs (see Table 3). Part 1 of this article will look closely at the first five, and Part 2 in November will look at the last five.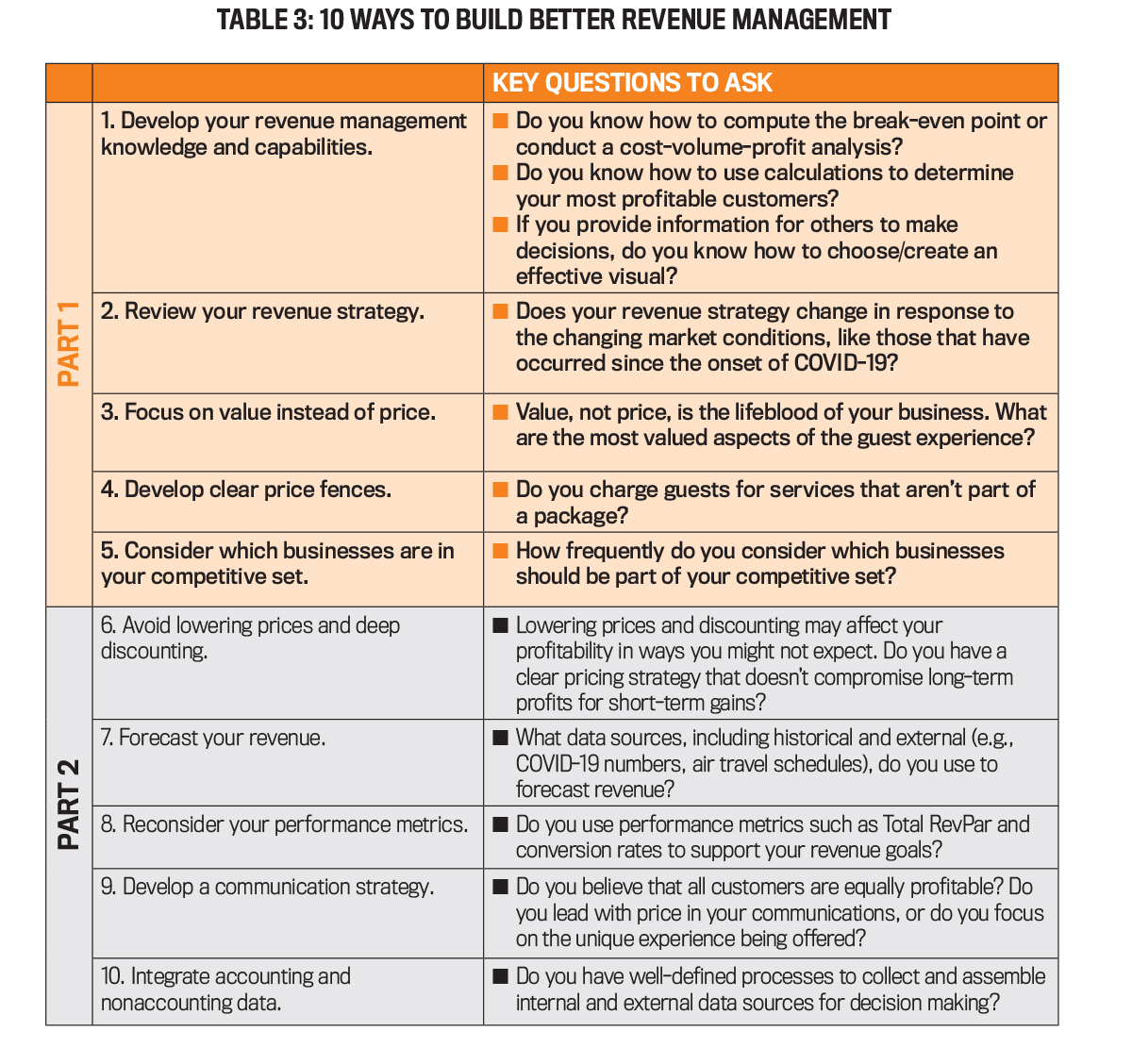 Though not every industry and business will benefit from the lessons we outline for building better revenue management practices, our findings may apply to businesses in other industries that operate with a fixed capacity of a perishable product.
Develop your revenue management knowledge and capabilities.
When asked about the capabilities and skills that are critical to building effective revenue management, general managers suggest that those involved in the revenue management function can benefit from learning a wide range of technical skills, including how to scan the market and how to understand and develop products and services that create value for profitable customers. They also feel that some staff lack knowledge of basic accounting principles, such as calculating profit margin and break-even point. In an interview, one manager said, "The revenue manager that I originally had here just stared at me blankly when I asked her what our profit margin was, so she did not understand what we had to sell [rooms] for breakeven. It just went over her head."
General managers and revenue managers note an increasing expectation today that revenue managers have strong analytical skills. Supposing the intent is to provide information to support others in the decision making, which was typically the case for medium enterprises, general managers may also require revenue managers to know data visualization best practices.
Few managers that we interviewed had training in revenue management. One was studying revenue management as part of a master's degree, and several others had majored in accounting for their undergraduate degree. We found that the career path for most revenue managers and others tasked with revenue management began in the hotel reception. Over time, people worked their way up to be part of a dedicated revenue management team.
Accounting and finance professionals are well-positioned to support revenue management. Pricing decisions usually draw on techniques familiar to finance professionals, such as competitor- and cost-volume-profit analysis. When forecasting profits and making pricing decisions on new products and offerings, it's important that revenue managers and finance professionals agree on the assumptions and variables of their financial models, including the drivers of revenue and costs. Finance professionals are also likely to be knowledgeable of antitrust legislation. They can advise management on illegal pricing practices like collusion.
In several small hotels that didn't have a designated revenue manager, the managers outsourced their revenue management function to external parties to benefit from their in-depth market knowledge and superior data analysis capabilities.
Review your revenue strategy.
According to Rita McGrath, a professor at Columbia Business School, businesses operate with a transient competitive advantage. From a revenue management perspective, this means they need a strategy that identifies the most profitable customers for the business. That strategy will guide the organization for any subsequent actions.
To calculate which customer segments provide the most significant returns, businesses need an understanding of the customer value, the customer's willingness to pay, and the costs to serve. Customer profitability analysis and customer lifetime analysis can support the development of revenue management strategy decisions about customer segments.
Our study found that the target customer segments changed for many hotels during the pandemic. For instance, block bookings from international tour agents stopped in Queensland because of government-related travel restrictions. There were also times when travel restrictions were introduced between states. Hotels were forced to rely on local "drive" markets (i.e., people who lived locally in South East Queensland wishing to have a vacation but staying close to home). According to our participants, the drive market guests tended to stay for shorter periods than interstate/international visitors, but their willingness to pay was generally higher.
Revenue managers also noted that some guests' length of stay also changed. For example, some guests may prefer more frequent but shorter stays. In such situations, understanding the cost to serve the customer and their willingness to pay is helpful for developing a business revenue strategy that will optimize the business profitability.
In noncoastal and northern Queensland, many hotels operated with a revenue strategy that previously targeted "gray nomads" (people aged over 55). Many of these people tend to live in southern Australian states and travel to Queensland during winter months and the low season. A local tourism advisor in central Queensland and some hotel managers managing properties in North Queensland suggested that since the onset of COVID-19, there had been increasing interest in traveling to these locations from families with small children and people with pets.
Prior to COVID-19, many hotels in cities such as Brisbane and the Gold Coast had relied on events near convention centers to bring them customers. They lost their target market due to the government measures introduced in response to COVID-19. Travel restrictions between states also meant that hotels in cities that relied on corporate travel experienced a sharp decline, forcing them to review their revenue strategy.
Since the pandemic began, many hotels with clear revenue strategies have discovered they'd become complacent about their revenue strategy. In an interview, a manager commented:
[We had many] group tours coming in—cheap rate, cheap dinner, and taking up most of the rooms. And what compounded that misery was the fact that the tour companies would come to us every year and go, "Oh, can we just roll the contract over for next year?" And this place would go, "Yeah, no problem" and not even ask for a rate increase, which, for me, is just insane.
Several hotels that took part in our study had allocated bookings to corporate clients and had agreed on a corporate travel rate. But as time went by, they neglected to update the rate and had overlooked the cost of serving these customers. The sharp decline in corporate customers prompted them to review the terms of their agreements with corporate clients and recalculate the cost to serve this segment.
In doing so, some revenue managers realized they had more profitable customer segments they could have served and that their rates weren't providing the margins they expected. By setting aside such a large percentage of rooms for customers in this segment, these businesses weren't optimizing their revenues. The takeaway is that if you don't regularly review the business's revenue strategy, it may be long overdue for an update.
3. Focus on value instead of price. Businesses need to consider what they offer to their target customers. What would make a particular type of customer's stay more enjoyable or productive? For instance, business travelers may consider how their stay may affect their productivity. They may look at the distance of the hotel from any meetings they're attending or the availability of room service if they intend to work in the room and are trying to limit their use of communal spaces. A family may look for benefits that make their stay more relaxing, such as room service, kids' clubs, and the availability of other leisure activities. They may look for bundles such as room rates that include breakfast or "kids eat free" promotions.
Before vaccination programs were rolled out and when it was commonplace for new border restrictions to be put in place at a moment's notice, all hotels we spoke to had changed their cancellation policy and refunded guests when payment had been taken in advance. Toward the end of 2020, when uncertainty about the pandemic remained high, many SME hotels also changed their booking policy so they would only take payment 24 hours before arrival because of the significant work involved when refunds are requested.
Some hotels have been innovative in developing new customer packages to gain market share. One, for instance, developed a package that sought to address the unmet needs of customers—in this case, couples who would usually vacation abroad. The hotel developed an international date-night package to reproduce a traveler's experiences in countries like France. Aside from the room, the package included food and experiences (e.g., boat rides) that might be typical of the international location. A manager of a hotel said:
We've recently launched an international date night with a French theme so that people will stay and can eat in our French restaurant. And there are little French touches to what they do. The thought process behind [the package] is, "Well, we can't travel the world. We'll bring the world to you." And there are recommended French movies on Netflix.
Others included free parking in their package, recognizing that the new "drive" market was likely to value this add-on. Hotels can provide some of these services at no additional cost to the business. Some hotels include other products, such as a free welcome drink at the bar, expecting to increase total revenue per available room (Total RevPAR) since customers will often decide to have more than one drink. Because of COVID-19 measures, several hotels that didn't have restaurants organized partnerships with food delivery companies and arranged for the cost of any orders to be charged to the client's hotel bill.
It's worth noting that a better understanding of what services and products add value from a customer perspective can help identify nonvalue-added services that the business can stop offering.
Understanding the value of the business's product or service bundle from a customer's perspective need not be an expensive exercise given the prevalence of online surveys and rankings such as Tripadvisor. For instance, our research found that some hotels strongly encourage customers to post reviews on ranking websites. By keeping track of these reviews, revenue managers can learn more about the value of their products from the voice of the customer. As part of their revenue management practices, other hotels send customers a survey once they depart to learn more about their experience and what they look for when choosing a hotel.
4. Develop clear price fences. Once a business has segmented its customers and sought to understand how particular segments perceive value, it can establish price fences. A price fence ensures consistency in the experience and helps avoid revenue leakage.
Listing pricing fences in the business pricing policy means clear guidance is available about what options are available to customers in different packages. The pricing policy should describe what differentiates the packages so additional services not included in the package aren't offered or negotiated. If a guest wishes to have additional services, they should be charged in addition to the rate of the package. For example, a hotel manager commented:
The only way they would get to our hotel is by driving, so we offered complimentary parking…. But we can't go on forever [offering free parking]. So we're slowly telling them we've now gone from complimentary parking to a $19 valet parking.
5. Consider which businesses are in your competitive set. Benchmarking performance against a competitive set is a critical process for understanding how the business offering may add value to customers in unique ways. It also helps to gauge the customer's willingness to pay for particular services. The critical question is: What would the customer do if the business stopped operating? Answering this question will help managers identify the competitive set.
But keep in mind that the competitive set isn't static, and challenges faced by SMEs since the onset of COVID-19 could mean that the set of competitors may have changed. For instance, our research shows that some hotels weren't fully operational during the pandemic because they couldn't find the staff needed to operate at total capacity. Others may have ceased operating entirely. Still others may have tried to reposition themselves and upgrade their offerings or provide different offerings. For instance, one manager explained that they had upgraded some of their rooms:
We introduced a new premium range, and that range allowed us to market the property at a much higher rate per night and put it into a different category. That's been quite a big deal.
Any of those potentialities could impact the competitive set. Organizations need to develop a systematic approach to monitoring their competitive set and regularly revisit whether that same set should be used to benchmark performance.
But managers don't have to base the competitive set on a hunch. According to participants in our study, the number of customer inquiries that hotels receive has increased since the pandemic began. Customers are making more phone inquiries to ask about price matching and offerings. This provides an opportunity to learn what these potential customers perceive to be the hotel's competitive set. Online travel agent (OTA) platforms may also provide a cheap and easy way to learn more about competitors. They provide detailed information about competitor offerings and promotions.
A STEP FORWARD
These first five ways to build better revenue management are only the beginning of the conversation. (The next five will be covered in the November 2022 issue of Strategic Finance.) While the focus of our research was on SMEs in the hotel industry, we do believe the overarching concepts are broad enough to be applicable elsewhere.
SMEs on the lower-intensity side of the revenue management scale have an opportunity to take simple but effective steps to build up the intensity and sophistication of their practices. Moving from relying on instinct and one-size-fits-all decisions in regard to pricing and offerings to a data-backed understanding of their customers, their business, and the market will not only help them weather challenging times but also give them an advantage over their other competitors.