John Rossman's Think Like Amazon: 50 1/2 Ideas to Become a Digital Leader is a thoughtful explanation of some of the key concepts that have enabled Amazon to reach a $1.2 trillion market capitalization, experiencing explosive growth during the COVID-19 pandemic while thoroughly disrupting the retail industry that we once knew. By examining the ideas driving Amazon's success, the book provides insights about how to address strategic planning in the Digital Age.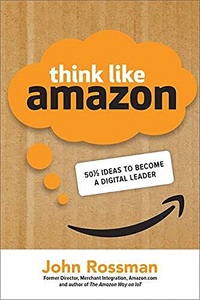 A former senior executive at Amazon, Rossman has created a playbook allowing the reader to quickly grasp 50-plus key ideas and actions that Amazon's leadership has used to ensure a vibrant, creative, driven culture that seeks growth opportunities for every area of the business. These ideas are actionable and grounded in concrete examples. The book is organized into four sections: culture, strategy, business and technology, and approach and execution.
My favorite chapter is "Pizza for All," a description of the "two-pizza team," so named because Amazon CEO Jeff Bezos believes that most work is best done by a small autonomous team that can be fed by two large pizzas. Other chapter titles include "The Door Desk," recommending frugality; "Launch and Learn," advising professionals to experiment to learn what works and what doesn't; and "The Future Press Release," which reveals communication best practices. Accountants will find a lot of good information and an interesting perspective to help them drive success. Chapters such as "Get to Yes," "Blow up the Org Chart," "Lies, Damn Lies, and Metrics," "Do the Math," and "Finance for Fools" all point to how individuals can contribute to the success of the finance team and overall organization. Amazon is numbers-driven, but reporting isn't its focus. Knowing the business is.
Finance professionals who are curious about contributing factors in the mega-success of Amazon and want to better understand how they can help their own company to thrive in the digital world will find this book of interest. If your company is competing with Amazon already, then you should read this book as competitive intelligence. Even if you're in a totally different vertical or industry, you'll gain insightful, practical ideas that you can use to give your career a boost. I highly recommend this book.