Most undergraduate accounting curricula prepare students for careers in public accounting despite the millions of people in the global accounting workforce holding management accounting roles. In the United States, for example, the U.S. Bureau of Labor Statistics reports that more than 75% of the 1.4 million professionals identifying as accountants and auditors are employed by industry, government, or nonprofit institutions. That is, they deliver value from within the organizations they support rather than from the external view (i.e., public accounting)—in essence, they're management accountants.
Public accounting's role of offering independent assurance through a commitment to protect the public interest via audit and other advisory services has never been more important than it is now, and our profession must continue to develop this foundational skill set. But we don't have to invest in its development at the expense of laying the groundwork for the roles that a clear majority of accounting graduates are likely to hold in their careers.
To ensure the longevity of our profession, we must adequately prepare the next generation of leaders in accounting. The report Essential Management Accounting Competencies for All Entry-Level Accountants, published by IMA® (Institute of Management Accountants), emphasizes the relevance and criticality of management accounting topics to all accountants. One method that can help colleges and universities better prepare students for the roles many will find themselves in throughout their career—while broadening the presentation of current management accounting curricular offerings beyond a historical relegation to manufacturing and costing—is to incorporate content from the CMA® (Certified Management Accountant) exam into accounting curricula.
DEMAND FOR MANAGEMENT ACCOUNTING KNOWLEDGE
Increasingly, accounting graduates are choosing to begin their careers in industry. According to the American Institute of Certified Public Accountants (AICPA) 2021 Trends report, approximately 30% of accounting undergraduates in the U.S. entered public accounting roles in CPA (Certified Public Accountant) firms upon graduation in 2020. This is down from an estimated 44% in 2014. It follows that nearly 70% of accounting graduates with a bachelor's degree choose to begin their careers in management accounting or other fields.
Further, even when students begin their careers in public accounting roles, discussions with accounting faculty and multinational public accounting and management accounting leaders reveal that many public accounting new hires leave CPA firms within five to seven years to enter a role in industry—as management accountants. Yet the accounting curricula of U.S. News & World Report's 50 best undergraduate accounting programs are centered on a path to public accounting—as it was 10 years ago when a comparable curricular review was performed (see "Management Accounting Career Readiness: Shaping YOUR Curriculum," Strategic Finance, August 2014).
In most cases, undergraduate accounting curricula don't include a management accounting track and offer limited management accounting content coverage beyond an intermediate-level cost accounting or management accounting course. This limited coverage may prepare as many as one-third of accounting undergraduates for their first accounting job (those entering public accounting). It falls short, however, for both those entering management accounting roles upon graduation and the three-quarters of accounting grads likely to have lifelong careers in management accounting. This is why incorporating CMA exam content into accounting curricula can make a difference.
WHY THE CMA EXAM?
First offered in 1972, the CMA exam is still considered by many to be the gold standard certification for accountants and financial professionals in business. It empowers current and aspiring management accountants to demonstrate depth of understanding in critical domains and breadth of knowledge in emerging areas.
As part of the exam development process, ICMA® (Institute of Certified Management Accountants), the certifying body for the CMA exam, engages thousands of management accountants to conduct a job analysis survey every four to six years with the primary purpose of validating the tasks and knowledge most relevant for the practice of management accounting (see the article "How the CMA Exam Is Made"). The most recent job analysis commissioned by ICMA was conducted in 2018 and prompted an update of CMA exam content that launched in 2020.
Engaging thousands of management accountants on a regular basis to confirm skills and knowledge essential for career success would be challenging for any individual professor or university. So, leveraging the CMA exam content as the basis for initiating updates to accounting curricula can serve as a robust, effective, and efficient path to collecting the information needed to best prepare accounting students for long-term careers. This isn't to suggest that professors should teach to the exam. Rather, because of the manner in which the CMA exam content is updated, accounting programs can use it as a source, among others, for updating their curricula and ensuring holistic curricular coverage for students choosing management accounting paths.
A by-product, and incredible benefit, of taking this approach is that accounting students are likely to be prepared to sit for either or both parts of the CMA exam prior to or at the time of graduation. Sitting for the exam at that stage allows students to further demonstrate their readiness for management accounting roles, build upon a solid foundation for their lifelong career, and even improve their marketability for public accounting and management accounting roles upon entry into the workforce and beyond.
BOLSTERING ACCOUNTING CURRICULA
The August 2014 article "Management Accounting Career Readiness: Shaping YOUR Curriculum" outlined three steps to integrate CMA exam content into undergraduate accounting curricula (see Figure 1). While these steps were prepared with the primary intent of empowering students in programs without management accounting tracks to design their own management accounting concentration through careful selection of electives, accounting faculty can adapt these steps to refresh and strengthen their program's curricular offerings: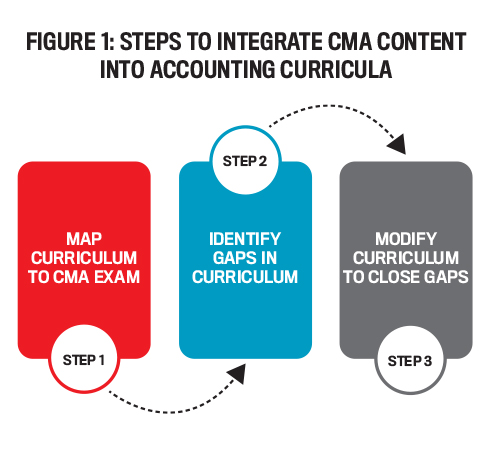 Map existing accounting curriculum to CMA exam subtopics.
Identify gaps in the curriculum where subtopics are either not covered or not covered at the highest cognitive level (according to Bloom's taxonomy).
Modify the curriculum to close the gaps between current degree requirements and CMA exam topics.
To ensure the content remains current and relevant, this process can be carried out every four to six years when the CMA content is updated to reflect the findings of the latest job analysis.
The curricular mapping exercise identified in step 1 can be performed using a template like the one depicted in Table 1, adapted from the curricular mapping table in the IMA Higher Education Endorsement Program application. The template contains the 41 CMA exam subtopics, and space is provided to indicate the course(s) that cover the respective subtopic and corresponding course details (level or year taught, whether the course is required or an elective offering, and the cognitive level at which the topic is covered and assessed in the course).
Any subtopic that isn't covered and assessed at the highest cognitive level would be considered a gap in the curriculum, so the final column includes space to document any proposed mitigation for filling that gap. Additional details on CMA exam subtopics and cognitive levels at which subtopics can be covered and assessed are included in the CMA exam's Content Specification Outlines and Learning Outcome Statements.
CMA INTEGRATION IN ACTION
A number of universities have already taken steps to incorporate CMA exam content into their accounting curricula. The manner in which a program integrates CMA exam content can be informed by many factors, often unique to each program, but there's an available path for all. Let's take a look at four examples. The cases detailed are at various stages of implementation and depict graduate and undergraduate programs, a program fully devoted to management accounting, and a single managerial accounting course with CMA exam content for one part of the exam (see "Leading the Way: Universities Leveraging CMA Content"). As you'll see, there's no single, mandatory approach to achieving the goal.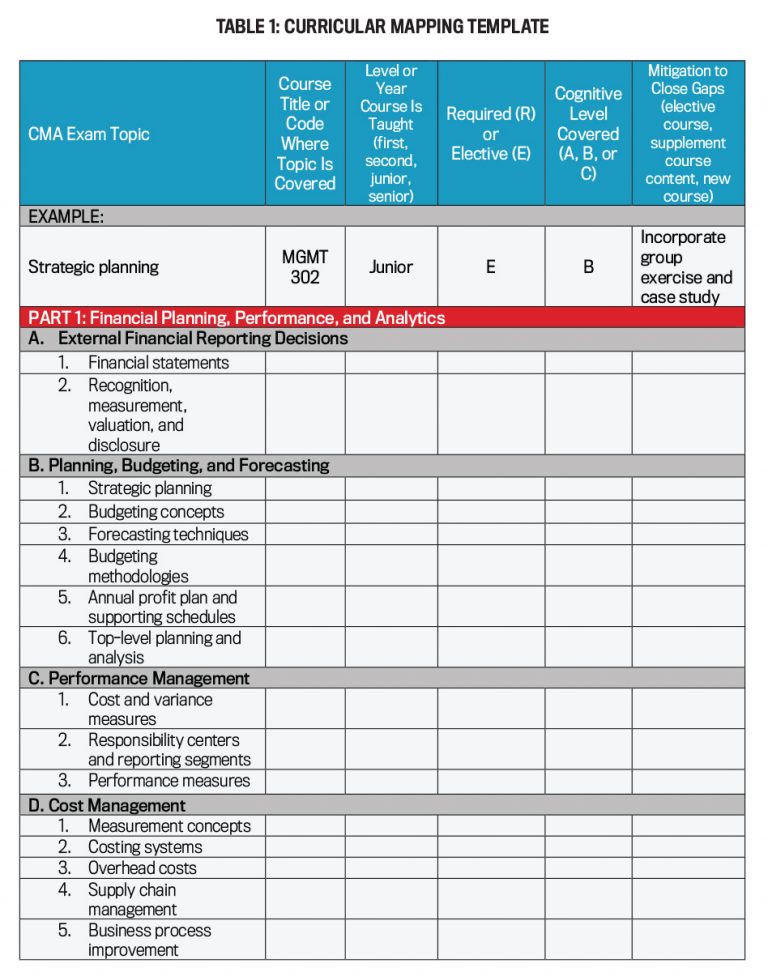 DePaul University. DePaul University offers a head start to accounting undergrads with a Cost and Managerial Accounting course for students in the third quarter of their freshman year. This course, taught by DePaul professor Kelly Richmond Pope, includes revamped content that aligns individual course modules to most subtopics for Part 1 of the CMA exam, along with some subtopics from Part 2. Here are some highlights from the course:
Retired CMA exam questions are used in weekly homework, quizzes, and exams.
Students serve as financial investigators, utilizing the fraud triangle and testing internal controls.
Bias recognition and mitigation methods are taught through ripped-from-the-headlines cases.
Financial statement analysis techniques enable students to make strategic decisions.
To stress the importance of ethical conduct for management accountants, the course also integrates the documentary film All the Queen's Horses, which examines a $53.7 million municipal fraud case. And gamification, through an immersive investigative e-learning platform, is included to further engage students and bolster knowledge retention and understanding. Through these approaches, students dissect financial statements, employ fundamental data analytics techniques, and leverage management accounting principles typically reinforced in upper-level courses to solve complex business problems.
The course culminates in a CMA Part 1 mock exam administered by a CMA review course provider. Pope says, "I believe this mock exam is important so students can understand how much information they have retained in the course and that they are likely much more prepared than they may think."
Brigham Young University. The Brigham Young University (BYU) School of Accountancy (SOA) has emphasized content relevant to the CMA exam for more than 30 years. Around 2012, the BYU SOA faculty and career center team decided to invest more resources into expanding students' breadth of career opportunities, particularly in the corporate finance profession. A key team of management accounting faculty played a vital role in that effort by significantly ramping up faculty support and student outreach for BYU's IMA student chapter.
In 2013, BYU became one of the first programs recognized by the IMA Higher Education Endorsement Program. "The IMA endorsement application process was very helpful to validate the relevancy of our curricula to management accounting practice and CMA exam content," says Monte Swain, an accounting professor at BYU. "Since 2013, we have explicitly considered any curriculum changes with respect to the impact on our students' ability to successfully prepare and sit for the CMA exam."
This commitment manifests in BYU's robust course offerings to accounting students. The Integrated Bachelor of Science and Master of Accountancy program features two dedicated management accounting courses beyond introductory exposure: Cost and Managerial Accounting and Advanced Managerial Accounting. Program curricula also include courses dedicated to developing digital technology and data analytics skills (Accounting Information Systems and Data Analytics in Accounting) as well as an ethical mindset (Ethics for Accounting Professionals). Students have access to courses from neighboring disciplines such as Global Supply Chain Management and Strategy and Economics, enabling them to develop the breadth of foundational knowledge required to partner with business leaders throughout their careers.
Central University of Finance and Economics. Central University of Finance and Economics (CUFE) in Beijing, China, began incorporating CMA exam content into accounting curriculum nearly two decades ago. CUFE was recognized under the IMA Higher Education Endorsement Program in 2017 for its commitment to providing the rigorous curriculum needed for students to prepare for successful careers in management accounting and the CMA exam. In addition to expanding course content, the CUFE Master of Professional Accounting (MPAcc) program has strengthened CMA exam topic coverage in two key ways:
Providing exposure to content presented through IMA Statements on Management Accounting, authoritative reports that communicate IMA's position on best practices in management accounting.
Leveraging IMA Educational Case Journal (IECJ®) teaching cases to aid in the instruction and assessment of relevant skills and competencies deemed essential to management accounting practice.
Liu Junyong, head of school of the CUFE School of Accountancy, says, "We sought to offer students the highest quality education and the latest knowledge as they begin long-term careers in accounting." The MPAcc program offers an Advanced Financial Accounting and Advanced Management Accounting course that builds on cost accounting course offerings in the undergraduate program. Graduate-level courses such as Accounting Information Systems as well as Business and Professional Ethics enable students' recognition of the bridge between advanced management accounting theory and practice.
Temple University. More than 10 years ago, Temple University's Fox School of Business started an IMA student chapter, which sparked increased interest in management accounting among students. Faculty revisited course offerings and aligned curriculum with CMA exam content to the extent possible. A.J. Kreimer, an assistant professor at Temple, created a new alternative to the school's traditional Senior Seminar in Accounting by collaborating with faculty to create a new course that addresses some of the curricular gaps identified. The course, Strategic Financial Management Accounting, aims to develop the critical skill of analyzing current issues and ethical dilemmas in accounting and their effects on financial statement analysis and management decision making while preparing students for the business world and the CMA exam.
CMA exam content has now influenced the curricular offerings of three programs at Temple University's Fox School of Business:
Bachelor of Business Administration in Accounting.
Bachelor of Business Administration in Accounting with Optional Data Analytics Concentration.
Master of Science in Accounting and Financial
"Temple has a large undergraduate program in accounting. Our students have many different interests and pursue many different career paths," says Elizabeth Gordon, professor of accounting and chair of the Department of Accounting. When speaking to the motivation behind integrating CMA exam content, she adds, "To provide our students greater opportunities, we created a path for them to earn the CMA as undergraduates. They can start to earn a professional certification in accounting before graduation, which is a differentiator for them."
PREPARING FOR THE FUTURE
The type of coordinated curriculum enhancements across degree programs such as the efforts undertaken at Temple and BYU are critical long-term and strategic steps needed to bolster the preparedness of the front end of the profession's talent pipeline. But in many cases, these approaches are likely to take months or years to implement.
While each university should commence these necessary curriculum enhancements now, leaders should also consider a parallel track to benefit students currently enrolled in their programs, like the work done at DePaul and CUFE. Leveraging gamification, CMA exam questions, IECJ teaching cases, and CMA mock exams are all paths to broadening student exposure to essential management accounting topics and strengthening their career readiness.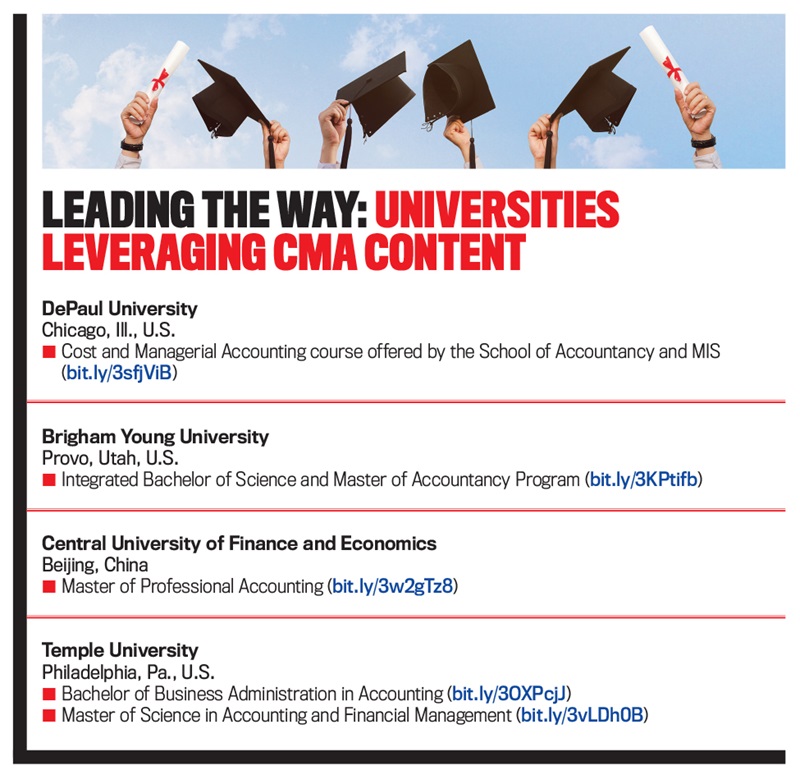 The success, relevance, and sustainability of the accounting profession are contingent on our ability to not only upskill accountants already in practice but also ensure that those entering the workforce are prepared to deliver value to the organizations they'll support. That value delivery now takes the form of analysis and reporting of financial and nonfinancial data to inform strategic decisions. And for millions of accountants, that value is delivered from within the organization. It's critical for new accounting talent to develop the skills and competencies needed to deliver value in a way that meets current and future demands. Early exposure to CMA exam content enables that development. Take charge today to prepare the next generation of accounting leaders for the future.