The IMA® Committee on Ethics is proud to announce that Justin Stearns, Ph.D., CMA, CPA; Michael Fore, J.D.; and Sarah Feltus, Ph.D., CPA, have won the Best Case Award in the 16th annual Carl Menconi Case Writing Competition for their case, "Ethics and Controls at Accountable Coffee Co."
The competition is named in memory of Carl Menconi, who held leadership positions in IMA for many years and served as chair of the IMA Committee on Ethics. The objective of the competition is to develop and distribute business ethics cases with specific application to management accounting and finance issues and that use the IMA Statement of Ethical Professional Practice as a reference or guidance tool.
The winning case and teaching notes will be available later this year for use in a classroom or business setting. IMA academic members will be able to access and download the teaching notes from the Academic Teaching Notes library via the IMA Educational Case Journal section of IMA's website: www.imanet.org/educators/ima-educational-case-journal.
Isabella McGill was thrilled to receive a job offer from Accountable Coffee Co., Inc. She had first become aware of Accountable Coffee when she noticed the bright yellow Accountable Coffee Cruisers delivery vans on Eastern Appalachia University's campus. It became her first choice for a prospective employer when she learned about the company's commitment to fair-trade standards, with its coffee suppliers and philanthropic endeavors helping coffee-growing communities in Central America led by Accountable Coffee senior executive William D. Brewster.
McGill met Brewster on a community service trip to Guatemala during spring break of her junior year at Eastern Appalachia University. Through their conversations, she learned how Brewster had helped the Zeigler family found Accountable Coffee and how he had recently transitioned from serving as Accountable Coffee's chief coffee bean roast master and purchaser to leading the Knoxville, Tenn., district (which is his hometown) and developing a mail-order coffee division for Accountable Coffee. He would also continue his involvement in Accountable Coffee's philanthropic initiatives from Knoxville.
While Brewster reports to Dwight Zeigler, Accountable Coffee's chief operating officer (COO), in his role as district manager of the Knoxville area, he reports to Cassandra Zeigler (spouse of Dwight Zeigler), Accountable Coffee's CEO and founder, regarding the mail-order initiative and philanthropic matters. District managers at Accountable Coffee operate with substantial autonomy, so Brewster primarily reports directly to Cassandra Zeigler.
The relationship that McGill developed with Brewster on the community service trip led to an internship at Accountable Coffee's Knoxville district and subsequently an offer of a full-time position as an accountant. As a recent graduate of Eastern Appalachia University's accounting program, she was eager to enter the professional world. This new opportunity brought the possibility of rapid advancement and a chance to apply the skills she had learned in school. Also, her new salary would let her quickly pay off her student loans. Her success as a first-generation college graduate would make a real difference in her family members' lives.
ACCOUNTABLE COFFEE
Accountable Coffee is a rapidly growing, vertically integrated, and decentralized coffee roaster, distributor, and service provider. Accountable Coffee's signature business line is providing outsourced coffee products and services to businesses. Accountable Coffee has achieved a substantial first-mover advantage in this space and has experienced significant growth in this business line. Customers have found cost savings and a substantial increase in employee morale by having Accountable Coffee stock and service their break rooms. For a modest monthly fee, the company leases customers a high-end combination coffee bean grinder and coffee maker and stocks Accountable Coffee-branded coffee beans and accessories (creamer, sweetener, stirrers, etc.) on a weekly basis. For an additional fee, the company also stocks snacks (breakfast bars, protein bars, fresh fruit, etc.) at each location. Accountable Coffee also maintains and services the leased equipment. Accountable Coffee has begun to explore expanding into mail-order coffee delivery. Employees at the businesses that the company serves have frequently requested the option to purchase Accountable Coffee-branded coffee beans for home consumption. In support of this opportunity, Accountable Coffee is strategically expanding operations at the Knoxville location and developing new types of coffee roasts for sale through this division. Customers can make onetime purchases of coffee or subscribe for monthly delivery of Accountable Coffee's high-quality fair-trade coffee. The new division has led to a substantial expansion of roasting and grinding facilities at the Knoxville site. As the mail-order division grows, additional assets will need to be committed to support its packing and shipping operations and to substantially upgrade the quality and increase the speed of roasting and grinding at the location. Currently the initiative is in the research and development phase of developing several new coffee blends to offer at launch and building out necessary infrastructure. Accountable Coffee operates in several districts throughout the mid-south region of the United States. Each district operates independently. The district manager oversees the operations of a local coffee-roasting facility that produces high-quality whole-bean and ground coffee. Each location also has a warehouse for storing equipment, inventory, and supplies and serves as the hub from which staff serve Accountable Coffee's customers. Every morning, the company's yellow Accountable Coffee Cruisers delivery vehicles make regular deliveries to vendors. District managers essentially operate their district subsidiary as an independent company. Managers choose sites for the coffee-roasting facilities, make equipment purchases and replacement decisions, purchase their delivery vehicles, select suppliers, hire and fire staff, and execute agreements for contract labor. The managers also work to acquire new customers and serve as the primary point of contact for all existing customers. Keeping each operating district independent is a core component of the management philosophy of the Zeiglers. Cassandra Zeigler founded Accountable Coffee after being inspired by a passion for coffee, particularly fair-trade Central American coffee growers, and a vision for an outsourced coffee business model. After retiring from very successful business careers, the Zeiglers established a small coffee shop in western North Carolina. Brewster owned and operated a coffee-roasting business that supplied several local coffee shops in eastern Tennessee and western North Carolina, including the Zeiglers'. Through their conversations and business dealings, the Zeiglers became convinced that the outsourced coffee service idea had potential and were energized by the proposition of using a substantial portion of their business's profits to support the communities of Central American coffee farmers. Cassandra Zeigler brought entrepreneurial vision and discipline to the venture. She demands excellence in production, operations, and customer service. She also has a relentless focus on growth. She firmly believes that district managers should have a substantial portion (approximately 40%) of their compensation "at risk" and tied to hitting growth and profitability targets. As such, managers are evaluated by the parent company primarily based upon the return on investment (ROI) for their unit: operating profit divided by investment in the unit (see "Responsibility Centers and Performance Evaluation"). Operating profit is defined as revenue minus expenses before taxes and any charges to the unit from central administration (certain administrative services, such as accounts payable, are performed by the parent company's central administration to achieve economies of scale and keep district managers focused on generating revenue and profits and operating efficiently). Investment is calculated as all assets that managers have committed to their district. Managers have the authority to add and retire assets within their district. There aren't any assets within a district that aren't under the direct control of the district manager. Each district is expected to produce an annual ROI of at least 24% (6% per quarter; with one-quarter of the "at-risk" bonus payable each quarter).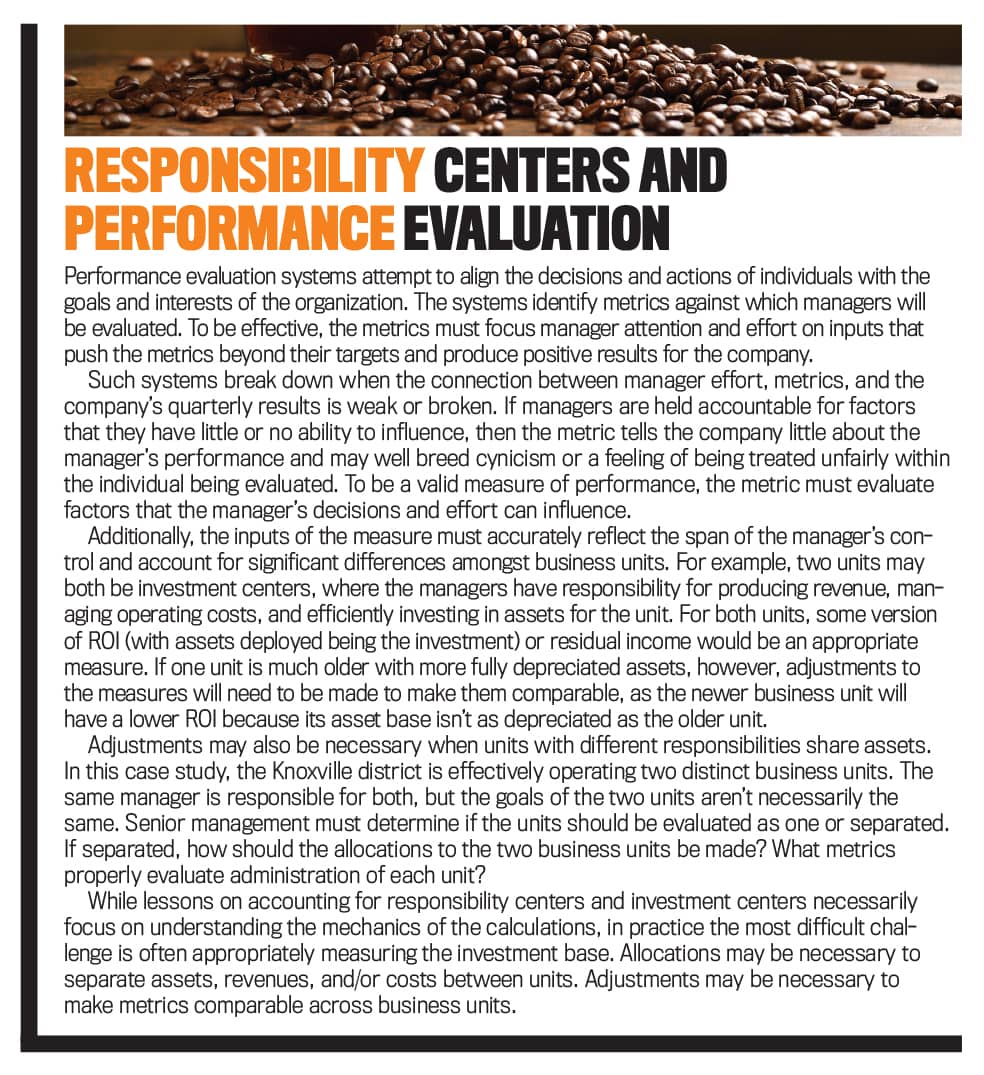 McGill was hired to work at Accountable Coffee's Knoxville division. While McGill reports to the company's corporate controller, Gabriel Gecko, regarding accounting policy and financial reporting matters, she works closely with Brewster and reports to him on a daily basis (see Figure 1). In this role, she provides support in developing the district's budget, assessing variances from the plan, making internal control recommendations, etc.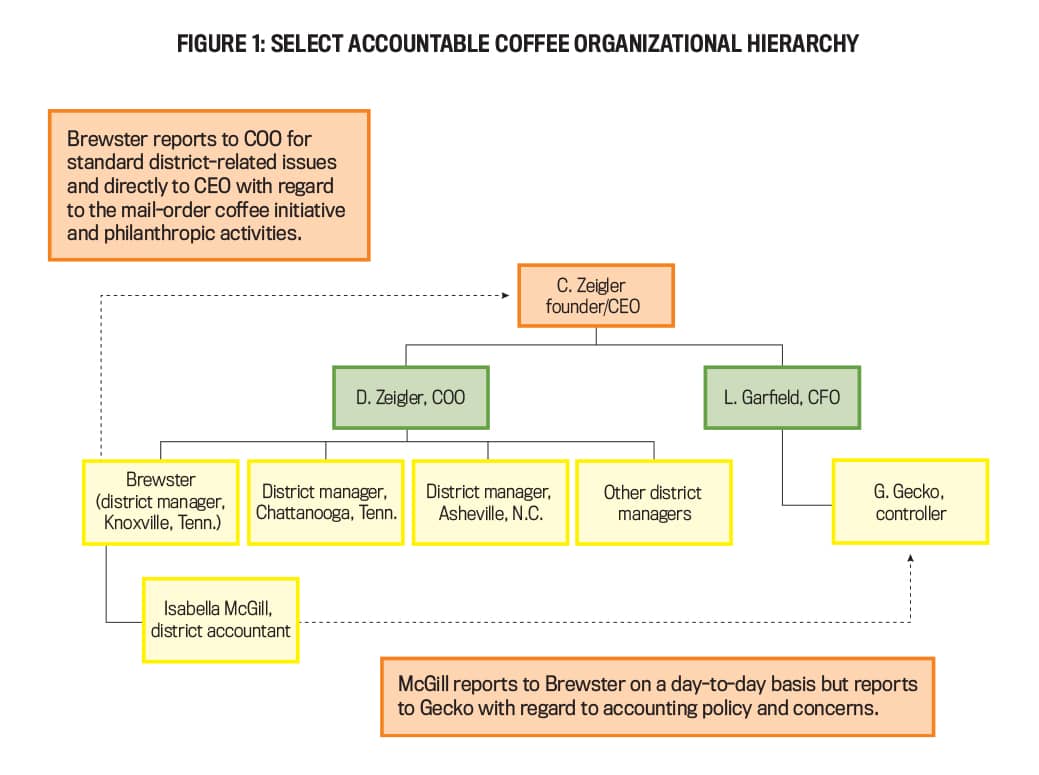 WILLIAM BREWSTER
While the Zeigler family provided the necessary funding and has been the driving force behind Accountable Coffee's operational success, Brewster provided the vision and inspiration for the company. He's known throughout the organization as a loyal, caring, and proud man. While his ownership stake is quite modest, his work building business relationships has been integral in growing the company. He personally developed the relationship with Accountable Coffee's largest client, Quick-Rite-Oil. Moreover, it's Brewster's expertise as a coffee roaster that has enabled Accountable Coffee to develop a reputation as a premium brand in the market. Brewster has also been the driving force behind Accountable Coffee's philanthropic mission, which permeates the company's culture. Inspired by the people he met while on a church mission trip to Central America, Brewster convinced the Zeigler family to dedicate 15% of Accountable Coffee's profits to help impoverished people in the farmer communities from whom they buy coffee beans. This philanthropic focus has resulted in a new school being built, improved water management in the community, and a robust fair-trade agreement with the farmers, including regular business advice and consulting (which Brewster regularly provides personally). It has truly impacted the community for the better. The philanthropic mission has also proved a key attraction for customers excited to see their purchases support such an effective and worthwhile endeavor. Accountable Coffee's philanthropic focus has also helped the company to attract more qualified talent than a company its size normally could. New employees report a desire to join an organization committed to philanthropy as a significant component of their choice to work for Accountable Coffee. Beyond this, the employees of Accountable Coffee have spontaneously started several one-off initiatives to support employees in need: buying a car for a custodian who was walking to work, paying for temporary lodging for a family that lost their home to a fire, sending work crews to support a Kentucky community devastated by a tornado, and other such charitable initiatives. During her onboarding conversation with Gecko, McGill was told to expect operations in Knoxville to be more chaotic than usual. Brewster recently suffered a family tragedy. Last August, his wife, Jessica, and two children, Deborah (age 16) and Samuel (age 12), were severely injured in a car accident. Deborah was driving the family home from an outing while Brewster was in Central America for a philanthropic activity. She took a curve on a country road too sharply, rolling their car several times, totaling another family's vehicle, and causing substantial property damage to a farm. The accident left Jessica, Deborah, and Samuel hospitalized for several months and severely injured the members of the other family as well. Jessica hasn't yet been able to return to work and requires in-home nursing assistance. Deborah and Samuel are still receiving outpatient physical therapy, although they've returned to school and some extracurricular activities. The members of the other family are making a full recovery and hold no ill will, but they're litigating to recover their medical costs, which are substantial. While Accountable Coffee has a quality medical insurance benefit and an employee initiative raised $10,000 to support the Brewsters, the severity of their injuries and the scope of their medical treatment maxed out the policy, leaving the Brewsters with enormous medical bills to pay in addition to monies owed to the other family. The liability for injuries to the other family and property damage maxed out their insurance coverage and completely drained the Brewsters' savings. Additionally, Jessica's long-term disability insurance plan left a substantial gap from what she had been contributing to family finances. Brewster has approached those dire circumstances with resolve, pouring himself fully into supporting his family and his Accountable Coffee district.
CHANGES IN KNOXVILLE'S OPERATIONS
As part of her initial familiarization with the business, McGill reviewed the Knoxville district's financial data for the last three quarters (see Table 1). She noted a significant change in performance in the first quarter (Q1), as a substantial increase in fixed assets was recorded. After initial discussions with Gecko, she learned this was related to adding facilities in the Knoxville region for testing and developing new coffee flavors for the developing mail-order business initiative. In the last two quarters—Q3 (January-March) and Q4 (April-June) of the current fiscal year—the region barely met ROI targets. Substantial cost management appears to have been the deciding factor in ultimately meeting ROI targets.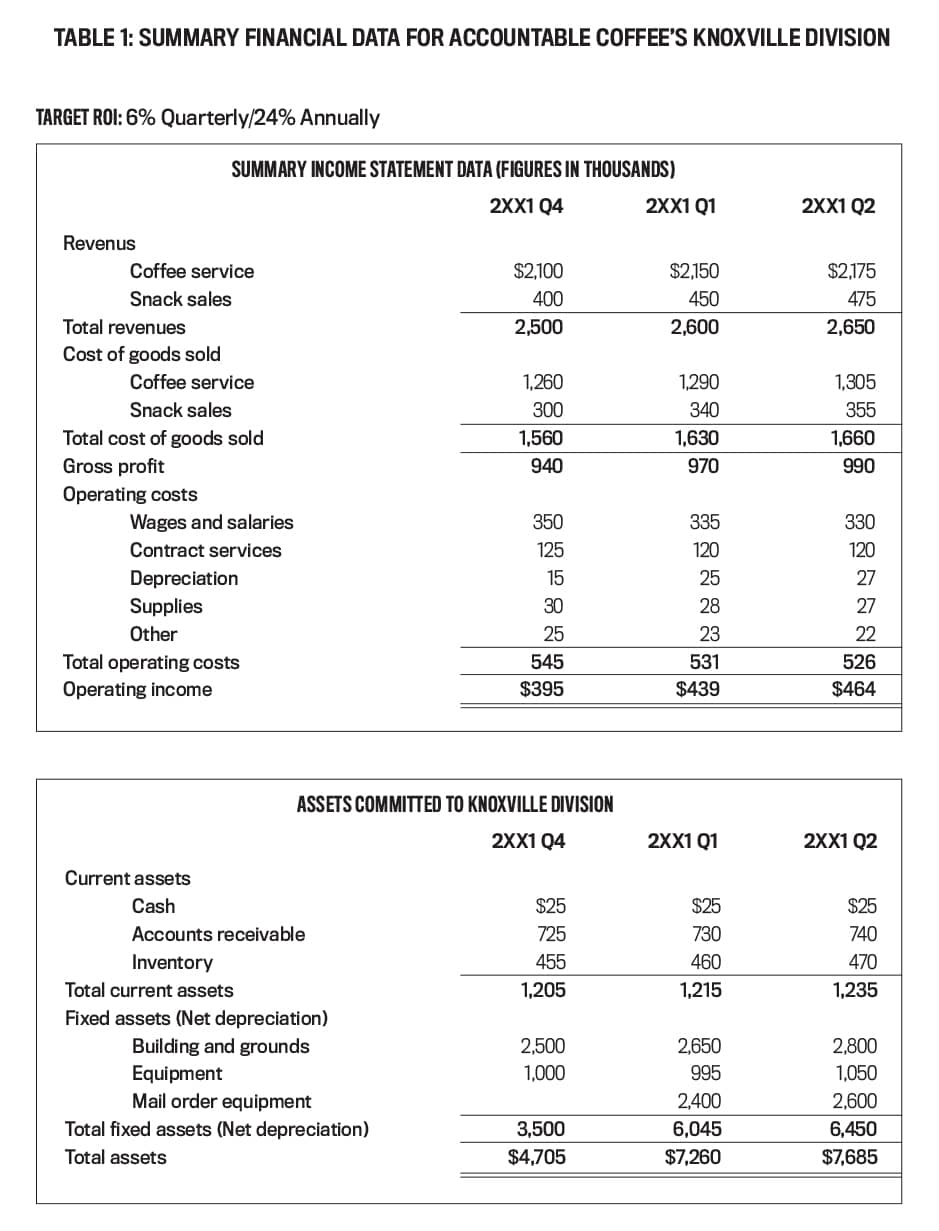 Digging a little deeper, McGill sees that two full-time operations staff members resigned over the last two quarters. This isn't unusual, as this is entry-level work with high turnover, but these positions were never filled. Part-time staff have seen an increase in hours, but not enough to cover the work of the departed full-time staff. McGill also noted that, over the last two quarters, there has been a shift in some contract service providers and vendors used in the Knoxville market. The contract for custodial service to clean the roasting facility wasn't renewed at the beginning of the year and was contracted at a lower rate with a new vendor, Knoxville Cleaning. The fleet agreement for routine maintenance of Accountable Coffee Cruisers also wasn't renewed. It now appears that Knoxville Mobile Auto Service Solutions performs maintenance. Both are new vendors with local post office boxes as addresses. McGill could find no other evidence corroborating the existence of either company. Neither has a website that she could find, and neither has a phone number listed in its vendor records. Per company policy, district managers are responsible for vetting and approving new vendor contracts. McGill emailed Brewster about the situation. She hasn't yet received a reply. Accountable Coffee's centralized accounts payable department didn't have any additional insights for McGill. The administrator only produced the minimal contact information that Brewster had submitted when changing vendors. She indicated that bills were received monthly and paid promptly, and she didn't see a reason to inquire further since Brewster was happy with the service.
DISCOVERY OF A SECRET
Having forgotten some papers at the office when she left work Friday night, McGill swung by the office on Saturday morning to retrieve them (she had a meeting early Monday morning with Gecko at corporate headquarters). When she pulled into the parking lot, she saw one of the Accountable Coffee Cruisers parked on one of the warehouse ramps. Walking up to the vehicle, she discovered Brewster underneath, changing the van's oil. Inside the facility, she discovered Brewster's children, Deborah and Samuel, cleaning the roasting facility. Brewster followed her inside and pleaded for McGill to not report this to the Zeiglers. He admitted to performing the vehicle service and cleaning the facilities with his kids during off-hours. He maintained meticulous documentation and could support all his work. He said he had to figure out a way to earn more money when the family's home went into foreclosure, and this was work he knew that he and his family could do. In fact, they performed the work at a lower net cost to Accountable Coffee. He told McGill that if he didn't hit his quarterly bonuses, his family was going to lose their home. Brewster fumed that with the mail-order business only in its infancy, hitting the district's ROI target had become extremely difficult. Brewster continued, "Things will be back to normal soon. I'll hire back the custodial service we used previously and will stop charging for performing vehicle maintenance. Jessica will be out of therapy and back at work in the next few months. Plus, the new snack bar I developed with Guatemalan farmers seems to be taking off with our customers since we launched it last quarter. The supplemental income from selling it to Accountable Coffee will let us get out of this hole." Asking follow-up questions to get more information, McGill learned that Brewster had collaborated with some of the farmers whom he had worked with in Accountable Coffee's philanthropic initiatives to develop a commercially viable snack bar based on a traditional Guatemalan treat. He had established a company and acquired assets before the car accident. With the financial difficulties brought on by the accident, however, he had been using the Accountable Coffee kitchen facilities to finish development of the product and launch it to customers within the Knoxville district. Agreements with some neighboring districts were being finalized. At that point, McGill realized the full depth of Accountable Coffee's conundrum. Brewster was the face of Accountable Coffee in Knoxville and the broader region. He was also the driving force behind Accountable Coffee's philanthropic efforts in Central America and is now a business partner with several of the farmers there. Moreover, Accountable Coffee's distinct flavor is thanks to Brewster's roasting expertise.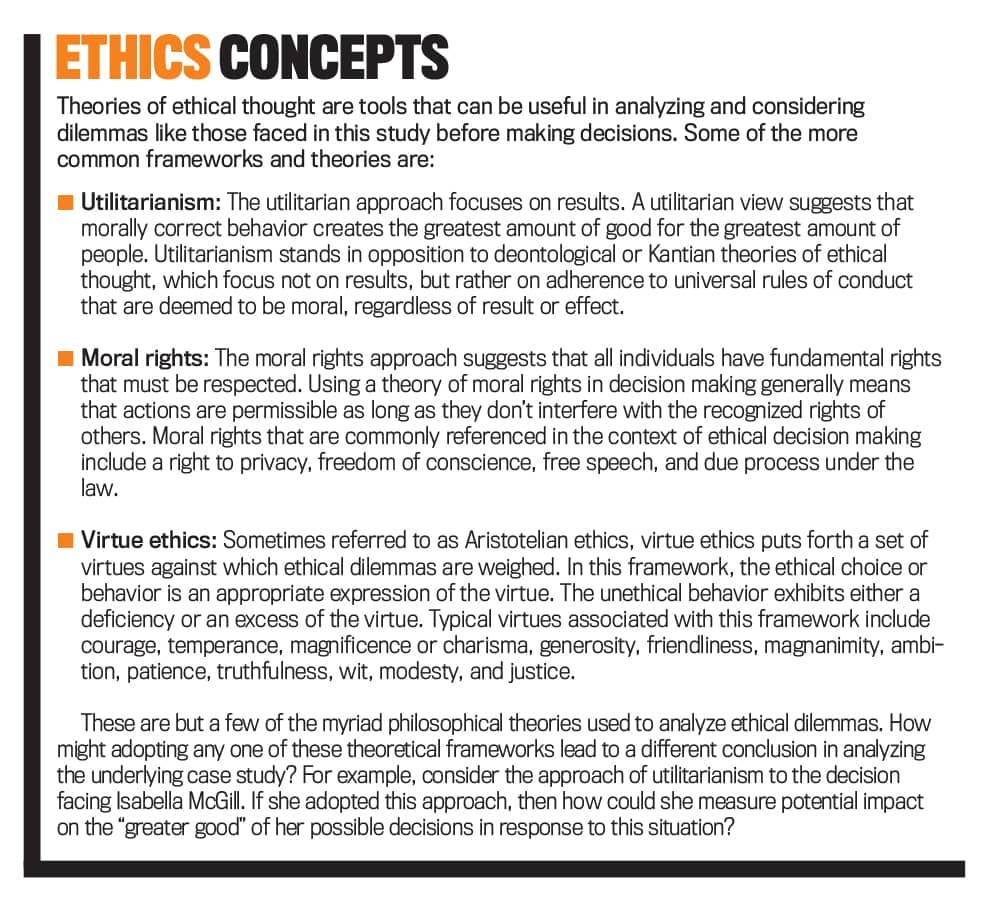 If Brewster were to be terminated, then both the Knoxville district and the Central American philanthropic endeavor may well fold. The local customers are loyal to Brewster and would be very sympathetic to his plight. Most wouldn't respond kindly to any action against him. The Central American farmers may not work with another representative. The effort would certainly lose many high-dollar donors, which it needs to fund operations in Central America. Still, McGill felt uncomfortable not reporting what she learned to Gecko and the Zeiglers. Brewster had established vendor contracts and utilized Accountable Coffee facilities and resources for the snack bar business that he was developing with farmers in Guatemala. At a loss for what to do in response to this ethical quandary, McGill has reached out to you for advice (see "Ethics Concepts" for several philosophical frameworks available to review this ethical dilemma).