The IMA® (Institute of Management Accountants) 2022 Accounting & Finance Conference (IMA22), held June 12-15, 2022, in Austin, Texas, was IMA's first hybrid annual conference event, with attendees having the option of joining in person or virtually. It was an example of IMA's innovation as it reimagined the annual conference experience for the convenience of members.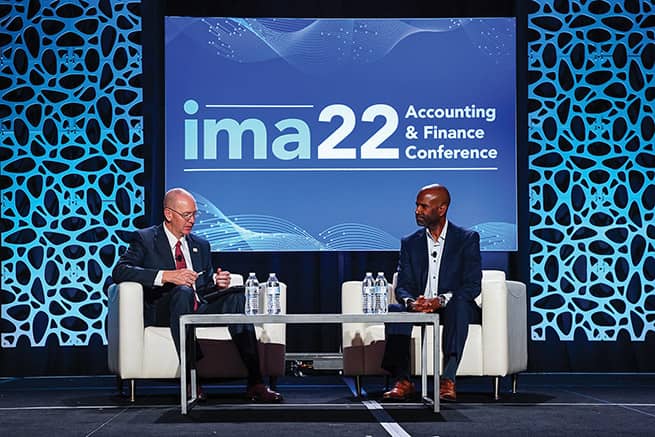 Eric Lenard, VP of finance for robotics and digital solutions at Johnson & Johnson, addressed the audience during a general session. Above, Lenard was joined by Richard T. Brady, IMA Chair-Elect and CEO of American Society of Military Comptrollers.
IMA22's theme, "Reimagine," resonated throughout the conference. "As we rebuild organizations and reimagine ways of working, I want to thank IMA and its community of volunteers, with a special thanks to IMA's Conference Planning Committee, who have worked so hard at ensuring continuity in members' lives," said IMA Chair-Emeritus Steve McNally.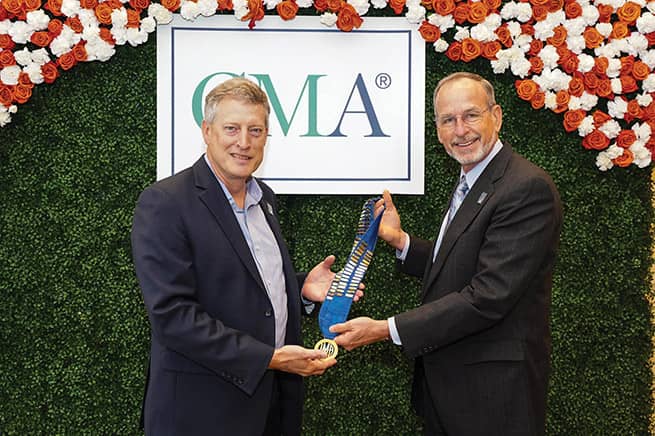 IMA Chair-Emeritus Steve McNally (left) and Paul Juras, who served as IMA Chair during fiscal year 2020-2021.
The hard work of rebuilding requires new perspectives and analysis of current trends impacting our world. IMA22's first general session speaker, Vikram Mansharamani—author, global equity investor, and Harvard University lecturer—offered his insights on transitions affecting geopolitics, economies, and global competition, including the transition from COVID-19-related lockdowns to a return to normalcy. He touched on the impact of inflation and rising levels of inequality that are spurring more conversations around the need to ensure equal opportunity for all.
Inclusion was a central theme of "The Finance Transformation Journey at Johnson & Johnson," presented by Johnson & Johnson's Eric Lenard, vice president of finance for robotics and digital solutions, and Ellen Sipos, VP of enterprise planning and analytics. They shared perspectives on Johnson & Johnson's multiyear, transformational journey of enabling finance to support the organization's competitive advantage while simultaneously providing a healthier future to those it serves. Data harmonization across the organization is a key component of this journey as advancements in healthcare require more sophisticated data and tracking capabilities.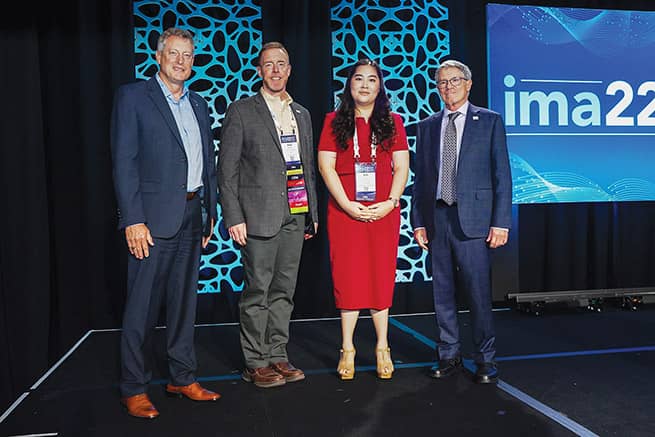 Kimberly Candice Limchua Lim of the Philippines (third from left), the CMA Bronze Medal winner during the May/June 2021 testing window, was joined by (from left) IMA's Steve McNally, Chair-Emeritus; Russ Porter, CFO and senior vice president of strategy, technology, and analytics; and Dennis Whitney, senior vice president of certifications, exams, and content integration.
Two accounting and finance professionals from healthcare company Cigna shared insights about their environmental, social, and governance (ESG) journey. Mary Agoglia Hoeltzel, senior vice president tax and global chief accounting officer, and Amber Cole, chief accounting officer—enterprise SOX and ESG compliance, AERO Transformation Initiative, shared tips and insights from their experience building a strong ESG framework and strategy from the ground up. Agoglia Hoeltzel spoke about new U.S. Securities & Exchange Commission requirements on ESG disclosures, investor pressure to disclose ESG data, and the concept of materiality. Cole shared some of the best practices involved in ESG reporting, including implementing standardized metrics, measures, data-gathering processes, and disclosure controls.
The second day of the conference began with the IMA Global Awards and panel discussion "Driving Value through Effective Strategic Management," led by Russ Porter, IMA's CFO and senior vice president of strategy, technology, and analytics. The panel discussion focused on the ways accounting and finance professionals can manage change and implement long-term plans amid uncertainty and volatility.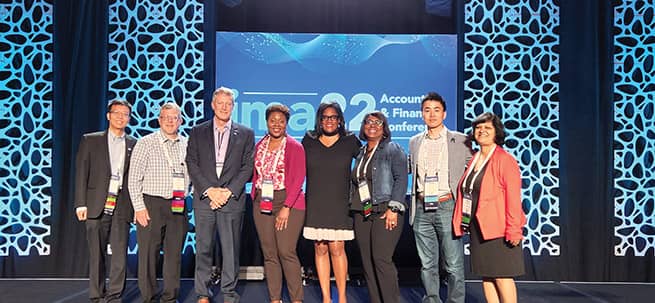 General session speaker Nzinga Shaw, president and global practice lead, ESG and DE&I at ZRG Partners, LLC (fourth from right), with IMA Chair-Emeritus Steve McNally (third from left) and members of the IMA DE&I Committee.
The second general session of the day featured Nzinga Shaw, president and global practice lead, ESG and diversity, equity, and inclusion (DE&I) at ZRG Partners, LLC, who shared her extensive experience helping organizations build stronger DE&I cultures. Shaw spoke about the events in her own life that led her to become an advocate for DE&I and the strategies she used at organizations such as the National Football League, the Atlanta Hawks, Starbucks, and Marsh McLennan to embed DE&I into their organizational cultures. She noted that DE&I programs are most effective when they're built proactively as opposed to reactively and when they're reinforced through ongoing training.
On the third day, to mark the conference's closing, McNally introduced new IMA Chair Gwen van Berne, who, while addressing conference attendees via video, shared her prioritization of DE&I and ESG in her coming year as IMA Chair and expressed her enthusiasm for serving IMA.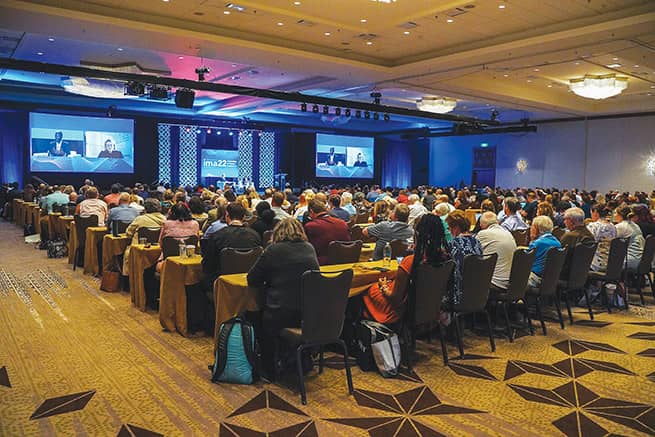 "
We are at an inflection point in accounting and finance as it pertains to ESG. In the near future, I believe more and more management accountants will be tasked with leading their organizations toward improved integration of ESG goals into day-to-day business operations," van Berne said. "I can't tell you how excited I am to be assuming the role of Chair during this pivotal time."
Paul Juras, who served as IMA Chair during fiscal year 2020-2021, attended the closing event and presented McNally with an honorary lifetime membership card, plaque, and shadowbox to commemorate his year as IMA Chair. Kai Kight, a classical violinist, innovator, composer, and entrepreneur, closed the conference with his perspective on how to create new ideas using the process a composer uses as a model.
IMA22 was followed later in the month by IMA's most significant members-only event, the virtual Annual Meeting of Members, which took place virtually at two different times on June 23, 2022. IMA President and CEO Jeff Thomson joined McNally and van Berne as all three shared their perspectives on the fiscal year as well as the important milestones IMA reached, including the 50th anniversary of the CMA® (Certified Management Accountant) certification, the issuing of the 100,000th CMA certificate, and the endorsement of the 100th university through the IMA Higher Education Endorsement Program.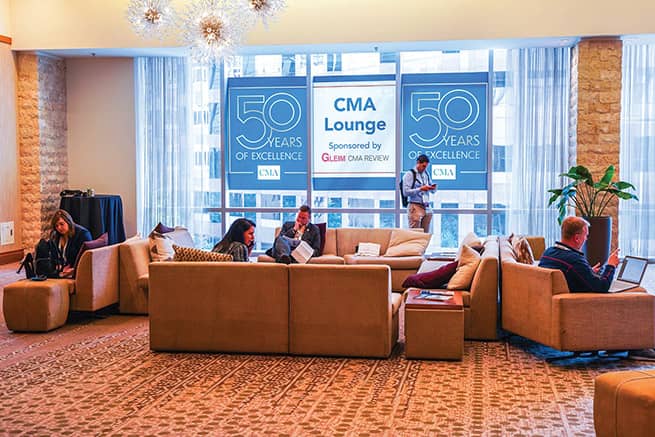 Reflecting on the year, Thomson also spoke of the challenges and disruptions IMA and its members faced in a year that brought crisis in Ukraine and supply-chain disruptions from the lingering effects of the pandemic. "IMA's approach to continued disruptions and volatility has been to put the safety, health, and well-being of our stakeholders—staff, members, and volunteers alike—above all else," Thomson said. "Another credo in this disruptive business environment is our prioritization of compassion over commercialism and helping members in ways that are most meaningful to them and their situation."
McNally spoke about his year as IMA Chair and his trips around the world visiting international chapters and meeting members. "I had the opportunity, for example, to spend time in Istanbul, Turkey, as well as in the Netherlands, Italy, Luxembourg, and Germany," he said. "While in Europe, I met IMA members who are among the most engaged in our organization and who are passionate about management accounting."
McNally also emphasized the important role global chapters play in providing access to IMA's educational and career services resources. "Our chapters offer a way for students to learn more about the profession and to serve in leadership roles long before they enter the workforce," he said.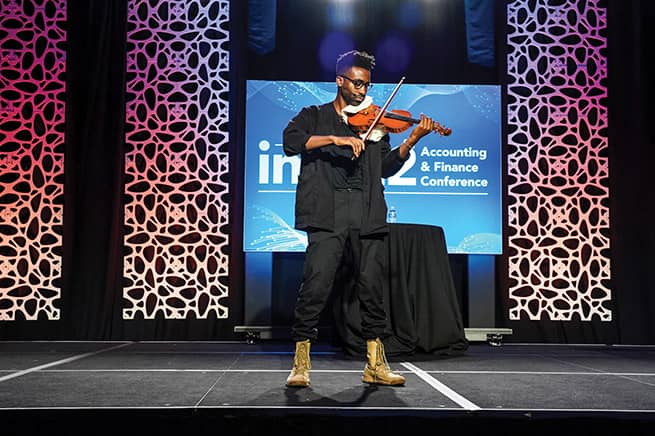 Kai Kight, classical violinist, innovator, composer, and entrepreneur, closed out the conference. "
As an active member of the IMA Amsterdam Chapter, I have watched IMA's influence and reach grow stronger as a result of emphasis on DE&I. Today, I believe IMA has undertaken some of the most rigorous DE&I research in the accounting and finance field through its DE&I Solutions research series," van Berne stated. She explained how sustainable business management, which is inclusive of DE&I, can help address societal problems such as climate issues and income inequality.
The meeting closed with a 15-minute Q&A in which members had the opportunity to pose questions to Thomson, McNally, and van Berne. Combined, more than 1,000 members attended the two sessions. Both the hybrid-format IMA22 and the virtual Annual Meeting of Members brought IMA members together. The global IMA community's strength lies in strong member engagement, and these two events demonstrated how IMA plays a key role in the professional and personal lives of its members.
---
SAVE THE DATE
Join us in Minneapolis, Minn., for IMA23, June 11-14, 2023.
CALL FOR SESSIONS
IMA is seeking breakout presentation proposals for IMA23. We're specifically looking for highly engaging sessions featuring experiential learning, peer collaboration, and innovative topics. For complete details, visit imaconference.org. All proposals must be submitted online by August 26, 2022.
COMING SOON
IMA's Student Leadership Conference will be held October 20-22, 2022. Registration opens September 6.