In the face of pandemic-driven supply shortages and capacity bottlenecks in manufacturing and logistics, small and medium-sized enterprises (SMEs) can offer supply chain solutions with support for sustainability. A January 2022 survey from the National Federation of Independent Business stated that 74% of the respondents reported significant or moderate supply chain impact on their businesses. Excess money supply from fiscal stimulus and cheaper money drove up demand at the same time that labor supply dropped. COVID-related shutdowns, port congestions, container shortages, scarcity of trucking, and natural disasters caused SMEs to carry buffer inventory (just-in-case or hoarding) at a higher cost to reduce uncertainty on deliveries. In response, SMEs' ability to optimize operations faster led to top-line growth with improved quality and efficiencies and lower cost.
These productivity improvements directly support sustainability using fewer resources, lower scrap, higher recycling, lower trucking miles, standardized packaging, better waste management, and lower consumption of energy and water. Further demands for improved sustainability by SMEs come from larger corporations in their supply chain links, stipulating higher standards for sustainability compliance. There are three key tactical areas to further improve productivity and sustainability.
LEVERAGING TECHNOLOGY
Technological innovation often follows when SMEs seek out collaborative opportunities with more partners or players. Further, data analytics could be applied to customers' normal vs. COVID-based buying patterns to consider component-level rationalization and to adjust final products to manage scarce and essential items.
Where skilled labor is also scarce, automation stands to reduce the human touch time in processes at critical bottleneck points in the supply chain. The goal should be to avoid expensive rework errors and to eliminate the longest slack time in the supply chain system. AI or machine learning could have useful applications here.
SMEs could apply AI to a few critical areas by working with existing data and choosing a few high-value-added areas that drive operational efficiency and top-line growth. Still, management should budget and track the returns on investment from such projects. No-code AI tools are ideal for those who lack the time or resources to build AI systems from the ground up.
After a cost-benefit consideration, linking enterprise resource planning and customer relationship management systems could generate consistency, visibility, and timely communication. Suppliers, customers, and internal organizations will see the information from a single source of truth.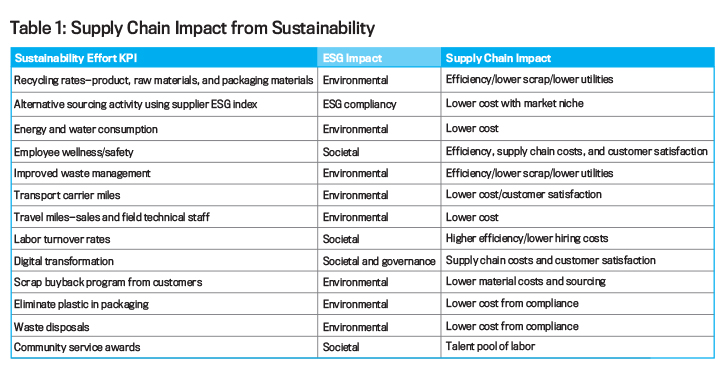 RELATIONSHIP DEVELOPMENT
In the publication Sustainability Information for Small Business: The Opportunity for Practitioners, the International Federation of Accountants states, "The benefits of environmental activities for SMEs include improving financial performance and lowering costs by facing up to business risks and finding solutions to them, this can include improving the company's reputation and solidifying the legitimacy in its relationship with stakeholders."
In the medium and long term, companies of all sizes can work to use suppliers closer to home. Locally sourced materials increase resiliency during transportation disruptions and can also strengthen local communities, which in turn creates a nurturing environment that engenders happy employees, community, vendors, and customers with intense motivation to solve the supply chain and sustainability problems.
It's also beneficial for SMEs to nurture the human side of the enterprise. Many steps—starting from clear communication on the organizational and employee purpose, commitment to green programs, clear growth opportunities, wellness programs, and community involvement—will result in lower turnover, recruitment, and training costs.
MATERIALS CONSIDERATIONS
Consumption of various materials from raw materials to packaging impacts cost, efficiency, and sustainability. Inbound material costs rise exponentially under supply chain shortages (50% to 70%)—shipping, loading, and unloading, container shortages, in-land transport rates (B2C) and drivers, port congestion, and warehouse rents. They also cause supply chain delays.
Major opportunities reside in product rationalization and optimization (PRO) by better coordination between supply chain, sales, design and engineering, and operations departments. Focus on functional-level substitutions, redundancy reductions, and introduction of new products with existing parts. This could reduce costs and improve operational and sustainability efficiencies while mitigating outsourced scarcity issues and creating new sales opportunities.
Examples of solutions implemented by two SMEs (a PVC window and door parts manufacturer and a specialty chemical distribution company) from Ohio demonstrate ways to help mitigate current challenges:
Successfully implement PRO initiative
Allocate orders strategically between customers with continuous updates
Use nonvessel-operating common carriers and freight forwarders
Apply 80/20 review to trim down difficult-to-serve partners
Use route optimization software to reduce transport miles
Look for less-than-container-load shipping
Use last-mile capacity or milk-run shipping for business-critical deliveries
Meet regularly on a cross-functional level for planning and execution with the latest information on inventory, customers, suppliers, and carriers
Use Google Flights, which highlights lower emission flight options for travel
The first step when migrating to a robust sustainability program is to create and track data sets using key performance metrics scorecards. This will give a competitive edge for the SMEs in complying with their supply chain partners who are already using or planning to use ESG reporting to meet the future requirements of the recently established International Sustainability Standards Board (ISSB).
Supply chain management is a vital cog in the strategy wheel for the success of SMEs and should be built with resiliency and the right efficiency in mind for today's unpredictable ESG ecosystems. Bottom line: SMEs should work toward creating a sustainable supply chain platform.