These are usually stretch assignments that draw you out of your comfort zone, requiring you to add to your skills, adapt decisively to new or different situations, and find ways to succeed in more complex environments. I recently completed such an experience in preparation for a new role leading the accounting, tax, and treasury teams at Workday.
According to the Center for Creative Leadership (CCL), heat experiences are becoming increasingly popular as a leadership tool to help companies and their talent manage in a world that's increasingly uncertain and complex. These assignments can push people to their limits in ways that can make or break careers; they can be mentally taxing, emotionally confusing, or physically demanding—sometimes all three at once. But heat experiences can also allow emerging leaders in your organization to practice—and test—their leadership and collaboration capabilities in new ways, increasing both confidence and resilience while boosting the capacity for innovation.
WHY HEAT EXPERIENCES WORK
According to a recent white paper by CCL, heat experiences work because, as shown by research on expert performance across many fields, what sets superior performers apart is the quality and quantity of their mental maps: small-scale "models of reality" that we use to understand our world. Over time, top performers develop highly complex and sophisticated maps of the situations they might face in their fields. These maps allow them to process large amounts of information quickly despite the overload and make faster, more accurate decisions in a given situation. See Figure 1 for more on gauging the right level for heat experiences.
While most people are happy to become "good enough," superior performers continually push themselves into heat experiences (e.g., bigger, more complex roles) that their current maps can't explain. This requires them to construct new, more accurate maps, thus adding to the number they have available and further boosting their adaptability and performance.
You may be thinking that as finance leaders, managing through the pandemic was enough of a heat experience to last you your entire career. But the pandemic showed us that the pace of change is only accelerating. It's up to us in finance to provide the strategic guidance, data-driven insights, and out-of-the-box thinking our companies and employees need right now to seize the opportunities generated by digital acceleration.
According to Robert Half's 2019 Road to CFO survey of 800 U.S. CFOs on their career paths, only 14% reported serving exclusively in finance, with the rest having served in business development (36%), administration (35%), human resources (34%), and technology (33%) roles. Accepting a heat experience or stretch assignment outside finance can dramatically improve your chances of becoming a CFO. And if you're a finance leader, creating heat experiences for those rising stars on your team is another way to ensure that you're providing new ways to engage and retain high-potential talent while strengthening your strategic impact on the business.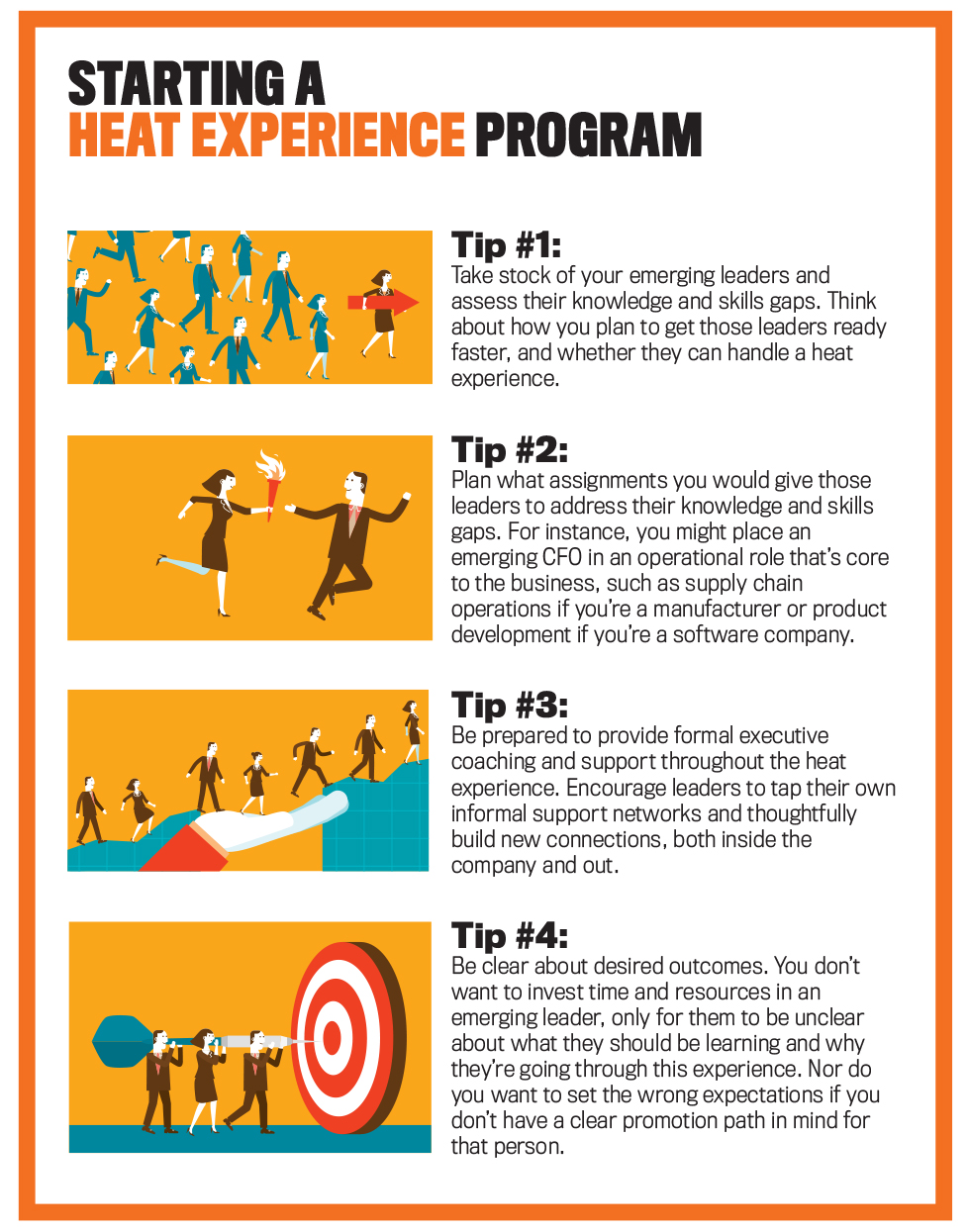 DIALING UP THE HEAT
The company I work for, Workday, has used heat experiences with great success. Heat experiences and their associated attributes, such as having the appropriate level of support relative to the degree of heat and risk, are a central part of Workday's learning language. Using these experiences has helped us become increasingly intentional about providing the accelerated continuous development that's typically associated with the 70% of on-the-job development in the classic 70:20:10 learning framework. At Workday, the strategy of heat experiences is shared with all employees intentionally, whether to level up a capability or skill, deepen a connection, or broaden a perspective.
CCL gives some great examples of heat experiences that companies in fast-moving industries such as enterprise software use to groom their next-generation talent:
Ask managers to lead change initiatives or product releases in areas where they have no expertise and to build leadership skills in coaching and collaboration vs. just being an expert at something.
Merge disparate product lines under a single talented leader to help develop the capacity to manage complexity while still growing the business.
Place leaders in situations where they must navigate completely unfamiliar terrain with minimal training, such as executing a cross-functional change with conflicting stakeholder expectations.
My own heat experience was aligned to CCL's first example: After five years of leading Workday's corporate finance team, I was asked to become the general manager of our financial management applications organization, with responsibility over the product strategy, product management, and engineering teams. Like most finance professionals, I had no background in software development—no experience in Agile methodologies, no domain expertise in data science, and certainly no coding skills. What I did have was a keen interest in financial technology, having been our finance team's liaison with product development to provide input into our financial applications products and services. Adding to the pressure was the fact that the team I would lead was tasked with making Workday's financial solutions the market leader and growth engine for our expansion. No pressure, right?
PREPARATION IS VITAL
Any good cook knows that the recipe for success is all in the preparation, from making sure you have the right ingredients to using the right utensils and heat sources to ensure that your finished meal isn't burned. Similarly, when considering the level of heat that an individual can tolerate, it's important to get the temperature right by providing a "safe space" for that individual throughout the process so that the person doesn't lose his or her composure, overreact, or burn out. Companies can do this by watching for the warning signs that individuals are overheating and intervening with executive coaching, peer support, online learning, and other mechanisms to create that safety net.
It's also important to ensure that those embarking on a new role employ strategies to handle the intense feelings that inevitably arise with added responsibilities. I knew I could add value to my new role, bringing my experience and perspective as a finance practitioner to the process of developing new financial management solutions. Having never led a product development organization, let alone one of the size I was being asked to lead, I also felt vulnerable and nervous at the prospect of failure. Fortunately, I had already participated in a leadership program that gave me access to an established network of executives across the company. I leveraged that network to get their outside perspective on my capabilities for the role and what they felt I could bring to the product development role, as well as to get their advice on managing a larger organization.
The second critical step I took was to create a map of people both within my new organization and across the company who could help me be successful in my new role. I can't emphasize the importance of this step enough. I built my support map based on several criteria: whom to tap for important information, whom to talk to about priorities, with whom to brainstorm on product innovations, and so on. My support map was composed of roughly 20 people across product development, sales, marketing, and services, based on a framework I developed across three categories:
Operational: People who understood and managed day-to-day operations in Workday product development and knew the priorities and key stakeholders.
Strategic: People who would help me uncover new business opportunities and strategies and could help me enlist the stakeholders able to make those initiatives happen.
Personal: People I could turn to for unbiased input and personal development, including both internal mentors and external coaches.
I leaned on about 80% of those people heavily for the duration of my two-year stint leading the financial management product team. One important relationship I developed early on was with the interim general manager who was tasked with helping to lead the product group's transition to a general manager model. A longtime product team executive, she knew how to navigate the organization and was an exceptional leader with an eye for talent. During my first week as general manager, I was asked to host a meeting with an important customer. My ally guided me through the process of how to engage with strategic customers and identified other key stakeholders who should be invited to the meeting.
My goal was to build trust with people in my support network by being very transparent about what I did and didn't know and being very open to learning as much as I could from each of them. One lesson from my experience I want to reinforce: Be very intentional about the people you select for your support team, and also be very intentional about nurturing and fostering those relationships so you give as much as you get. I've made it a point to still talk frequently with many members of my support network in my current role as Workday's senior vice president of accounting, tax, and treasury.
LOOKING BACK AND FORWARD
Many people ask me if I would do my heat experience over again, knowing what I know now. The answer is unquestionably yes. It was one of the hardest challenges I've faced in my career, stepping outside my financial planning and analysis domain expertise to lead a 600-member technology organization 10 times the size of my previous finance team. In retrospect, I wouldn't trade my heat experience in product development for anything. It gave me an entirely new perspective on the role that this group plays in our success as a software vendor, as well as the confidence to know I am capable of leading a large organization contributing so much to my company's growth.
One of the products that launched during my tenure as general manager that I'm especially proud of is Workday Accounting Center, which was the result of a closely coordinated cross-functional team effort. Workday Accounting Center was built leveraging functionality across Workday Prism Analytics and financial management product development teams, but the final solution had to appear seamless to our customers. My tasks were to bring these two product teams, one focused on analytics and the other on accounting processing, together to operate as one and to create a pricing and support model that made sense to our customers.
Workday Accounting Center recently won the 2021 CODiE Award as Best Financial Management Solution, a stamp of validation that means a lot to us, as CODiE Awards are judged by a distinguished panel of peers and experts in the business technology industry. The award reflects our belief that Workday Accounting Center will be truly transformational for finance organizations, thanks to its ability to easily ingest, enrich, and transform mission-critical operational transactions into accounting.
Looking forward, I am now far better equipped to lead my teams in my current role thanks to the deep exposure I received during my assignment to cutting-edge finance technologies such as AI, machine learning, Big Data, and predictive analytics. Robert Half's Road to CFO research notes that "digital fluency" is now table stakes for any CFO who wants to help their company navigate today's data explosion, as is being able to articulate the benefits of cloud computing and IT investments to your board and management teams.
While I'm not advocating that you spend two years completely immersing yourself in finance technology like I did, I do recommend that you strengthen your collaboration with your IT, data science, and analytics teams to understand the why behind the numbers. I recently attended Fortune's CFO Collaborative event on how CFOs are managing the data explosion and was struck by how many CFOs are actively managing their data science and advanced analytics teams, down to shaping the algorithms used to get the answers they need from their data. Getting comfortable with technology and creating those strong bonds with your IT teams will help you put technology to work for your organization, identifying those key inputs and market trends that can help you turn your data into a competitive advantage.
If you haven't had the opportunity to pursue a heat experience yet, I'd encourage you to speak to your leadership about the possibility of creating one designed to hone your skills as a future CFO. And if your company hasn't adopted heat experiences yet, create your own. Think about taking on a high-profile, cross-functional assignment; deepening your technology expertise with a certification or advanced degree in areas such as Big Data or advanced analytics; or tapping into your professional network for opportunities on relevant boards or with consultancies. Each opportunity will help you build your confidence for the next challenge; refine your leadership, collaboration, and influencing skills; and allow you to serve as a role model for the next generation of finance leaders coming up behind you.