SEIZING EVERY OPPORTUNITY
Steve grew up in Bucks County, Pa., just north of Philadelphia, in what he describes as a "middle-class family with a hardworking dad and stay-at-home mom." He is the oldest of three siblings by a considerable margin (with seven years between each of them).
Recalling his childhood, Steve admits he had an "entrepreneurial spirit" even as a kid. He managed a paper route for years and operated lemonade stands to earn extra cash. He also organized a neighborhood Olympics one summer, an athletic competition between his close-knit group of friends.
Athletics provided an important outlet for Steve throughout his teenage years. He was a cross-country runner and track-and-field athlete, and he played Little League baseball, too. A self-proclaimed overachiever, he pursued many activities at his high school and participated in Boy Scouts of America, eventually earning the rank of Eagle Scout. He also traveled to Spain with his high school's Spanish Club and, later, to Mexico. In recognition of his outstanding character and achievements, the Union League of Philadelphia honored him with its Good Citizenship Award during his junior year.
When it came time to consider college, Steve kept it simple. He recalls thumbing through a big book (given the time frame, 1984, it might have been Barron's Profiles of American Colleges) and casually landing on Villanova. "The name caught my attention, and I then learned it had a good reputation." He applied there and was accepted.
Steve considered two majors when applying for college: engineering and business. But after taking physics his senior year in high school, he chose business—and, specifically, accounting. "Choosing accounting was a practical decision," he recalls. "I knew accounting majors got jobs, and it was a subject that seemed to mesh with how my brain worked."
Steve felt an obligation to do well in college. His dad had started college but wasn't able to finish due to family obligations, and so Steve felt a responsibility to his parents, who were financing his education, to "do it right." He constantly sought ways to challenge himself—by becoming a member of the honors program, for example, and taking upward of 18 credits each semester.
He also broadened his perspective with activities outside the classroom. He rowed for the Villanova crew team, the start of a lifelong passion. He also joined a fraternity, Lambda Chi Alpha, which is committed to helping others.
INTERNATIONAL EXPOSURE
Steve graduated near the top of his class at Villanova, and, as he was wrapping up his studies, he had several attractive job offers to consider, including from both Price Waterhouse (now PwC) and Arthur Andersen in Philadelphia. Encouraged by a professor to pursue public accounting, Steve joined the audit department of Price Waterhouse as a staff accountant in September 1988, after backpacking around Europe for the summer. He then studied for and passed the Uniform Certified Public Accountant Examination that fall.
Steve spent nearly three years in the Philadelphia office. Yet from his earliest time in public accounting, Steve recognized it was just a stepping-stone. "From day one, I knew this was not where I wanted to spend my career." Instead, Steve had his sights on a "big-name company. I wanted to be with a company people knew and respected, one offering products you can see, touch, and enjoy."
After several years working in public accounting, Steve forged a new plan: to combine his love of travel with a business degree. (Steve admits he hedged his bets: He took the LSAT as well as the GMAT because he also briefly considered a law career.) But he didn't want just any MBA; he wanted "an MBA with an edge." He selected the international MBA program at the University of South Carolina (USC), consistently rated as the top MBA program of its kind.
It was a highly intensive program (up to 21 credits per semester) and included 10 weeks of focused language study. It also required students to live abroad. Steve chose the German track (he had been intrigued by Germany ever since traveling there after college, before the Berlin Wall came down). For seven months, he lived in Cologne and interned in Munich at Roland Berger, one of the top management consulting firms in Europe.
While pursuing his international MBA, Steve created a wish list of companies he would consider joining after graduation. It was short: The Coca-Cola Company, The Hershey Company, Campbell Soup Company, and a few others. Right before returning home from Europe, in December 1992, Steve was notified that Campbell Soup Company, after reviewing USC's international MBAs résumé book, wanted to meet with him.
"I fell in love with the company. It had what I wanted: a household name, an international brand, and real products that people valued," he recalls. A few days after arriving home, Steve met with Campbell's audit director and had what he calls a great conversation with him. In June 1993, with his "MBA with an edge" in hand, Steve joined Campbell's corporate audit department in Camden, N.J., as a senior corporate auditor.
DECADES AT CAMPBELL'S
Steve's experience at Campbell's didn't disappoint. He loved his first job in internal audit because "it touched so much of the company and allowed me to travel to Argentina, Mexico, Australia, and many great countries in Europe." He spent two years in that role before briefly moving to a stint in financial planning and analysis, followed by an almost three-year position in business development as the finance manager for Campbell's new Center for Nutrition & Wellness.
In that role, Steve served as a core member of an entrepreneurial cross-functional team of more than 20 business professionals charged with developing and controlling the launch of Campbell's Intelligent Quisine business venture. "The position exposed me to so many things," Steve recalls. "I was involved in R&D [research and development] testing, supply chain, marketing, sales, logistics, and much more. And I had my first taste of being a true business partner and strategic advisor."
The great thing about working for a large company like Campbell's is that it affords the opportunity to take on many different roles. Steve took full advantage of those opportunities, and the experience taught him two important things.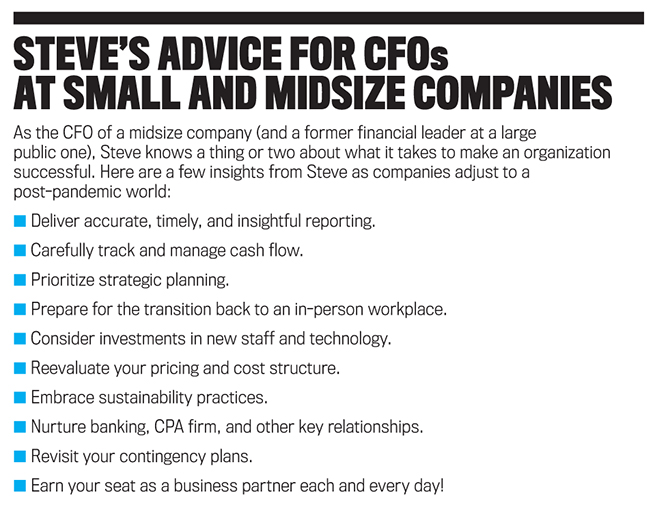 "First, the idea of the CFO as a business partner is nothing new to me," he says. "I feel like I've been living that since the start of my career—where I've had to be an effective part of a cross-functional team and rely on my ability to work collaboratively and view things from a broad business perspective.
"Second, I realized at some point that I needed to make a decision: Do I stay in finance and accounting, or do I move into general management? Playing to my strengths, I decided to stick to finance and accounting, realizing that as you move up in those roles, the more you get involved in general management anyway."
After his stint with Campbell's Center for Nutrition & Wellness, Steve next moved into a supply-chain role, followed by opportunities with Campbell's brand teams, sales organization, and controller's group. One of his most memorable roles was the two-and-a-half years he spent in the North America Soup Division as director of financial planning, analysis, and strategy for a portfolio of U.S. ready-to-serve soup brands, representing more than $600 million in annual sales. As the financial leader of and business partner to the brand leadership team, he provided analysis and decision support for strategic planning, market research, product development, marketing and trade programming, and special projects.
Under Steve's financial leadership, the Chunky Soups brand posted a record-breaking "trifecta" year, delivering double-digit volume, net sales, and earnings growth (for which Campbell's CEO awarded Steve and his team Campbell's highest annual honor for business performance).
Following this success, Steve was tapped in late 2003 to helm the company's global Sarbanes-Oxley Act (SOX) compliance initiative. In this role, he defined the company's overall SOX methodology and approach, trained more than 200 cross-functional associates, and led the company's core global SOX project team.
For his next opportunity, Steve moved to Ohio with his family to become the finance executive of the company's largest supply-chain operation, serving as the director/controller of Campbell's Napoleon Operations, based in Ohio. In this role, Steve oversaw supply-chain finance for the company's largest soup, sauce, and beverage operations in Napoleon; a thermal plant in Marshall, Mich.; a pasta facility in Wauseon, Ohio; and a network of what became more than 40 third-party warehouses, copackers, and repackers across the United States.
Steve served in this role for seven years before taking on his final challenge at Campbell's as the finance executive of Campbell's Napoleon & Flavor Operations. During this time, he oversaw a variety of supply-chain initiatives, including collective bargaining, implementing SAP, creating Campbell's Inventory Control Center of Excellence, and advancing Campbell's corporate sustainability goals.
Among the most memorable projects: forging local partnerships to develop a 24,000-panel solar array and a biogas system, which helped meet about 30% of the Napoleon site's electric requirements. Other successes: delivering more than $10 million in cost savings per year, outsourcing and offshoring transactional plant accounting activities as a pilot for Campbell's supply chain network, and realigning Napoleon's finance organization.
Thanks to his efforts to restructure and outsource many of the accounting and finance functions at Napoleon, Steve could foresee that his next role in the company would require moving away from Ohio. With a son just starting high school and a daughter two years behind, it wasn't a good time to relocate. "Moving at that point in their lives was something we weren't willing to do."
Steve's dream had always been to become a CFO, and now, his other goal was to remain in Ohio. He invested a solid six months networking as he, in his words, "searched for the next amazing opportunity." He found it at Plastic Technologies Inc. (PTI) Group of Companies. Based in Holland, Ohio, the privately held PTI is recognized worldwide for sustainable packaging innovation. Steve joined as CFO, treasurer, and secretary in August 2018 and has been "having great fun" there ever since.
EARLY INVOLVEMENT IN IMA
Steve earned a CPA at the start of his career, and his international MBA proved valuable during his 24-year upward climb at Campbell's. But he also briefly considered another credential. "In the mid-1990s, I saw an ad in the Journal of Accountancy for IMA's CFM [Certified in Financial Management] certification. It caught my interest, so I talked to my boss and signed up." But just as he received the CFM materials, Steve changed roles at Campbell's and left the idea behind him. Though he was no longer planning on taking the CFM exam, Steve still decided to become an IMA member in 1997.
It wasn't until 2006 that Steve became involved in a local IMA chapter. It began when he received a phone call inviting him to speak on the topic of SOX at IMA's Valley Forge Chapter. Soon after, he moved to northwest Ohio, and the positive experience prompted him to join his local chapter, now the Toledo Chapter. Around the same time, he met Jeff Thomson, IMA's then-director of research (and current CEO and president), at a SOX conference at Rutgers University in New Jersey, and they hit it off. Shortly afterward, in 2009, Steve was asked to serve on the IMA Global Board of Directors.
"I was honored to receive such a prestigious invitation," Steve says. "I still remember that first Board meeting, held during the Annual Conference & Expo in Denver. Former Chairs Bud Kulesza and John Macaulay gave me such a warm welcome, even inviting me to dinner my first evening, and I immediately felt part of this special group." Steve recalls many vivid memories of the work done during this first Board term, like getting the IMA Leadership Academy up and running.
Another highlight of Steve's early Board experience was his appointment in January 2011 as IMA's representative to the Committee of Sponsoring Organizations of the Treadway Commission (COSO) Internal Control—Integrated Framework Refresh Project Advisory Council. As part of this role, Steve created an IMA COSO panel, consisting of a team of IMA member subject-matter experts to support him. Steve gave two-and-a-half years of service to this project, near the end of which the COSO board chair asked him to author a white paper explaining to SOX practitioners how to transition to the new framework (jointly published by COSO and Strategic Finance in 2013 and available here).
A few years after that COSO experience, Steve felt a nagging regret about not being a CMA® (Certified Management Accountant). "Here I was, serving on the IMA Global Board for many years, but still not certified. It was something I had considered at various points in my career, and I decided it was about time." Steve enrolled in the program and took it as a challenge to pass both parts on his first attempt. Like many things Steve does, he wanted to do it right. And he did, not only becoming a CMA in 2016 but scoring so well on the exam that he was recognized with a CMA Certificate of Distinguished Performance.
POST-PANDEMIC PRIORITIES
As a member of the IMA Global Board for several terms, Steve has served on numerous committees. He's chaired the Performance Oversight and Audit Committee; the Member Relations Committee; and the 2017 Annual Conference & Expo Volunteer Program Committee. He's also been a member of IMA's Governance, Strategic Planning, and Volunteer Leadership committees and served as Board liaison to IMA's Committee on Ethics and Small Business Committee.
Steve has always placed a high value on community service, and he wants to instill that same passion for service in others. For his upcoming term as Chair, he has identified four priorities:
(1) Small/midsize business: As the current CFO of a midsize private company, he understands the challenges and opportunities of those working in small/midsize enterprises. "A high percentage of IMA membership works inside these types of organizations, so it's our responsibility to support initiatives that address their specific needs," he asserts.
(2) Thought leadership: Steve is committed to ensuring IMA continues its thought leadership role in the management accounting profession, particularly in areas like ethics; sustainability; diversity, equity, and inclusion; and the future of work. "My work on the COSO Advisory Council demonstrated to me the position of IMA within the broader accounting community. We're respected, we drive change, and we must continue our leadership role on key issues facing the profession."
(3) Global focus: "IMA is a global organization, and we must strive to understand what our members from all over the world need to remain competitive." He notes that IMA has more non-U.S. members than ever before and that's likely to continue. He's encouraged by the creation of the new Global Markets Committee (GMC)—which will support the growth of the CMA and IMA by focusing on the "voice of the member" and advising IMA's Global Board and staff on opportunities, risks, and global trends that impact overall performance—as well as the Regional Advisory Committees in China, India, and the Middle East. Steve looks forward to working with the GMC during his term to increase global alignment across the organization.
(4) Future of work: "The profession is undergoing change, and who knows what jobs and expectations will be in the next five to 10 years." Steve wants IMA to stay in front of these impending changes, supporting members in whatever new roles they must adapt to. That means developing relevant courses, conferences, research, and other resources. He sees new focus areas like data analytics and visualization as positive steps toward this goal.
Steve firmly believes that IMA gets its strength from the engagement of its members. That's why he encourages members to be ambassadors for IMA and the CMA. "There's a lot of uncertainty right now—about what the expectations will be post-COVID, especially in areas like risk management." Steve also acknowledges that the transition back to "normal life" may look different than we imagine.
"Our members should know that IMA is there to support them and will be able to respond to whatever changes are on the horizon," he says.
---
A McNally Sampler
Steve is the author of more than 30 articles, many of which have appeared in this magazine. The following is a list of some of his favorites:
"Corporate CPAs: A Beacon of Ethical Behavior," Pennsylvania CPA Journal, Winter 2021
"Forecasting Cash Flow Vital to Surviving the Storm," Pennsylvania CPA Journal, Fall 2020
"Business Transformation: No Pain, No Gain?" Strategic Finance, November 2018
"Creating an Inventory Control Center of Excellence," Strategic Finance, December 2017
"Risk Management: It's What We Do!" Strategic Finance, September 2016 (coauthored with Vincent Tophoff)
"The 2013 COSO Framework & SOX Compliance," Strategic Finance, June 2013
---