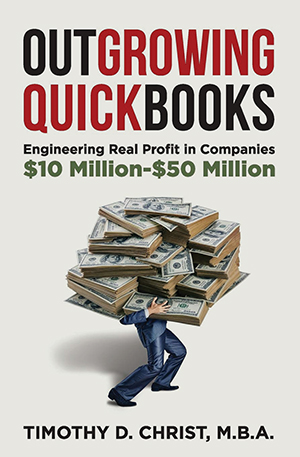 The first half of the book focuses on how best to maximize the value to your business of both employees within your organization and external business partners. The author, Timothy D. Christ, covers common pitfalls that small business owners will encounter and widely used strategies to remedy or avoid those detrimental situations. While the author targeted the book toward companies with $10 million to $50 million in revenue, many of these concepts may apply to businesses below that revenue threshold operating under less formal, hierarchical structures. In practice, most businesses surpassing the $10 million mark may already be aware of most of these topics and issues.
The second half of the book dives into the concepts of information systems and enterprise resource planning (ERP). The author correctly targets the key shortfalls of using QuickBooks for accounting management and lays out appropriate questions and considerations when selecting a new software platform and partner. He devotes a chapter of the book to ERP systems, augmenting it with a section on customer relationship management and another on analytics. ERP topics such as implementation partners and processes, resources needed to maintain the system, and other key points aren't covered in depth.
The author closes with advice on what the following specific industries might need to look for in an ERP system: healthcare, manufacturing, wholesale/distribution, professional services, nonprofits, and construction.
The writing is conversational in tone and easy to read and understand. The majority of the information covered is widely available elsewhere, and many readers who are already working in business or have a business education may have previously learned the concepts, so the book may be most useful for new entrepreneurs and individuals fresh out of college in their first role at a small business. More seasoned professionals may find it a light, refreshing reminder of core concepts.