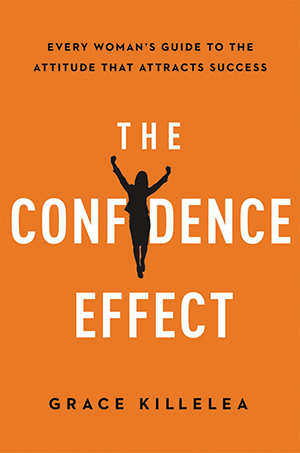 Grace Killelea, the founder and CEO of Half the Sky Leadership Institute, wrote The Confidence Effect: Every Woman's Guide to the Attitude That Attracts Success, an excellent guide for women to stop selling themselves short and fully realize their confident voice, which is likely to contribute to achieving business success. She provides a thought-­provoking guide for women to tap into their confidence using what she describes as the "Four R's of Success"—relationships, reputation, results, and resilience.
The Confidence Effect opens with a personal story from Killelea charting her professional climb up the ranks of Comcast Corporation that sets the tone for the book. The author advocates practically for women to identify opportunities and expand their influence. In order to be successful, you not only have to show up on time, but you also need to stand out and take charge, suggests Killelea. Within each section are chapters that identify a typical workplace situation that many women face, featuring personal stories illustrating how prominent businesswomen in varying fields met challenges with takeaways that anyone can use to build confidence and tackle difficult issues as they advance their career.
The personal stories and professional anecdotes within each chapter help to cement key concepts and highlight the feelings that the women whom the author interviewed were going through. Using these examples as illustrations for her arguments, Killelea discusses how to develop an executive presence, network effectively, gain power, and seize opportunities.
The Confidence Effect is an excellent tool kit for women to bolster their professional reputation. Killelea believes that many women are passed over for promotions due to lack of confidence. She differentiates between confidence and competence and argues that success is attained when these two characteristics are properly aligned. The tools provided within this book are helpful for women who are entering the workforce for the first time and for seasoned professionals.
This book provides an enjoyable vehicle for women to take an inventory of their current confidence level and then offers helpful ideas and tools that allow their confidence and competence to click. The recipe for this combination will help women at all levels of business to achieve more success.