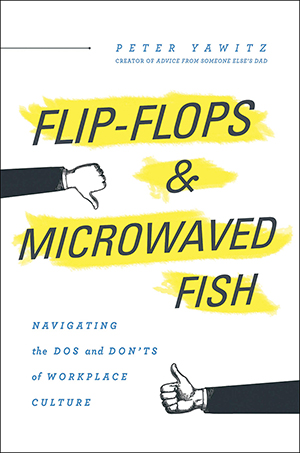 Flip-Flops and Microwaved Fish by Peter Yawitz is a primer on the do's and don'ts of workplace culture that will save students, job seekers, and early-career professionals a lot of grief, giving them the confidence to act in a mature, professional way.
Yawitz addresses the majority of questions that a new hire or early-career professional is likely to have but is too afraid to ask for fear of looking stupid. Most of us have been there—I was embarrassed to ask my much older male boss for directions to the badly needed women's restroom during the four-hour onboarding on my first day. Now I can laugh at that memory, but I'm not the only one who has this kind of story to tell.
The book includes discussions on how coworkers communicate, differences in corporate culture (including the classic example of IBM vs. Apple), how to structure your workday, what to wear and what not to wear, handling handshakes and air kisses (common in some cultures), improving verbal and nonverbal communication, writing professional emails, how to participate in meetings, being a good team member, avoiding food faux pas in the workspace, keeping personal and professional lives separate, knowing your company's policies on dating coworkers and travel, dealing with difficult coworkers, and how to ask for a promotion and raise.
It's all the stuff that you think everyone knows but that, for the most part, students and inexperienced professionals really haven't had to deal with, even though we think four years of college should have taught them at least some of these suggestions for better ways of behaving and being with others in a professional setting.
Yawitz blogs, hosts a podcast, and shares ubiquitous Facebook, Twitter, and Instagram posts. He includes some questions he's received as examples of how to apply his advice, which are instructive illustrations of his points.
It's an easy-to-read book that took me down memory lane, and I wish I knew someone who graduated this year so I could make it a gift. It would be especially helpful for those who are doing an internship, looking for their first job, or starting a new position, since most of these situations are magnified for interns or new hires who are toward the bottom of the corporate ladder, trying to figure out how to climb it.