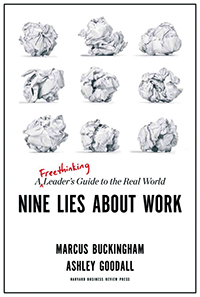 Each chapter is dedicated to debunking a different lie or misconception about professional environments. The authors, Marcus Buckingham and Ashley Goodall, do a great job of providing reasoning for why some current systems of organizing offices, teams, and workflows don't function well and offering potential solutions to improve these workplace problems.
Buckingham and Goodall don't waste any time challenging the reader to think differently by stating the first lie: People care which company they work for. Surveys consistently show that there's more variation in employee engagement within a company than between different companies. Ultimately, the authors conclude that people care more about which team they're on and whom they work with and report to directly than which company they work for.
Some of the other lies that I found most interesting to read about include: The best companies cascade goals; people need feedback; people can reliably rate other people; and work-life balance matters most. The authors discuss common practices implemented at many companies that aren't producing the desired results and fail to sufficiently engage a majority of workers.
While reading Nine Lies About Work, I kept asking myself, why do we keep doing things this way? I'm coming up on two decades of creating annual performance goals for our company's finance team. The monthly or quarterly updates always make me feel like I'm on a game show estimating what percentage of each goal I've accomplished. The authors propose ways to create deeper meaning and greater relevancy in performance goals for personnel.
The workplace is changing fast and requires a new way of thinking to attract the best employees for finance teams and beyond. Nine Lies About Work does a great job challenging current professional practices and providing solutions to these various workplace problems.