REPORTING A PROBLEM
The first way to communicate directly with the Excel team is known as "Send a Frown." This method is for providing feedback about something that's already in Excel but not working correctly. Make sure that you open a workbook that demonstrates the problem. If there's any confidential information on the screen, save the workbook with a new name and replace the confidential information with replacement data. Then go to the Help tab in the ribbon and choose Send Feedback.

To ensure a real human will read your feedback, follow these guidelines: Once you choose Send Feedback, a Feedback Pane will appear on the right side of the screen with three choices: I Like Something, I Don't Like Something, or I Have a Suggestion. Choose "I Don't Like Something." There's too much feedback coming in each day for everything to be read. Since no action needs to be taken for the things that are going well, those will be the last to be read.
After choosing "I Don't Like Something," you need to fill out a short description of the problem. To ensure your feedback is read, you must check all three boxes:
Attach my logs to help troubleshoot
Include screenshot
You can contact me about this feedback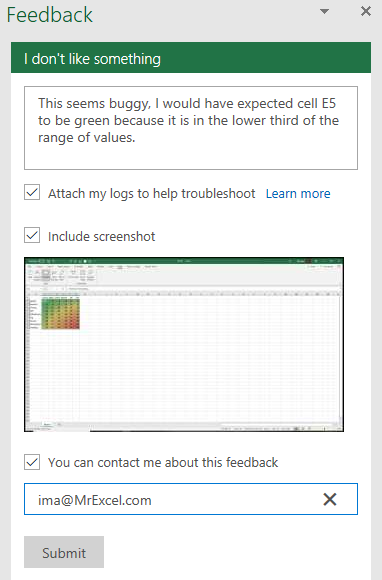 With that last box, be sure to include a valid email address that you check frequently. The Excel team members have found that there's a good chance they'll need to reach out to the person who sent the feedback in order to find out more information. They want to be able to reproduce the problem, and sometimes that problem might only happen when following particular steps, such as using Feature A after invoking Feature B with Option C selected. There are enough cases where the feedback report doesn't contain enough detail that it ends up in a dead end because the Excel team doesn't have permission to contact the person reporting the issue.
Thus, the feedback submissions where someone chose "I Don't Like Something," checked all three boxes, and supplied an email are the ones that get read first. Moving your feedback to the top of the queue is an effective way to get a resolution to the problem.
I was never disciplined enough to always check all three boxes. Once I started doing this, I found that I would frequently receive a note from the Excel team—and often that note said the problem would be fixed in an upcoming version of the product.
If Excel crashes, you should still send feedback even though there's nothing in the screenshot to send. Reopen Excel, go to Help, Feedback, and select "I Don't Like Something." Enter a description saying "Excel crashed in the last session." The information sent in the logs will be enough for the Excel team to diagnose what was happening right before the crash.
SUGGESTING A FEATURE
You probably have certain tasks that you perform monthly in Excel. And with some of them, you might think about how you could save a few clicks if Excel offered an option to default to a different setting. The Excel team won't categorize your idea as a bug since Excel is operating as it was designed to operate. But if the team makes your change, then Excel will be easier to use.
Share these ideas with the Excel team and the community of people using Excel by using the Suggest a Feature icon on the right side of Figure 1. Selecting this icon opens the UserVoice website (excel.uservoice.com)—branded as "Excel's Suggestion Box"—in a browser.
Your first step should be to choose the Mac, Windows, Mobile, or Online version of Excel.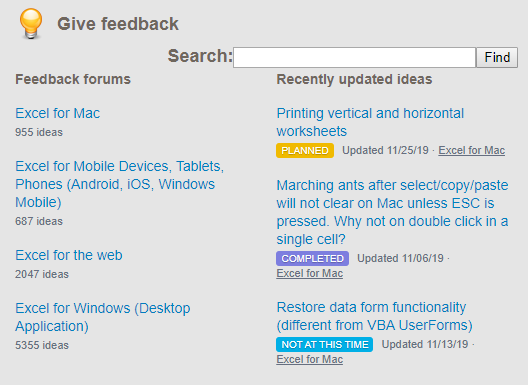 Once in the proper forum, you'll see the Hot Ideas category. It will help to read a few ideas to see the format that's most successful. A good submission has a title that explains the problem. In the description, be passionate about your idea.
While your ultimate aim is for the Excel team to implement your idea, your first audience is the other people who are reading the UserVoice site. The Excel team prioritizes ideas that have more than 20 votes. Use a little bit of humor or emotion in your write-up so that other people browsing the forum will think, "Yes! This annoys me as well," and vote for your idea. In my experience, while 20 votes will get you noticed by the Excel team, most of the ideas that get implemented have at least 100.

Many ideas on the UserVoice site have a status assigned by the Excel team. The best status is "Completed," which means the idea has made it to Excel.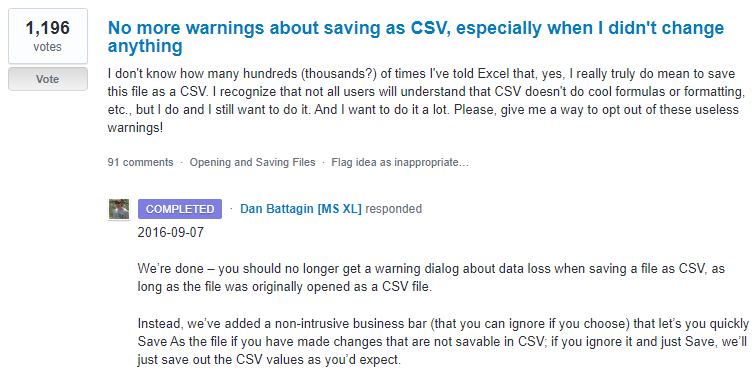 Another good status is "Started." This means the Excel team agrees with the idea and has assigned engineering resources to implement it. I'm less hopeful for items with a status of "Planned." This means the team agrees with the idea and will get to it one day—just maybe not this year. A status of "Accepting Votes" means the idea is on the bubble. They recognize it has potential, but it needs more votes to become planned.
A status of "Info needed" means the team doesn't completely understand the problem. A member of the Excel team might write, "We need to fix this, but it is not happening for us. What steps are you taking to have this happen?" This is why you should occasionally come back to check the status of your idea.
A status of "Not At This Time" means, "We've heard this idea before, and the engineering resources are too large for us to take on this idea."
The worst status is "Declined." This could either mean your idea didn't get 20 votes in the first 60 days or that the Excel team simply doesn't agree with the idea.
SF SAYS
To date, 57 features that were suggested on UserVoice have been added to Excel.