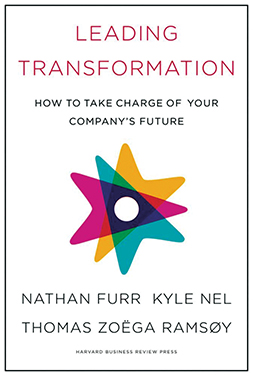 In Leading Transformation: How to Take Charge of Your Company's Future, Nathan Furr, Kyle Nel, and Thomas Zoëga Ramsøy explain that one of the biggest limitations to companies' ability to make significant changes to become more competitive and efficient is the human tendency to envision only incremental improvements to the status quo. Their book outlines the process by which Nel, working as a strategic consultant, was able to help Lowe's make a transformational leap.
The authors used "insights from behavioral economics, psychology, social psychology, applied neuroscience, and innovation" to create a framework for leading transformation in organizations. Throughout the book, they present examples that outline how Lowe's executives applied the change management process. Each chapter contains a "digital toolbox" section that provides tools, templates, and training to support and guide the implementation of these techniques.
Based on the Lowe's case study, the authors present a framework for leading transformation in any business that's also applicable to readers' personal lives. Strategic narrative, breaking bottlenecks, and creating key performance indicators (KPIs) are some of the iterative steps that are necessary to lead transformation.
The first step in the process, strategic narrative, is for companies to envision a whole new set of game-changing possibilities rather than settling for incremental improvement opportunities. The key is sustaining a commitment to creating those transformational possibilities. The second step in the process is using behavioral-science insights to identify and break bottlenecks caused by people's ingrained habits to bring about transformation. The third step in the iterative process of leading transformational change is the development of data-driven KPIs that will aid leadership in the evaluation and navigation of a strategic plan for optimizing the business.
Transformation is one of the hardest tasks that leaders are called on to perform, and successful transformation depends on using the right tools and processes. Leading Transformationdescribes what worked in various organizations to create change and offers advice for how to repeat those successful change management tactics.