"The purpose of this event is to provide a safe place for women in business and finance to share thoughts and experiences on leadership development and strategies for success. We hope it drives the message that women make competitive leaders for businesses and are equally fit for decision-making positions," said IMA Chair Ginger White, CMA, CSCA, who traveled to Jordan and India to participate in the events.
IN AMMAN, speakers included H.E. Mrs. Suhair Al-Ali, former executive chairman of the Social Security Investment Fund; Samar Obaid, partner and Middle East and North Africa (MENA) transaction advisory services leader at EY; Rasha Koro, CMA, CPA, finance director at liwwa; and Dana Hakuz, CMA, financial accounting manager at Orange Jordan.

Attendees in Amman, Jordan
"Sticky floors, leaking pipelines, glass ceiling—it's amazing how women seem to face similar challenges in all parts of the world. I also liked the discussion on how flexible work schedules are critical to women's career progression. I am so inspired by the successful women leaders in Jordan," said Sandra Richtermeyer, CMA, CPA, former IMA Chair and the dean of the Manning School of Business at the University of Massachusetts-Lowell, who attended the event in Amman.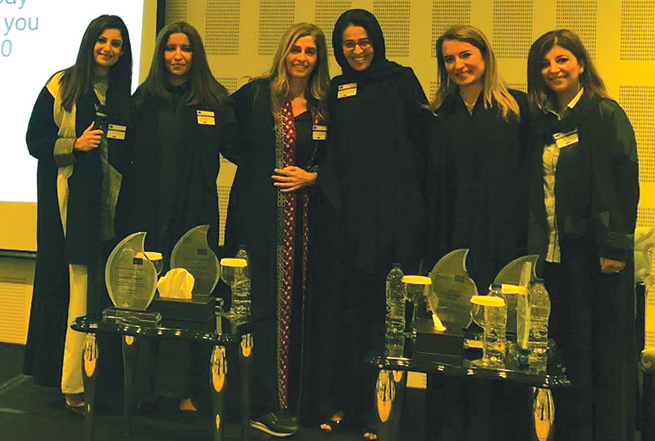 Attendees in Riyadh, Saudi Arabia
IN RIYADH, participants included not just women leaders from the accounting profession but also women executives running investment, financial services, and technology businesses as well as those in professional services, academia, and government positions. Speakers included Khlood Aldukheil, CFA, the managing director of Aldukheil Financial Group (AFG); Farah Foustok, CEO of Lazard Gulf; Joy Ajlouny, co-founder of Fetchr; Areej Abukar, CMA, PMP, senior manager at PwC; Elena Agaragimova, manager of careers and alumni at the University of Manchester's Middle East Center; and Noura Alkahtani, CMA, director of corporate business accounting at the Ministry of National Guard-Health Affairs.
"In line with Saudi Vision 2030, the government has been aggressively investing in opportunities for women to develop their talent and careers. Through these opportunities, women can do more to ensure gender-balanced leadership in finance and accounting," Alkahtani said.
IN BANGALORE, Sangeeta Shankaran Sumesh, executive director and CFO of Dun & Bradstreet Technologies & Data Services; Sandhya Sriram, vice president of finance at Wipro; Saraswathy Srikanth, chief audit officer of Mphasis; Niranjana C, the head of finance, accounts and administration, and power transmission and distribution at Larsen & Toubro; Latha Sharma, associate director of finance at Accenture; Shalini Koshy, senior India diversity & inclusion program leader at Amazon; and Shalini Puchalapalli, category director at Amazon India, represented women leaders from their respective fields at the event.
"One of the key skills that women leaders need to learn in order to climb the corporate ladder is prioritization and learning to stand up for themselves. A recent Harvard study says that women are volunteered in non-promotable tasks 1.5 times more than men are. It is critical that women learn to say no to things that don't add value to their role or are not in agreement with their values," Puchalapalli said in her keynote presentation.
In 2015, India became one of the first developing countries to mandate listed companies to have at least one women director on the board. The enforced quota has started to have an effect. According to research conducted by the Institutional Investor Advisory Services (IiAS), Prime Database Group, and Women on Corporate Boards Mentorship Program, female representation in the NIFTY 500 Index has increased to 13% in 2017 from a mere 5% in 2012.
"While women's labor force participation in India and the MENA region is still low compared to the global average, it is essential to recognize the context and appreciate this leap forward in recent decades and the milestones achieved in terms of gender pay gap and career opportunities," said Hanadi Khalife, director of Middle East and Africa (MEA) and India operations at IMA.
Sponsors for the events included the University of Manchester, Sage, Amazon, Orange, and EY.
Information for future Women's Accounting Leadership events can be found here.
---