First, some background: The Rays are in what many deem to be the most difficult division in Major League Baseball (MLB), the American League East, which includes the perennially strong New York Yankees, with 27 world championships to their credit, and the Boston Red Sox, the reigning world champions and the only team that has won four World Series in the current century. The Rays, whose $68.8 million payroll was MLB's smallest in 2018, according to internet-based sports research tool Spotrac, should be no match for such powerhouses. And yet they continue to remain competitive, finishing with 90 wins in 2018, tying them for the 10th-best record out of 30 teams.
While winning the World Series is every baseball team's objective, reaching 90 wins during the regular season is typically considered a successful season. This season, the Rays are also off to a highly competitive start. They've been at or near first place for most of the season and are on pace to again exceed 90 wins. Recent success aside, the team's performance is even more impressive over the longer term. Since reaching the World Series in 2008, the Rays have the fifth-highest regular-season winning percentage in all of baseball, trailing only the Yankees, the Los Angeles Dodgers, the St. Louis Cardinals, and the Red Sox—four teams with considerably higher spending ability.
When taking payroll into account, the Rays are easily the most efficient team in baseball. They again began the current season with the lowest payroll and regularly rank near the bottom in payroll year after year. In fact, their total team payroll is a little more than one-fourth that of the Red Sox, who are the biggest spenders.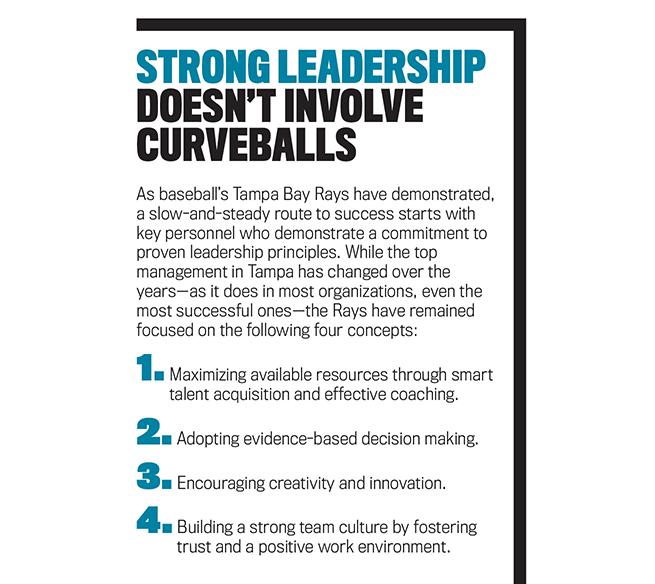 So what's their secret? How have the Rays managed to produce such consistently remarkable results in such a small market on such a lean budget? Their success offers important insights on various critical aspects of effective leadership that are relevant and adaptable to any business organization today, including yours. Let's take a closer look.
GET THE RIGHT PEOPLE IN PLACE
Compared to other highly successful professional baseball teams, the Rays don't have many superstars. The Rays' organization, however, has demonstrated an impressive ability to develop, blend, and retain new talent. Last season, its strong young pitching staff produced a Cy Young Award winner (awarded to the league's best pitcher) and was highly ranked in a number of pitching categories, including walks plus hits allowed per inning pitched (WHIP) and earned run average (ERA) per nine innings. As for offense, last season the Rays' hitters tied for third in the league in team batting average (.258) and on-base percentage (.333), and ranked second overall in stolen bases (128). The future looks promising, as the average age of the team is the fourth lowest in the league.
In the field, the Rays have many versatile players that play multiple positions. Many of the players don't get locked into a given role; they frequently move around and serve the team as needed. These lessons can apply to management accountants as well. For instance, someone who finds himself doing routine tasks that include preparing reports and budgets can just as easily—with proper training, of course—take on developing business models and assisting with strategic planning.
The players on the Rays appear to have great chemistry, with no apparent oversized egos. They're fun to watch as a team because each player seems to really enjoy what he's doing. In any organization, including among successful businesses, this level of cohesion is often the most important piece of the puzzle. As Jim Collins described in his now-classic business book, Good to Great, organizations that make this successful transition to a true team dynamic focus first and foremost on getting "the right people on the bus." These folks are disciplined and self-motivated. Leaders who find themselves constantly bogged down trying to motivate their people are at a competitive disadvantage. The right people shouldn't need much motivation. Instead, they need the trust of their leaders.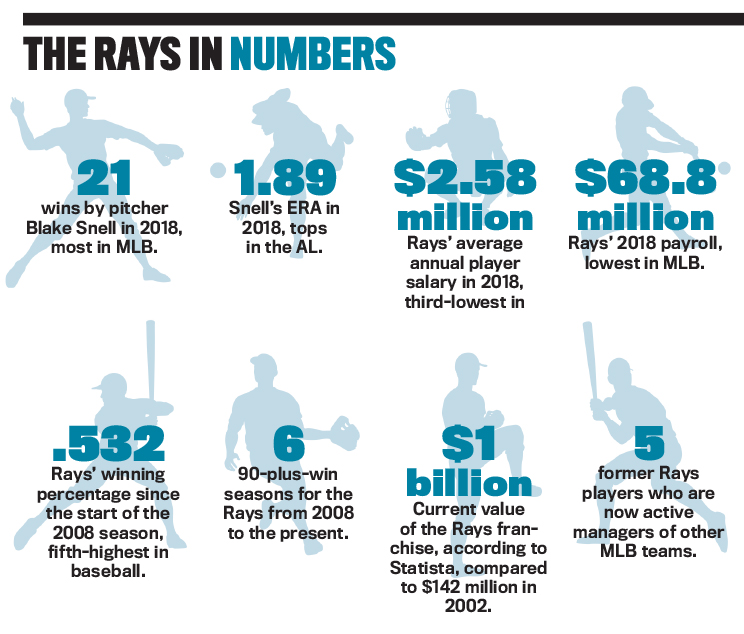 BE INNOVATIVE, TAKE RISKS
The Rays are recognized as being one of the most innovative teams in baseball. They aren't afraid to take informed risks and defy tradition. Many of the team's innovative strategies have been so successful that other teams have subsequently adopted them. Some of the Rays' unconventional practices include shifting fielders slightly or moving them to different positions on the field (having the shortstop and second baseman switch places at times, for instance) depending on who's at bat.
The team also recently created an "opener" role for its pitching staff, moving partially away from the traditional pitching rotation that relies on five starting pitchers. Each of these individual starters, on the day of their assignment, is expected to go as deep into the game as possible before fatigue (or the opponent's batters) dictate otherwise. By contrast, an "opener" is usually a non-starting pitcher—a "relief" pitcher, generally—who begins the game by pitching one to three innings, after which another pitcher steps in.
After adopting the "opener" role last season, the Rays felt the wrath of many in baseball, including fans, who felt they were breaking tradition. But the strategy has produced positive results, and the Rays are continuing the practice in the current season. Not surprisingly, a few other teams have experimented with the opener role—further testament that imitation is the best form of flattery. (For more on Tampa Bay's unorthodox strategies, see Tyler Kepner, "The Rays Are a Surrealist's Delight," May 16, 2019, nyti.ms/2WCJtYX.)
The business world, too, is full of examples of companies that have broken tradition, whether it's been to hire executives who've had success in other industries, introduce product lines outside of their typical bread and butter, or acquire or merge with long-standing competitors. In your own organization, there may be opportunities to shake things up much the same way as the Tampa Bay Rays have been fearless in doing. This could include everything from hiring the company's first female CFO to promoting talented rank-and-file workers into management positions and opening new offices in previously ignored markets. Or it could be something no one has even considered yet.
DEVELOP FROM WITHIN
With respect to player acquisitions, the Rays have tended to rely heavily on developing their own talent as well as offering contract extensions to a few young, promising players. This can potentially help the team lock in a gifted player during his prime playing years. Equally important, the Rays often seek to acquire more experienced, undervalued players that may be complementary, hidden gems.
To be sure, mistakes have been made—even the best scouts and executives occasionally make poor choices—but the Rays have been highly effective while consistently striving to allocate available resources in an optimal manner. Their decision-making approach isn't impulsive but rather relies heavily on research and analytics. In fact, the Rays were the first team this season to hire a "process and analytics" coach: Jonathan Erlichman, who has a mathematics degree from Princeton, wears a uniform and sits in the dugout along with the players during games. This move makes it clear that management decision making is data-driven and evidence-based, as opposed to primarily subjective and intuitive.
In addition to "J-Money," as Erlichman has been nicknamed, the Rays have also hired a senior data scientist, a baseball performance science analyst, and two predictive modeling analysts, according to the Tampa Bay Times. These experts crunch data in the hopes of giving the Rays an advantage in any number of specific game-time situations and player matchups.
The lesson for leaders here is that risk and opportunity are soul mates. It's important to be willing to take calculated risks and learn and grow from mistakes. To that end, the Rays' management team plans to integrate on-field and front-office personnel, including employees who handle data. Yes, it's an unconventional approach, and the uniformed "numbers guys" have taken some good-natured teasing from the coaches and ballplayers, but it's all done with the goal of tightening bonds throughout the organization. Will it help to improve the Rays' chances of winning their first World Series? Only time will tell.
BUILD TRUST
As a business leader, once you get the right people in place, more than half the job is done if you can learn to trust them. High-performing, self-directed people thrive on trust. As you probably know from your own experience, a leader's trust affords employees the confidence to fully focus on the mission rather than being preoccupied with the leader's perceptions and reactions.
Over the last decade, the Rays organization has wisely hired managers and coaches who have worked on developing a strong bond with their players. At press conferences and interviews, they support their players—even when they make mistakes. They don't come across as leaders who believe their primary role is to hold others accountable for doing their jobs. The right people don't need you to be obsessed with accountability; most of the time when they fall short, they'll be harder on themselves then you could ever be.
An excellent book on the importance of building trust is The Speed of Trust by Stephen M.R. Covey, who, in his research, found that "the best leaders have a propensity to trust." After they put the right people in place, they willingly extend trust first. Covey found that leaders and organizations with high levels of distrust place an enormous "trust tax" on themselves, which slows down productivity and increases costs.
In the case of the Rays, being able to develop highly effective, trustful relationships with players has also helped several executives and coaches gain significant admiration and respect around the league, and many have been recruited by other teams. Former Rays coaches who have recently been promoted to head manager positions of other clubs include Dave Martinez (Washington Nationals), Charlie Montoyo (Toronto Blue Jays), and Rocco Baldelli (Minnesota Twins). In addition, Andrew Friedman, the Rays' former general manager, was recruited and eventually hired away by the Los Angeles Dodgers, who have played in the World Series the last two years.
Last, but not least, most followers of baseball know that the Rays' colorful former manager, Joe Maddon, went on to lead the Chicago Cubs to a World Series championship in 2016, ending the team's painful 108-year drought. As a recent New York Times article suggests, the Rays are a popular organization to turn to for other baseball teams looking to fill leadership positions. (For more, see Tyler Kepner, "As Baseball Fills Leadership Jobs, Everybody Loves the Rays," October 26, 2018, nyti.ms/2WFEHdu.)
WORK HARD, PLAY HARD
As a management accountant or other financial professional in a leadership role, you know that happy people are more productive. The Rays cultivate an environment where players strive to perform at their best but are also clearly having fun, which definitely played a part in their 90-win season last year as well as their success in previous seasons.
In fact, there's plenty of research to suggest that happy workers achieve better results. In Work Happy: What Great Bosses Know, author Jill Geisler states that leaders who care about the happiness of their employees will reap greater rewards. Not surprisingly, being a good listener is critical. As Geisler explains, get to know your people; don't assume they're all the same. Find out what matters to them and seek to be supportive in ways that are meaningful to each of them. Their confidence will grow by leaps and bounds when you genuinely care about them as human beings and have their best interests in mind.
There's no doubt that success requires technical competence and execution. Notwithstanding, effective leadership is all about maximizing the use of your resources to positively influence others to achieve desired results. The Tampa Bay Rays have shown that having sustainable success doesn't require a fat wallet. They've demonstrated that hiring the right people, being innovative and willing to take risks, building trust, and thoughtfully working to keep employees happy can go a long way toward overcoming budget challenges.
The same formula can spell success for any organization, large or small. To keep their teams on the winning track, financial and other business leaders—which may include you, if you're in such a role—shouldn't overlook these vitally important aspects of leadership. The goal may not be to win a World Series, but the satisfaction you and your team can derive from "keeping your eye on the ball" can be equally profitable and gratifying.
---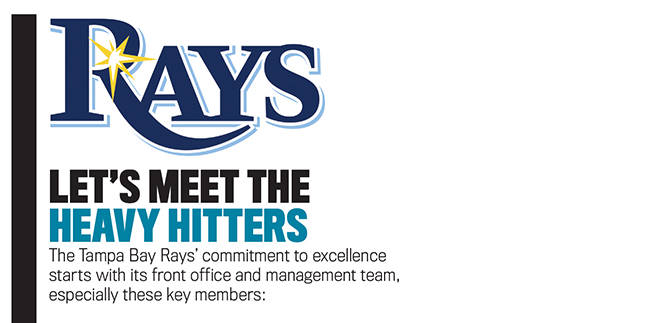 STUART STERNBERG, PRINCIPAL OWNER. Sternberg is a former Goldman Sachs partner and managing director who brought his Wall Street financial and strategic planning acumen to the Tampa Bay Rays organization in 2005. Barely three years after his arrival, the Rays transformed themselves from a perennially losing team to finishing first in their division and reaching the World Series. In short order, Sternberg has earned considerable recognition for becoming the most resourceful owner in all of baseball. A good listener and student of the game, he continuously seeks innovative ways of gaining an edge on the competition. Despite being in a small market with a challenging fan base, Sternberg has turned the Rays into consistent contenders and, according to Forbes, has quintupled the value of the franchise to more than $1 billion.
MATTHEW SILVERMAN, PRESIDENT. The departure of former general manager Andrew Friedman presented the opportunity for plenty of internal growth within the organization. Silverman, as well as other team executives, has more than risen to the challenge. Silverman is currently sharing the role of team president with Brian Auld—they are both Harvard graduates who have known each other since going to high school together in Dallas. Silverman worked closely with Sternberg at Goldman Sachs and helped him structure the purchase of a controlling interest in the Rays. At age 29, Silverman became one of the youngest team presidents in baseball. Street & Smith's Sports Business Journal has twice named him to its "Forty Under 40" list, which honors accomplished and promising sports executives under age 40.
KEVIN CASH, MANAGER. According to the Gallup organization, having the right manager in place accounts for 70% of the variation in employee engagement and organizational performance. Nevertheless, with no prior managerial experience, Cash—a former player, scout, and bullpen coach—was hired as manager for the 2015 season after Joe Maddon left for the Chicago Cubs. Cash and his supporting coaching staff have since inspired a team culture that brings high energy and the drive to compete to every game. He and his staff also implemented the innovative and productive "opener" strategy. In 2018, Cash finished third in voting for the American League Manager of the Year award. In October 2018, the Rays extended his contract through 2024.
---