Traditional audit and IT skills don't incorporate the more advanced data mining skill sets required for performing analytics tasks. The accounting and finance professional ideally should possess database management and data analysis skills in addition to antifraud and other accounting-related skills.
That's why the Singapore Management University School of Accountancy (SMU-SOA) aims to develop versatile accounting professionals and business leaders through holistic education, thought leadership, and collaboration with businesses and society. We place a strong emphasis on the industry responsiveness of our accountancy curriculum and seek to offer more opportunities for students to develop themselves through professional programs that complement their academic studies at SMU-SOA.
Recognizing that IMA® (Institute of Management Accountants) shares our common interest of providing holistic learning and education opportunities for individuals to pursue globally relevant professional qualifications, SMU-SOA earned endorsement from IMA's Higher Education Endorsement Program in 2017.
THE SKILLS GAP
One of the challenges in providing students with the skills they need to succeed is reflected in the revived discussion about the widening skills gap in the accounting profession. For instance, a Robert Half survey states that eight out of 10 CFOs in Singapore are unable to hire accounting and financial professionals with the right skills for the job and that the problem is likely to become worse in the next five years. As Matthieu Imbert-Bouchard, managing director of Robert Half Singapore, said, "Combined with new regulations and the skills shortage, finance leaders are struggling to find the talent they need to face commercial challenges in 2019."
These findings are just some of the latest results in the skills gap conversation. Many other studies conducted by accounting firms and professional bodies point to the same trend. Without a concerted effort to increase the pool of accounting professionals skilled in technology, this burgeoning skills gap will continue to grow.
In 2017, we at SMU-SOA conducted focus group discussions with 23 senior industry practitioners to understand the industry needs of the next decade. The majority of the practitioners agreed that data analytics will play a vital role in the future of accounting. Yet data scientists often lack domain knowledge in accounting areas, while those with knowledge in accounting or business areas lack the technological know-how. The key challenge companies faced was recruiting talent with knowledge in both disciplines.
Through these findings and given the ongoing conversation on digitalization in the accounting profession, it became apparent that educators should take the lead to groom the right talent to meet the current and future demands of the industry. SMU-SOA decided to take the first leap and introduce accounting data analytics programs in our curriculum.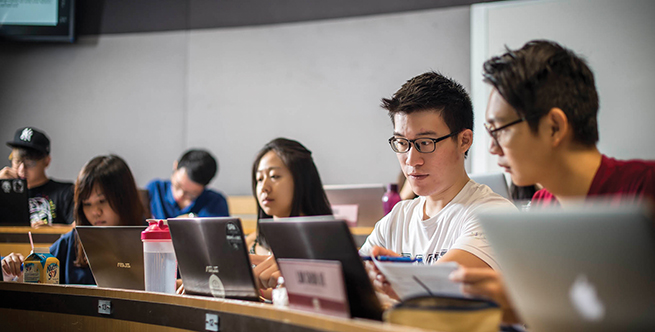 REVAMPING THE CURRICULUM
In January 2018, SMU-SOA launched three new accounting data analytics programs designed to develop a sustainable talent pool of tech-savvy accounting and finance professionals, including a second major in accounting data and analytics, a master of science degree in accounting data and analytics, and a certificate in accounting data and analytics (see Table 1).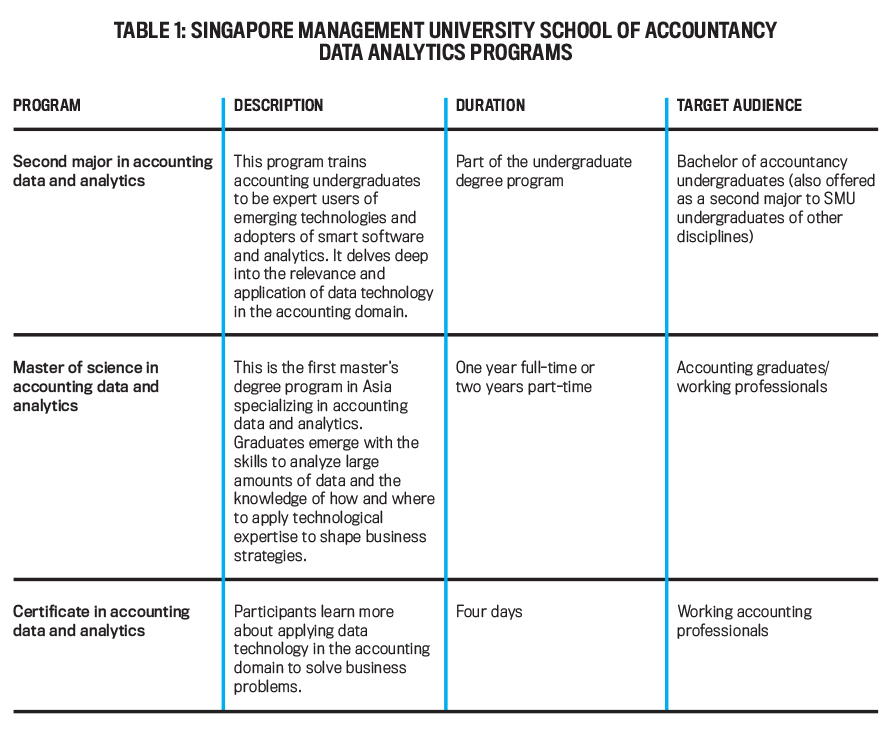 When designing accounting data analytics courses, we consult with our industry partners and ensure that our content is current and relevant. We also invite industry partners to teach some of the courses or mentor the students for projects. Let's take a look at a sample of the courses offered under our accounting data analytics programs and highlight some of the special features and characteristics.
APPLICABILITY OF TECHNOLOGIES IN THE ACCOUNTING CONTEXT
In the Statistical Programming course included in the second major in accounting data and analytics, the students acquire knowledge in applying statistical theory for analyzing data that's crucial to all four stages of analytics (descriptive, diagnostic, predictive, and prescriptive).
One of the tools they're exposed to is R programming. R is an established, open-source statistical programming language containing data analysis packages used in transforming, mapping, and visualizing data to facilitate advanced analytics techniques such as machine learning. With accountants handling data that's growing in volume and variety, it's essential for them to harness the power of R in analyzing the data to help organizations make better business decisions.
For example, the financial statements in R (finstr) package allows for the creation of reproducible financial statement analysis enabling users to store, share, reuse, and reproduce results from their analytical work. This helps management accountants better handle data that's customized to corporate strategy through improved financial reporting.
The budgeting in R (budgetr) package also helps users create budgets easily in order to support the company's finance function. The created budgets and schedules can be replicated and updated using R scripts for automation to ensure that the arduous tasks of doing so can be handled by a machine, thereby freeing up accountants to focus on interpretation of analyses and the application of the results to management action.
Last, activity-based costing (ABC) can also be improved through the use of machine learning techniques in R to trace overheads more efficiently and assign them appropriately. Optimization algorithms will be faster at calculating costing ratios and hence enhance costs distribution. The accountant's role then becomes one of interpreting the machine learning outputs and designing implementation measures for management while also evaluating the machine learning performance. This will ensure that the machine learning is continually monitored and improved.
In the Data Modelling and Visualization course, part of the second major in accounting data and analytics and the master of science in accounting data and analytics programs, students learn to automate and improve accounting processes and tap on visualization software to analyze, model, and present complex data via interactive dashboards for decision making in the accounting context. One of the methods covered is linear programming, a form of mathematical optimization that seeks to determine the best way of using limited resources to achieve a given objective.
A management accountant's knowledge of relevant revenues and costs is important for many decisions, including capital budgeting, outsourcing, special orders, product mix, and the adding or dropping of specific product lines. When figuring out how to make the most of limited resources, employing a form of mathematical optimization can help determine the best approach.
Linear programming is one technique that accountants can readily apply to determine the best outcome in these situations. For example, when tasked to determine the optimal production mix to maximize profits given a limited set of resources, linear programming can be employed to analyze multivariable financial and operational problems to derive the optimal production mix, which can fulfil a variety of business objectives. Where required, this modeling can also be scaled up to deal with more complicated business problems.
INDUSTRY PARTNERSHIP PROGRAMS
Engaging the industry in the design of any accounting curriculum is crucial to ensure relevancy and applicability of content. SMU-SOA took this one step further in the design of our accounting data analytics programs.
In January 2018, SMU-SOA signed a memorandum of understanding (MOU) with Deloitte Singapore to collaborate on various audit analytics projects and programs. Under this partnership, Deloitte Singapore designs and teaches the Audit Analytics elective module offered in the second major in accounting data and analytics. This makes Deloitte Singapore the first to design and teach the Audit Analytics elective under SMU-SOA.
In Audit Analytics, students learn how to apply data analytics in audit based on an underlying risk-based methodology with real-life examples and have the opportunity to interact with and present their final projects to Deloitte Singapore Audit & Assurance partners. In addition, under the MOU, Deloitte offers priority internship placements to SMU students so that they can get firsthand opportunities to work with the analytics team within Deloitte, which will also sponsor book prizes for the two top-performing audit analytics students.
SMU-X COURSES
In 2015, SMU pioneered the SMU-X Initiative, a paradigm shift toward teaching and learning involving close collaboration between the university and its external stakeholders. SMU-X courses combine academic theory with experiential learning through the use of real unsolved issues and projects. It's interdisciplinary either in topic or approach or in the student composition to ensure that the problems are viewed from multiple angles. It partners with industry, nonprofit, and government-sector organizations to develop and teach its courses and projects. SMU-X partners and SMU faculty are involved in active mentoring so that students benefit most out of this deep relationship.
The SMU-X Accounting Analytics Capstone Course is taken by all SMU students pursuing the second major in accounting data and analytics in their final year. The hands-on capstone project represents an opportunity for students to apply what they have learned in the accounting data and analytics curriculum in a real-world setting. Building on the foundations of statistical models, students adapt them to fit the project cases they are tasked to solve, taking on the role of consultant teams working with their clients to develop forecasting models for inventory, production, and product sales planning.
The Accounting Analytics Capstone Course operates on a partnership model, where companies such as small and medium-sized enterprises (SMEs) can collaborate with SMU faculty to mentor students in data analytics projects that will help solve complex financial analytical problems in a real-world setting. For example, an SME from the food manufacturing industry commissioned a team of five accounting students from the Accounting Analytics Capstone Course in January 2018 to build a financial forecasting model with both analytical and predictive capabilities. The SME was eager to venture into new and different markets but lacked sufficient information to proceed, such as operating costs and return on investment (ROI).
With the help of predictive analytics, the company could calculate the likelihood of success when introducing a new product in a new market with methods such as identifying the countries with market potential for the specific food item consumption and calculating the start-up costs, the sales volume that would enable the company to break even, the ROI, and even the expected profit following five years of operations. Throughout the project, as consultants to the SME, the student team brainstormed possible actionable insights and recommendations using the financial model it had developed.
OVERSEAS ACCOUNTING STUDY MISSIONS
Industry collaboration has expanded beyond our shores to engage companies in the region as well. Under the SMU-X Overseas Accounting Study Missions, students act as consultants for a company overseas under the mentorship of a faculty member. The course concludes with a study trip to the country where the offshore company is located and a final presentation to the management of the offshore company.
In December 2018, a group of 29 SMU undergraduates embarked on a study trip to Laos to work with K.P. Company Limited (K.P.), a prominent Laotian conglomerate. Their task was to examine how data analytics could be applied to accounting data to help the company make better strategic business decisions. With university faculty and company executives acting as mentors, students worked on a variety of projects that took large amounts of accounting data that the company had in its accounting systems and built sophisticated management dashboards and valuation models for several business units within K.P.
Senior managers of K.P. found the dashboard and valuation models developed by students to be relevant and useful for the company, particularly as it's in the midst of adopting new sets of key performance indicator (KPI) tracking systems to comprehensively evaluate staff performance and is also seeking to expand its business (see bit.ly/2XHZjS2).
THE NEXT PHASE
A year after implementing the new programs, SMU-SOA has seen a healthy take-up rate for our data analytics programs, and the numbers continue to grow. Currently, we have approximately 130 undergraduates in the second major in accounting data and analytics and 36 students in the master of science in accounting data and analytics program. We also have conducted two runs of the certificate in accounting data and analytics program.
This reflects the growing realization and acceptance that the expectations for the accounting professional today are vastly different than they were in the past. Technology has enabled mundane menial tasks to be completed in half the time or less, but relevant expertise is needed to run these systems and programs within the accounting context. The next generation of accounting professionals is expected to possess sound accounting knowledge underscored by a strong proficiency in accounting technologies and to be able to interpret and communicate data effectively to management and clients. This is the skill set that the SMU-SOA curriculum is designed to develop in our students.
In addition, with technology taking on a prominent role in the profession, the frequency and pace of continuous learning for working accounting professionals will be vastly different as well. They will need to keep pace with technology and continuously seek opportunities to keep themselves up to date in the latest developments and tools. Increasingly, professional institutes and universities, including SMU-SOA, offer short workshops and courses to allow accounting professionals to stay current with the latest developments in analytics tools and techniques.
The silver lining behind the Robert Half survey was the anticipated surge in remuneration for job candidates who are technologically adept, demonstrating a strong potential in the accounting sector. Contrary to a common misconception that automation will lead to a decline in the accounting profession, automation and digitalization will instead lead to growth potential in the accounting sector locally and regionally.
This echoed the Report of the Working Group on Legal & Accounting Services by the Committee on the Future Economy (CFE), released in April 2017, which identified accounting as a growth sector for Singapore. The CFE recommended that Singapore aim to capture international demand for legal and accounting services and become a go-to location for international commercial transactions. This presents tremendous career development opportunities for the accounting professional with the right skill set and mind-set toward continuous learning.
As the industry begins to realize that education is the key to closing the widening skills gap, there is growing momentum in the upskilling of those currently working in the accounting sector, as well as in the training and hiring of the next generation of accounting professionals.
With programs such as SMU-SOA's updated accounting data analytics curriculum, one day, in the not-so-distant future, a sustainable talent pool of tech-savvy accounting and financial professionals will certainly emerge.