He began his career not as an accounting or even finance person but as a marketing professional, something that's given him a broad understanding of how business works. "I didn't find finance; finance found me," he explains—and it's a good thing that it did. Christian will bring his broad business knowledge and deeply inquisitive perspective to his role as IMA Chair for the 2019-2020 fiscal year.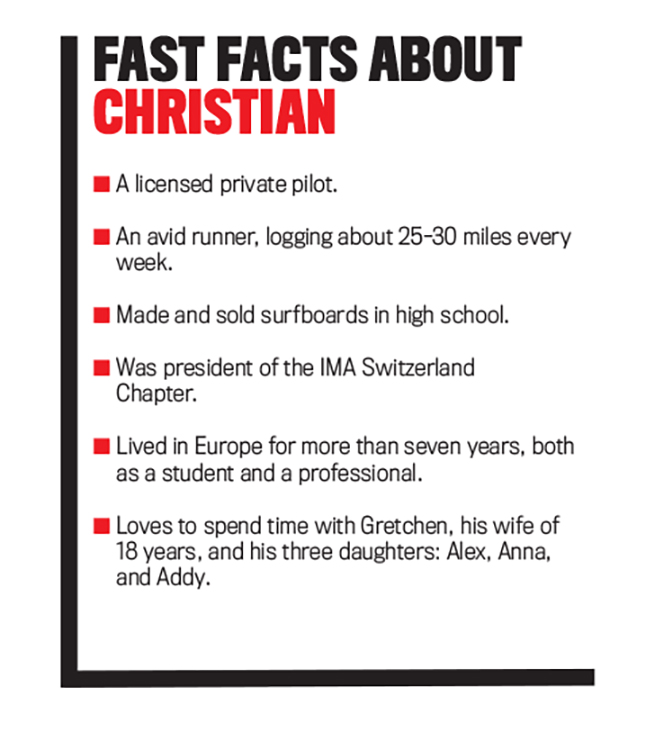 INTERNATIONAL EXPERIENCE
Christian was born in Lake Tahoe, Calif., the oldest of three boys. His mother worked as a nurse, and his father was in construction. When Christian was 10 years old, his family moved from Carson City, Nev., to Santa Cruz, Calif., near San Francisco, where he attended high school. He was a left-brain kid, excelling at math and chemistry, and he was fascinated by business, thanks to an uncle who owned a food additive company in Long Beach. When it came time to apply for college, Christian decided to remain in California to pursue a degree in international business at San Diego State University.
Christian loved his international business courses, and he also grew interested in studying German, mainly because of his family lineage. He wanted to learn more, but his options were limited. "I didn't think there were too many opportunities to improve my German-speaking skills as a student in San Diego," he recalls. In 1994, his junior year, Christian applied for a yearlong opportunity at the University of Heidelberg, a rigorous program that required him to pass both written and spoken language tests before he was admitted. Fascination with Germany was high at the time because the Berlin Wall had fallen only three years earlier. "Many people were focused on what was happening in East Germany, so it was an incredible time to be there," he says.
The experience helped Christian become fluent in German; it also motivated him to use his experience to work abroad. After earning his B.A. degree in international business, Christian accepted his first professional position in the rotational program in the marketing department of BASF, the world's largest chemical producer, headquartered in Ludwigshafen, Germany. The position required Christian to relocate from California to New Jersey. He spent three years at BASF's Budd Lake, N.J., location before taking a six-month assignment at corporate headquarters in Germany.
When he finished his experience abroad with BASF, Christian moved back to Northern California and took a job in the marketing department in the semiconductor division of Sony Electronics, where he spent five years. This was during the dot-com boom, and opportunities were abundant for those with excellent skills and ambition. It was while he was at Sony that Christian decided he wanted to pursue his MBA degree, which he did by attending the University of San Francisco part-time.
Right after he graduated, Christian learned about a great opportunity: Johnson & Johnson (J&J) was recruiting for the finance department of its Diabetes Care business in Milpitas, Calif. After going through a very intense and competitive screening process, Christian was selected as one of several MBA graduates hired by J&J that year. It marked the start of Christian's now 15-year career with the company.
OPPORTUNITIES AT J&J
Christian joined Johnson & Johnson in 2004 as a financial analyst at LifeScan in the San Francisco Bay Area, where he supported the commercial U.S. sales and marketing as well as Managed Care marketing. He spent three years there before being promoted to finance director for supply chain in the Medical Devices segment, an opportunity that required him to relocate his family to Zug, Switzerland. It was the third time he had lived in Europe, and, of course, his German continued to improve. He loved the experience. In fact, his youngest of three children was born there.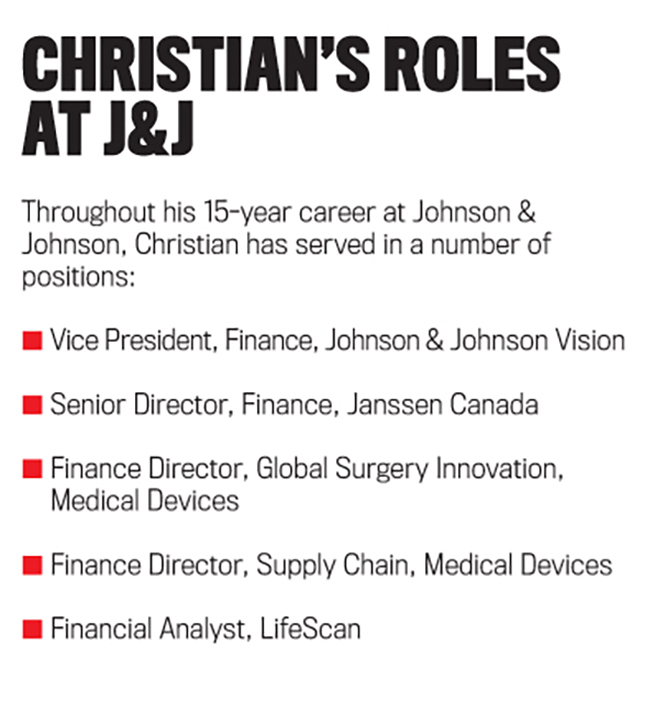 Despite spending five years overseas, however, Christian wasn't ready to become a permanent expatriate. In 2012, J&J moved him back to the U.S. to take a position as finance director, Global Surgery Innovation, within Medical Devices. This position brought him back to New Jersey, where he worked at the company's headquarters in New Brunswick and another campus in Somerville. In this role, Christian provided financial leadership to the research and development and new business development organization of the Global Surgery group of the Medical Devices & Diagnostics segment. He did this for three years.
Next, J&J gave Christian the opportunity to make another move—this time northward to serve as the senior director of finance for Janssen Canada, the largest pharmaceutical company in Canada, located in Toronto. In this role, he was the leader of the division's shared services organization as well as the one responsible for all financial management aspects of the Pharmaceutical Division's business.
At Janssen, Christian learned about healthcare economics and the pharmaceutical regulatory process in Canada. He also was the executive sponsor for the deployment of an enterprise resource planning (ERP) system across all J&J businesses in Canada. It was through this process that he first learned about the role finance professionals play in the architecture of an enterprise-wide system and, more specifically, how finance professionals need to think about data and the ability of the system to closely align with an understanding of the business.
After three years at Janssen, Christian was given the opportunity to return to California. In February 2017, he was asked to serve as the vice president of finance for the Vision Business within J&J, a $5 billion subsidiary in the Medical Devices segment. He oversees all financial aspects of the business globally, working with his team to enable the business to provide eye care professionals with cutting-edge insights, science, and technology to solve a lifetime of eye health needs.
ENGAGEMENT WITH IMA
Christian's involvement with IMA® (Institute of Management Accountants) began like that of many other IMA members—when he decided to earn his CMA® (Certified Management Accountant) certification.
Soon after being hired by J&J, Christian heard about the certification from his colleagues and friends. Only two years into his tenure at the company, Christian was encouraged to pursue it. That's a common occurrence among J&J employees because the company has supported certifications and the CMA for many years. Says Christian, "Earning a certification is definitely considered one of the ways to develop and advance your career within the company."
Still, Christian realized that his background was primarily in marketing, finance, and other business functions; he didn't consider himself an accountant. At the time, the CMA exam was a four-part test, and Christian's colleagues who had joined the company at the same time were studying for it as well. "It definitely helped to have that support—plus a bit of competition helped us all to do better." By studying with his peers, Christian passed the exam, fulfilled the experience requirement, and became a CMA in 2006.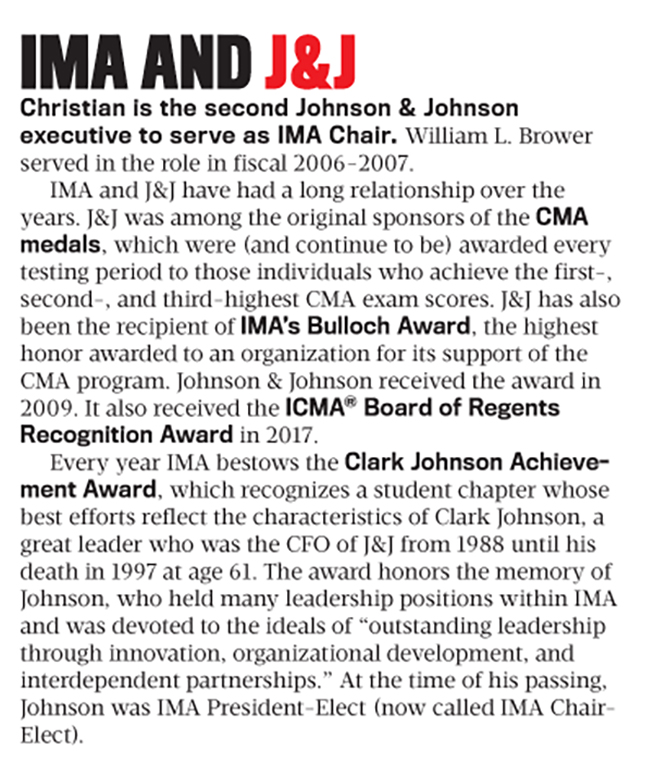 Broader engagement as an IMA member came a few years later. In 2010, while working in Switzerland at Medical Devices, Christian was approached by David Bancroft and Nina Michels-Kim, director of IMA Europe operations at the time. "Nina and David had recently started an IMA chapter in Switzerland because we were starting to gain momentum with our membership numbers there. They had asked me to become involved and serve on the board. My immediate instinct was to say 'yes,' and so, working together, we got things started," Christian recalls.
With the help of dedicated IMA members, including Bancroft as the first president, the chapter began to grow. Christian served separate terms as chapter president and treasurer, during which time the chapter organized numerous well-attended events, including inviting then IMA Chair Sandra Richtermeyer to speak at a chapter event. Within two years, the chapter had swelled in membership, and it continues to attract new members. The Switzerland Chapter is now a vibrant, thriving community, currently led by Hessel H. Brouwer, head of financial control at Datwyler Technical Components.
The experiences in the Switzerland Chapter sparked Christian's interest in getting involved in IMA at a more global level. While in Switzerland, and again at the prompting of Michels-Kim, he was encouraged to seek a position on the IMA Global Board of Directors, which he did in 2012. As an IMA Board member, Christian has been involved in several committees, including chairing the Member Relations Committee and serving as a member of the Governance, Planning and Development, and Nominating Committees.
FUTURE VISION
Christian had been approached for several years before finally deciding to accept a nomination as IMA Chair. "It's a big commitment, and I needed to make sure it was the right decision, not only for me and Johnson & Johnson but also for my family." Although he has a young family and a demanding job, he also realized that there is no "perfect time" to become Chair. And he's thrilled to be taking on this role at such a pivotal time in the association's history.
He sees that IMA's influence throughout the world is strong and growing, especially globally. "We have the first-mover advantage in many markets and a good foundation, but that doesn't mean we can assume it will stay that way and that we can rest on our laurels. We need to be aware that there are competitors out there as well as organizations that want to collaborate with us."
One of the ways Christian believes this can be done is by working more closely with corporate employers, which he considers "one of IMA's biggest opportunities in the U.S. and around the world." Membership awareness among large employers will be a major focus during his tenure, including boosting engagement with employers about why CMA certification is important and what it can do for their employees and their organizations.
This awareness was driven home during Christian's recent trip to China, where he witnessed the tremendous enthusiasm for the CMA certification and the opportunities it can create. "We had events that attracted 600 or more people, just huge numbers of committed professionals and students, all eager to hear our message about management accounting, certification, and the importance of becoming future-proof," he says.
Similarly, he's committed to extending IMA's member programs outside the U.S. so that members globally have the opportunity to attend. The recent Student Leadership Conference in the Middle East and the Women's Accounting Leadership Series events in Europe and India are just two examples of this. So is the holding of the fall Global Board of Directors meeting in Amsterdam. "We need to continue to reach out to members globally and to recognize the sometimes-unique challenges they face," he explains.
Finally, Christian wants to get members more engaged in what he calls "paying it back," or spreading awareness about the CMA among their colleagues, employees, and friends: "Ideally, all members need to participate in sharing the message about the benefits of certification and how it can improve your career outlook and help you better deliver value."
Christian personally appreciates this message. Working at Johnson & Johnson for a decade and a half, he recognizes the importance of word-of-mouth communication and generating enthusiasm from within. He also knows that sometimes it takes an external force to help you make a change. "I never expected myself to be the best business or finance person. I took advantage of opportunities that came my way and was willing to explore new challenges and take risks." As IMA's first Chair during its second 100 years, those are words for the association and each member to heed.